Husqvarna string trimmers are some of the baddest on the market. Bad in a good way, of course. They are extremely powerful, reliable, and trusted by folks all across the industry. 
But there's a ton of them. I'm talking about over 20 different string trimmers made by Husqvarna.
So to cut through the noise (literally), we've broken down the best Husqvarna weed eater for every class of use. 
We've written extensively about Husqvarna's zero-turn line and are aware of just how freakish they make their equipment, which is why we were excited to spend HOURS poring over each of these weed eaters to break down the traits we find most desirable.
So, let's get started.
Jump ahead:
Why we review lawn tools
The reason we started this website in the first place was because we had so much trouble trying to find reasonable, understandable, honest reviews for lawn equipment. And it's not cheap! After hours and hours of research, trying products and returning them, and messing up our yards – we started this site.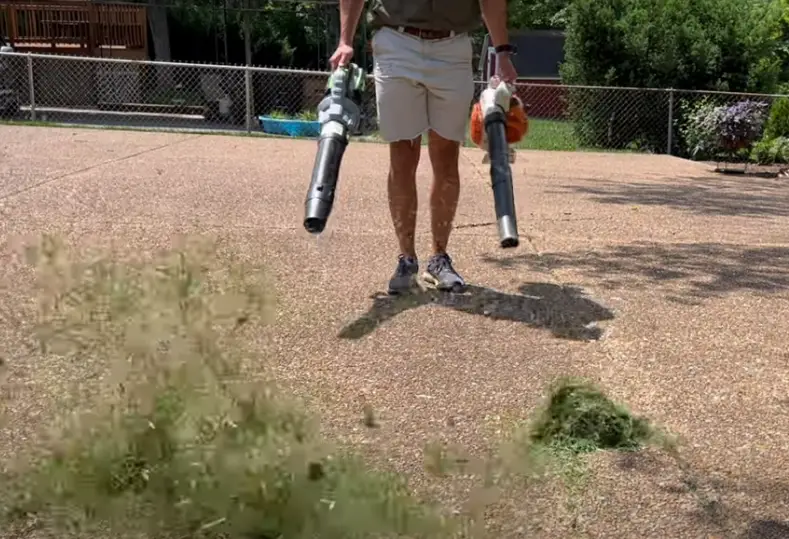 As people who had to learn the hard way, we want you to know exactly what you are signing up for before you purchase a piece of equipment. That's why we are committed to providing honest, easy-to-understand reviews that mean something. 
How to instantly improve your weed eater
Upgrade your weed eating game with the ultimate GrassKicker Weed Eater String! While weed eaters and lawn edgers are great tools, it's not complete without the right string. Our specially crafted line is designed to enhance your weed eater's performance and give you flawless edges around your yard and garden.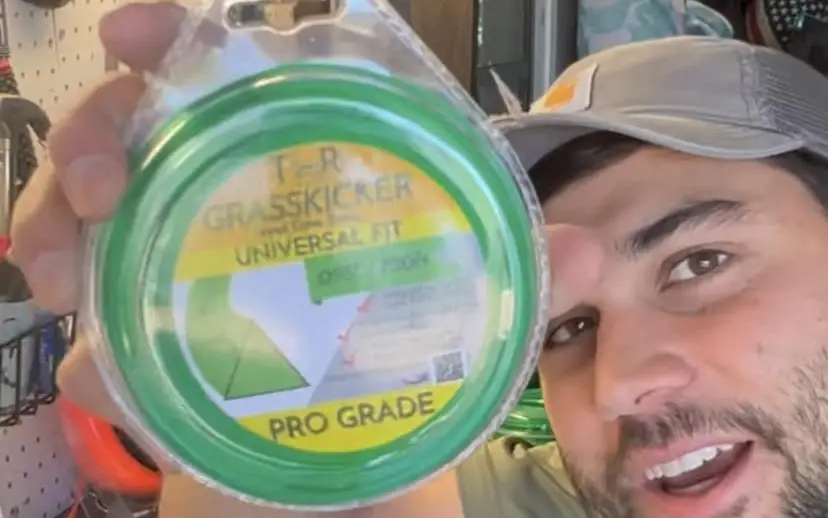 Don't settle for subpar string that breaks easily and leaves ragged edges. Our team has scoured the market and combined the best colors, shapes, thicknesses, and materials to create a superior line that cuts more cleanly and lasts longer.
With GrassKicker, you can take pride in your perfectly manicured lawn and make a lasting impression on your friends and family. And who knows, your envious neighbors might just start dropping by more often! Don't wait, elevate your weed eating game with GrassKicker Weed Eater String today! Click the link now to buy.
About Husqvarna
Husqvarna is one of the most respected names in lawn care. Not only are they producers of great, high quality lawn care tools for residential property owners, but they also create really great machinery for commercial use in parks, golf courses, and all over construction sites.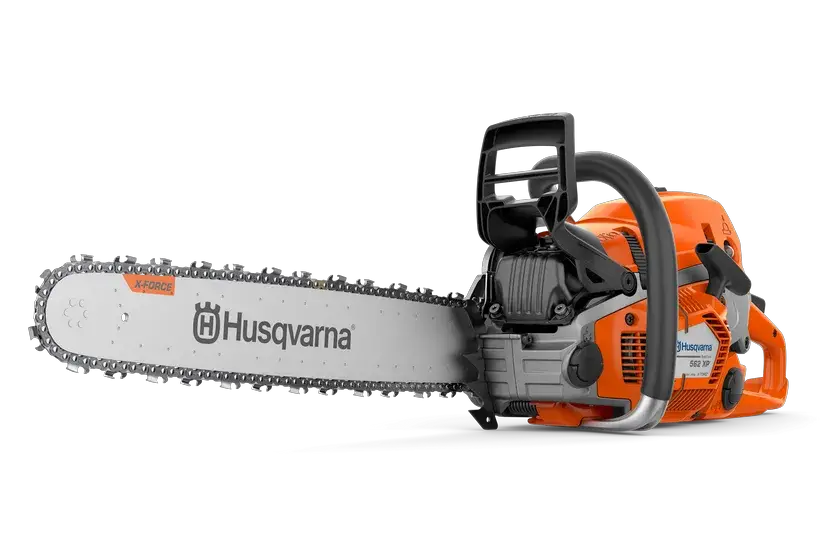 Husqvarna's bread and butter is the heavier, commercial machinery for sure. For example, they don't have a huge presence in the push mower space, but have some absolute units in the zero-turn mower space. Likewise, they produce big boy commercial lawn mowers and chainsaws that you will see clearing forests. 
That being said, you can see how all of Husqvarna's industry experience could lead to them making the best weed eaters known to man.
What to look for in a weed eater
Weed eaters come in all shapes and sizes. They aren't highly complicated pieces of equipment, but they do have a few nuances. Here is how I see it:
Feel – Obviously this is subjective, but feel is everything to me. I have had weed eaters in the past where the handle is off to the side, making me torque my shoulders and back. If you can, get as many adjustable pieces as possible to make this customizable. It doesn't seem like you use a weed eater for a long time, but the work is precision work that requires a steady hand and focus.
Gas vs Battery Powered Motors – brushless motors are king if you are looking for a battery powered string trimmer.. They are longer lasting and more durable. Regular brushed motors are fine, too. The key difference here is that brushless motors use magnets, instead of friction, to power the motor. This means less heat, more durability, and a longer life. Gas engines are what they are – will last you your whole life but require quite a bit of maintenance, fuel, and are way noisier. But they are generally much more powerful.
Curved vs Straight shaft – I always, always, always prefer straight shafts. They are so much easier to use and control and are much longer than curved shafts. Curved shafts are good for clearing out a small piece of land unable to be mowed. But if you want to actually do some good trimming and edging, a straight shaft is much better. Curved shafts are difficult to maneuver and to create a straight line for edging. 
Best Husqvarna Weed Eaters
Husqvarna weed eaters will be evaluated by the above criteria, but also with price in mind. Husqvarna products aren't sold everywhere and can often be found at Lowe's or some specialty heavier equipment stores. Let's jump right in!
Best Husqvarna String Trimmer for Residential Use: 128LD
When it comes to residential use, I have way more options and am going to really care about the experience. I want something easy to use, affordable, and can get my yard looking pristine on the first pass.
We love the Husqvarna 128LD string trimmer. It has a ton of power, comes at a decent price point, has the reliability of gas power, and is a beast. Here's what we love about the 128LD for homeowners:
17 inch cutting swath – which is professional grade and more than you'll get from any battery operated weed eater.
Lightweight at around 12lbs, which means you won't destroy your shoulder lugging this around your yard.
Straight shaft – which is always preferred for residential string trimmers.
Easy to start thanks to the Smart Start recoil system that Husqvarna has put in their fuel pump.
A detachable shaft which makes transporting or storage easier in your garage.

The 128LD was designed for homeowners to bring the power of commercial use to the budget and comfort level of the normal person. It's also decently affordable at just under $250 and can be found at Lowe's. 
I also like the loop handle on this which lets me crank it on its side to use for edging our yard as well. 
Best Husqvarna String Trimmer for Commercial Use: 525L
When it comes to commercial use, you want something that is comfortable and reliable. Easy to start and isn't going to give you a ton of problems. The name of the game is speed.
The Husqvarna 525L commercial string trimmer is my favorite because it has a huge cutting swath, is light as a feather, and doesn't go overboard with features – which makes it an incredible price.
In particular, I like that the 525L has:
A straight shaft that is just about 6 feet long, giving you serious precision. It's almost a foot and a half longer than the weed eater above.
An 18 inch cutting swath for serious power and easy edging in addition to trimming
Super lightweight at under 10 lbs, easy to carry around and toss in the back of the truck
One of the lowest priced commercial string trimmers by Husqvarna at just around $350
One thing not on the list of things I like is that the 525L doesn't have a ton of bells and whistles. In my experience, the more new parts and computer controlled pieces on board, the likelier it is to break or be more expensive to service.

With this one, it's always been an air filter, spark plugs, new weed eater string and that's about it. You can also buy brush cutting blades or a harness later, but those are nice-to-haves.
Best Battery Operated Husqvarna String Trimmer: 325iLK
When it comes to battery-powered weed eaters, I'm known to have a lot of opinions. In particular, we've spent extensive time reviewing one of the market leaders for a multi-head attachment system, the EGO Power+ Multi-Head Combo Kit. We loved it and EGO is super popular because they have a great battery system that works with tons and tons of tools.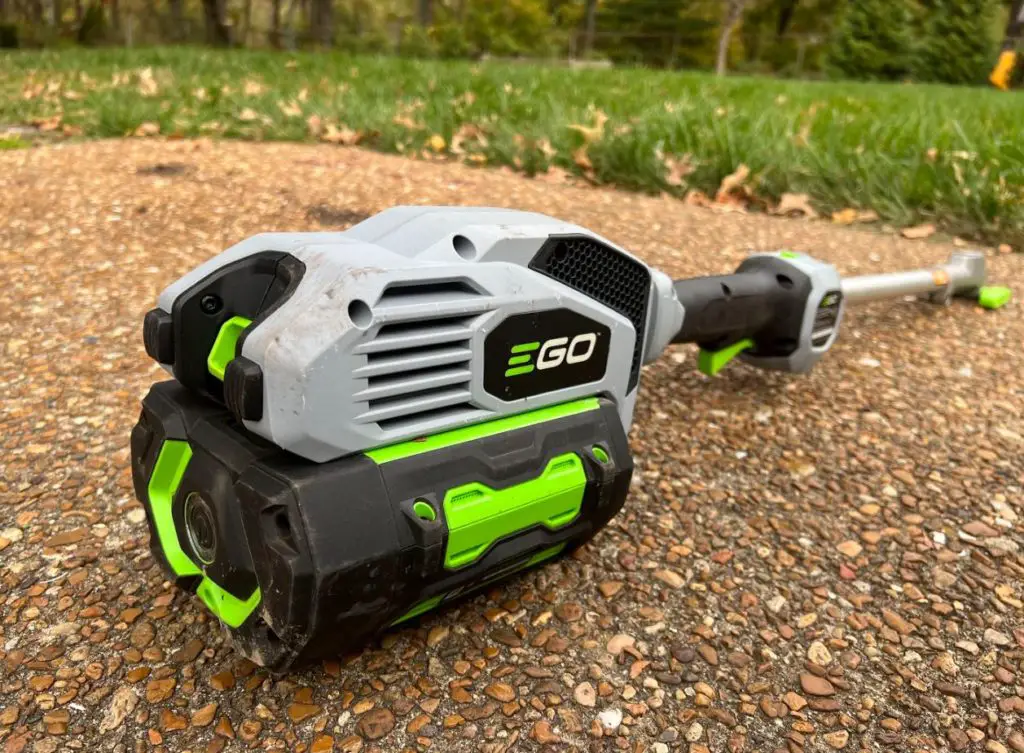 Husqvarna has their own. The Husqvarna 325iLK string trimmer attachment system is pretty sweet as well. Knowing that Husqvarna is best-in-class with quality is what makes me feel like this system is going to be perfect for Husqvarna loyalists. But not for everybody. 
Here's what I like:
Quick click operating system that allows you to easily detach and attach the attachments
An adjustable handle that is helpful when you move from things like a hedge trimmer attachment to a string trimmer attachment
A brushless motor – an absolute must-have that means it's going to be more durable
It's 70 inches long which gives you serious room for things like trimming hedges
A massive 16.5 inch cutting swath, which puts in the highest class for battery powered weed eaters
Here's what I don't like:
40V 4Ah battery means that you aren't going to get a long run-time with this.
Husqvarna is relatively new to the battery game – if you have another battery powered tool, I'd stick with that line and save big money on batteries.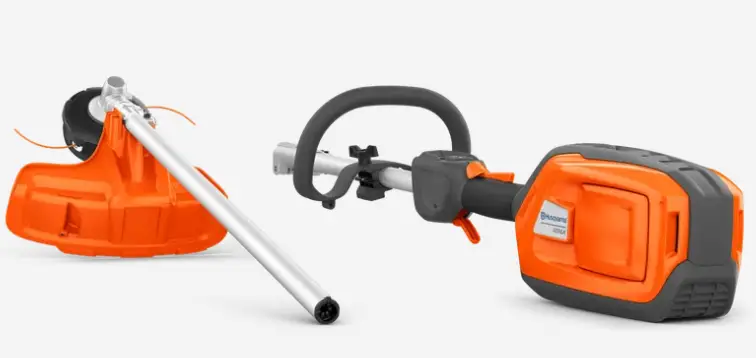 It has pros and cons for sure, but I would definitely stick with gas if I am doing anything more than a small to mid sized yard. Husqvarna has a ways to go when it comes to maturing and refining their battery line-up, but this is a great start for anyone looking to dive in.
Best Curved Shaft Husqvarna String Trimmer: 122C
I am notoriously not a fan of curved shaft string trimmers but some people are and they have good use cases. Curved shaft is great if you hold the string trimmer face down instead of sideways. It's helpful for cutting long grass where most areas can't mow. 
The Husqvarna 122C string trimmer is a great curved shaft string trimmer for exactly that kind of use. Another great application for this is for really small yards or side yards that are narrow between houses. Basically, any type of domestic use is great but these are not often used in commercial settings.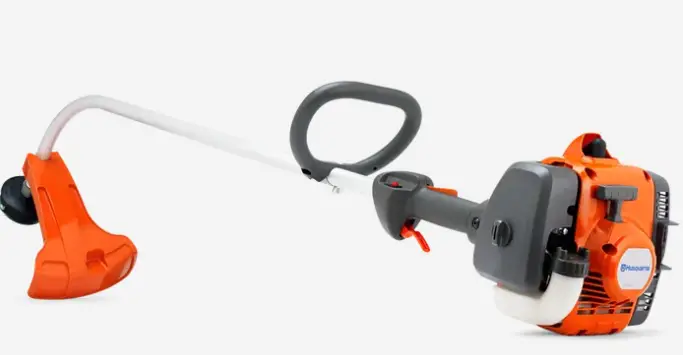 Here's why we picked the 122C out of all of Husqvarna's curved shaft weed eaters:
It's dirt cheap without sacrificing quality
It's got a 17 inch cutting swath, which is huge for a trimmer of this size
Extremely light
Guys, I'm admittedly not a huge fan of these and think they're way too short to be practically used. If you're going to grab one, I'd grab this one since it's under $175. 
Best String Trimmer Line for Husqvarna String Trimmer
The best Husqvarna weed eater string is our .095" green, triangle-shaped weed eater string.
We tested dozens of weed eater strings in a bunch of different Youtube videos. Through this process, we discovered this was the perfect combination of attributes to make an indestructible, powerful, and highly visible string trimmer line. 
Final thoughts on Husqvarna and their weed eaters
Husqvarna weed eaters, like all of their other tools, are freaks of nature. Super well built, durable, and powerful lawn tools that will outlast  most, if not all, of your other tools.
You can grab some of these at Lowe's or go straight to their website and get them shipped to your house.