Gravely zero turn mowers are some of my favorites for two reasons: they're made in America and they are freakishly powerful.
Gravely has been around for about 100 years and is probably the most dedicated company we've looked at to the art of cutting grass. They're engineer-led, good salt-of-the-earth Midwesterners, and were founded by Ben Franklin (Gravely). 
But boy, do they have a lot of mowers. If you're a homeowner or a landscaper, you're probably wondering where to start. Today, we are going to break down which ones are the best zero turn mowers for every type of rider – homeowner, landscaper, and even an electric one. 
The Best Gravely zero turn mowers are:
Why we review lawn tools
The reason we started this website in the first place was because we had so much trouble trying to find reasonable, understandable, honest reviews for lawn equipment. And it's not cheap! After hours and hours of research, trying products and returning them, and messing up our yards – we started this site.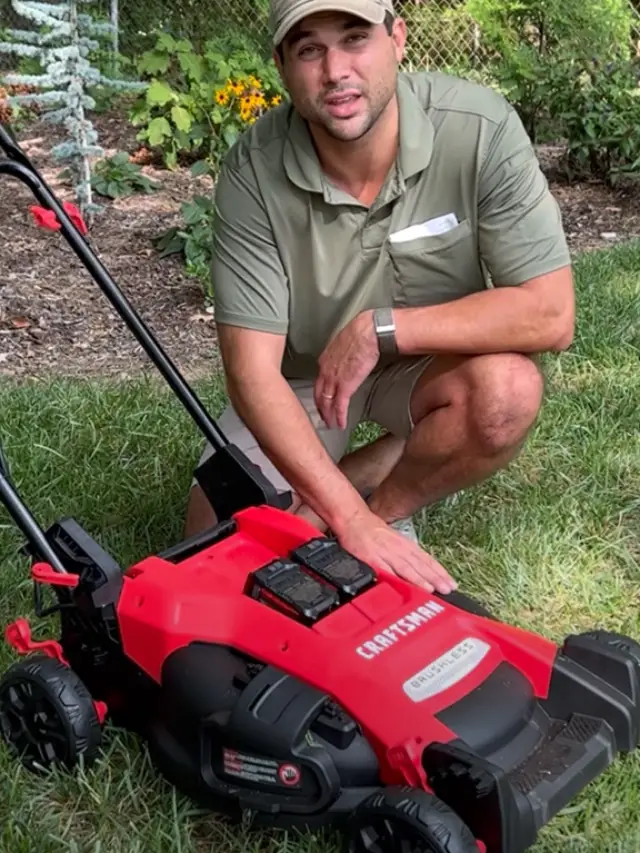 As people who had to learn the hard way, we want you to know exactly what you are signing up for before you purchase a piece of equipment. That's why we are committed to providing honest, easy-to-understand reviews that mean some
What we look for in zero-turn mowers
A few things to look for in zero-turn mowers are blade size, transmission, accessory capabilities and cost. Blade size is important to keep consistent with the size of your lawn. Obviously longer blades are best for larger lawns, but begin to sacrifice a little bit of the agility afforded by a smaller blade. 
Transmission is also an important consideration for a zero-turn mower. Most zero turn mowers do not have manual transmissions, but have either automatic or hydrostatic transmissions. Automatic works just like an automatic car does with a gas pedal and belts. Hydrostatic transmissions use fluid to transfer their power to the blades and the rest of the engine. I prefer and recommend hydrostatic transmissions because they typically require less maintenance and have a longer life (plus it sounds cooler).
Cost is generally of the utmost importance as well. Zero-turn mowers are expensive. In fact, you can buy an old Honda Civic for less than most zero turn mowers. Expect to spend no less than $3,000 for a zero turn mower. Keep in mind that these will last a long time and save you a ton of weekend time when compared to a riding tractor or push mower. Zero turn mowers are an upfront investment, but reap a huge return over time – especially if you're a commercial landscaper.
Best Gravely Zero Turn Mowers: 2023 Ranking
Gravely offers a suite of sweet zero-turns, but some are designed for landscapers and others for homeowners. Let's break down which ones are designed for who, and which mower is the best for each type of rider.
Best Gravely Zero Turn for Homeowners: Gravely Compact-Pro 34 Kawasaki
The Gravely Compact-Pro 34 is a great zero turn for homeowners. It has a sweet Kawasaki engine that delivers nearly 16 horsepower. I love when zero-turn mower manufacturers outsource the engine. It means the experts work on their areas of expertise. 
Gravely is a monster and worldwide leader in constructing ridiculously good zero turn mowers and Kawasaki are the kings of small engines. Needless to say, the two combine forces and make a freakish mower.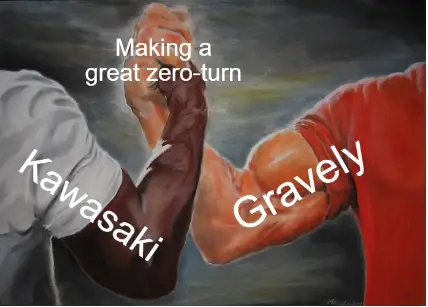 Here's why I like this zero turn mower for homeowners specifically:
It can fit through gates as narrow as 36 inches. This is great for me as I have a gated backyard that wasn't mean for a 54 inch zero-turn. This thing squeaks right in and can mow my backyard without having to take apart the fence every week.
It has a toned down engine, but still provides best-in-class horsepower and is pound-for-pound a super strong mower.
It has the features that you would expect from a Gravely zero turn still, like nice armrests, a high-back seat, and amazing construction.
The warranty on this bad boy is really good. A four year warranty with no hour limit on the first two years, meaning they stand behind their build quality.

While this mower is awesome, it is really heavy. If you truly do have a smaller yard and need to do a lot of maneuvering, the weight of this mower concentrated over a small area can cause some tearing up of the grass. Try spacing out your passes and following any bare spots with a weed eater.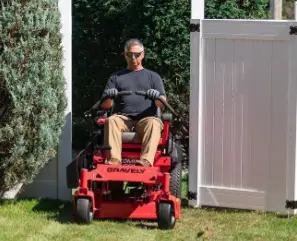 All-in-all, this is a great option if you want the power of a zero turn but don't need the crazy width provided by a bigger boy.
Best Gravely Zero-Turn for Commercial Landscapers: Pro-Turn 152 Kawasaki
I am cracking up looking at the specifications on this mower. It is a freak of nature. I normally review residential landscaping mowers, but man – this thing is a different type of beast.
What immediately struck me about  this mower is the speed. It's about 50% faster than most residential zero-turn mowers and can get you up to 10 MPH. That reminds me of The Waterboy when the girl tricks out his lawn tractor and he goes super fast in it.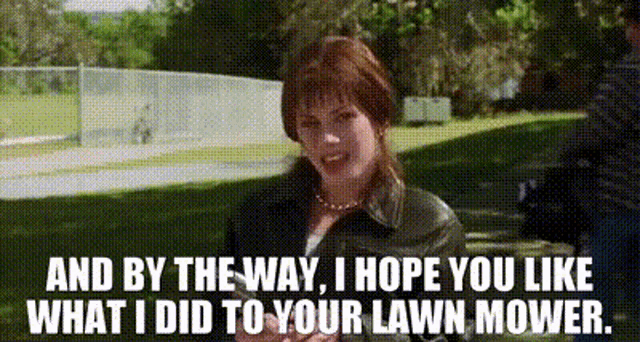 But there's a LOT more to like about this mower. It has a 52 inch cutting deck, massive rear wheels, and a heavy-heavy-duty fabricated metal deck with 7 gauge steel deck that comes with a lifetime warranty. If I'm a commercial landscaper who has had a deck crack in half, I'm buying this sucker right now. 
Of course it has a hydrostatic transmission, a 22 or 23 HP Kawasaki engine (depending on which model you buy), and a constant belt tension system. This means you don't have to adjust the tension on the belt, it does that for you. The coverage hour on it is over 5 acres.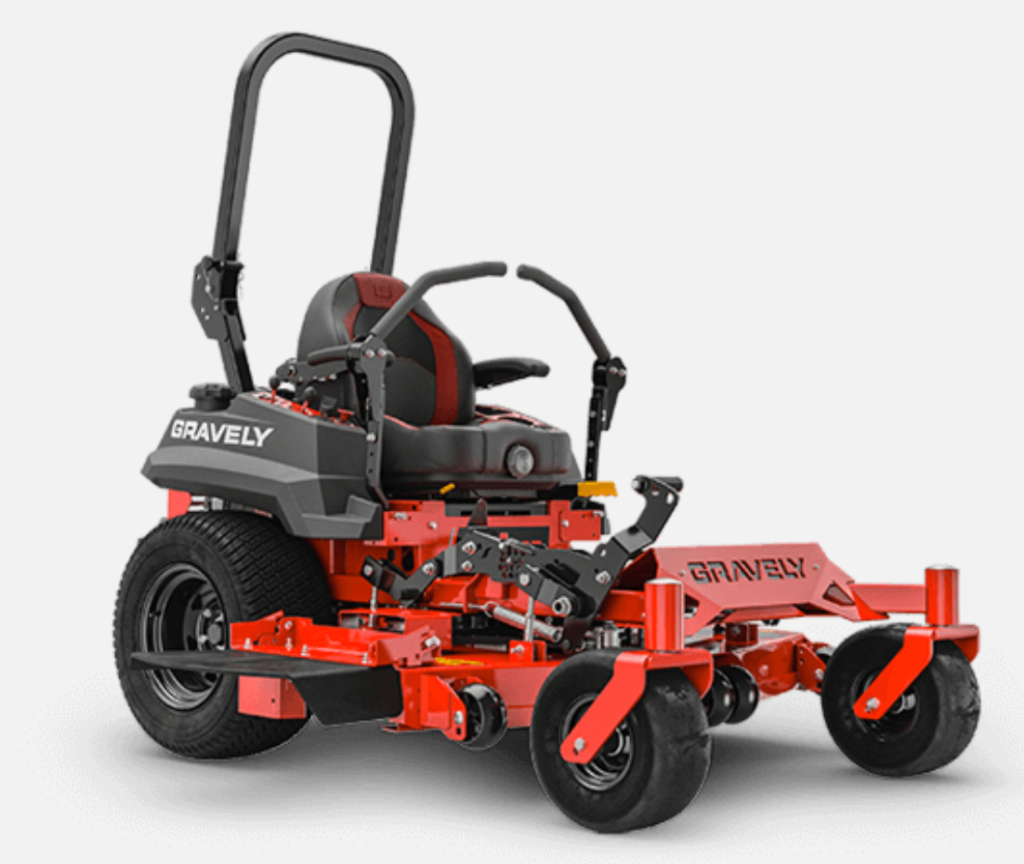 But my favorite part of this is that they've thought about you and me. It isn't just the machine all day running around – we are on these mowers, too. It comes with a great high back chair with suspension, AND molded armrests. That makes a huge difference when you've been outside for 9 hours and working all day. 
With commercial mowers, the warranty is 5 years – freaking crazy. The entire deck and frame has a LIFETIME warranty. Holy crap!
Best Gravely Zero Turn for Residential Landscapers: Pro-Turn Z 48 Pro
The main difference I look for in residential zero-turn mowers compared to commercial zero turn mowers is a little less horsepower, maintenance, size, and money.
Don't get me wrong – I love some power. But I don't need a massive 50+ inch cutting deck and crazy horses if all I'm doing is knocking out a couple neighborhoods. You get a deck that's too big, then you lose some of the agility that helps you move around a garden bed.
It's always good to pair a residential zero-turn with a nice push mower to help get the nooks and crannies that you won't get with the big dog.
Here are a few other things we like about this Gravely Zero Turn:
Nearly 4 acres coverage hour
Still has freakish construction (10 gauge steel haha)
8 MPH forward speed
Ridiculous suspension
Extremely high back chair with bulky arm rests
It's a great combo of having power enough to do big jobs, but not sacrificing comfort and luxury. 
Best Electric Gravely Zero Turn Mower: Pro-Turn EV 48
Today I learned something new. I thought most electric lawn tools had a limit. That idea has been shattered into one trillion pieces after seeing this one. 
This dang electric zero turn goes 11 MPH? That's enough to make me yell at it to slow down as it drives past my house!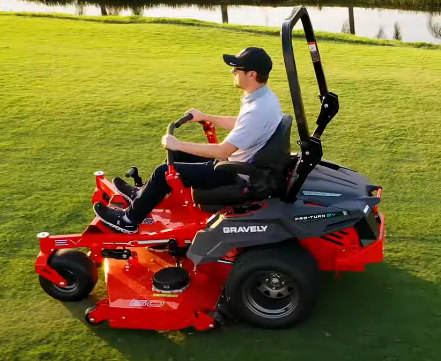 Unlike many bigger electric riding mowers, the Gravely FusionCore battery system allows you to actually pull out and replace the batteries so that you can get back to work if they die. And believe me – these are the biggest lawn tool batteries I've ever seen.
But here are the other things I like about this electric zero turn mower from Gravely:
Two brushless motors (one by each rear wheel)
No exhaust, less noise
Goes 11 (ELEVEN!) MPH forward
An LCD display on-board
5.3 Acres of coverage per hour
7 Gauge steel – lighter than usual but still really durable
This is hands down the most intense battery-powered zero turn that I have ever seen. Most battery powered zero turn mowers are all hat and no cattle – big, sleek designs but not the performance to match. 
Gravely, with their All-American muscle, has pulled it off. Frankly, I'm rooting for them. Keep manufacturing and innovation in the good old U.S.A!
Final words about Gravely zero-turn mowers
Gravely's zero turn mowers are American-made muscle machines. Most folks think zero-turns are a one-size fits all for landscapers and that simply isn't true. Gravely has dozens of mowers all with unique features that fit different types of work. 
While I wish I could sell one of these to you – you have to reach out to a local dealer to get a chance to buy one.