The Toro 22in Recycler Lawn Mower is one of the best selling lawn mowers on the market. The recycler mower comes with a self-propelled system that will help it march forward. It also comes with a bagger, although you may not need it (more to come on this). 
Today we are going to review all aspects of the Toro 22 inch recycler lawn mower and compare it to similar mowers in its class. Let's get started:
Why would I buy a recycler mower?
For those that don't like to mess around in the yard, the 22 inch recycler mower is great. This bad boy truly takes care of business in the yard and is the most no-nonsense mower I have reviewed.
Recycler mowers, specifically the Toro 22 Briggs and Stratton, cut your grass into extremely fine shreds of grass that can benefit your yard. Toro has trademarked this process as "YardVitamins". The fine clippings are healthy for your yard and can promote growth in peak season. 
So should I use the bag?
I used to be one of those weirdo type-A individuals who liked to put a bag on my mower and make sure that no grass clippings got into my yard. And then I got scolded by our lawn treatment company that this was actually doing damage to the health of my yard.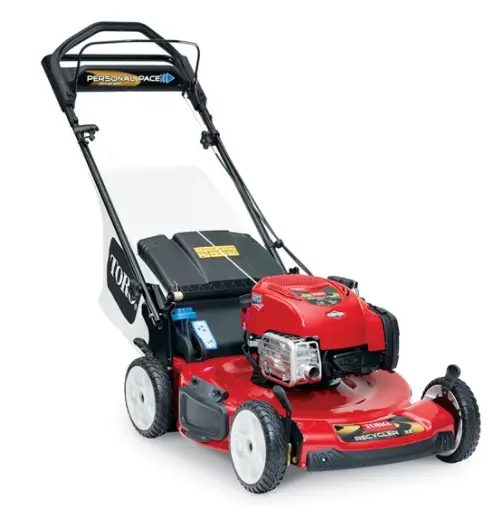 Now I am one of those weirdo type-A individuals who does not put a bag on their mower, but does not allow for a single blade of grass to get into the street or driveway. I love letting the grass clippings flow into my yard, knowing that I am feeding nutrients back into the soil. In fact, I make sure to blow loose grass clippings back onto the top of my grass – which drives my even weirder neighbors up the wall (to my satisfaction).
The Toro Recycler 22inch mower: Breakdown
Now that we have learned about recycler mowers, let's breakdown the individual functions of the Toro for a better understanding:
Toro Recycler durability
The 22 inch steel deck gives this machine great reliability. I love 22 inch mowers because they always provide a neat, clean cut. Smaller blades tend to be more jarring to the grass, whereas longer blades just provide a smooth, wide cut across the yard. 
Toro is known for having highly durable mowers. They back this up with a 3-year engine warranty and 2-year full warranty. With the proper maintenance, this thing will last you much longer than 2 or 3 years. 
Maintenance
Another thing I love about the Toro 22in recycler mower is the lack of maintenance. The first mower I owned required an oil change every season. This required me to spill oil everywhere (including all over the engine) as I tipped it on its side and tried to catch it in some sort of pan. 
The Toro recycler requires no oil change. I'm not sure how it works, but you simply keep an eye on the levels and top the oil off when needed. No mess required. 
Cleaning this mower is also a breeze. They have a port at the top of the deck that allows you to hook your hose to. Simply connect your hose, turn on your water, and let the design of the inside of the deck wash away old, dried grass clippings. Due to the fine nature of these grass clippings, you are much less likely to get clumping and more likely to get mounds of fine dust buildup.
Usability
The Toro recycler has a self-propelled function that you can actually control the speed of. Unlike some of the electric mowers I've reviewed, you can use this function without worrying about killing the battery. 
As much as I enjoy getting a nice forearm and glute workout when I mow, it's nice to have a little bit of help when I am tired or sore. 
Another feature I like about this mower is the 22 inch blade. Having a longer blade is always helpful in getting a cleaner cut and better looking stripes in your yard. The downside of this mower is having a slightly tougher time navigating nooks and crannies.
My backyard is not very large and has pavers, a small patio in the back corner, some tree roots, and a lot of mulch. Navigating a push mower around tends to be a lot of work as each pass I make doesn't go very far. Having a 22 inch mower will cover more area, but be harder to flip around on a dime. 
Front drive functionality
This mower also uses front-wheel drive for the self propelled function, meaning things like hills and uneven terrain are less of an issue. The neat part about the front drive on this Toro recycler is that it will do more of the work for you than rear drive mowers. The front-drive gets more traction and pull because of how the weight is distributed. 
Value and cost of the Toro 22in recycler mower
As mentioned previously, this mower is a boss. It is relatively heavy, has a big blade, and is gas powered. It is going to get the job done and provide nutrition to your yard while it does it. For those reasons, I love it.
Looking through the pricing, I am seeing it listed anywhere between $350 to $450 depending on where and when you buy it. If you can get it below $400 then you are likely getting a pretty good deal.
Compared to other mowers of its class, this mower actually comes at a great price. Many other similarly priced mowers lack some of the functionality, power, and blade size that this mower has. For its class, I think this is one of the highest value mowers you can purchase. 
Where to buy the Toro recycler mower 22 inch
We recommend Amazon because of how easy it is to use:
The official review of the Toro 22 inch recycler mower:
| | |
| --- | --- |
| Feature | Rating |
| Difficulty to use | Less difficult |
| Durability | Most durable |
| Maintenance | Easiest to maintain |
| Value | High value |
| For lots <10,000 sq. ft | Recommended |
| For lots <1 acre | Highly recommended |
| For lots >1 acre | Not recommended |
Toro 22in recycler mower parts diagrams and user manual
For a parts diagram to the Toro 22in. Recycler lawn mower check here: https://www.toro.com/en/parts/partdetails?id=45022
For the manual to the 22in Recycler, check here: https://www.toro.com/getpub/96573