The Ariens IKON XD 52 is a zero turn mower that is an absolute beast. Ariens IKON XD series has a range of different options they offer depending on your yard size and goal, but the 52 inch is one of the most popular. If you have a larger yard and are wanting to cut your mowing time in half, then you have stumbled upon the right review. There are a lot of things people love about these mowers, so let's jump right in.
Today we will cover:
Why we review lawn tools
The reason we started this website in the first place was because we had so much trouble trying to find reasonable, understandable, honest reviews for lawn equipment. And it's not cheap! After hours and hours of research, trying products and returning them, and messing up our yards – we started this site.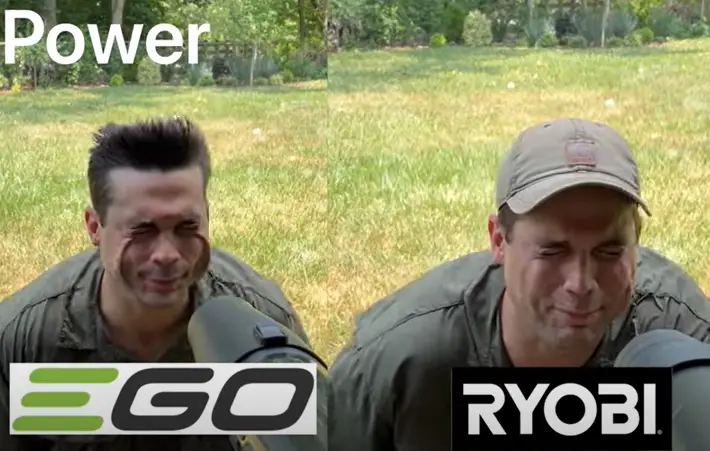 As people who had to learn the hard way, we want you to know exactly what you are signing up for before you purchase a piece of equipment. That's why we are committed to providing honest, easy-to-understand reviews that mean something.
Ariens lawn mowers
Ariens is an American born and made company that has been creating gas-powered lawn tools for almost 100 years. With its home in Brillion, Wisconsin, they have always stayed true to American made products. With the durability (more to come) and comfort of these mowers, you can tell the American-made difference.
Ariens has a suite of zero-turn mowers as well as a smaller line of push mowers. They also sell things like snow blowers, power brushes and more. 
Zero-turn mowers
People love zero turn mowers because they are generally faster than your traditional lawn tractor and provide much more agility. Zero turn mowers are especially popular for commercial lawn mowing companies as they provide much more speed and power, have larger gas capacity, and are more nimble than the traditional lawn tractor. 
Zero turn mowers have continued to grow in popularity but are still intimidating to others. While lawn tractors have a steering wheel similar to any other automobile, zero-turn mowers have large handles that stick up and meet in the middle of the mower. To operate the mower, you push forward and use the individual horizontal handles to either push the mower to the right or to the left. 
Ariens is the parent company of Gravely, who also makes great zero-turns.
What to look for in a zero-turn mower
Zero-turn mowers are all about comfort and size. If you are a commercial landscaper, you will likely want a mower with a large deck. The deck houses the blades and the wider the deck, the wider the blade. 
For us residential mowers, we will want to take into account yard-size into our selection process. For those with less than one acre of land, I don't often recommend zero-turn mowers. They take up too much space for smaller lots and are difficult to store. For those with more than one acre, zero-turn mowers are great. The larger the acreage, the wider the deck you will want. 
The Ariens IKON XD 52: Reviewing the features
Now that we have a good understanding of zero turn mowers and the American-made IKON series, let's check out some of the features.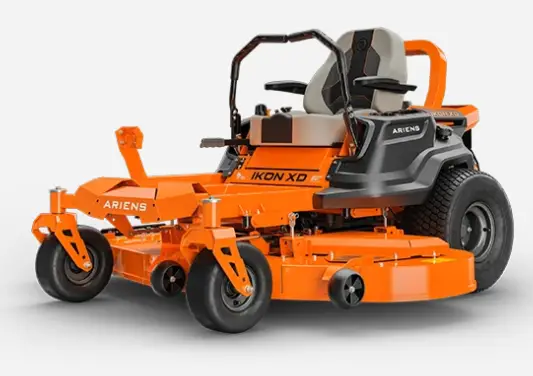 The steel frame of the Ariens IKON XD 52
When it comes to durability, the steel frame matters. There are some lower-end zero turn mowers that I have reviewed and looking at some of the comments – the thing is cheap. I have heard about the frame SNAPPING. Yep, these mowers are heavy as all get out, carry a lot of power, and drive vibration through the steel frame. For those that skimp on the frame material, you may end up with a totaled mower.
The Ariens IKON XD 52 has a tubular steel frame with thickness that will give you comfort. Looking up close at the thicker steel deck on the IKON then comparing it to a rival, you will notice a distinct difference. Other mowers will feel like simply sheet metal or recycled metal. 
When I first stepped foot on this mower (and I am 6' 7"), the first thing I noticed was how it didn't rattle around or shake. It truly felt like stepping onto the bed of my truck – a solid, unmovable, heavy beast. 
Comfort and rideability
As I just mentioned, I am a tall person. I have to slouch in just about every chair and get back problems pretty easily. This chair almost looks like one of those gaming chairs. Its got a nice plush seat-back with arm rests (which are an absolute must), with grooves that fit your body perfectly.
The higher handlebars allow for maximum leg room as well, not crunching your legs into a weird position or making you extend your arms out too much. The Ariens IKON is one of those mowers that you can just sort of chill, rest your arms, and have your arms comfortably grasped onto the handlebars.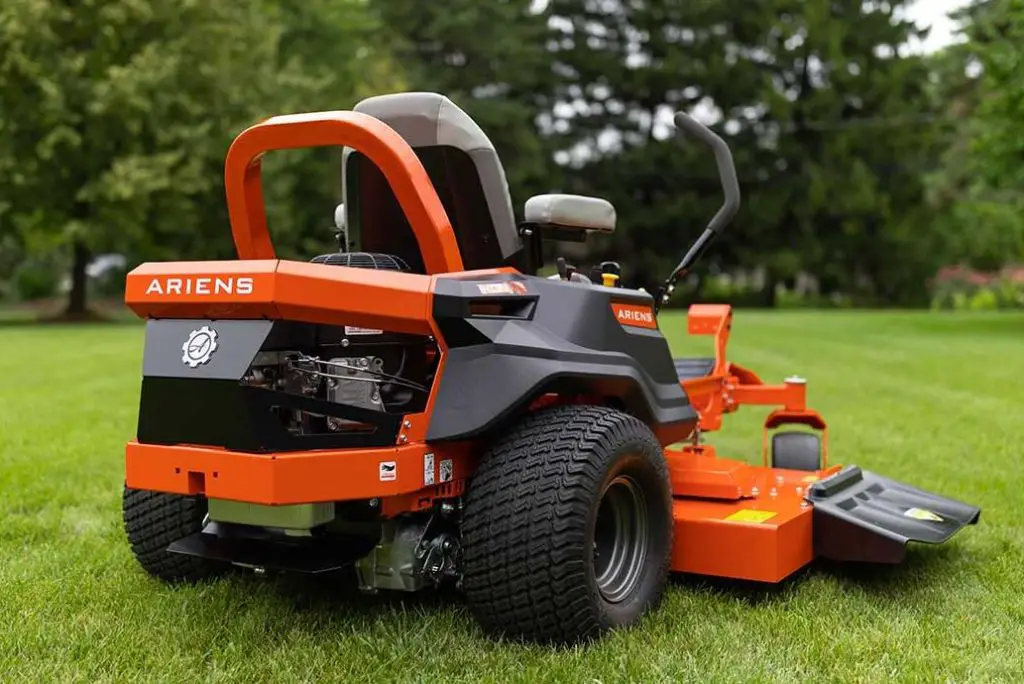 Power
If you have not been able to tell, I like this mower a lot. But owning a lawn mower is a lot more about a nice heavy steel deck and a comfortable chair. You need to get the job done as fast as possible. That's why the Ariens IKON XD 52 comes with a big ole commercial-style deck. It truly offers a professional grade cut with 13 cutting positions that are adjustable in ¼ inch increments. That is pretty dang precise. 
The Ikon XD 52 comes with either a Kohler or Kawasaki engine. The Kohler is a 7000 series engine with 725cc of displacement and 24 horses. These things can run up to 7 miles per hour and can go about half of that in reverse. 
The Kawasaki is a FR691 engine with 726cc (an extra cc) of displacement. It has 23hp and otherwise offers the same speed. 
Maneuverability and cutting experience
Something I love about this mower is the Hydro-Gear EZT transaxles. That's a ten dollar phrase right there, but these things are so smooth. They offer a good bit of torque and make the mower simple to control. Hydrostatic transmissions respond quickly and require less maintenance than your standard automatic transmission. Like most zero-turn mowers, this thing moves easily and smoothly across my lawn. 
Another consideration on this model is the easy to use and simplified control panel. I mentioned the dial-operated height adjuster earlier, but this needs to be said again. Remember the days when you had to jam and crank the gear on the side to the desired blade height? You would pull it out and it would just start falling, or go into the wrong setting. This is not my life anymore. Just spin the knob and the adjustment is made. One of my favorite features of this mower. 
Cost and value
These bad boys run you about $4,500 but I promise you that they are worth it. This price tag is comparable with other mowers that are much lower quality. I am actually surprised to see it priced this low. 
The Ariens Ikon XD 52 will make you feel like a badass. It is simply the top tier zero-turn mower in the game.
Where to buy Ariens Ikon XD52
Believe it or not, you can buy it on Amazon and have it shipped to your house for a pretty insane price.
Do not waste your time with other zero-turn mowers – you have found the best-in-class, American-made mower of your dreams. 
Official review: The Ariens Ikon XD 52 zero-turn mower
| | | |
| --- | --- | --- |
| Feature | Ariens IKON XD 52 | Comparable residential ZT mower |
| Difficulty to use | Less difficult  | Average |
| Durability | More durable | Average durability |
| Maintenance | Less maintenance due to hydrostatic transmission | More maintenance |
| Value | High value | Medium value |
| For lots <10,000 sq. ft | Would not fit | Would not fit |
| For lots <1 acre | Probably overkill but is fun and looks cool | Probably overkill but is fun and looks cool |
| For lots >1 acre | Highly recommended | Highly recommended |