Lawn stripes: more elusive than Bigfoot. I want them. You want them. Everybody who takes pride in their lawn wants them. I'm going to show you how Lawn Striping your yard is not only possible, but likely easier than you think.
I know the Bible says to never envy your neighbor's house, but they didn't have grass in that region of the world at that point, so I doubt that applied here (Lord, forgive me for these awful jokes). Those gorgeous contrasting shades of light and dark green that throws me into an envious rage each time I pass ole Jeff's house at the corner of my street. Clean and professional.
What if I were to tell you it's not as hard as it looks? I can't promise your front yard will look like Fenway park in the middle of June, but I can provide you some easy tips to help accentuate those lines and make your lawn the envy of the neighborhood.
Let's get going: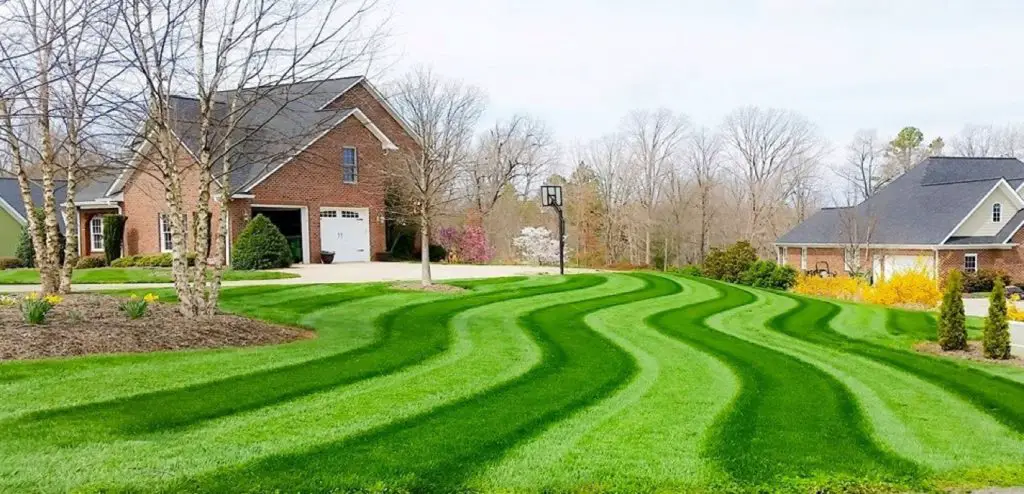 Why we review lawn tools
The reason we started this website in the first place was because we had so much trouble trying to find reasonable, understandable, honest reviews for lawn equipment. And it's not cheap! After hours and hours of research, trying products and returning them, and messing up our yards – we started this site.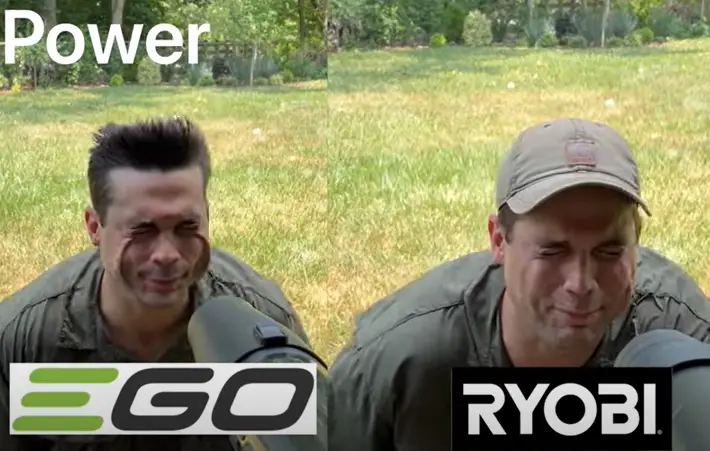 As people who had to learn the hard way, we want you to know exactly what you are signing up for before you purchase a piece of equipment. That's why we are committed to providing honest, easy-to-understand reviews that mean something.
Lawn striping Basics
What causes lawn Stripes?
There are 2 main drivers behind the appearance of lawn stripes – light and direction the grass is laying. When your grass is laying towards you, you see the dark pattern, and the light pattern comes when the grass is laying in the opposite direction of you. It's actually pretty simple if you think about it. You mow one direction, and the grass lays down in the direction that you are moving the mower. Go back the other way, and you've got your contrast.
Achieving the basic lawn stripe pattern is easy. All you have to is mow in opposite directions. Below I've provided some simple steps that can help bring those lawn stripes to the next level.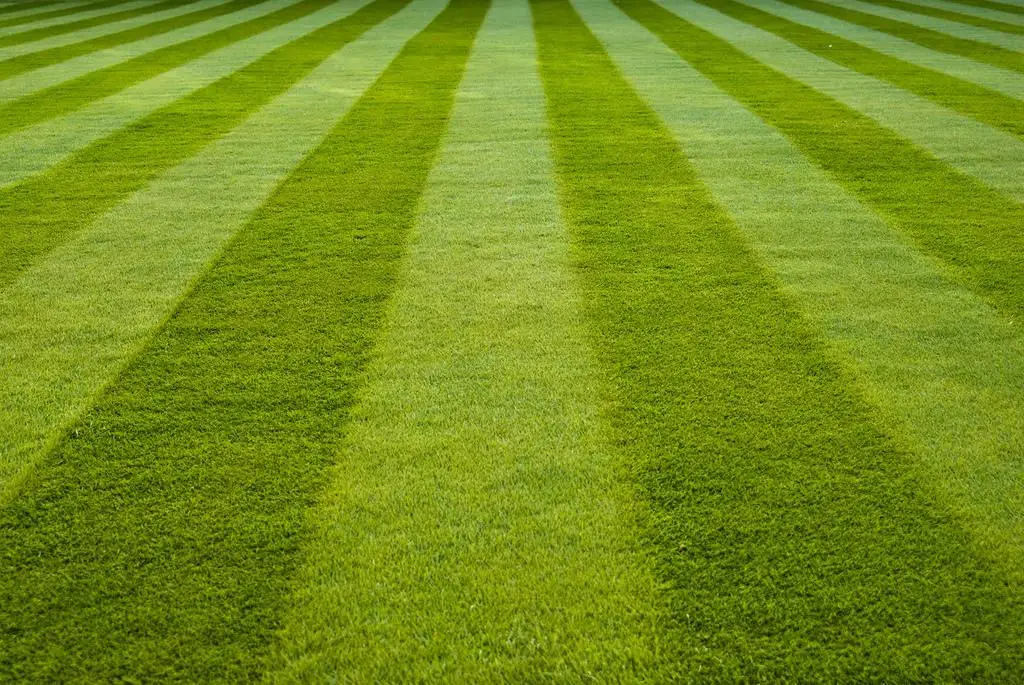 First thing's first – Types of Grass
The type of grass that brings out the best contrast between stripes in your lawn is a hotly debated topic. The experts at NASA have concluded that cool-season grass accentuates the lawn stripes the best. What the heck is a cool-season grass? Your fescues, bluegrass, and ryes to name a few. Warm-season grasses like Bermuda and Zoysia have stronger and stiffer blades that stand up more quickly, causing that initial striping that you see after mowing to fade away quickly. One obvious rule of thumb: the flimsier the blade of grass, the more profound the lawn stripes.
This isn't to say that you can't get stripes out of warm-season grasses like Bermuda or Zoysia, its just a little bit tougher and short-lived.
Sharpen those puppies!
A common problem we see in lawns is the light haze that can occur a couple days after mowing, causing those stripes to fade more quickly. This is caused by the tear on the grass from the previous mow, and the edge of the blades of grass looking jagged, rather than cleanly sliced. Best way to avoid this common peril is to sharper your mower blades at least 3 times a year. Good rule of thumb for when to sharpen each mowing season? Memorial Day, Fourth of July, and Labor Day.
Water Helps
One additional hack to help bring out the stripes in your lawn – water directly after you mow. The droplets weight down the grass blades and help emphasize the difference between light and dark in your lawn. The water dies, and the blades stay in their position. Might sound pretty trivial, but it has made a huge difference in my lawn. It's an easy task that you need to do anyways, so why not knock out 2 birds with one stone?
Ditch the Bagger
The biggest misconception I hear about when it comes to lawn stripes – bag the excess clippings to increase the appearance of lawn stripes. This has very little to no affect on the appearance of your lawn and deprives it of valuable nutrients that come from the mulching process. The excess clippings break down and create a thatch layer rich in potassium, nitrogen, and phosphorus to name a few.  Natural fertilizer!!
The only time it makes sense to use a bagger is if you've let your grass grow too high. I know, it happens to the best of us. If you start off without the bagger and are seeing big lumps of grass clippings laying on the surface, then it might be best to use the bag for that one time. But constant bagging, week after week, deprives your lawn of rich nutrients and natural fertilizer that your lawn needs. And its free!!
Best Striping Kits for Push Mowers (2023)
So you've tried sharpening your blades, watering after mowing, ditching the bagger, and hey, you're seeing a lot of success. Your neighbors are starting to notice, you can feel it. You want more. Look no further. You need a striping kit. A striping kit is basically a roller that latches onto the back of your mower, that helps push those blades of grass down even further. This is what the major ballparks and sports arena's use that basically make your lawn look as if it's been painted in 2 shades of green.
Below, I've highlighted some of the best striping kits on the market for the most popular mowers out there. Most of these kits are after-market, and are not produced by the mower manufacturer. Why is that? Because they're scared to get into the game.
Toro lawn mower striping kit
One of our favorite mower manufacturers, and one of the most popular brands in the market, is Toro. If you're a fan of TLR, you've probably seen our Toro Recycler 22" or Toro TimeMaster 30" reviews. Toro is one of few mower manufacturers who actually sell a string kit that can be easily installed onto your mower. Below I'm listing out some links that can help bring your lawn striping skills to the next level on your Toro walk-behinds.
Check this striping kit out designed for a Toro 21-22" walk-behind
Or this one, for installation on a Toro 3" walk-behind
Big League Lawns:
Unfortunately, most of our favorite mower manufacturers don't yet offer any lawn striping kits or rollers for their mower products. But do not fret, secondary manufacturers have picked up the slack and provided some great aftermarket alternatives that get the job done. Our favorite? The CheckMate from Big League Lawns. They make striping kits that easily attach to the most popular mowers on the market. Each one of the CheckMate lawn striping kit's costs around $110 plus shipping, which in my opinion, is well worth it.
Check out any of the striping kits below for your lawn mower of choice: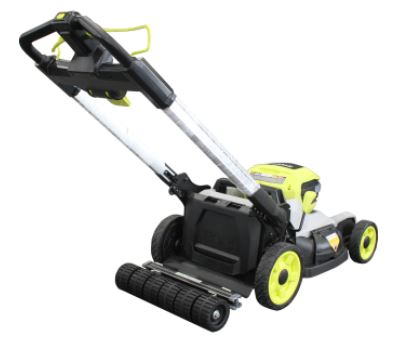 How to make your own lawn striping kit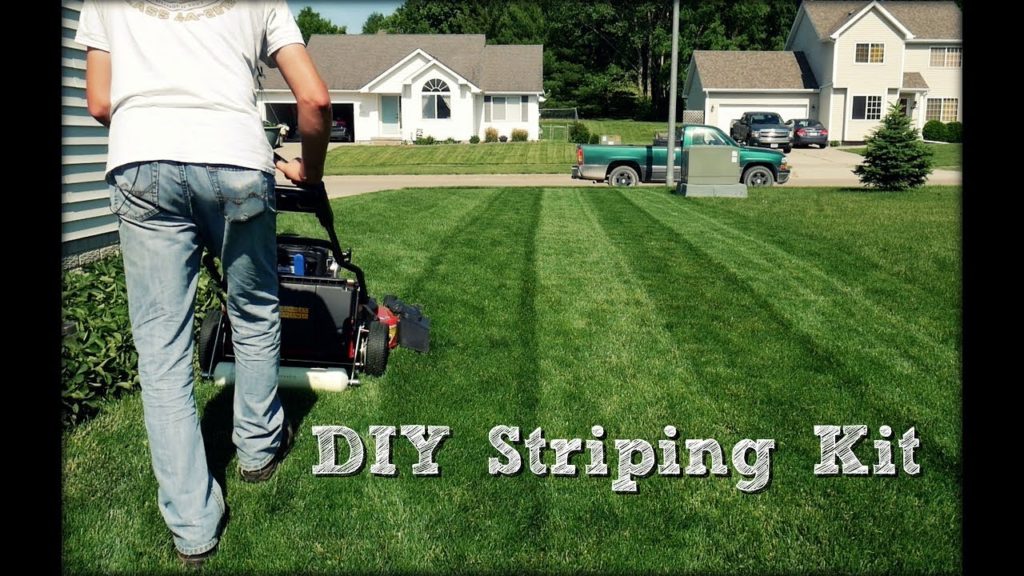 I haven't given this a go yet, but I understand the there are some awesome step-by-step guides out there if you're looking to go the DIY route to achieve those beautiful lawn stripes. If you're anything like me, you'd like to try out a home-made version before splurging on a >$100 striping kit.
Check out this guide if you're interested in making your own striping kit!
Final Thoughts on Lawn Striping
If you're looking to take your lawn to the next level – lawn striping is the how you can do that. Whether you build your own, or plan to buy from one of the manufacturers I laid out above, it can make a huge difference in the appearance of your lawn and the contrast between stripes.
Start with the easy stuff like sharpening your blades or watering after each mow. If you're wanting those beautiful candy-cane stripes like you see on the diamond – a striping kit might be your best bet. Take charge of your lawn and get creative with your lawn stripes!