The Husqvarna 150BT leaf blower is a backpack blower that packs a punch. In fact, if you've spent any time driving around during the fall months, you will see professional landscapers wearing these things around. Backpack blowers are great for commercial landscapers, but also fantastic for homeowners as well.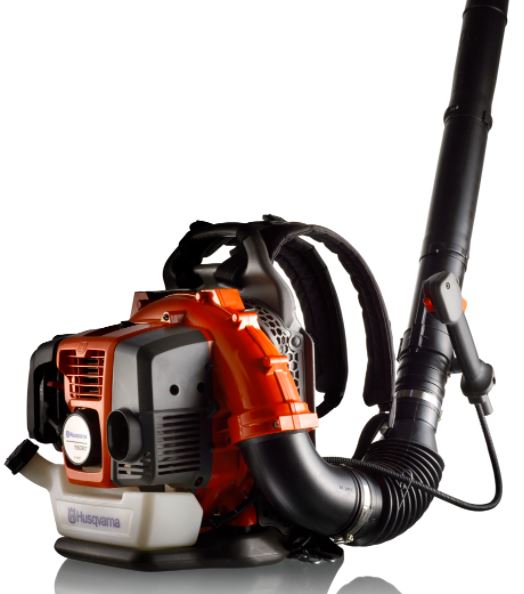 While they aren't quite as easy to use as electric blowers, backpack blowers have way more power, save you time, and last for years. 
Let's check out today's review:
Why we review lawn tools
The reason we started this website in the first place was because we had so much trouble trying to find reasonable, understandable, honest reviews for lawn equipment. And it's not cheap! After hours and hours of research, trying products and returning them, and messing up our yards – we started this site.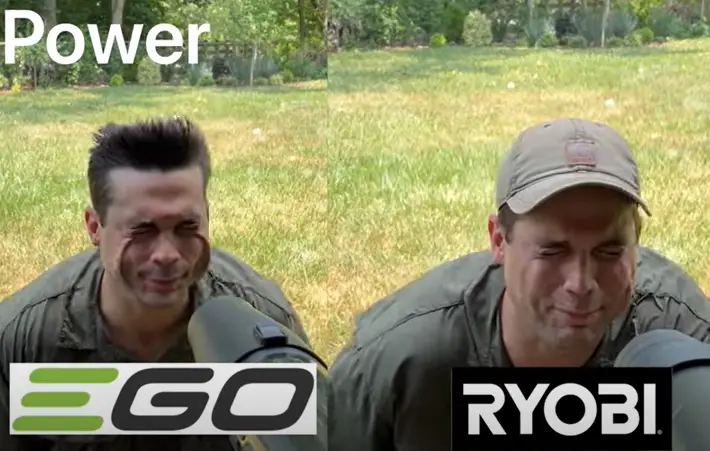 As people who had to learn the hard way, we want you to know exactly what you are signing up for before you purchase a piece of equipment. That's why we are committed to providing honest, easy-to-understand reviews that mean something.
Leaf blowers: An overview
Obviously you have two options when selecting a leaf blower: electric or gas. They are worlds apart in just about every aspect. Electric leaf blowers tend to be cheaper, weaker, and only last a few seasons. As I have mentioned in previous posts, I used to have a Ryobi leaf blower attachment that came on their 3-in-1 tool kit. I have now gone through two of the leaf blower heads in which they start making a high pitch scraping noise when I am using it. 
There are exceptions in the electric leaf blower world. One of those is the Ryobi 40V Brushless whisper series blower. It is quiet, extremely powerful, and built to last. It is, however, one of the most expensive electric blowers you can buy.
Gas blowers are superior in almost every way. They are super strong, last many seasons, and quickly get the job done. The reason you see every professional lawn care person using a backpack blower is because they work extremely well. Let's dig into that more below.
Husqvarna's reputation
Husqvarna is one of the most respected names in lawn care. Not only are they producers of great, high quality lawn care tools for residential property owners, but they also create really great machinery for commercial use in parks, golf courses, and all over construction sites.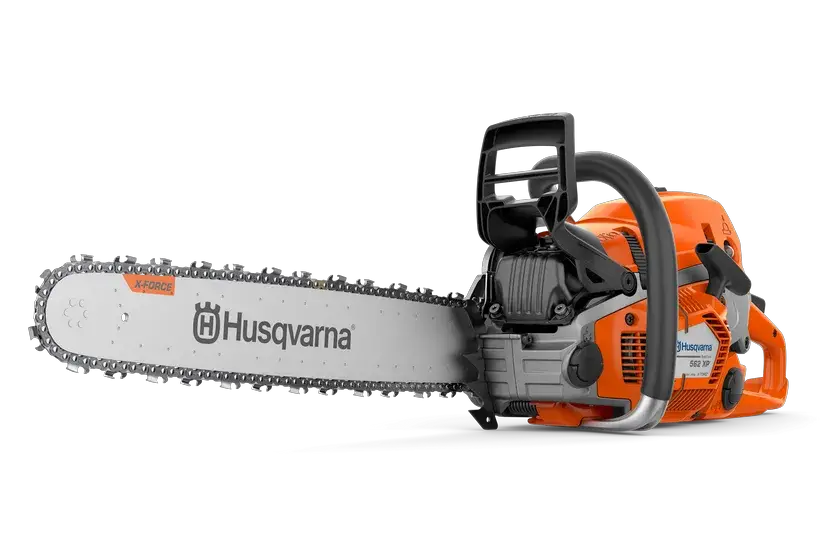 Husqvarna's bread and butter is the heavier, commercial machinery for sure. For example, they don't have a huge presence in the push mower space, but have some absolute units in the zero-turn mower space. Likewise, they produce big boy commercial lawn mowers and chainsaws that you will see clearing forests. Even Husqvarna's Automower shows how much innovation they do.
The Husqvarna 150BT Leaf Blower: Features
The Husqvarna 150BT leaf blower has a ton of features that you need to be aware of. Let's check out how they measure up to their peers and what to look for when picking a backpack blower.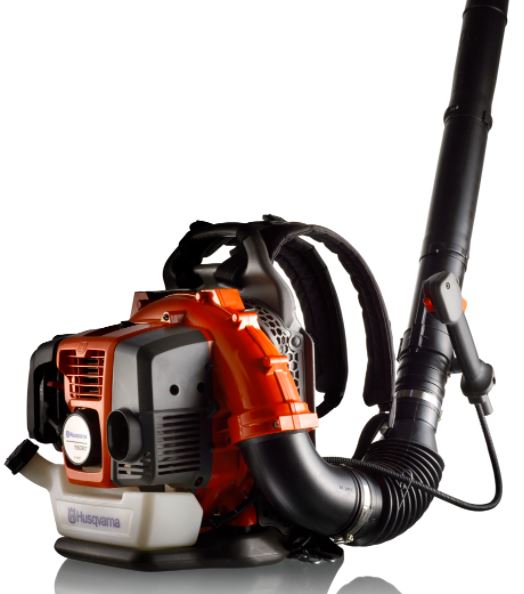 Power
The Husqvarna 150BT is admittedly a mid-size backpack blower that provides mid-range commercial power. Still blowing leaves at a whopping 251 mph, this blower is enough to get most jobs done. 
The 150BT has a 50cc engine with about 434 cfm, which is cubic feet per minute, a measurement used in blowers to indicate the amount of air leaving the blower. 400-500 cfm is pretty standard for a gas powered blower and well above the normal range for an electric blower. While there is a lot left to be desired for commercial blowers, this blower is going to still get the job done. In fact, this blower will be well suited for a residential property as well. 
Need more power? Check out the Husqvarna 350BT review here.
Usability of the Husqvarna 150BT
The Husqvarna 150BT blower is pretty slick. It has an ergonomic handle on the right side that will help steer the blower, but also has a trigger and spring-loaded "On-Off" switch for easy starting. 
Compared to other backpack blowers that I have used, the expandable, flexible, rubber portion on the right side attached to the handle is a lot shorter. This will not impact the operations that much, but does limit the range of motion slightly. Another thing that sticks out about this blower is the long nozzle. Long blower nozzles are great, especially for talk people like me, but it narrows quite a bit and again reduces the range of motion.
The backpack itself is a little different from other backpack blowers that I have reviewed. It really is an engine and all of the associated mechanical components attached to a plastic board that has straps on it. Compared to some of the other backpack blowers, it feels a little less ergonomic and more like something you would self-engineer.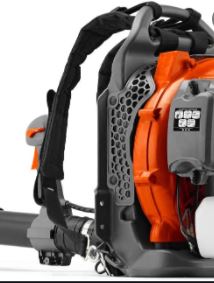 Maintenance (the Husqvarna 150BT air filter)
Something beautiful about Husqvarna products is the incredible durability of their products. Unlike lawn mowers, backpack blowers take an oil-gas mixture when you fill up. For products like these, you only really need to worry about the air filter, which should be a straightforward change out process.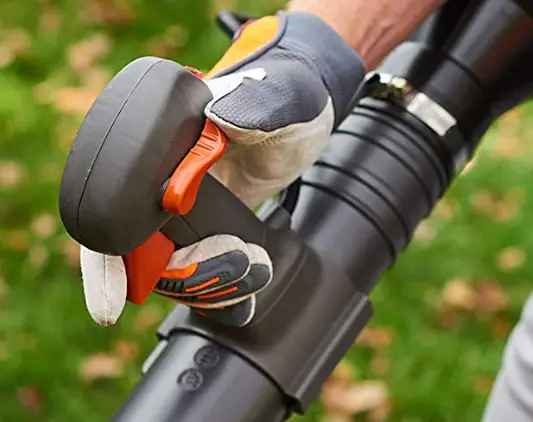 When I first started checking out the Husqvarna 150BT, I heard from so many others that they had owned an older version for 10-15 years. I know the price tag on blowers like these can be intense, but truly – they are an incredible investment.
I have blown through (haha) two electric blowers in the span of one year. Each time I think I dropped close to $150 to replace. I'll get more into the cost and value of a Husqvarna BT150, but I think you will be able to do the math on how much you can save by purchasing one of these.
Husqvarna 150BT: Price and value
The Husqvarna BT150 comes in at around $300 to $350. As I just mentioned, this is a reasonable price. While higher than most electric or battery powered blowers, $325 (average) is great for a backpack blower.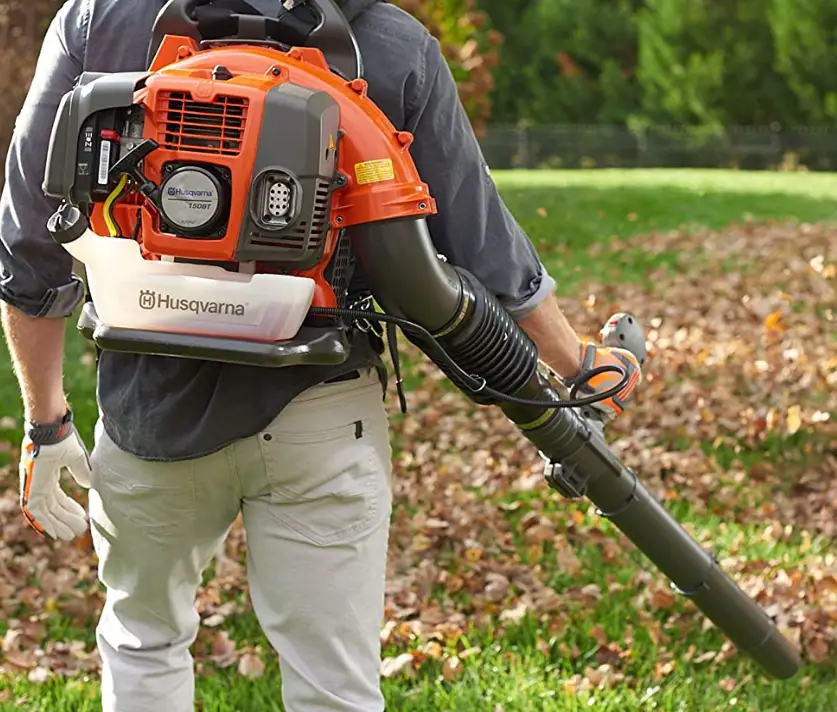 This thing is pretty sweet, and will take your lawn care up a huge notch. We got it on Amazon and had a great experience, but it can also be found at other places.
For clarity, most electric blowers are north of $100 and in my experience, only last a few seasons. The BT150 will last you much longer with the right maintenance. In my opinion, it is a great investment. 
Curious how this price stacks up? Check out our lawn equipment cost guide for 2023.
The official review: Husqvarna 150BT backpack blower
| | | |
| --- | --- | --- |
| Feature | Husqvarna 150BT | Electric blower |
| Difficulty to use | More difficult to start and store | Easier to start |
| Durability | Much more durable | Avg. durability |
| Maintenance | Average maintenance | No maintenance |
| Value | High value | Low to medium value |
| For lots <10,000 sq. ft | Less recommended | Highly recommended |
| For lots <1 acre | Highly recommended | Less recommended |
| For lots >1 acre | Highly recommended | Less recommended |