The John Deere X350 is a riding mower offered by John Deere. When they say "Nothing Runs Like a Deere", they mean it. These riding mowers are big, powerful, and high quality.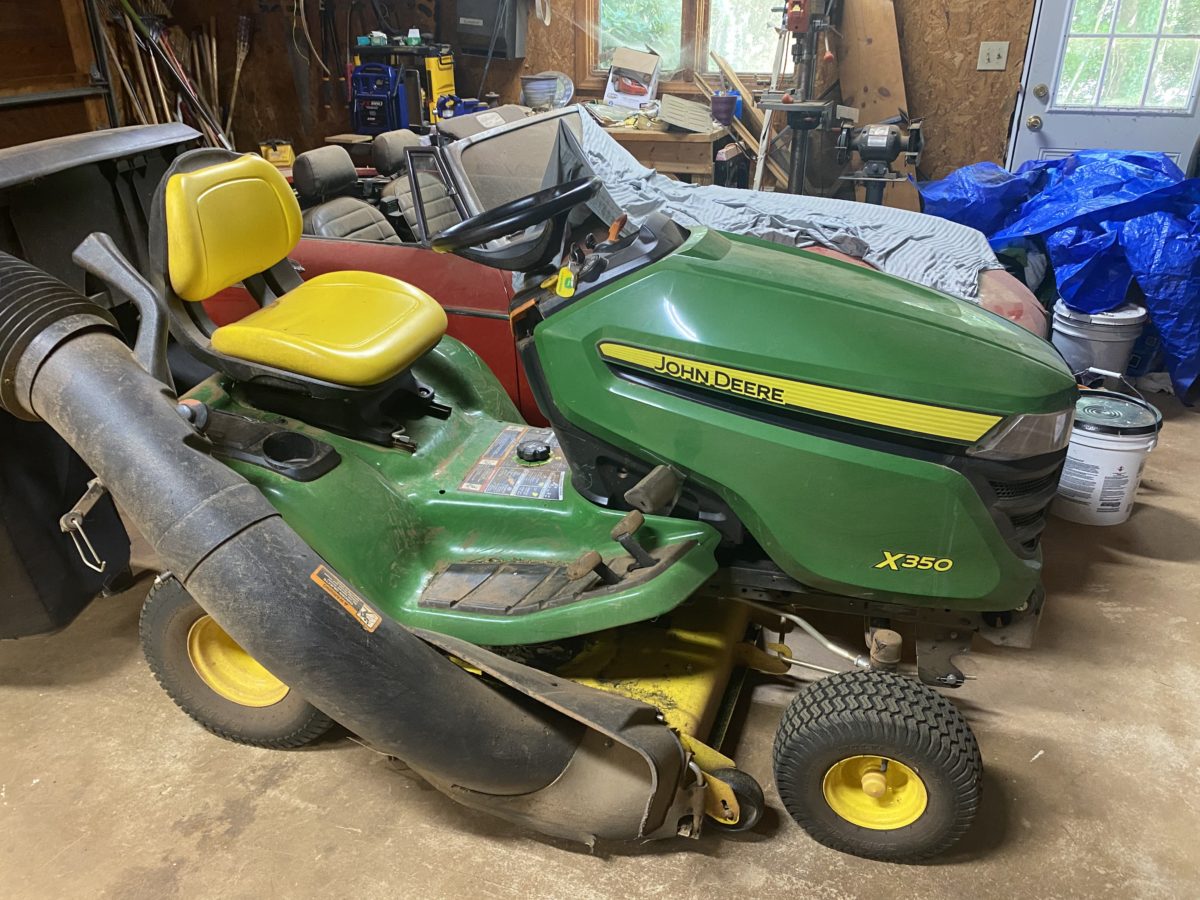 My first lawn tractor was a John Deere. It sat in my garage when I was a kid and I remember sitting on it and wanting to mow the lawn, even at a young age. The iconic John Deere brand is well known for longevity and reliability. In fact, I went on a hayride with my little one this past weekend and was pulled by one of the big John Deere tractors that looks like it was made in the early 60s. 
Today, we will review all of the important features of the John Deere X350 – particularly the one with a 42-inch deck. While the X350 does come with an optional 48 inch deck, most folks with residential properties will stick with the 42. 
Jump ahead to:
Riding mowers vs push mowers vs zero-turn mowers
When it comes to picking the right size of mower for your yard, there are a few considerations. The first thing to consider is the size of your lawn. For those of us on several acres, a zero-turn mower is going to be the fastest way to get your lawn cut. Zero-turn mowers also offer more agility and nimble cuts if you are working around a circular or wavy structure or garden bed. John Deere also makes some great zero-turn mowers.
If you have more than a half an acre but less than 3 acres, riding mowers are a necessity. Riding mowers offer the speed and power of zero-turn mowers, but are easier to store and not too large for narrow spaces. 
If you have less than a half of an acre, consider a push mower. You can get self-propelled push mowers that will walk for you to help ease the burden. A riding mower and especially a zero-turn mower are going to be way too large and frankly a waste of power. 
Benefits of riding mowers
As mentioned previously, riding mowers are perfect for mid-sized lawns that are too big for a push mower, but too small for a zero-turn mower. Riding mowers also can fit between two cars in your garage. 
Additionally, riding mowers come in at a lower price point than zero-turn mowers and have a more intuitive steering function (the steering wheel). Another thing I love about riding mowers is their ability to pick up other functions. Some riding mowers come with a trailer hitch or front-end attachment that can allow for things like mini trailers, snow plow functions, brush guards, and more. This can help with multiple other functions around your property other than just cutting the grass. 
The John Deere X350 with a 42 inch mowing deck
While I love riding mowers, the John Deere X350 offers some convenience and functionality I have not seen in others. I have reviewed a couple of other riding mowers, but have seen some new gadgets on this one that have simply blown me away. Let's check them out below:
Control panel and ease of use
I have gone on and on about this in other reviews I have done, but remember the control panels on the old riding mowers? You had somewhere between a rabbit and a tortoise and had to crank that spring powered gear shifter and hope it landed on the right one? 
Well, those days are gone. Technology has truly advanced to an intuitive experience for the mower driver. Close your eyes and imagine – an electronic fuel gauge, battery life, speed, and everything else in your car's dashboard – on your LAWN MOWER!!!!!
Okay – now open your eyes (you had to in order to read this, but just go with me) and check out the below picture:
Pretty dang cool. Some other perks about the control panel include an easy "Mulch-on, mulch-off" button as well as a cutting height adjuster knob. I love the height adjuster because it gives you ¼ inch increments and really allows you to have total easy control over how much length you want in your grass. 
Maintenance
As John Deere tends to do, the John Deere X350 has a 30 second oil change system. I did not know that was possible, but they have this neat looking tube that you just hook up to your mower and it replaces the oil. 
One thing I love seeing in this mower is the K46 hydrostatic transaxle system. This allows for easier to maintain, less "breakability" movement. 
Further, the John Deere X350 comes with a four year or three hundred hour bumper to bumper warranty. While I'm not in love with the transmission, anything that goes wrong in the first four years is still under warranty. That signifies the confidence that John Deere has in this series of riding mowers. 
Drivability of the John Deere X350
Similar to other riding mowers, the John Deere X350 has a decent seatback and traditional foot pedal system for operating. For me, the traditional riding mowers are always more difficult to operate due to my height. Most people will find this mower comfortable and easy to use, just as any other riding mower.
Unfortunately, nothing really sets John Deere's X350 apart from its competition in this department. 
Another thing I do not love about this mower is the lack of arm rests. I absolutely need armrests when I use the riding mower and can't stand just having my elbows dangle. 
Attachments and other fun
The John Deere X350, like other riding mowers, has the functionality to add on attachments. This can turn your mower from a 4-5 month per year machine to a year around machine. The X300 series allows for snow blowers, front blades, baggers, canopy and weather enclosures, sprayers, just about every tow-behind you can dream of, and even utility carts.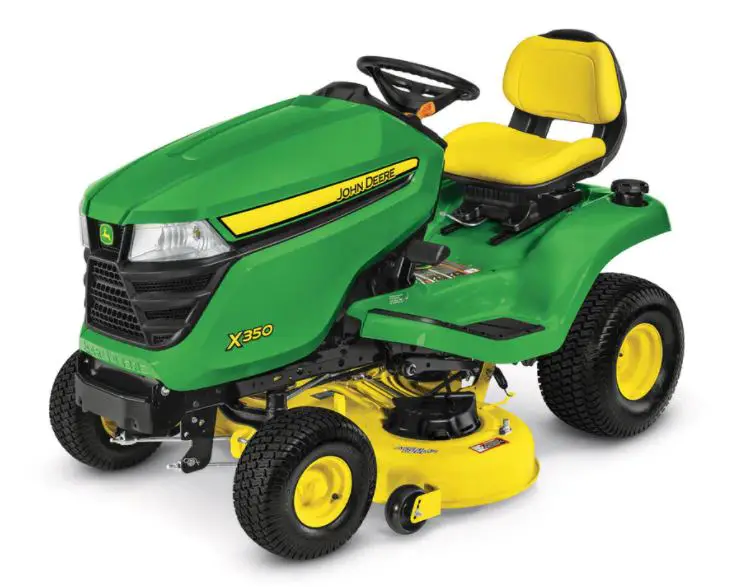 I have seen this ability with other riding mowers, but have been blown away by the breadth of attachments that John Deere offers. It looks like John Deere has made a name for itself by trying to offer the most comprehensive suite of attachments and becoming a full year machine.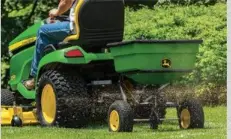 Power
The John Deere X350 offers a 22hp V-twin engine. As you may see in competitors that offer a Kohler or Kawasaki engine, but John Deere manufactures its own engines. The engines are comparable with others and allows for up to 5.5mph of forward speed and 4mph in reverse.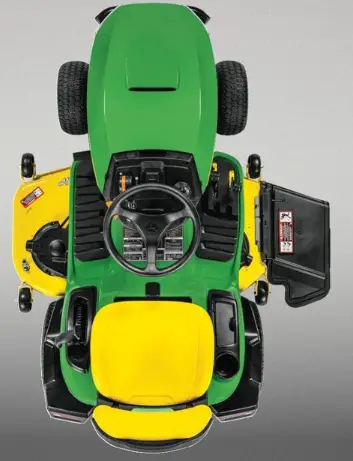 I have personally never had any issues with power as I mow on relatively flat land, but have heard from others that this machine can struggle with hills. The owner's manual actually references not using this mower with angles greater than 15 degrees. 
Mower deck
The 42 inch "Accel Deep" mower deck offered by the John Deere X350 is a great steel deck shell. This deck features a wash port for simple cleaning and electric power take-off clutch with in-line belt.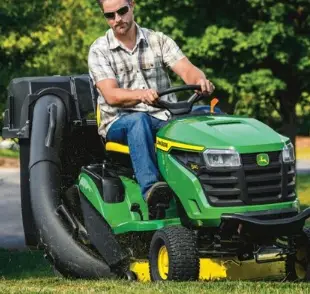 Cost and value of the John Deere X350
Right now, the X350 is listed for $3,499 on John Deere's website. For the price, I don't love the value of this mower. In fact, you can get some really slick zero-turn mowers for about the same price. In all honesty, I do not think this is worth it. While John Deere mowers are great, I can't imagine this price point for a traditional lawn tractor riding mower. That being said, inflation is definitely high and that may be having a big impact on this price. Shop around!
John Deere also sells some comparable lawn tractors at Home Depot that you can check out online.
The overall review: The John Deere X350 mower
| | | |
| --- | --- | --- |
| Feature | John Deere X350 | Comparable lawn tractors |
| Difficulty to use | Slightly less difficult | Average difficulty |
| Durability | Average durability | Average durability |
| Maintenance | Relatively easy to maintain | Relatively easy to maintain |
| Value | Lower value to high price | Medium value |
| For lots <10,000 sq. ft | Not recommended | Not recommended |
| For lots <1 acre | Recommended  | Recommended  |
| For lots >1 acre | Recommended up to 2-3 acres | Recommended up to 2-3 acres |