The Husqvarna Z254 zero-turn mower is an absolute beast. If you are looking for a zero-turn mower that feels and looks like a commercial mower, look no further.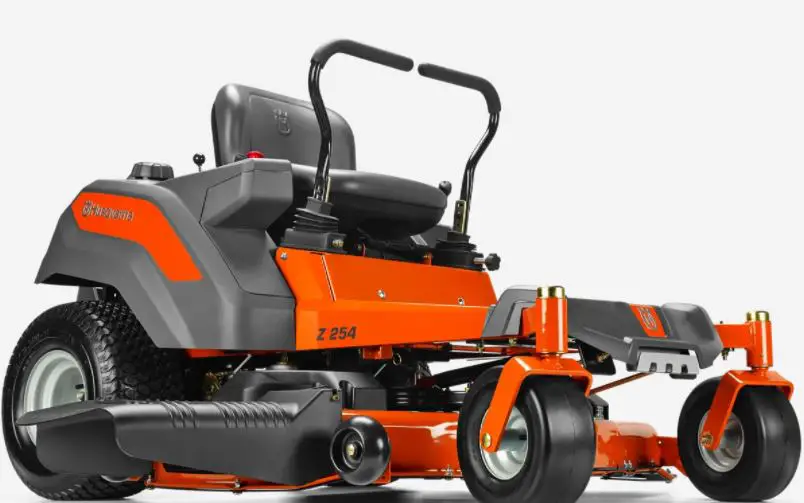 The combination of an absolute beast of an engine, massive deck, and Husqvarna quality make for one of the best zero-turn mowers on the market. 
Let's take a look at the outline for this review:
The Husqvarna Z254 review: Features
Now that you understand the reputation of Husqvarna and the benefits of zero-turn mowers, let's check out some of the features and highlights of the Husqvarna Z254. 
Power
The Husqvarna Z254 has a 24-horsepower Briggs and Stratton engine. Yep, you read that right, 24 horses! For reference, many of the other similar sized mowers are around 22-23 horsepower. Even some of the larger zero turn mowers with a 60 inch deck have 24 horsepower mowers. 
All that being said, this thing has some power under the hood. The one thing I love about all Husqvarna products is that they are flat out powerful. The oversized cooling fan, premium air filtration, chrome plated valves and smooth bearings all give this engine a high-end performance.
Another thing I love about Husqvarna is that they know what to outsource. Many of these companies try to vertically integrate and make sure that they own every single part of the mower. Husqvarna has the humility to ensure that their owners are getting a super refined product. Many mowers rely on Briggs and Stratton for their engines because they simply dominate the engineering of that space. When you get into the high horsepower range, you will be glad they decided to loop in Briggs and Stratton.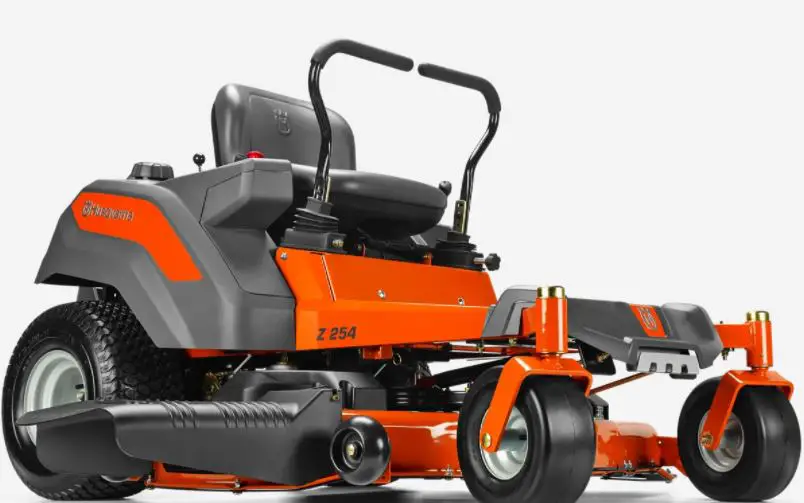 User experience of the Husqvarna Z254
One element I love about the Husqvarna Z254 is that the folks over at Husqvarna have mowed lawns before. When putting together machines, they always consider the mowers' experiences. This one uniquely feels like it was designed for commercial property landscaping, but also able to be used in your backyard. 
For starters, the Z254 comes with an automatic park brake system. When the steering levers are deactivated (resting in a separated form), the parking brake is automatically activated. For context, most zero turn mowers have a separate brake that you have to engage.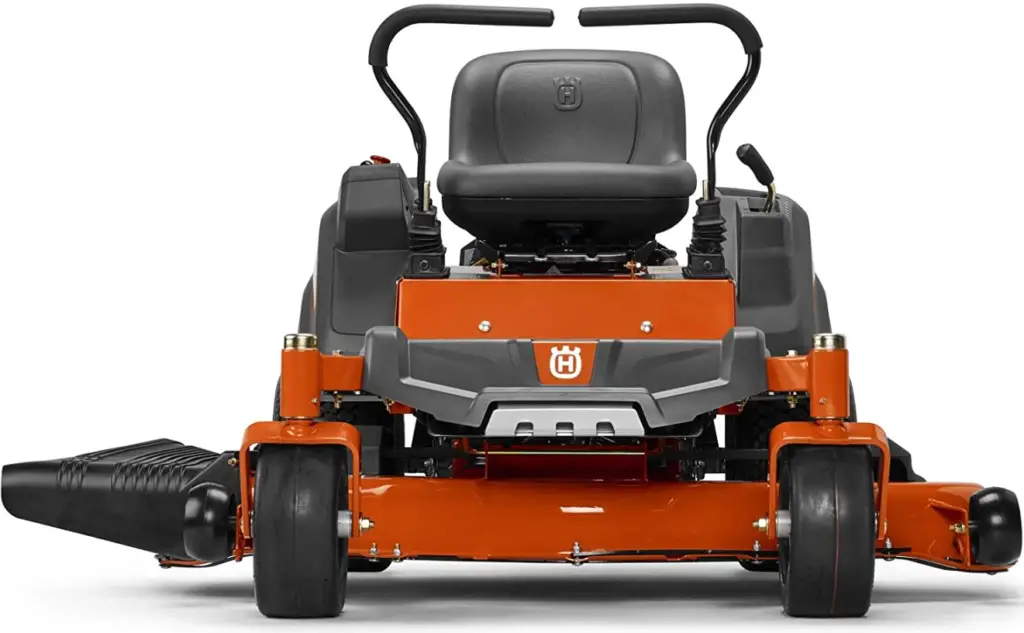 The Husqvarna Z254 also has an ergonomic control panel. Ergonomic is a label placed on anything, so I rolled my eyes when I first saw this. But it is nice having a panel that includes the ignition, hour meter, and speed control all together in one spot. On the other side of the control panel, there is the deck lift system, which is extremely standard on really any riding mower. Nothing special here. 
This mower does come with the ability for some attachments. One attachment I absolutely love is the striping kit. Just makes your yard pop. The 54 inch mower deck on this is almost 3 times the size of your average push mower, so you can imagine how big of a stripe you can make on your yard with this. 
Drivability
Earlier, when I mentioned that this was designed for commercial folks, I meant it. An example of this is the rubber bellows (little rubber part at the bottom of gear shifters in manual cars), that are at the bottom of the handles. 
You see, these rubber bellows are actually very important and you will see them on industrial equipment for a reason. When moving joints on any metal tool get a lot of use (especially outdoors), they get exposed to grass, twigs, debris, rain, wind, extreme temperature fluctuations, etc.. As we all know, water is the biggest destroyer on the planet. The rubber bellows protect the moving joints on the steering levers and maintain the integrity of the steering components for much longer than its peers.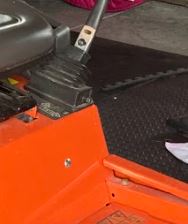 Lastly, the anti-slip foot area is just another common sense detail found on this mower that actually is missing from a lot. Others will have the smooth, finished steel with holes in it. That is great and all for when you want to hose down the mower, but when you actually need to make an awkward step in or out, you will wish you had an anti-slip surface available. 
The 54 inch mowing deck has something called "air induction technology" that actually sucks the grass up so the blades can get the most complete cut. For an analogy of this, imagine your hairdresser pulling your hair out with a comb to cut it evenly. The design of this deck does the same thing with air.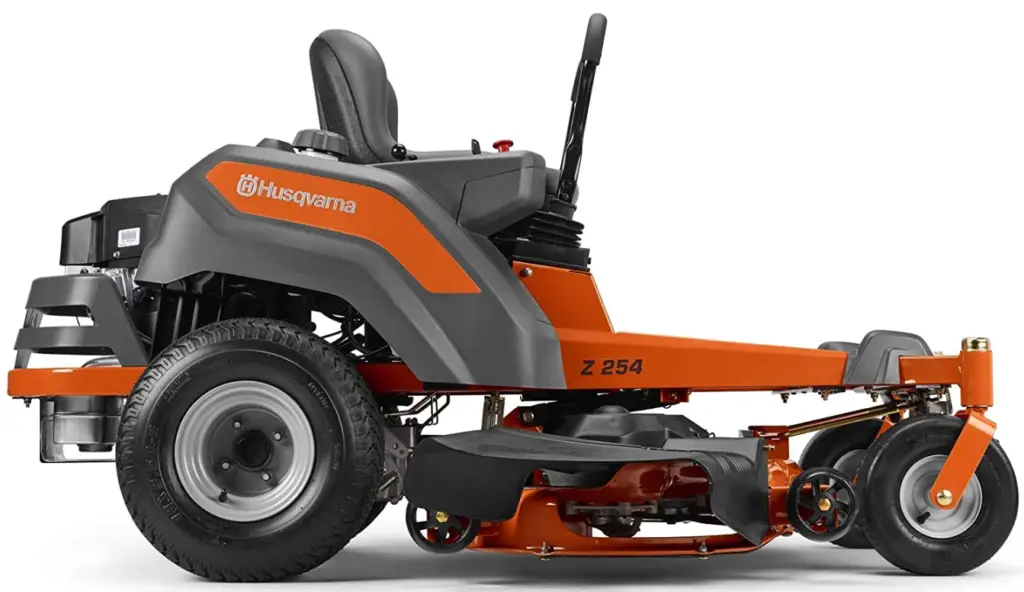 Maintenance and durability
The hydrostatic transmission means that this zero-turn mower is going to be relatively maintenance free. The 3-year bumper to bumper warranty is a good faith pledge from the people at Husqvarna that they stand behind their equipment. My suggestion is always to ride the wheels off of this for the first few years while you are still under warranty. 
The durability of this thing is high quality as well. Once you step on and feel the "thud" of your boots on the footplate, you will know that this was constructed with thick steel. The frame and casters as well are pretty dang thick. In some of the other mowers I have tried and reviewed, I read about folks actually cracking the chassis of their mower going over a weird hill or bump. I mean my word people, just put some reinforced steel and wheels on there and avoid losing $3,000+ on a mower. 
Cost and value: Husqvarna Z254 zero-turn mower
The Husqvarna Z254 costs about $3,800 and can actually be bought on Amazon and delivered to your house! All things considered, this is a tremendous value. In fact for the quality, power, and durability, this is probably the best value of any zero-turn mower I reviewed. I absolutely recommend this product. 
The official review: The Husqvarna Z254
Check out the table we made below that compare the Husvarna Z254 zero-turn mower to a comparable, average residential zero-turn mower.
| | | |
| --- | --- | --- |
| Feature | Husqvarna Z254 | Comparable residential ZT mower |
| Difficulty to use | Below average difficulty | Average |
| Durability | Above average durability | Average durability |
| Maintenance | Average maintenance | Average maintenance |
| Value | Super high value | Medium value |
| For lots <10,000 sq. ft | Would not fit | Would not fit |
| For lots <1 acre | Probably overkill but is fun and looks cool | Probably overkill but is fun and looks cool |
| For lots >1 acre | Highly recommended | Highly recommended |