The Husqvarna 350BT is a big, bad blower offered by Husqvarna. This blower was designed for the large yard owner, and it shows. Husqvarna offers a huge suite of backpack blowers ranging from casual small-yard owners to equipping the big commercial teams to clean off a golf course.
Let's check out the guide for today's review:
Why we review lawn tools
The reason we started this website in the first place was because we had so much trouble trying to find reasonable, understandable, honest reviews for lawn equipment. And it's not cheap! After hours and hours of research, trying products and returning them, and messing up our yards – we started this site.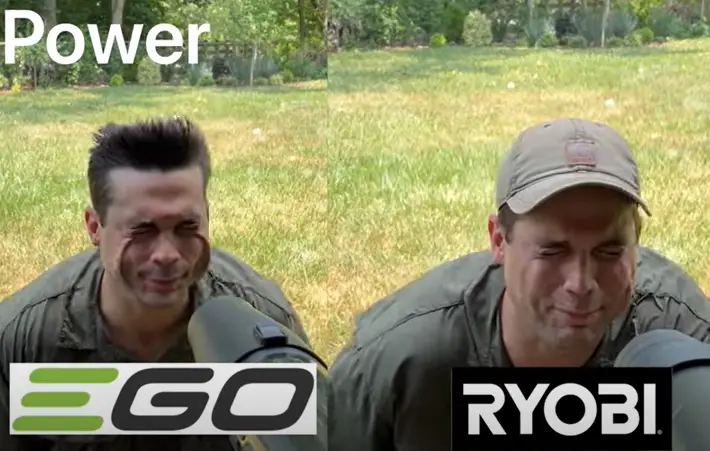 As people who had to learn the hard way, we want you to know exactly what you are signing up for before you purchase a piece of equipment. That's why we are committed to providing honest, easy-to-understand reviews that mean something.
Leaf blowers: Electric vs. Gas
Obviously you have two options when selecting a leaf blower: electric or gas. They are worlds apart in just about every aspect. Electric leaf blowers tend to be cheaper, weaker, and only last a few seasons. As I have mentioned in previous posts, I used to have a Ryobi leaf blower attachment that came on their 3-in-1 tool kit. I have now gone through two of the leaf blower heads in which they start making a high pitch scraping noise when I am using it.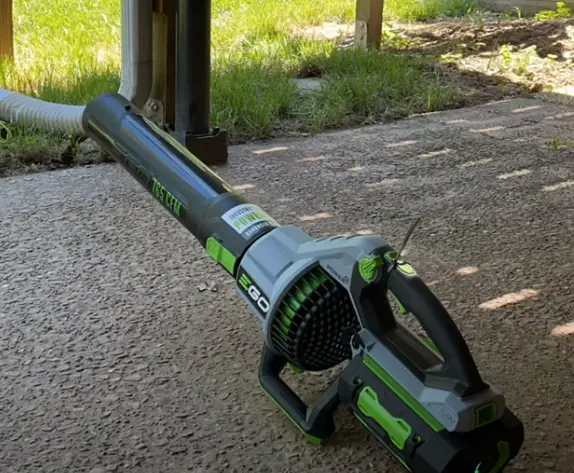 There are exceptions in the electric leaf blower world. One of those is the Ryobi 40V Brushless whisper series blower. It is quiet, extremely powerful, and built to last. It is, however, one of the most expensive electric blowers you can buy.
Gas blowers are superior in almost every way. They are super strong, last many seasons, and quickly get the job done. The reason you see every professional lawn care person using a backpack blower is because they work extremely well. Let's dig into that more below.
Backpack blowers and the Husqvarna 350BT
As you may know, I have already reviewed a few other backpack blowers in addition to today's. This includes the Husqvarna 150BT, a slightly different backpack blower offered by Husqvarna. One thing you need to know about backpack blowers is that they are the ultimate leaf blowers when it comes to medium to large yards.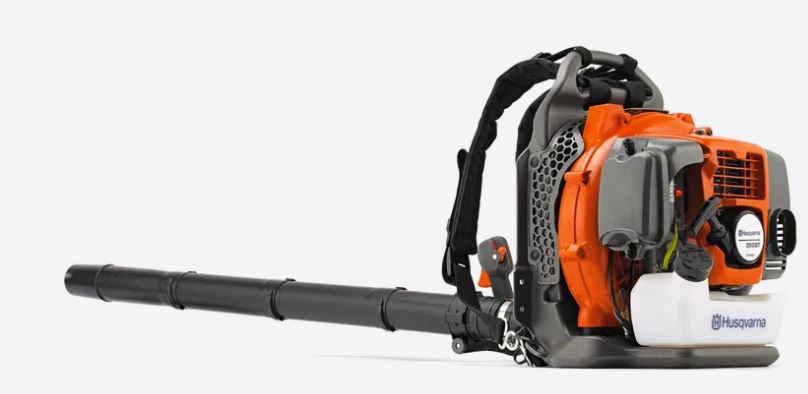 Think about it – it takes a bit of time to get the backpack blower fired up, strapped on, and comfortable to use. Make sure it is worth your time to get a big, bad blower like one of these before you purchase. If you have a relatively small yard, consider a handheld blower or battery-powered blower. These can save you set-up time despite being weaker and limited.
To check out my other blower reviews, click here.
Husqvarna 350BT review: Features
The Husqvarna 350BT has a ton to love, while a few things that are less than ideal. Let's check out each focus area to see what to think of this blower.
Power
The Husqvarna 350BT has a 50cc engine with about 2.1 hp of power output. This has a cfm of just over 494, which puts it in a slightly higher range for gas blowers. The airspeed leaving the pipe is about 180 mph. The Husqvarna 150BT has a little less cfm, but higher airspeed….how is this possible?
The Husqvarna 350BT has a wider nozzle, meaning it blows a wider path at a slightly lower speed. This is what contributes to the 350BT being a large yard blower. The backpack blower simply moves large quantities of air at a time versus being a focused, narrow streamline. 
For those looking to move large piles of leaves, the 350BT will likely be better suited for the job. The 150BT will be great for things like cleaning up grass clippings that have a propensity to stick to concrete. This narrow stream of the 150BT allows for focused power in specific areas.
If the wider nozzle fits your work style, friggin get this one. It is a beast – and you can even get it on Amazon for a decent price and shipped to your home.
Comfort of the Husqvarna 350BT
Here is an area of the Husqvarna 350BT that is simply unmatched. You can tell when you strap on one of these blowers that the designers and manufacturers have simply done a lot of yard work. 
The 350BT comes with an ergonomic handle that is to the side of the blower. The positioning of the handle is important. Some handles are right over the top of the blower arm, meaning you are constantly thrusting against the direct force of the blower. This one is slightly offset, meaning you feel less of that "kick" against your hand while blowing. The handle is also adjustable and has settings right at the tip of your fingers so that you do not have to fidget around making adjustments.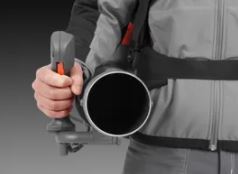 One downside to this blower is the back. While the straps are comfortable, the back is hard plastic and has the engine parts screwed into it. This makes it feel like you are wearing an engine sitting on top of hard plastic. It does not necessarily feel like a solid machine but more of a conglomeration of random parts. Overall, the back part is just uncomfortable and unnatural feeling – especially compared to some of the Stihl backpack blowers.
Maintenance and value
As is the usual situation with Husqvarna products, maintenance is super simple. These blowers do not require an oil change or anything like that, simply an air filter change. The air filter is super simple to pop off and replace, so that will be the bulk of any maintenance.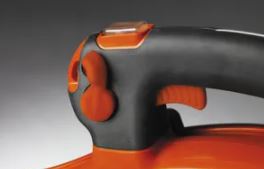 I have mentioned this several times, but my Ryobi blower attachment for my 3-in-1 Ryobi yard tool simply sucks. I have had to purchase a new blower attachment for two straight years because they are cheap and loserish. Husqvarna blowers will last you 10-15 years with proper maintenance. I highly recommend saving some money in the long run, and purchasing one of these today. 
Husqvarna 350BT vs 150BT
So basically, these are very similar blowers. The 350BT is going to have slightly more power with less speed, but directed over a larger area. The 150BT is going to be great for smaller yards, or more focused jobs (like blowing off wet grass). Both weigh about the same amount, have the same maintenance, and similar usability.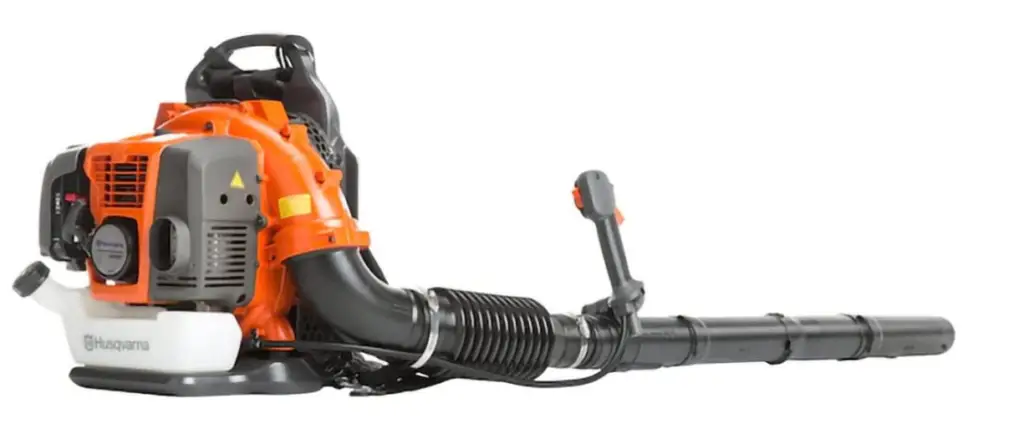 Husqvarna 350BT price
The Husqvarna 350BT comes in at about $350 to $400 (or cheaper on Amazon). This is going to be $30 to $40 higher than the 150BT, but can be definitely worth it if you have a larger yard.
This price range is a really great value. Like I mentioned earlier, this blower will last you for 10-15 years if you treat it right. In that time, I would blow (ha) $600 to $800 on electric blowers that failed for whatever reason. 
Curious how this stacks up? Check out our lawn equipment cost guide for 2023.
The official review: Husqvarna 350BT backpack blower
| | | |
| --- | --- | --- |
| Feature | Husqvarna 350BT | Electric blower |
| Difficulty to use | More difficult to start and store | Easier to start |
| Durability | Much more durable | Avg. durability |
| Maintenance | Average maintenance | No maintenance |
| Value | High value | Low to medium value |
| For lots <10,000 sq. ft | Less recommended | Highly recommended |
| For lots <1 acre | Highly recommended | Less recommended |
| For lots >1 acre | Highly recommended | Less recommended |