The Greenworks 24V Portable Power Cleaner is a handheld miniature pressure washer that can be super convenient for taking with you on a paddle boarding trip, mountain biking, or even just around the backyard pool.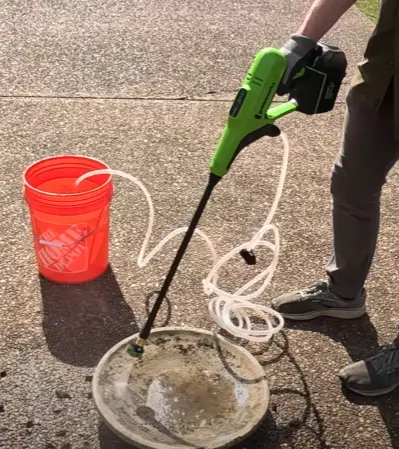 We got our hands on this nifty little gadget and decided to write up our thoughts. If you want to see it in action, check out our Youtube video review of this power cleaner.
In short, this power cleaner is a really cool tool that I'm sure has tons of uses to wash cars or windows – but isn't something that I would regularly use. It's cool and it was fun to play with, but also had a few little things that really annoyed me during our testing. 
Otherwise, jump ahead for our in-depth review of all the claims that this power cleaner makes:
Why we started The Lawn Review
The reason we started this website in the first place was because we had so much trouble trying to find reasonable, understandable, honest reviews for lawn equipment. And it's not cheap! After hours and hours of research, trying products and returning them, and messing up our yards – we started this site.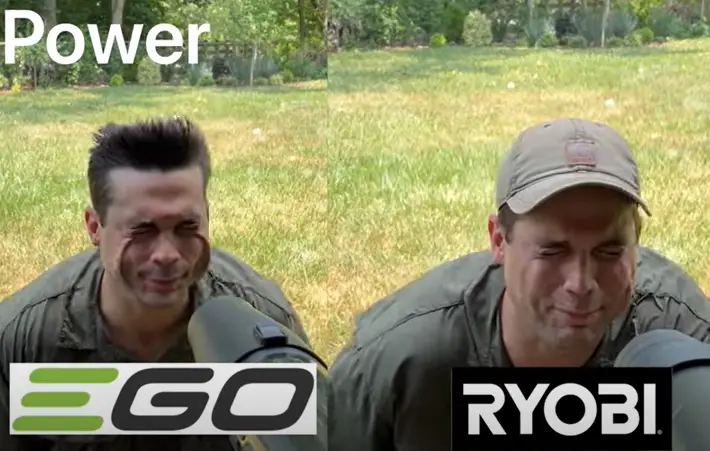 As people who had to learn the hard way, we want you to know exactly what you are signing up for before you purchase a piece of equipment. That's why we are committed to providing honest, easy-to-understand reviews that mean something. 
GPM and PSI on electric power cleaners
GPM stands for gallons per minute. GPM measures how quickly water is leaving the end of the electric pressure washer. PSI stands for pounds per square inch and is a measure of pressure that is being applied out of the electric pressure washer.
If this is confusing to you, you're not alone. In reality, if you are looking for power, you want both. They work hand-in-hand to deliver water from the machine at a high rate and effective and efficient volume.
For reference, a pressure washer can have a high PSI but a low GPM, meaning it is able to have a high pressure but generally not over a large area. Having both a high PSI and high GPM means that it's coming out fast and it's producing a more effective stream.
Likewise, you can also have a low PSI and higher GPM. This is a good ratio for cleaning cars because you get a lot of water at a safer pressure.
Greenworks 24V Power Cleaner: Breakdown
The Greenworks 24V power cleaner is a product meant to be used on the go. Meaning it doesn't have all the crazy motor action used by normal pressure washers. It also doesn't even require a hose. Yep – let's explain.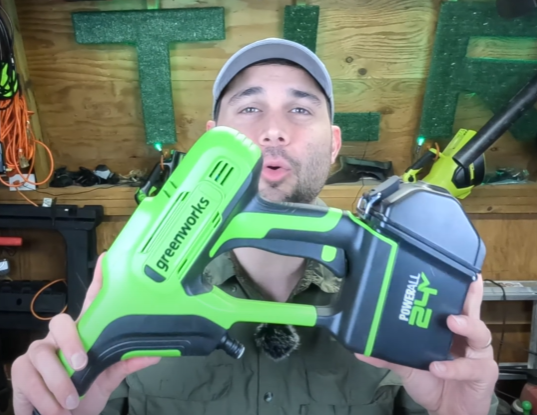 Usability and convenience
Frankly, usability and convenience are everything when it comes to a power cleaner. If you don't have those – well then you might as well be chained to a classic pressure washer. 
The first thing I'll call out about this power cleaner is that it takes a 24V Greenworks battery. No plugs required, allowing you to be ultimately mobile. The 24V battery works in a ton of other light-duty tools from Greenworks ranging from weed eaters to their 24V shop vac
The next great thing about this Greenworks power cleaner is that it can use a variety of water sources. You can plug a hose directly into the power cleaner and get rocking, but it also comes with a 20 foot hose that attaches to it and can draw water from any fresh water source. Simply drop the end of it in a bucket full of water, a hose, a lake, or anything else and get to rocking. Pretty darn cool.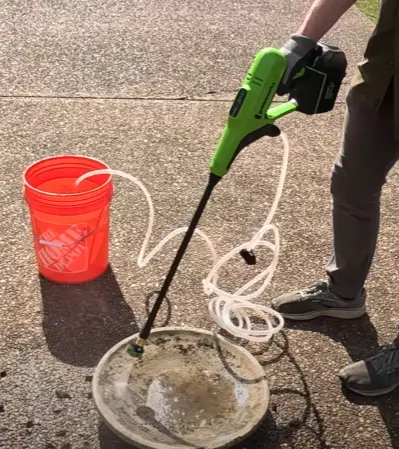 One huge downside to this (and something we recommend for Greenworks to fix ASAP) is that the hose attachment that allows you to suck up fresh water isn't very long and floats on top of the water. During testing, it frequently would pop out of the water and cut the power cleaner off.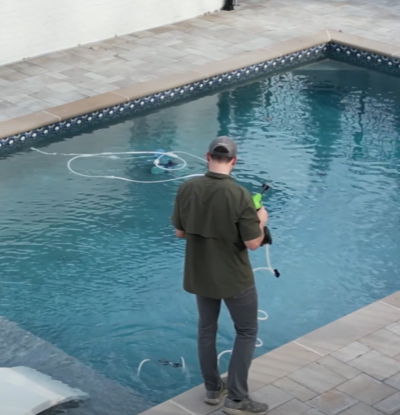 A bobber or weight or something else that could keep this thing underwater would be super helpful. 
Nozzle tips on the Greenworks power cleaner
The power cleaner has another unique feature – a snap-on nozzle head with five different options for nozzle angles. You simply rotate the nozzle through the different angles to select the one that's right for you. Normal watering, 0 degrees, 15, 25, and 40 degree angles are all available.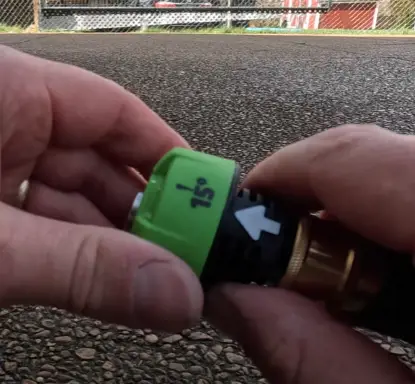 In addition to the nozzle tips, there's this neat little soap dispenser that can pop on as well, allowing you to apply detergent or window cleaner to your exterior windows, car, or anything else before doing a full on wash. 
Greenworks 24V power cleaner: measuring the power
The Greenworks 24V power cleaner claims to have 600 PSI of pressure coming out of the end of the wand. We obviously put it to the test with our handy PSI meter.
During our test, we found it to actually reach a max PSI of 700. Greenworks is selling themselves short here!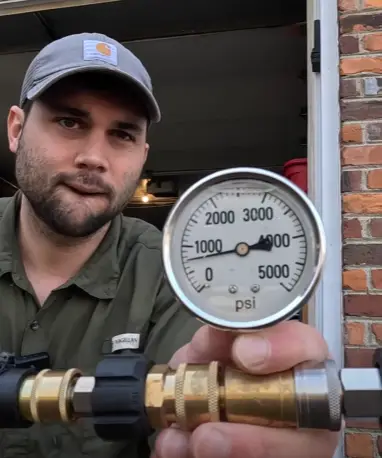 As mentioned earlier, GPM is also an important metric to watch for when buying a power cleaner. Greenworks claims a 0.8 GPM. We tested this one as well, and found that it was slightly below 0.8 GPM – not bad.
When it comes to actual pressure output and the applications you can use this for, the answer is not much. These are great for muddy dirt bikes, stand up paddle boards, car washes, and a few other things. But as far as blasting away dirt from a deck or concrete or really any other pressure washer-type of application, it won't get you very far. In all honesty, it isn't much better than most garden hose nozzles.
Battery life and run time on Greenworks 24 power cleaner
This is where the case for the Greenworks power cleaner really breaks down. Up to this point, this was a kind of cool, handy little cleaning tool. But the battery life isn't great. We tested the run time on this and it lasted for 17 minutes. You might be thinking that 17 minutes isn't all bad since it will still cover most quick clean-up jobs. 
But man, the charge time for this 4.0 Ah battery is over 3 hours long. I don't know about you, but 3 hours of charge time for 17 hours of run time seems a little…..whack. 
In addition to the weak run-time, I found the battery really hard to pull out of its waterproof casing. The design isn't very intuitive, although I appreciate that they protect it.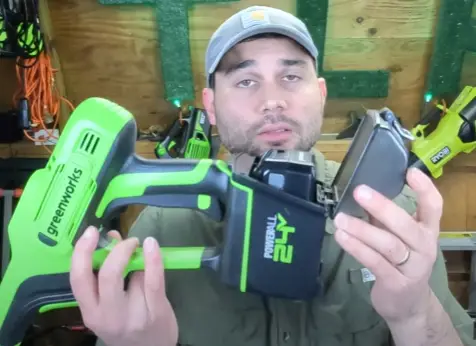 Our final review: Greenworks 24V Power Cleaner
The Greenworks 24V Power Cleaner is a great tool for somebody. But I didn't find that many applications that I would personally use it for that wouldn't be covered by either a normal garden hose or a regular pressure washer.
If you have neither, this one can be handy. I personally liked using the Worx Hydroshot better.
But if you're interested in this one and already have a 24V Greenworks battery – then it's a great option and is available for a competitive price on Amazon.
.