Gas and electric pressure washers are two tools that can do the same job, but have drastically different experiences. I'll tell you this up front – gas pressure washers are going to be much more powerful at their peak than electric.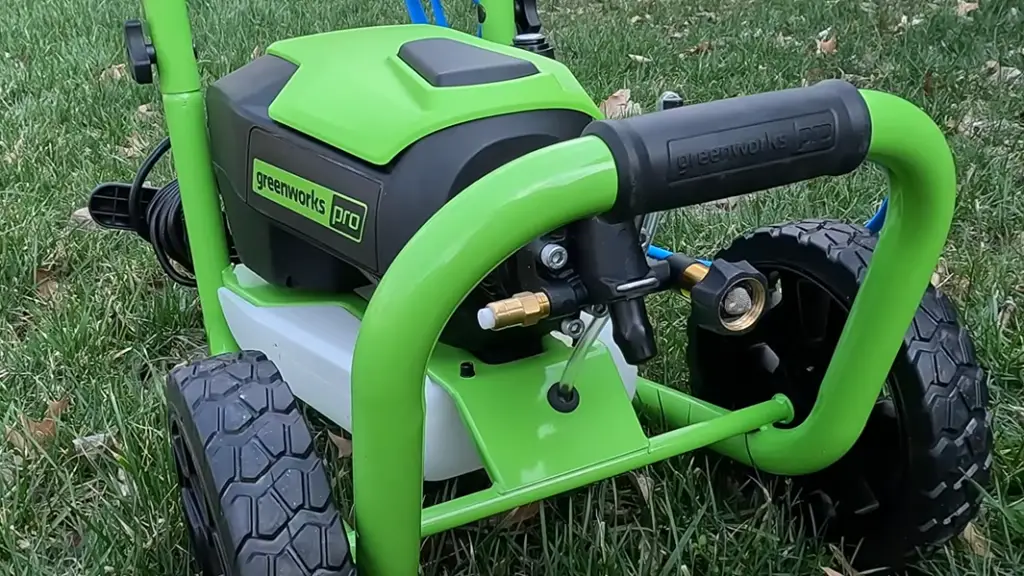 But that doesn't mean electric pressure washers aren't great for the average homeowner. Itching to get your siding, windows, driveway, patio, and sidewalks clean this summer? You may be wondering which is the best option for whatever job you are trying to do.
The truth is, both can provide the cleaning power you need to accomplish all your spring and summer cleaning jobs. But, before you go shopping, you'll want to understand the difference between gas and electric power washers so you make the right choice.
Let's break it down for you.
My experience using gas and electric pressure washers
I own a Troy Bilt gas powered pressure washer and have reviewed and own a TON of electric pressure washers. Growing up my parents always had me doing one chore or another around the house – and they often included using a pressure washer. From cleaning windows to cars to the driveway to the deck around our pool – a gas pressure washer was my tool of choice.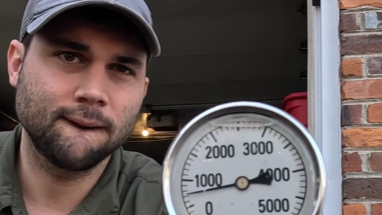 A lot has changed since then, but not for the worse. I really enjoy my electric pressure washers including my Sun Joe SPX3000, my Greenworks 3000 PSI pressure washer, and even my cool garage-anchored reel pressure washer.
Key Differences in Gas and Electric Pressure Washers
As you may suspect, the main difference between gas and electric pressure washers is how they're powered. What you may not realize is that one is far more powerful and effective. The other is less capable, yet may be just what you need. Consider the following to decide which will be most appropriate for your needs.
Upfront Cost
If you're looking for a budget friendly option, an electric pressure washer is a good choice. They're less expensive than a gas powered pressure washer initially. Whenever you plug it in to use it, you'll also incur a slight increase in your electric bill – but I doubt you would ever notice.. A gas powered pressure washer will be more expensive, but they are higher quality. Gas washers can also be repaired whereas electric power washers may not last very long.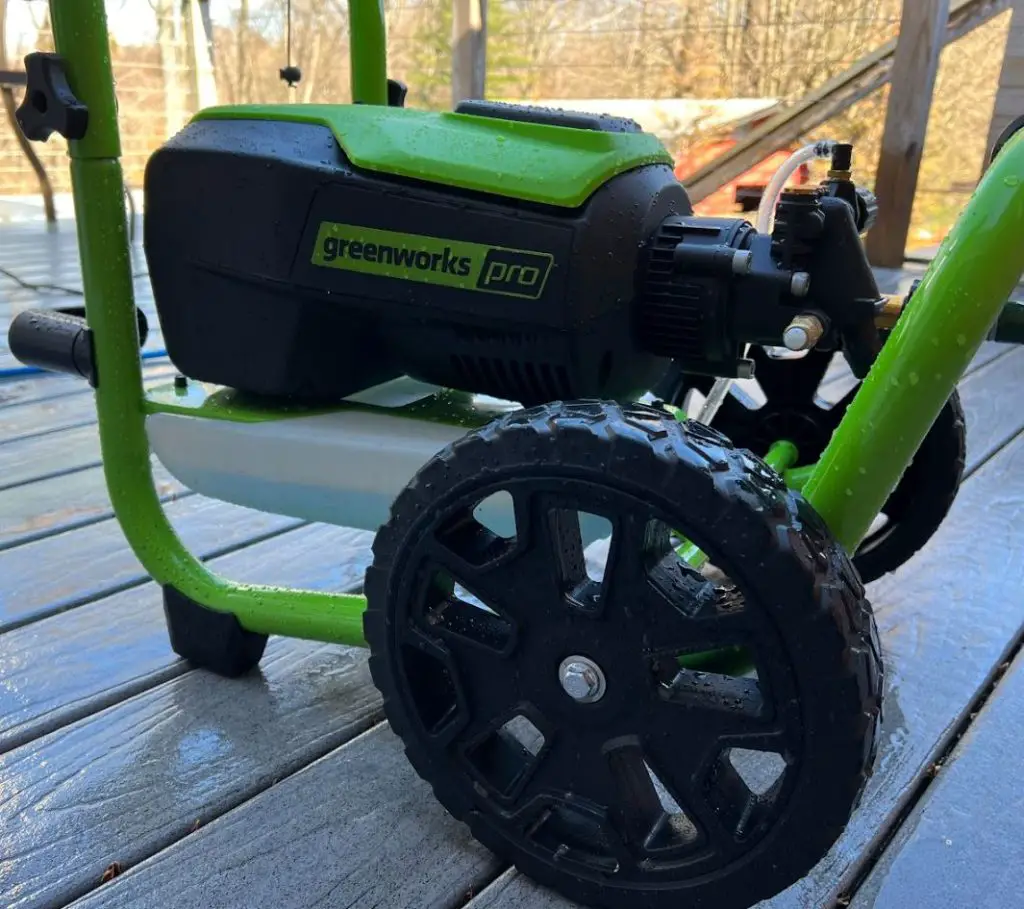 Electric pressure washers have gotten a lot more durable, however. One thing I really like about my Greenworks 3000 PSI pressure washer is that it has a ten (10!!) year warranty on the motor. They now make brushless motors which are way more durable and last a lot longer.
Durability
Even a high-quality electric pressure washer won't be nearly as durable as a gas powered washer. If you work your electric pressure washer too hard, you may burn it up, meaning you'll need to buy a new one. A gas washer, on the other hand, will last for many seasons with proper maintenance.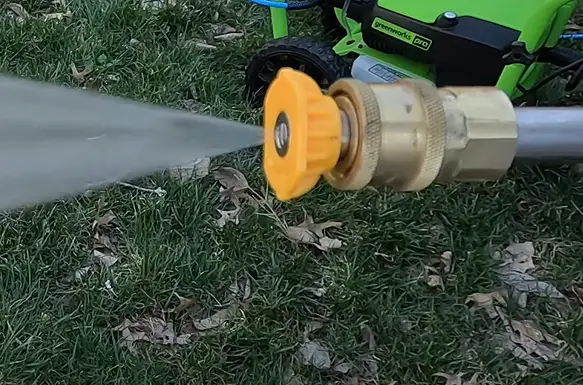 Gas powered pressure washers compared to electric are really reliable and can handle running for a really long time. Because they are small gas engines generally made by someone like Honda, they run FOREVER as long as you put gas in and do the bare minimum maintenance.
Versatility
A gas powered pressure washer can literally be used anywhere. Contrarily, you're restricted by the length of your power cord for an electric pressure washer. One thing I like about electric pressure washers is that some of them can be used with a battery and taken literally anywhere (literally). A good example of this is the 24V Power Cleaner from Greenworks, which is for light duty cleaning but extremely portable.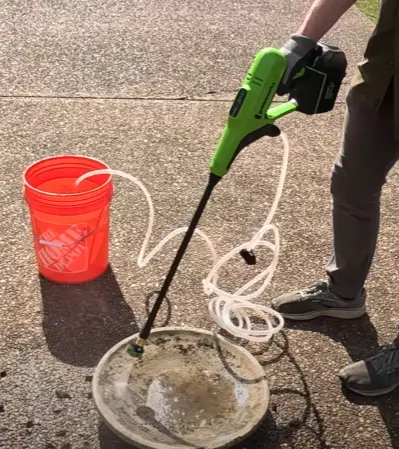 Noise levels
Electric power washers, like other electric yard and garden equipment offer quieter operation. This may be important if you live in a close neighborhood with sensitive neighbors. Gas powered pressure washers, on the other hand, can be very loud to operate. But, the job gets done faster, so there's a trade-off.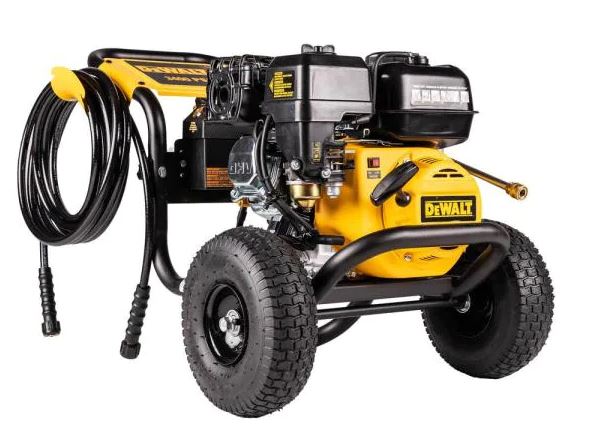 As I write this, my neighbors across the street are getting the exterior of their house repainted. The dudes showed up this morning with a freakish gas pressure washer that is EXTREMELY loud and disruptive – but powerful as heck. Electric pressure washers definitely don't make a good sound and aren't as quiet as you would think, but are way better than gas.
Which is better: Gas or Electric Pressure Washers?
So, what's the best option? A gas or electric pressure washer? That depends upon you and your needs. If you need something for heavy-duty cleaning and you don't mind the noise and fumes, gas power is the way to go. For lighter, infrequent use in residential areas, you may want to consider a good-quality electric pressure washer.  
I use an electric pressure washer 90% of the time because it is super easy to start and stop, doesn't require maintenance, and can handle most projects around the house. The other 10% is used for stripping old paint or pressure washing my driveway with a surface cleaner attachment.
Why we review lawn tools
The reason we started this website in the first place was because we had so much trouble trying to find reasonable, understandable, honest reviews for lawn equipment. And it's not cheap! After hours and hours of research, trying products and returning them, and messing up our yards – we started this site.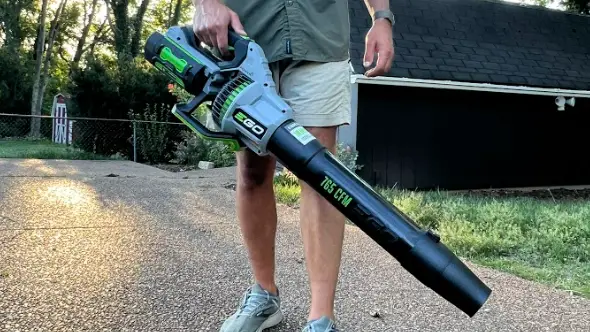 As people who had to learn the hard way, we want you to know exactly what you are signing up for before you purchase a piece of equipment. That's why we are committed to providing honest, easy-to-understand reviews that mean something. 
What features to look for in a pressure washer
Honda pressure washers make it relatively easy to knock off one of the biggest must-haves on your list: a reliable and powerful engine. But there are a few other things we recommend truly making sure are available when searching for a new pressure washer.
Nozzles Matter
When choosing a pressure washer, you should pay attention to the nozzles included in the package. Two types of spray nozzles are available, adjustable spray nozzles that can be controlled and quick-connect nozzles with predefined spray patterns.  
The predefined spray patterns typically come in different angles, allowing for you to quickly switch between a broad, lower pressure spray or a narrow, higher pressure stream.
Quick connect nozzles are super convenient, but they're almost like airpods – you can lose them!
Soap tank availability
Additionally, you may want to consider a soap tank-equipped pressure washer. Some of these pressure washers have "foam cannons" where you can simply add some soap and it will mix it in with the water. Pretty cool.
I recommend a soap tank for cars and windows.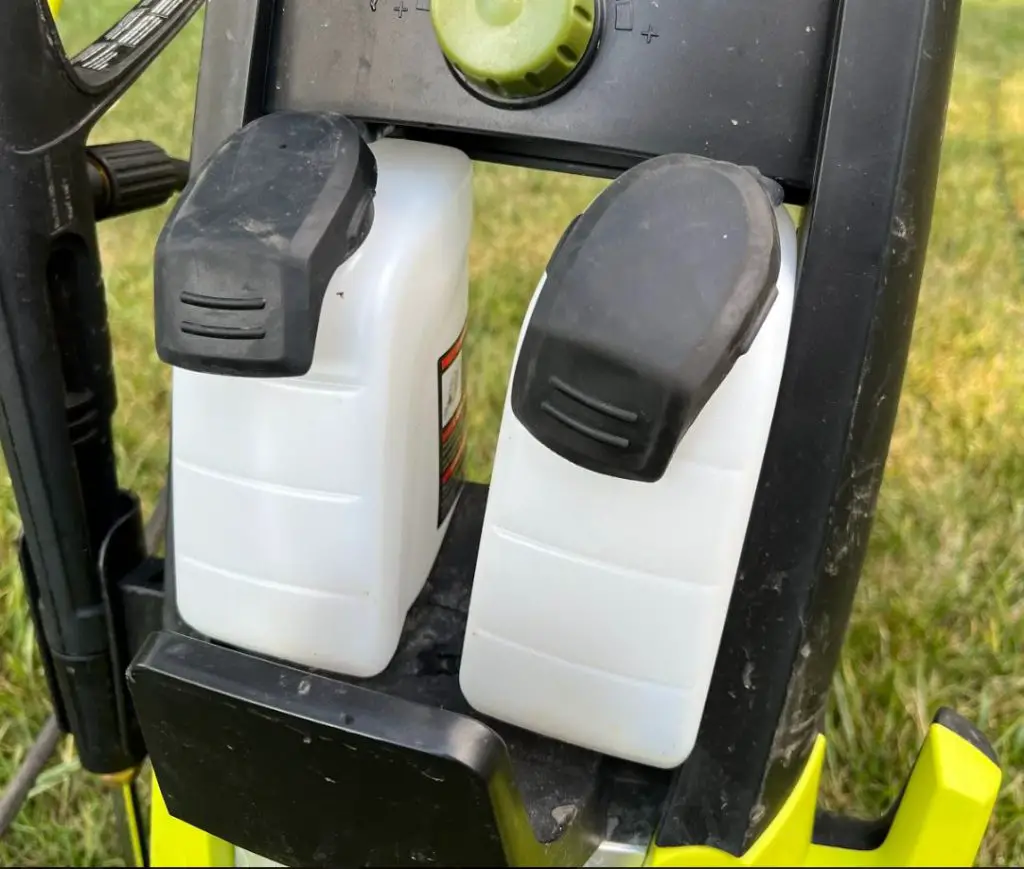 Wheels on pressure washers
Despite these seemingly minor features, they can have a big impact, especially with larger units. No sense in lugging around one of these in your yard and tripping all over the place.
Some pressure washers have a tendency to flip over and be top heavy, so make sure the base is sturdy.
If you're on the job site, keep an eye out for never-flat tires that will protect the wheels in case there are spare nails laying around.
Hose types
There's a big difference between how easy or difficult it is to use a pressure washer based on the kind of hose that comes with it. Stiff, rigid hoses make it extremely difficult to have any maneuverability without messing up the job or knocking over the base.
Length is also important for pressure washer hoses as you can end up in a tight spot, literally, if you don't have enough reach.
GPM and PSI on pressure washers
GPM stands for gallons per minute. GPM measures how quickly water is leaving the end of the electric pressure washer. PSI stands for pounds per square inch and is a measure of pressure that is being applied out of the electric pressure washer.
If this is confusing to you, you're not alone. In reality, if you are looking for power, you want both. They work hand-in-hand to deliver water from the machine at a high rate and effective and efficient volume.
For reference, a pressure washer can have a high PSI but a low GPM, meaning it is able to have a high pressure but generally not over a large area. Having both a high PSI and high GPM means that it's coming out fast and it's producing a more effective stream.
Likewise, you can also have a low PSI and higher GPM. This is a good ratio for cleaning cars because you get a lot of water at a safer pressure.