The Giraffe Tools Grandfalls Pressure Washer has pulled the future into the present.
You know how they always say work smarter, not harder? Well the Grandfalls Pressure Washer does both.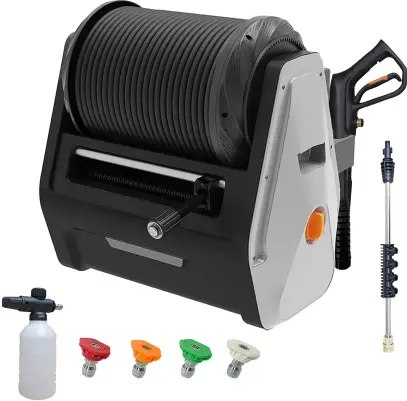 Now that I have experienced a retractable pressure washer, I kind of want a retractable everything. Retractable toothbrush. Retractable refrigerator. Just imagine the possibilities here. 
Let's check out why:
Why we review lawn tools
The reason we started this website in the first place was because we had so much trouble trying to find reasonable, understandable, honest reviews for lawn equipment. And it's not cheap! After hours and hours of research, trying products and returning them, and messing up our yards – we started this site. 
As people who had to learn the hard way, we want you to know exactly what you are signing up for before you purchase a piece of equipment. That's why we are committed to providing honest, easy-to-understand reviews that mean something.
About Giraffe Tools
To be fair, I had never heard of Giraffe Tools before. But a few years ago, I had never heard of Tesla either (I am what many would consider a moron). 
But after doing some digging, they have basically mastered the art of retractable tools. They have products like air hoses, regular hoses, pressure washers, and more – all retractable. 
Y'all we are in the 21st century. Why do we still settle for messy piles of kinked hoses? You deserve better. 
Giraffe Tools was kind enough to send us this retractable pressure washer to be put under the microscope by yours truly. Let me tell you – I liked what I saw and think you will, too. 
What to look for in a pressure washer
Some common considerations for those looking for a pressure washer include the following:
Ability to add soap to the hose instead of schlepping around a bucket with soap
Multiple nozzle types for whichever job you need
Length of pole and hose (if cleaning exterior of house, not having one of these could limit how high you can reach)
Storage capability and maintenance requirements
PSI level for either commercial or residential use
Let's check out how the Giraffe Tools Grandfalls Pressure Washer stacks up!
Check out our other pressure washer reviews here.
Giraffe Tools Grandfalls Pressure Washer: Features and Benefits
So now that we know what we are looking for, we need to see how this one stacks up. Trying not to spoil it, but I think you can put 2 and 2 together to see that this thing is already checking boxes. Nevertheless, read on!
Functionality: Soap Dispenser and Nozzle types
Here is where I am a total noob. I don't often use a soap dispenser because for most applications, I am trying to murder whatever piece of dirt is in front of me. I know many, many people use their pressure washers infused with soap to clean off their cars, but I am simply a violent individual. 
That being said, this did come with a cool soap bottle that can be added on for when I do go to anger management and finally reconcile with other applications for pressure washers. 
One cool thing about the Grandfalls Pressure Washer is that it comes with a bunch of different nozzles. I tested out each one and could think of a few uses for each. They also come with a cool tactical-style holder that slides on the nozzle. 
I can neither confirm nor deny how many times I said "Say hello to my little friend" while holding the sprayer. 
Nozzles: A bit more
The nozzles range from 0 to 60 degrees, giving you a ton of options. As I was displaying the pressure washer to my wife, she was giving me countless chores she would like completed.
The windows. The driveway. The patio. The back deck. Sadly, I could complete all of these with the Grandfalls Pressure Washer. And now I am mad at them for not giving me an excuse to get out of chores.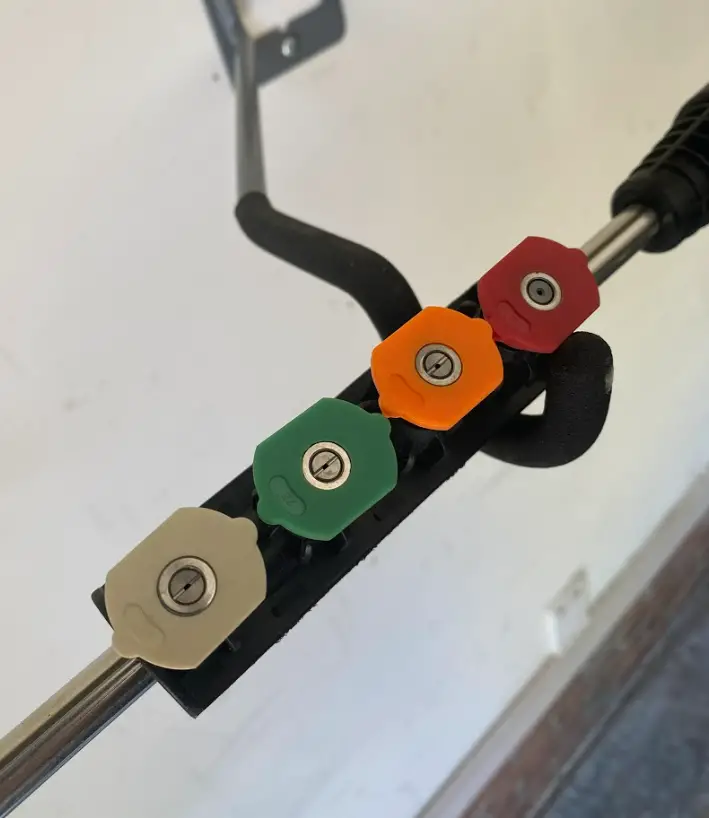 Power
I have to say, I was most surprised by the power. I have used and reviewed plenty of electric pressure washers. I was floored by this one. It was MUCH more powerful than I expected. 
My hose has pretty weak water pressure, so I didn't expect much from this motor because it does not have much to work with.
But wow – the 0 degree nozzle on this one was blowing a stream that would have made Bulbosaur jealous. See picture below where I took the 0 degree nozzle to a portion of my brick walkway. I don't even have to tell you where I used it- just see for yourself. 
The Giraffe Tools Grandfalls Pressure Washer delivers up to 2200 PSI – wow.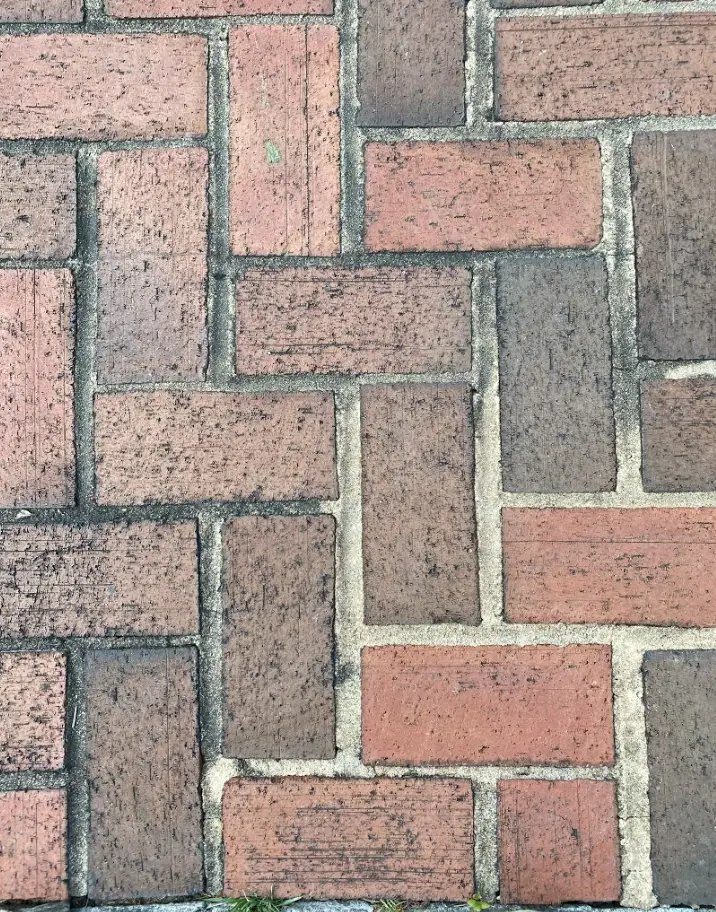 Usability
The retractable reel function
Now this is the sweet part. While I got this set up inside my garage, it actually reaches around to the furthest corner of my back deck. 100 feet. I will not let my neighbors know as they could actually use it without a problem. 
I love how easy this was to use. When I first started nervously pulling the hose out as far as it could go, my concern was that getting it back in the mount would be a mess.
As you can see below, the retractable system pulls it from side to side to make sure the hose is retracting back smoothly and efficiently. It looks almost like a typewriter when you are putting it back in, slowly moving to the side.
This was awesome for me because it neatly arranged the hose in a perfectly organized way.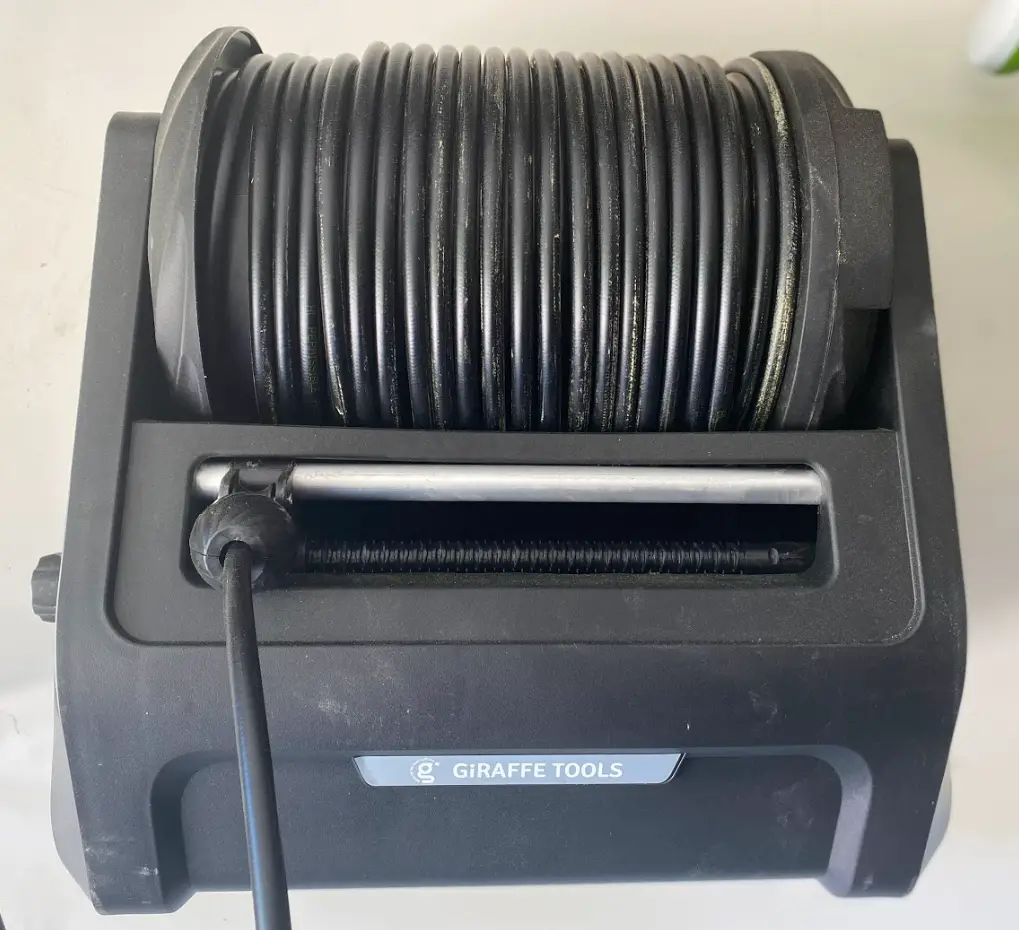 The trigger
No complaints here. This has a nice squeeze trigger functionality that is super easy to use. It isn't too tense and is comfortable to hold in place – no need to constantly fight against it and wrestle it to squeeze it all the way. 
It comes with a nice safety lock that prevents it from being pulled while unraveling and prevents my kids from getting into it and pressure washing their eyes out.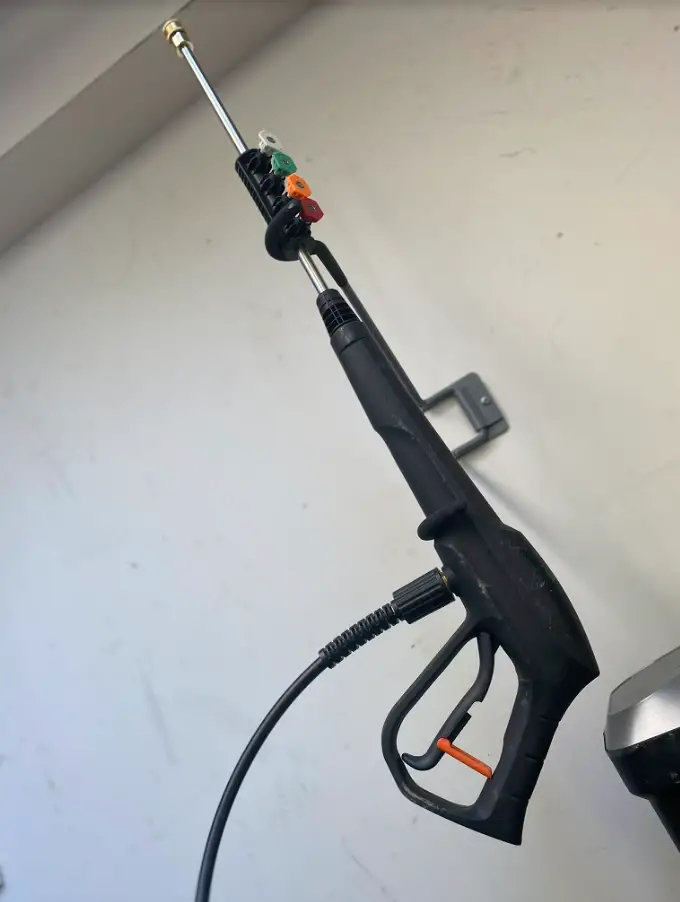 I know the Giraffe Tools Grandfalls Pressure Washer comes with a nice little holder for the sprayer, but I couldn't help myself. I had to have it rest on the bike rack for ultimate aesthetics.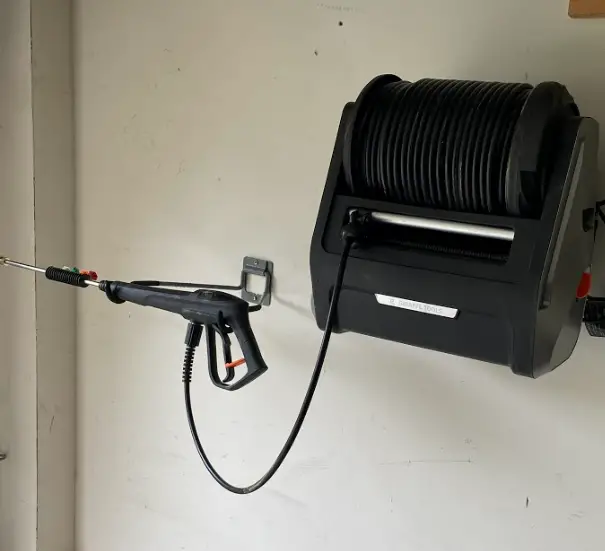 Pros and Cons of the Giraffe Tools Grandfalls Pressure Washer
Let's take a quick dive into the pros and cons of purchasing this pressure washer.
Pros:
Probably the coolest pressure washer on the market
Not super loud
Incredibly easy to use and store
Multiple functions from light washes to absolute dirt destruction
Cons:
Tough to install – need to have it hang on something very sturdy
Didn't have an easily apparent place to put the electric cord
Set up instructions difficult to understand, but pretty intuitive to figure out
The final ruling: Giraffe Tools Grandfalls Pressure Washer
Okay here it is. This is by far the coolest pressure washer you will ever use. Not too loud, not too expensive, extremely versatile and even more transportable. I don't think you will come across a better all-in-one pressure washer – especially electric.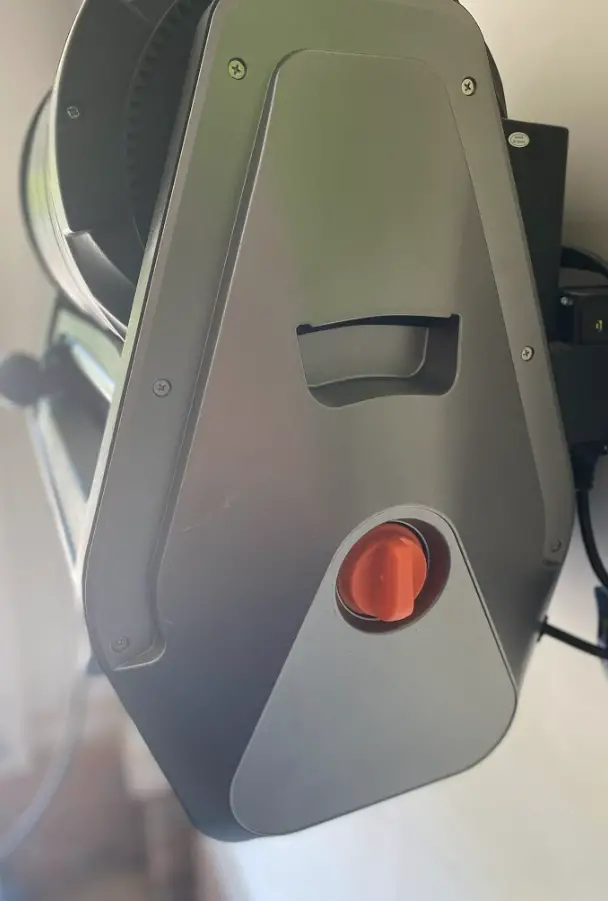 We have reviewed plenty of pressure washers, and 100% honestly and truthfully – this is our favorite. It is a genius idea and will surely be a huge hit as more and more people learn about it.
You can check the price of the pressure washer here.