The Cub Cadet XT2 LX46 is the most popular model in the XT2 enduro series by Cub Cadet. I have reviewed a few Cub Cadet mowers in the past, including an XT1 mower as well as one of their zero turn mowers. 
The XT2 series is a slightly higher-end version compared to the XT1. They were both built on the same chassis, but some details were changed (more on that later). Let's take a look at what we will be reviewing today:
Why we review lawn tools
The reason we started this website in the first place was because we had so much trouble trying to find reasonable, understandable, honest reviews for lawn equipment. And it's not cheap! After hours and hours of research, trying products and returning them, and messing up our yards – we started this site.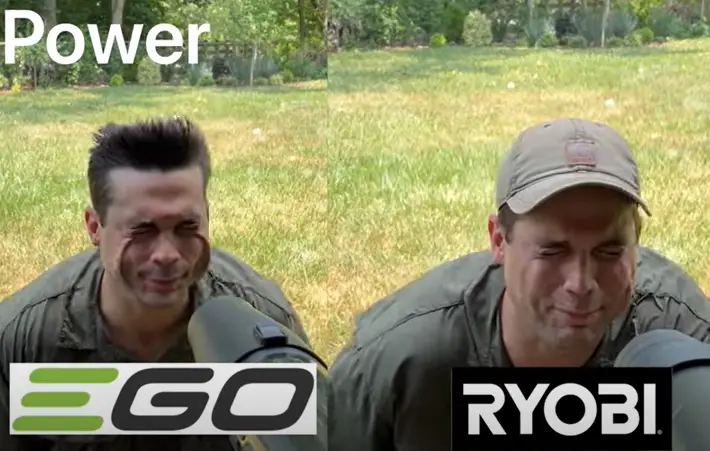 As people who had to learn the hard way, we want you to know exactly what you are signing up for before you purchase a piece of equipment. That's why we are committed to providing honest, easy-to-understand reviews that mean something.
Cub Cadet's reputation 
The first Cub Cadet lawn tractor was designed and engineered in the early 1960s here in America. They did not develop another type of equipment until the early 90's, when they developed a snow blower. Their first 30 years were dedicated solely to lawn tractors, but made cool walk-behind mowers as well.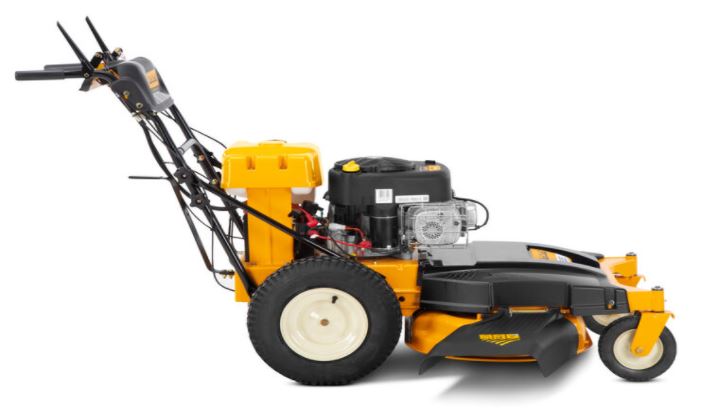 While they do not have the same reputation as some of the older brands like Husqvarna, they absolutely are known for their innovation. In fact, they work on some pretty neat pieces of equipment. They develop consumer-centric upgrades like electronic power steering, robotic golf course mowers, and the first mobile app for maintenance.
Who should purchase a lawn tractor
Lawn tractors are great pieces of equipment and essential for many suburbanites. When choosing between a push mower, lawn tractor, or zero-turn mower, it really comes down to lawn size.
I recommend push mowers for those with yards up to ½ of an acre. After that, the job just takes too long and is not worth it. For those with a yard between ½ of an acre to 1.5 acres, I suggest lawn tractors. For those with 1.5 acres and up, a zero turn mower is essential. 
Lawn tractors and zero turn mowers are mostly similar, but zero-turn mowers have additional speed, larger cutting decks, and more nimble turning capabilities. They are great for large yards as mentioned, but also can slow down and handle curves near garden beds or structures very well. 
The Cub Cadet XT2 Enduro series lawn tractor: Feature review
The Cub Cadet XT2 Enduro series mower has a few options, but today I will look at the best seller – the XT2 LX46. The XT2 LX46 is a step up from the XT1 series from Cub Cadet and has new features not previously available. Let's get started by checking each important feature out and then comparing the price and overall value of this lawn tractor.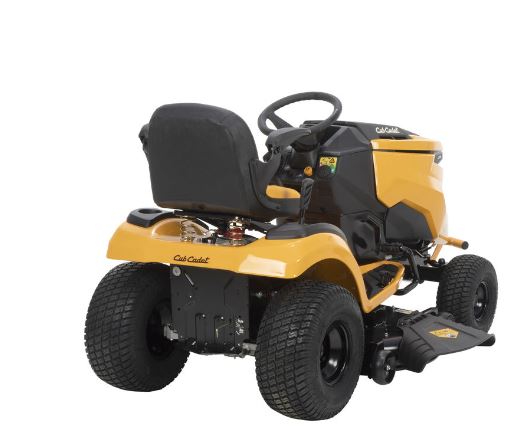 Power
The XT2 Enduro LX46 has a 21.5 hp Kawasaki engine. This is a moderate to high horsepower engine for a lawn tractor. I always like seeing lawn mower companies outsource engines to quality companies. Folks like Briggs and Stratton, Honda, and Kawasaki have divisions that focus specifically on small engines and can provide outsized power and quality in ways that John Deere, Cub Cadet, etc. cannot. This takes a bit of humility on their part, but you will be thankful. 
Another feature of this mower that separates it from the XT1 series and most lower-end mowers is the AGM battery that has slightly more voltage. This allows for reliable starting and reduces the chances that your battery will die in the offseason. Cub Cadet must have heard some negative feedback about the battery dying in the winter because this is a great adjustment. 
Lastly, this thing has the power to pull a lawn mower trailer – which is cool.
Usability of the Cub Cadet XT2
The 46 inch mowing deck on the Cub Cadet XT2 LX46 is pretty standard for most lawn tractors. A differentiator for this mower is that it has a heavy-duty "AeroForce" deck. Frankly, I cannot tell much of a difference from this deck compared to others, other than the shape. It has a more angular shape instead of a smooth, round circle. The benefit to this is that it is sturdier and more reinforced than curved metal. 
The deck also comes with 4 gauge wheels and 12 deck positions to protect against scalping. Scalping is when you are using a lawn tractor and hit an uneven surface and the blades start digging into the earth. There are two blades at the bottom of this mower, meaning you can drive at higher speeds and it will keep up compared to one bladed lawn tractors. The 16 inch turn radius means that you can still make tight turns without having to shell out the cash for a zero-turn mower. 
The XT2 LX46 can go up to 5.5 mph forward and 3 mph in reverse, both are totally standard for a lawn tractor. One new feature to the XT2 not found on the XT1 enduro series is the front bumper. This can help keep brush away from the tires and body of the mower.
Comfort: what the Cub Cadet XT2 does best
The Cub Cadet XT2 LX46 has done one thing that is absolutely perfect, and that is comfort. A noticeable difference from the XT1 to the XT2 series is the presence of armrests. While seemingly trivial, armrests make a huge difference if you are out moving for a long time. My arms get particularly tired as a tall person having to lurch over and keep my hands on the steering wheel.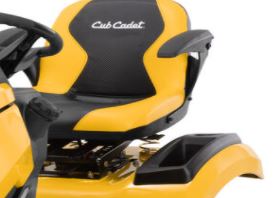 Another feature that Cub Cadet always gets right is the high seat back. The seat back on Cub Cadet lawn tractors is higher than most other lawn tractors in the business. They truly understand that a comfortable ride makes a huge difference. With this in mind, this mower also comes with a cup holder. 
Again, these small trivial features seem like they would not and should be make or break issues, but experienced mowers will pick these things out each time. To be completely honest, the functionality and performance of most of these lawn tractors are marginally noticeable to normal consumers. The difference makers will be the comfort and operator-centric designs on the Cub Cadet XT2 enduro series.
Maintenance and durability
The Cub Cadet XT2 LX46 comes with a Tuff Torq hydrostatic transmission. Basically, this just means that the mower has a smooth transmission that requires less maintenance than standard automatic or manual transmissions.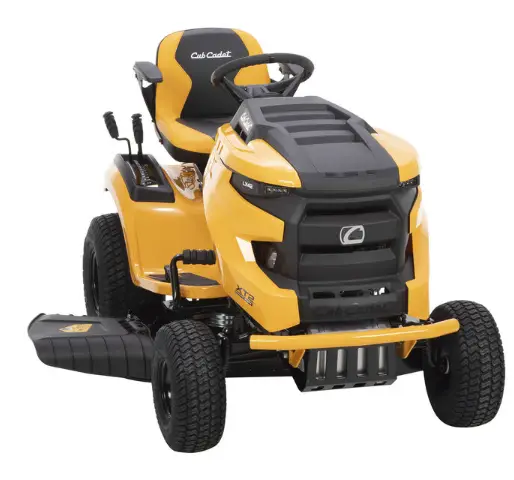 Otherwise, this mower has a standard oil change system. This feature is basic, but a lot of folks like John Deere have figured out a way to save you 10-15 minutes on an oil change by just adding a simple cartridge. To me, this should be a negative for this mower because they simply have not innovated in this space. 
I like the large Aeroforce deck on this mower, but I haven't seen a washout port on it for getting rid of the clumps and mess after a long season. With attention to some details and not others, the durability of this machine is put into question. Keeping grass on the blades and inside the deck can lead to erosion and rust over time. Make sure to life up the deck and spray out after a few mows.
Cost and value: Price of the XT2 Enduro
The Cub Cadet XT2 LX46 comes in at just over $3,000. This is a pretty big price tag and slightly over the standard range for similarly sized lawn tractors. What sets apart the Cub Cadet from its peers is the attention to user experience as well as a powerful cutting engine.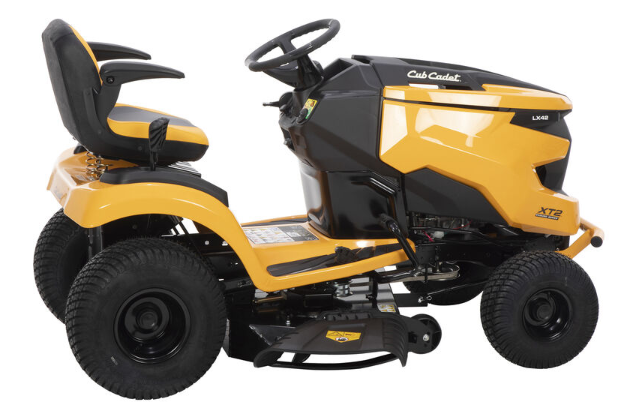 I would rank the XT2 series at about expected value. Quite simply, you get what you pay for. The value is definitely there, but you will have to pay for premium features. 
Curious at how this stacks up? Check out the lawn equipment cost guide we put together.
Pros and Cons: Cub Cadet XT2 Enduro series
Now that we have a good understanding of some of the features, let's take a look at the pros and cons of the XT2 Enduro series
Pros of the XT2
Powerful Kawasaki engine compared to its peers
Large, reinforced cutting deck means heavy-duty cuts 
Attention to user experience, high seat back, arm rests, and cup holder
New features and upgrades from the XT1 including a stronger battery and front brush guard
Cons of the XT2
A little bit on the pricier side
Nothing innovative in the maintenance space to help reduce time spent on oil changes
Attachments and accessories on the Cub Cadet XT2
Cub Cadet does a great job with attachments and accessories. One thing I love about the diversity in attachments is that it turns your mower into a year-round vehicle.
Some of the attachments include a snow cab, leaf collector, tire chains, double bagger, cargo carrier, sun shade, sprayer, snow plow blade and more.
The official review: The Cub Cadet XT2 lawn tractor
| | |
| --- | --- |
| Feature | Cub Cadet XT2 |
| Difficulty to use | Less difficult due to tighter turn radius than peers. |
| Durability | Average durability of engine and transmission but above average durability of deck due to reinforced steel "Aeroforce" |
| Maintenance | Average maintenance, maybe even below average compared to peeers. |
| Value | You get what you pay for. |
| For lots <10,000 sq. ft | Less recommended |
| For lots <1 acre | Highly recommended |
| For lots >1 acre | Highly recommended up to about 2 acres. |