The Cub Cadet CC800 is a wide area walk-behind mower from Cub Cadet. If you think this is your ordinary push mower, you better chill. 
This thing is pretty dang big but super easy to use. You might not be familiar with walk-behind mowers, but they are another term for self-propelled push mowers. That means you just grip it and rip it – through your yard.
Let's get started with the review below:
Why we review lawn tools
The reason we started this website in the first place was because we had so much trouble trying to find reasonable, understandable, honest reviews for lawn equipment. And it's not cheap! After hours and hours of research, trying products and returning them, and messing up our yards – we started this site.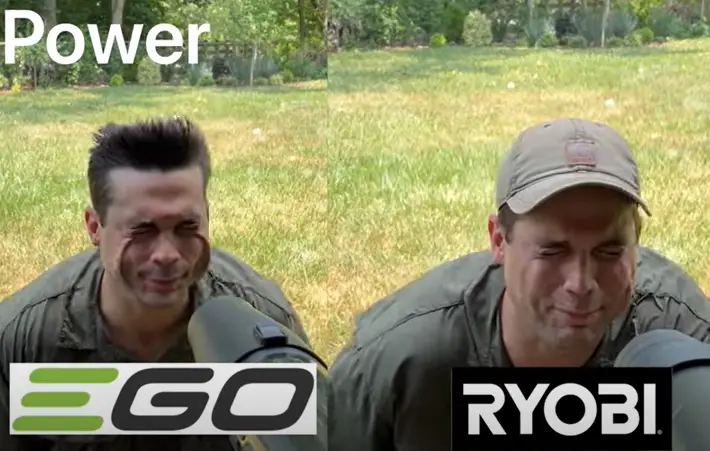 As people who had to learn the hard way, we want you to know exactly what you are signing up for before you purchase a piece of equipment. That's why we are committed to providing honest, easy-to-understand reviews that mean something.
Cub Cadet's history
The first Cub Cadet lawn tractor was designed and engineered in the early 1960s here in America. They did not develop another type of equipment until the early 90's, when they developed a snow blower. Their first 30 years were dedicated solely to lawn tractors.
While they do not have the same reputation as some of the older brands like Husqvarna, they absolutely are known for their innovation. In fact, they work on some pretty neat pieces of equipment. They develop consumer-centric upgrades like electronic power steering, robotic golf course mowers, and the first mobile app for maintenance.
When to buy a large walk-behind mower
Okay – I've been through this a few times, but never with walk-behind mowers this large. With most push mowers, the deck size is about 21 inches. If you think about this in terms of yard passes, a push mower will have the highest number of passes you have to make in your yard to cut the whole thing.
Riding mowers, or lawn tractors, are around 36-42 inches and zero-turn mowers are anything above that. Basically, if you have a big yard, you will want a riding mower or zero-turn mower.
There is this weird in between world where large deck walk-behind mowers like the Cub Cadet CC800 live. They are perfect for people who have between 10,000 sq. ft and ½ acre. Basically it can still be covered with a push mower, and is too small for a riding mower, but you still want to get it done more quickly. Kind of niche, but actually a ton of American households fall into this group.

The second group is someone who mows a lot of small yards as a business. My co-founder, Tyler, used to own a landscaping company and had a walk-behind mower just like this one. They help you do smaller yards at a much faster rate. 
The Cub Cadet CC800: Feature review
The Cub Cadet CC800 is a high end walk-behind mower. Basically the nicest one available. There are some others that have a pretty big deck, like the Toro recycler, but not many others come close. Let's check out some of its features.
Power
No shortage here. The Cub Cadet CC800 has 11.5 horses in the back. One thing to love about this mower is that it outsourced its engine. Yeah, sounds like a weird thing to like, but Briggs & Stratton is the best in the game when it comes to small engines. All the top brands have Briggs and Stratton own the manufacturing over their mowers. There simply isn't a better option on the planet. 
The Cub Cadet CC800 also has a 33 inch cutting deck. This is almost on par with most lawn tractors and riding mowers. This is huge! In combination with the 11.5hp engine, you have a walk behind mower on absolute steroids. The CC800 is the Mike Tyson of mowers.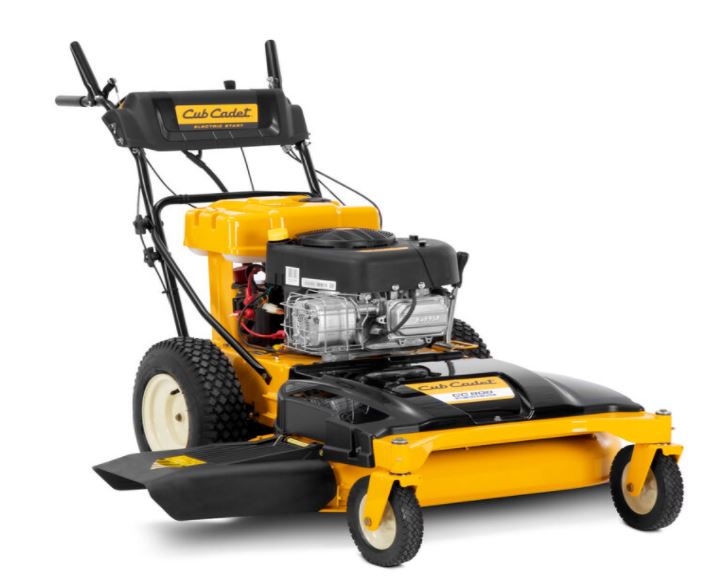 The CycloCut (where the CC in CC800 comes from) mowing system ensures an even discharge of grass from the deck, meaning that it won't get clogged up and force you to stick your last good arm inside.
Usability
Alright, walk-behind mowers to me have always been girly. Just push the dang thing like a man! I have been given a new lease on life with the CC800 and am finally confident in my masculinity. I have no shame walking behind this mower because it is a beast. A few things I love right off the bat:
The ability to go into reverse. While this is not all that common while actually mowing, it is great for storing. Being able to reverse into the garage or shed, or even into the back of the trailer makes this a super easy to use mower.
Electric start. No more cranking the pull string every 10 minutes. This thing has a push button start that allows you to get going right away. The push button start is also reliable and can save you a ton of time.
A single point for having to change the height of the mower. With most push mowers, each wheel has its own adjustment on the front of the mower. The Cub Cadet CC800 has a single lever that will adjust the height of the big ole deck.
One complaint I have seen from others is that the drive controls use a single lever, meaning there is no variable speed control. You are either going full speed or you are sitting still. Fine for most people, but you have to be really nimble when navigating around tight corners or garden beds.
Durability
Again, off the bat I can tell you that Cub Cadet has a great reputation in reliability. The other thing you need to know is that Briggs and Stratton is super trustworthy. They totally dominate this space because they simply provide the best engines for mowers.
Small things matter when it comes to durability. One of those is the hour meter that comes on board the CC800. The hour meter keeps track of how long you are going between oil changes, letting you know exactly when to change the oil.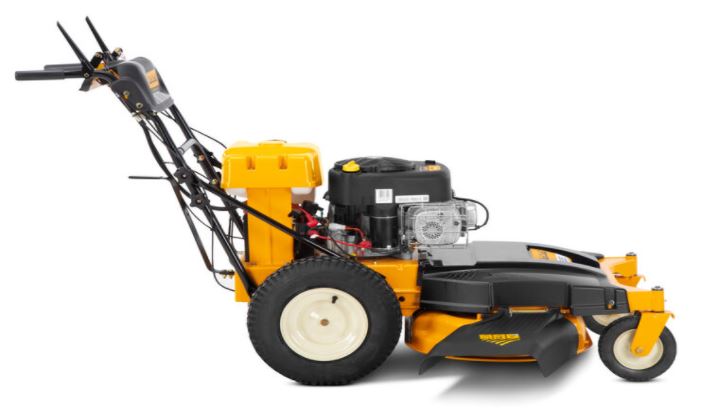 The CycloCut system will also help the engine from stopping up or from allowing one side of the mower to cake up with grass. The deck wash also allows for a quick and comprehensive clean that will keep this puppy moving all day. 
It does come with a three year limited warranty for residential owners, but nothing for commercial owners. 
Cost and value
The Cub Cadet CC800 costs around $2,000 at Home Depot, but the price changes a lot so you can check it here. This is a pretty good deal for what you are getting and about half the price of a zero-turn mower. 
The product is great for folks with a bigger yard who don't want to fork over three grand for a zero turn. It is also perfect for those of us with smaller yards that don't have time to waste.
The official review: Cub Cadet CC800
| | | |
| --- | --- | --- |
| Feature | Cub Cadet CC800 | Comparable walk behinds |
| Difficulty to use | Slightly more difficult due to no variable speed control | Average difficulty |
| Durability | Average durability | Average durability |
| Maintenance | Relatively easy to maintain | Relatively easy to maintain |
| Value | Medium value | Medium value |
| For lots <10,000 sq. ft | Not recommended | Not recommended |
| For lots <1 acre | Recommended  | Recommended  |
| For lots >1 acre | Not recommended | Not recommended |