The Cub Cadet Ultima ZT1 zero-turn mower is a beast. I have not been more excited to review a lawn mower than I am right now. This bad boy is not simply a lawn mower, it is a lawn experience.
Riding mowers like the Cub Cadet Ultima have developed significantly over the past decade. The days of the silly looking tractor sitting in your garage are gone. Many of the commercial mowers have been revamped for the modern household, allowing for comfortable and convenient features with the power of a commercial mower.
Let's get started – here is what we will cover today:
Riding mower vs push mower
When purchasing a riding mower, you want to make sure to consider a few things. The first thing to consider is the size of your lawn. If your lawn is less than ½ of an acre, you are likely better off with a push mower. If your lawn is above half of an acre, consider a riding mower for comfort and speed purposes.
To read our other Cub Cadet riding mower reviews, check out the XT1 or XT2.
For those with ½ acre to one acre of land, the conventional riding mower or garden tractor with a steering wheel can be great. They are relatively straightforward and intuitive to operate. 

For those of us with over an acre of land and/or many obstacles in our yard, zero-turn mowers can be a life saver. Many zero turn mowers offer a reverse functionality as well, so the ability to navigate hurdles and obstacles becomes very simple. 
Why would I buy a zero-turn riding mower?
If you have ever used a traditional riding mower on your lawn, you will know the frustration that comes with making sharp turns or maneuvering near a garden bed. Trying to move between trees makes me feel like Austin Powers stuck in the hallway. 
Zero-turn mowers work exactly how you think they would. These are the big mowers you see people using who are mowing a beautiful country event space or a huge property. The beautiful thing about them is that they are actually pretty simple to use. They are steered with two levers that help shift the machine in a circular motion without having to make forward progress (hence zero-turn). 
I must admit, I was intimidated by all the knobs and gears on this mower until I gave it a try. The driving process is actually very intuitive and comfortable. Simply bring the levers together, push forward to accelerate, and shift the handles in the direction you would like to go. 
What to look for in a zero-turn mower
A few things to look for in zero-turn mowers are blade size, transmission, accessory capabilities and cost. Blade size is important to keep consistent with the size of your lawn. Obviously longer blades are best for larger lawns, but begin to sacrifice a little bit of the agility afforded by a smaller blade. 
Transmission is also an important consideration for a zero-turn mower. Most zero turn mowers do not have manual transmissions, but have either automatic or hydrostatic transmissions. Automatic works just like an automatic car does with a gas pedal and belts. Hydrostatic transmissions use fluid to transfer their power to the blades and the rest of the engine. I prefer and recommend hydrostatic transmissions because they typically require less maintenance and have a longer life (plus it sounds cooler).
Having nice lawn mower accessories on a riding mower is often overlooked, but absolutely necessary. There is nothing like adding on a nice hauler component to the back of your mower to move chopped wood, mulch, or plants across your property. Make sure whichever mower you purchase has a hitch that allows for accessories.
Cost is generally of the utmost importance as well. Zero-turn mowers are expensive. In fact, you can buy an old Honda Civic for less than most zero turn mowers. Expect to spend no less than $3,000 for a zero turn mower. Keep in mind that these will last a long time and save you a ton of weekend time when compared to a riding tractor or push mower. Zero turn mowers are an upfront investment, but reap a huge return over time.
To check out more of our zero-turn mower reviews, click here.
Cub Cadet Ultima ZT1 22 HP Riding mower characteristics
Let me start off by saying this zero turn mower from Cub Cadet won an innovation award from Home Depot in 2019. It is pretty sweet and I will explain more below:
Usability and comfort: the Ultima ZT1's best feature
The details matter in a riding mower that you are going to spend three grand to take home. The Cub Cadet Ultima ZT1 has details like an anti-vibration floor mat that helps provide a smooth ride. This zero turn mower also has a fully adjustable 18 inch seat back, adjustable arm rests, and ergonomic hand groups that allow for more comfort.
Simply put, Cub Cadet has thought through the rider's experience when crafting this zero-turn mower.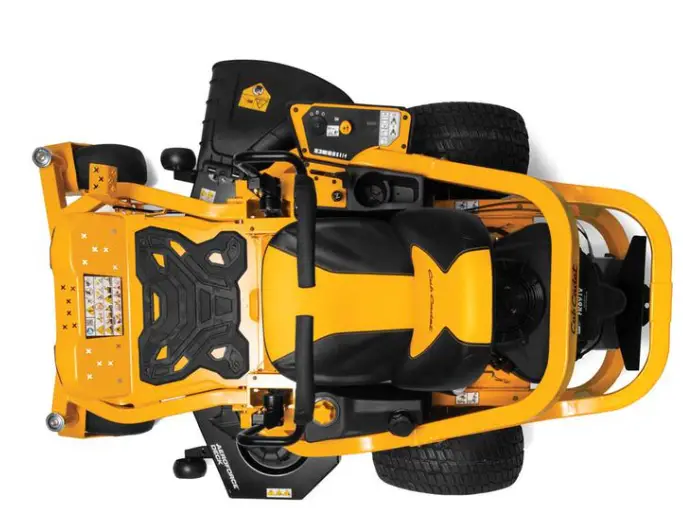 Another detail I like about this machine is the smooth tread front wheels that are crafted to not damage your lawn as you cut. The command center where all of the controls are located is slightly off to the side, allowing for maximum leg room. As a very tall person (6' 7"), I can comfortably fit on this without having to bow my legs at a weird angle.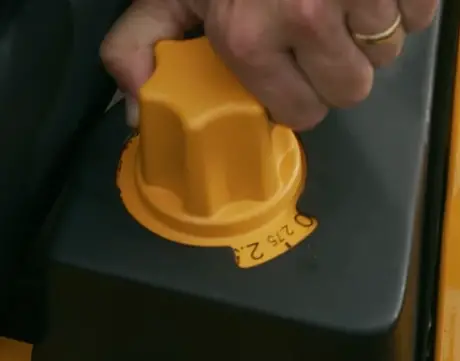 Power
The Ultima ZT1 42 inch boasts a 22 horsepower, 725 cc Kohler engine. The 50 inch version comes with a Kawasaki engine.
Either way, you get some serious power out of this mower. This bad boy can move almost 8mph forward and almost 4mph in reverse. You can move quickly through your yard and get back to enjoying football and family on your weekends.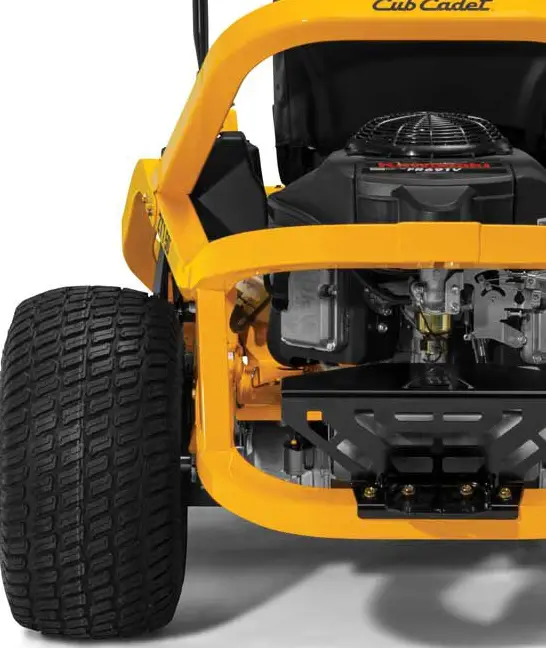 The 20 inch tires on the back provide some nice tread and traction for moving on uneven grounds and can help master rolling hills. For the normal residential owner with two to five acres of land, power is not much of a factor. Almost all zero turn mowers are going to have enough power to get the job done for a residential job.
For those in the commercial space, I would recommend a higher power mower with a bigger blade. While I do not have any concerns about durability with this mower, you will likely want something with a little more speed and horsepower to get you through the workday. 
Transmission
A standard feature on the Cub Cadet Ultima is the hydrostatic transmission. As I mentioned previously, hydrostatic transmissions use fluid instead of belts to power the engine and blades. These typically require less maintenance and last much longer. This transmission type is what separates Cub Cadet from some of its peers and takes it out of the "cheaper" or "lower end" zero turn mowers.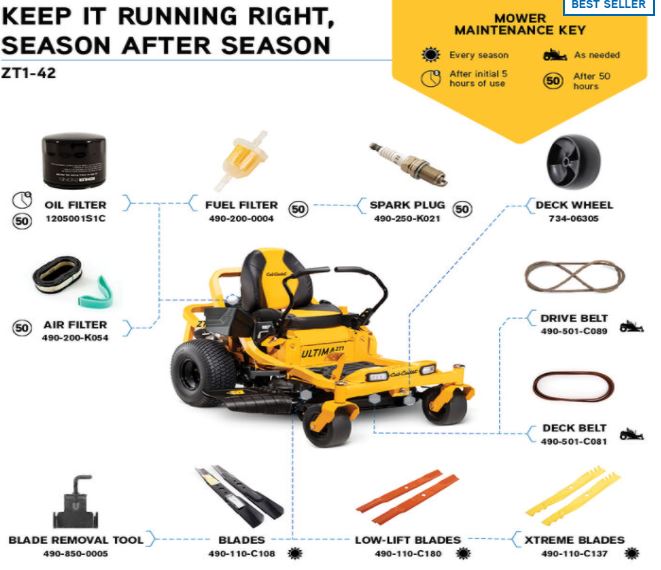 Criticisms of the Cub Cadet Ultima ZT1
One of the most common criticisms of this mower is that it lacks a gas gauge and an hour meter. While this mower boasts a 3.5 gallon fuel capacity that can get you through most major jobs, you are clueless as to when the gas will run out. Others love having an hour meter that can help you better understand when to change the oil.
Cub Cadet has a good reputation in the residential world. I expect most folks who use this product for up to 3 or 4 acres will not have an issue for the duration of their ownership.
The beauty of this Cub Cadet mower is that it has a three year limited warranty. If something seems fishy, make sure to have it checked out while it is still under warranty. 
The official review of the Cub Cadet Ultima ZT1 42 inch mower
| | | |
| --- | --- | --- |
| Feature | Cub Cadet Ultima ZT1 | Comparable residential ZT mower |
| Difficulty to use | Slightly above average | Average |
| Durability | Average durability | Average durability |
| Maintenance | Less maintenance due to hydrostatic transmission | More maintenance |
| Value | Medium value | Medium value |
| For lots <10,000 sq. ft | Would not fit | Would not fit |
| For lots <1 acre | Probably overkill but is fun and looks cool | Probably overkill but is fun and looks cool |
| For lots >1 acre | Highly recommended | Highly recommended |
Overall, the Cub Cadet Ultima ZT1 mower is awesome. It is super comfortable, easy to use, and provides a great cut. The engine is high quality and the transmission is best in class. If you are using this mower for residential purposes and not mowing the side of a highway, then you should have great results. 
We compare it to the Toro TimeCutter SS4225 here.

For a link to the Cub Cadet Ultima ZT1 42 inch mower, check out this link:
https://images.thdstatic.com/catalog/pdfImages/0f/0fd454fc-0a8d-4deb-b577-82dca3eb4a15.pdf
For a replacement parts list, check out this link:
https://images.thdstatic.com/catalog/pdfImages/db/db49cec3-9bdc-46ec-9f83-888869081e78.pdf