If you have not heard the news, California is banning all gas-powered lawn mowers and leaf blowers starting in 2024.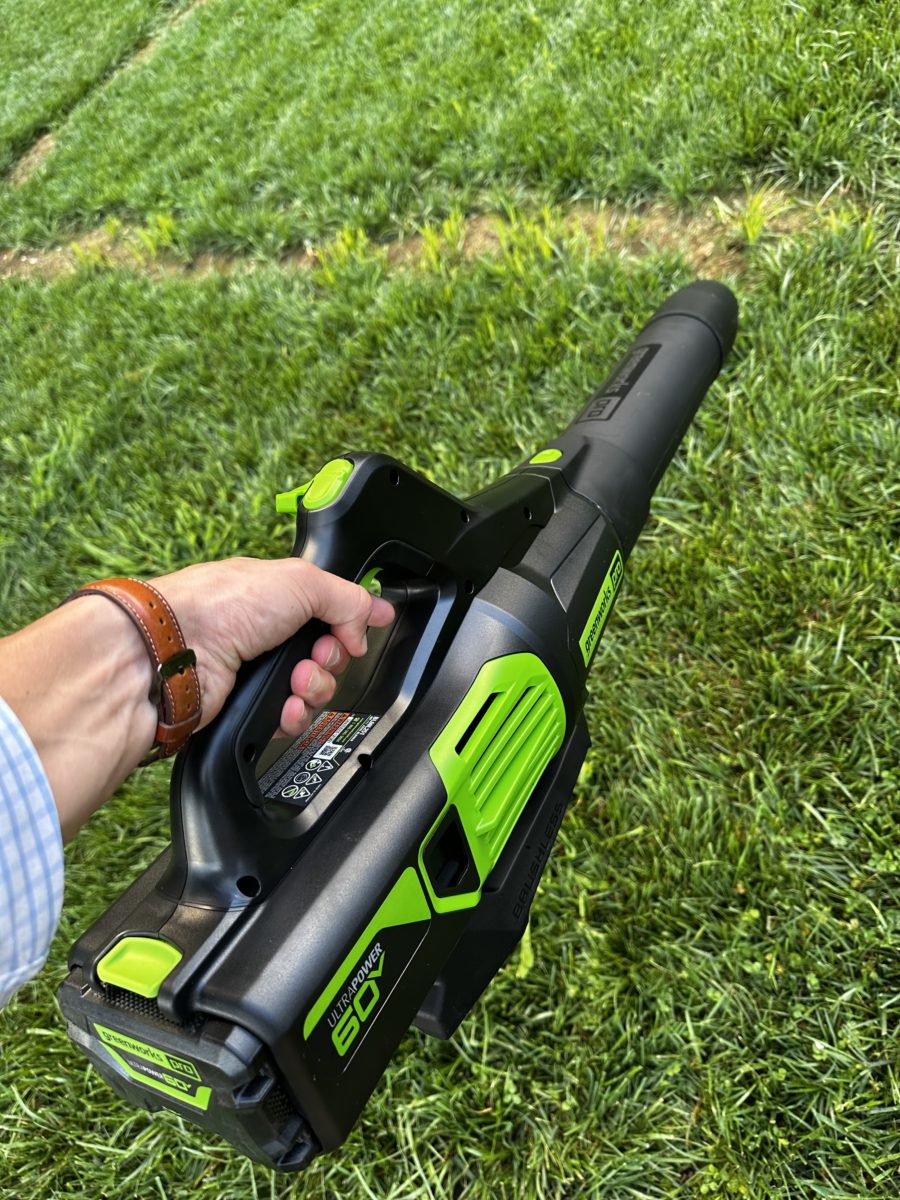 Whether or not you agree with this ban is not important, but making sure you have the "approved" tools is. 
These will be phased out slowly over time, but our inclination is that this will never get overturned for as long as California votes blue.
Why we review lawn tools
The reason we started this website in the first place was because we had so much trouble trying to find reasonable, understandable, honest reviews for lawn equipment. And it's not cheap! After hours and hours of research, trying products and returning them, and messing up our yards – we started this site.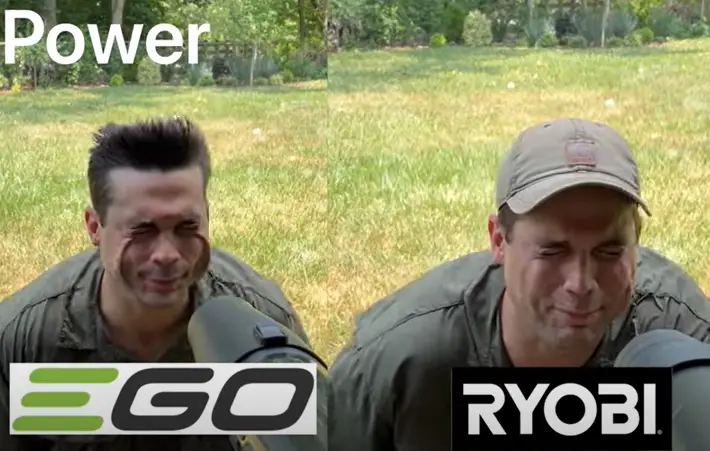 As people who had to learn the hard way, we want you to know exactly what you are signing up for before you purchase a piece of equipment. That's why we are committed to providing honest, easy-to-understand reviews that mean something.
Gas-powered blower ban in California
Now that Governor Newson has solved global warming, you are going to have to retire or sell your gas-powered blower. Sadly, gas powered blowers are generally the most powerful and efficient tools for blowing leaves, grass clippings, and more. 
Let's start with a reality check: gas blowers can simply not be replaced. From a power perspective, many electric blowers can come close. Unfortunately, they will not have nearly the durability or run-time that is afforded by gas powered blowers. 
With gas-powered blowers, anyone can simply refuel the gasoline and continue on with their job for hours. Battery replacements are going to continually slow down people with larger yards. The hardest hit will be commercial landscapers who are going to have to protect their equipment and set up some sort of mass-battery charging station. They will likely burn through batteries pretty quickly, especially when managing places like golf courses.
Electric and battery powered alternatives
For many residential homeowners, the gas ban will likely not be of impact. For neighborhoods with small lots, it may actually be quite the benefit. Gas blowers are loud and do emit some level of air pollution. 
Most residential homeowners in California today have smaller leaf blowers that are either corded or cordless (with a battery). These are great for small jobs around the house, but for realllllly moving leaves and grass clippings over larger areas, you are going to need the power afforded by a gas powered blower.
Have hope – there are some electric and battery powered blowers that can give you hope. And to be frank – they are going to continue to improve and innovate in this space to hopefully replace the gas powered blowers we have come to know and love. 
Let's review some of the best blowers for Californians!
The 7 best blowers for Californians
Before we dive into the definitive list of the 7 best blowers for Californians, let's review some quick definitions:
Brushless

– a type of engine that does not rely on friction for generating power. This engine type uses magnets for a longer lasting, more efficient power generation. 

CFM

– Cubic feet per minute. This is a measure of air output on the blower. Higher CFM = more power, but not necessarily more miles per hour. High CFM with a wide nozzle = lower MPH. High CFM with a narrow nozzle = high miles per hour. Ideally, you want both a high CFM with a narrow to medium nozzle for most residential jobs.
Okay – I think we can get started now.
7. Toro 120MPH 605CFM 60V max brushless blower
The Toro 120MPH 605CFM 60V Max brushless blower is a great blower for most residential properties. As I mentioned earlier, this blower has a high CFM but relatively low MPH. So let's dissect why this is happening. 
The Toro 120MPH 605CFM blower has high air output, but lower MPH. This is due to a wide nozzle that pushes a wide area of air at a lower speed. These types of blowers are great for people moving lighter objects (dry leaves, dry grass clippings) across a large area. For those with large backyards, this is a great tool for getting all of the leaves from one side of the yard to another without too much difficulty.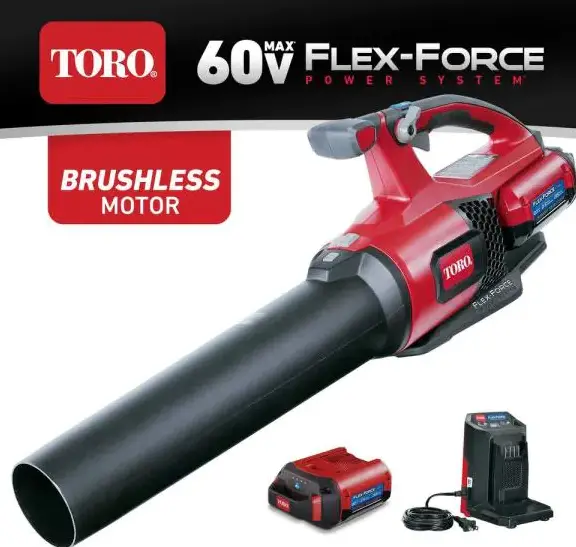 While I can't find this specific blower in stores in California, you can check out a super similar one on Amazon.
6. Dewalt 125 mph 600CFM Flexvolt blower
The Dewalt 125 MPH 600 CFM Flexvolt blower is very similar to the Toro 120MPH 605CFM blower. While they are almost identical in power and function, we chose the Dewalt product over the Toro product because the Flexvolt battery pack is more versatile.
Dewalt's Flexvolt battery system can fit a number of other battery-powered lawn tools to help declutter your garage and consolidate batteries. Similar in function to the Toro blower, this one has a wide nozzle that will blow large streams of air at a moderate-to-low speed, best suited for larger yards.
The FlexVolt blower is for sale on Amazon and while pricy, is pretty slick. You can check out our favorite Dewalt blowers here.
To read more about our review of this blower, check out our full review of Dewalt Blowers.
5. Dewalt 125MPH 450 CFM 20V MAX brushless blower
Okay – getting a little repetitive here, but the 125mph 450CFM blower is sort of like the other Dewalt and Toro blowers, this one has the same air speed, but lower air power output. 
I like the Dewalt 125mph CFM 20V MAX brushless blower for a few reasons. The first reason is that this engine is brushless. This means that it will have a longer life, won't get super hot, and will hold a better battery life.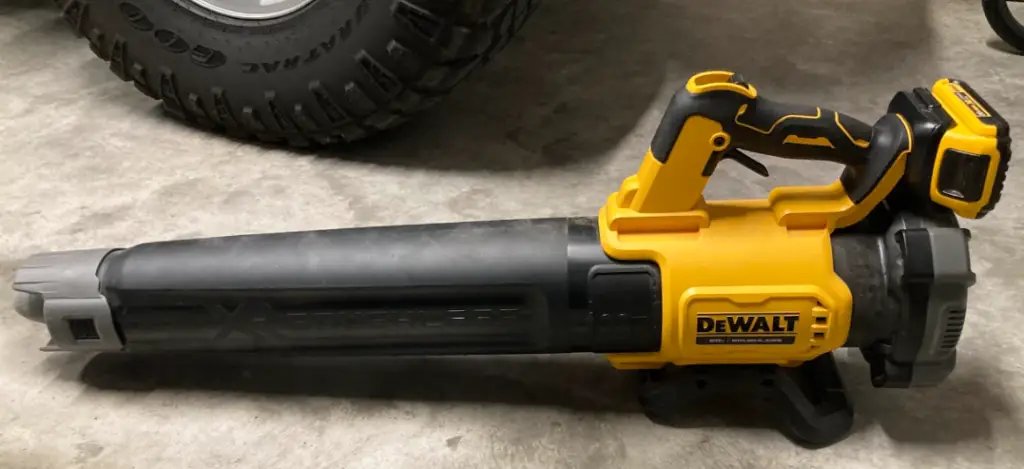 The next reason I love this blower is that it has a 20V battery. Similar to the Flexvolt battery that has cross-functionality with several different tools, the 20V battery is almost ubiquitous among Dewalt products. They have over 200 products that you can use with this battery, making it a clear winner for saving time and money. 
The last reason I like this blower is that it has a more narrow nozzle. For me, I prefer more narrow nozzles because they provide a focused stream of air. This takes care of wet grass, wet leaves, and all the other things that are super annoying and stick to your deck or driveway.
You can get this bad boy for a steal on Amazon (it actually just had a price drop).
To read more about our review of this blower, check out our full review of Dewalt Blowers.
4. Ryobi 40V 155MPH 300CFM Jet fan blower
Love this blower! I bought it recently and have absolutely loved it. It is super light, super duper easy to assemble, and relatively inexpensive. Because I have other Ryobi 40V tools, it is simple for me to just swap out the battery and keep going from tool to tool.
This blower has pretty high speeds despite a lower CFM, meaning it has a nice, more narrow nozzle that can get all of the wet pine needles and leaves stuck to my deck.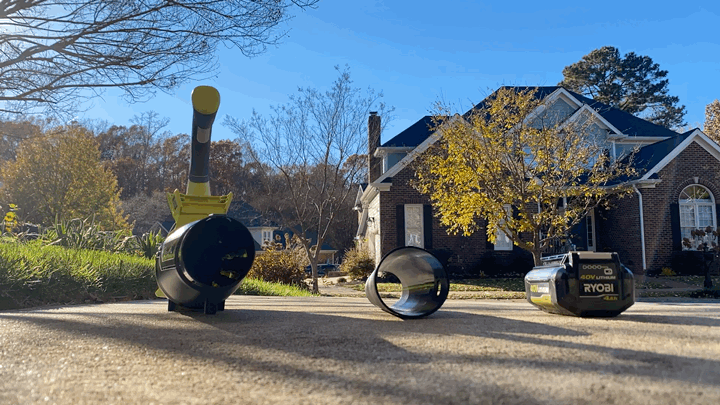 I have used a few other Ryobi blowers before and frankly, they kind of sucked. Ryobi has really stepped up their game with these new 40V blowers and dominated this space.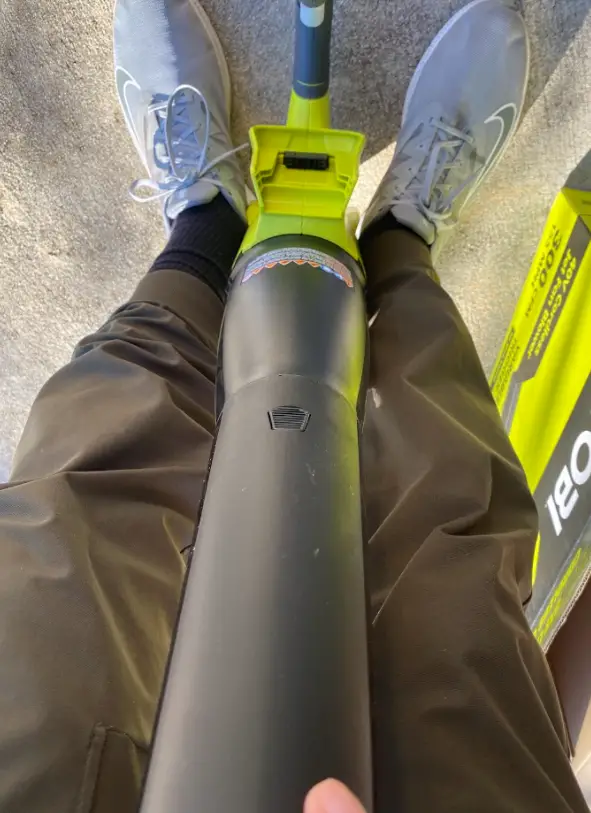 I got this one off of Amazon because the price was insane for the amount of power and I already had the battery.
To read our full review of this blower, check out our Ryobi 40V blower comparison post.
3. Greenworks PRO 170mph 700CFM 80V handheld leaf blower
The Greenworks PRO 170mph 700CFM 80V blower is a beast. I mean look at those numbers. If you wanted to replace the power of a gas blower, heck even a BACKPACK blower, this thing can do it. And the most impressive part is that its handheld.
I picture using this blower like a child using a firehose. I will turn it on and it will launch me to Pluto. Greenworks has a great reputation and this is honestly one of the most powerful handheld blowers in the universe.
One DOWNSIDE to this bad boy is that Greenworks is simply not established enough to make the battery-change worth it. Unless you are a Greenworks loyalist, you will have to create an additional space in your garage for this plug and charger.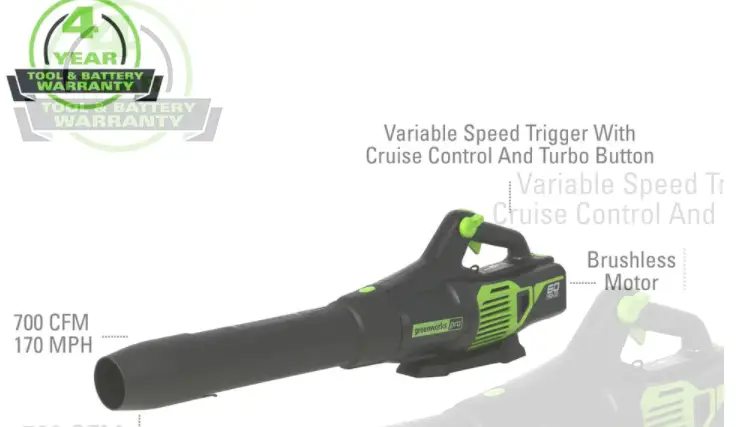 Its pretty expensive, but you can get the tool-only version below on Amazon if you already have a Greenworks battery.
2. Ryobi 40V brushless 190mph 730CFM Whisper series
Okay, I am going to just put my cards on the table. I love this blower. Nay, I am obsessed with it. And I will tell you why. 


Close your eyes and what do you hear? Maybe a humming of your computer or some children playing outside. Maybe you are in the car and there is a slight vibration. 
All of those noises are about as loud as this blower. It is so quiet, so powerful, and an incredible innovation. On top of all of this, it has a Ryobi 40V battery which is highly interoperable with other Ryobi tools AND….is brushless. This thing is the greatest GOAT of all time.
To read more, check out our full review of the Ryobi 40V blower series and comparison post. 
1. Ryobi 40V Whisper Series Cordless Backpack blower
I couldn't not make this the number one battery-powered blower for Californians. This is a battery-powered backpack blower. Basically a jet-pack. 
From a specs perspective, this only packs 145MPH 625CFM, but has all of the functionality you will remember from your backpack blower.
Basically this will make your backpack blower jealous. This thing also runs off of a Ryobi 40V battery, and is very inexpensive relative to other backpack blowers. 
You will recognize the offset handle, trigger, and cruise control that comes with most other backpack blowers like Husqvarna and Stihl. While it won't deliver the same power, it will be the most familiar.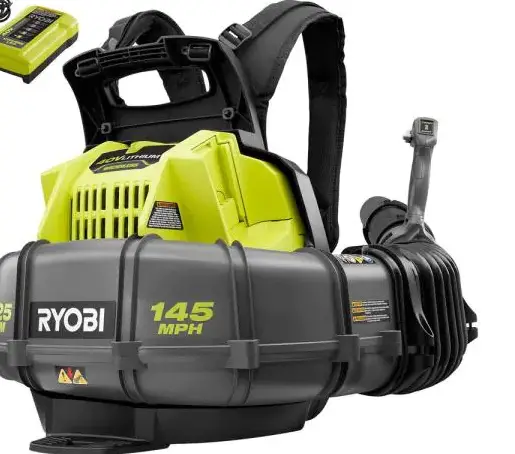 This one (tool-only) is on Amazon for a pretty low price (most backpack blowers are $500 – $600).
What the future holds for lawn equipment in California
I don't know. But what I do know is that battery powered lawn equipment has grown by leaps and bounds over the past ten years. Now that the government has given a strict deadline for the retirement of these gas powered tools, innovation will yet again arise.
Don't see a blower on this list? Feel free to recommend one for us to review.