Stihl's BGA 57 leaf blower is a new, slick-looking handheld blower that carries a brand with a big reputation.
Stihl, pronounced "Steel", is a brand of lawn equipment known best for their commercial applications.
I challenge you to check out each landscaping crew that you pass in the car this week and see if they have anything that is orange and white (Go Vols!). I guarantee they will either have a Stihl trimmer or Stihl backpack blower. 

That's how respected they are.
But the new Stihl BGA 57 blower is for a different audience.
Let's see how this blower stacks up.
Why we review lawn tools
The reason we started this website in the first place was because we had so much trouble trying to find reasonable, understandable, honest reviews for lawn equipment. And it's not cheap! After hours and hours of research, trying products and returning them, and messing up our yards – we started this site.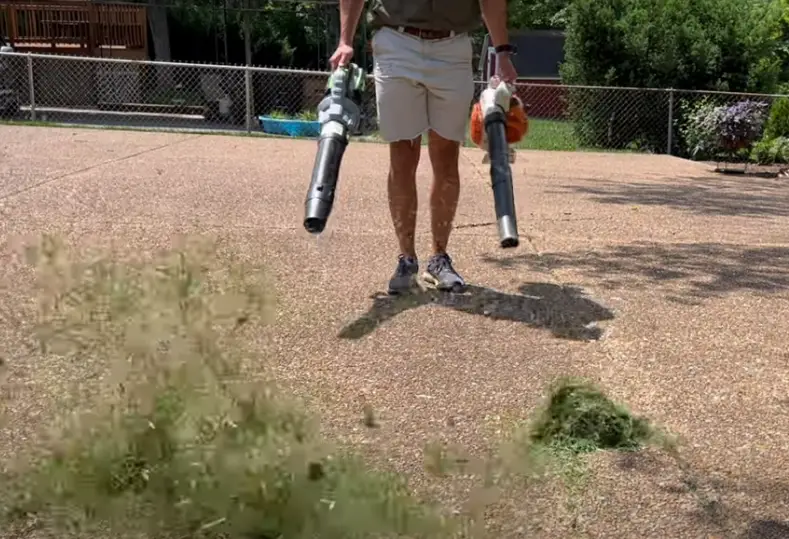 As people who had to learn the hard way, we want you to know exactly what you are signing up for before you purchase a piece of equipment. That's why we are committed to providing honest, easy-to-understand reviews that mean something. 
What to look for in a cordless blower
Cordless leaf blowers come in a bunch of shapes and sizes but there are three basic things you need to understand:
CFM – Cubic feet per minute. This is a measure of air output on the blower. Higher CFM = more power, but not necessarily more miles per hour. High CFM with a wide nozzle = lower MPH. High CFM with a narrow nozzle = high miles per hour. Ideally, you want both a high CFM with a narrow to medium nozzle for most residential jobs.
Usability – what is the point of having a blower if it is hard to use? Have to get one that is lightweight, easy to start, and has some functions that make your life easier.
Motor type – brushless motors reign supreme. Cooler running motors with more torque, a longer run-time, and last many more years. Brushless is a no brainer when picking a blower.
These are three things you need to pay attention to when looking through the specifications. 
Stihl BGA 57 Blower: Features and benefits
Alright, if you're anything like me then you may have had a natural repulsion to battery-powered tools. I am fully on board now, but it can take some convincing for those of us that have always used gas power. 
Let's take a deep dive into the Stihl BGA 57 to see if we can make sense of its specifications and features.
If you like Stihl products then check out our ranking of the best Stihl weed eaters.
Power on the Stihl BGA 57 battery-powered blower
First and foremost, we have to talk about power. When I am examining a blower, I want to make sure I understand a few things.

The first of which is MPH. I generally want this in the 120+ range. Once you get to the 120+ range, you know that your blower is going to be able to get rid of that one wet leaf that is stuck to your driveway and won't budge. 
Less important is the CFMs, which is a measurement of air output. Higher CFMs usually correlate to higher MPHs given the nozzle size is the same. Often, however, you will see that high CFM blowers can have low MPHs; this is due to a wide nozzle. Wide nozzles are great for blowers that are used on large areas. They simply move massive piles of leaves. Smaller nozzles are great for targeted jobs, like grass clean up and smaller yard leaf removal.
So where does the Stihl BGA 57 stack up?
365 CFMs and 123 MPH. Womp womp….
These aren't great numbers. This thing has a tapered nozzle and still has low air output and speed. 

I've gotta say, I am disappointed here. I really expected this to have more power – mostly because their gas leaf blowers like the Stihl BG 86 C can really knock your socks off. 
What are they thinking? 
Ease of use
What the Stihl BGA 57 lacks in power, it makes up for in ease of handling. It has a nice rubberized grip that makes holding it a breeze. And speaking of holding it, the thing only weighs like 6 lbs. It's super lightweight.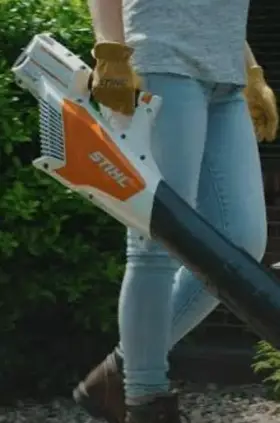 It comes with three different tube lengths, which can help if you are on the shorter side. The longest length helps tall people like me still make good contact with the rubbish I am blowing without breaking my lower back.
A downside here is that the blower only has one speed. The trigger is not variable-speed, meaning that it only goes full blast. 

Compared to a gas blower, there are a lot of things to like. It is:
Quiet

This thing is WAY quieter than a gas blower, albeit a different kind of noise.

Emissions  free

No concerns about breathing in fumes and you can even use it indoors (basically a big hair dryer)

No maintenance

No oil changes, spark plugs, filters, oil and gas mixtures. Just plug in the battery and rock.
One other unnecessary feature is the safety locking button. It has more of a safety than most handguns. Blowers are probably the least dangerous lawn tool in existence – why do you lock it down like Air Force One?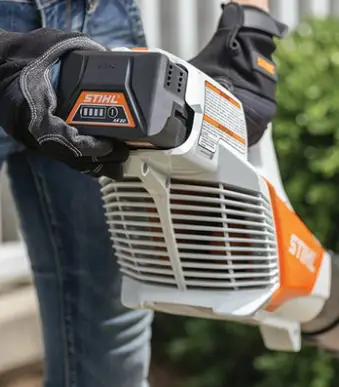 Durability
Another disappointing feature of the Stihl BGA 57 is the lack of a brushless motor. Brushless motors are the standard now for high-end electric blowers. They are more durable, longer-lasting, have more torque, and are quieter. Typical brushed motors can get really hot, causing a ton of problems, chief of which is the breakdown of the motor over time.
C'mon Stihl! Do better!
The motor is still going to last you a few years, but I really would have liked to see and expected to see brushless. 
Otherwise, this is a well-constructed and solid piece of equipment. It doesn't feel too cheap a nd plasticky. It has a slick design and the tubes are quality. 
Speaking of long-lasting, the run time on this thing is 18 minutes. This is great for a small yard, but if you have a medium-sized yard or bigger, then you better pray you get the wind working at your back. This thing does NOT last very long.
Cost and value
The Stihl BGA 57 blower can be bought at your local Ace Hardware. They may be running a deal, but my local Ace had it for just under $200. I'll be returning it.
For $200, you can do way better in a blower. I would actually spend a bit more and get the EGO 765 CFM blower OR spend less and get one of the cheaper Ryobi 40V blowers. 
Get what you pay for either way – which isn't happening with this Stihl blower.
The Overall Review: Stihl BGA 57 blower
I think y'all know where I stand. Not only is this blower on the weaker end, but it has only one speed, is over priced, and doesn't have a brushless motor. I would not recommend this to anyone unless they are obsessed with Stihl or obsessed with being sad.
Sorry, y'all.