Ryobi and Sun Joe are two titans in the pressure washer industry. Both offer some of the absolute best-selling pressure washers in the game.
But only one can be declared winner.
So today we have decided to compare the Ryobi 2300 PSI 1.2 GPM Electric Pressure Washer (Home Depot's best seller) to the Sun Joe SPX3000 (Amazon's best seller).
If you are looking for a pressure washer for use around the house, then you have undoubtedly stumbled upon both of these in your quest.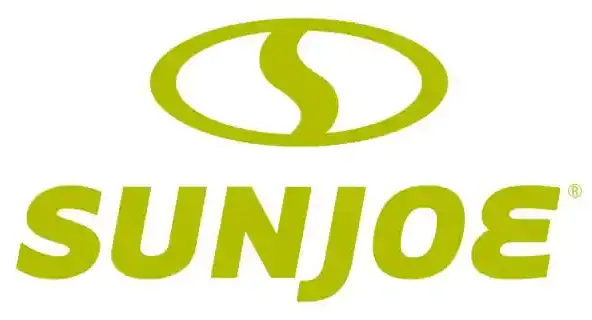 Why we review lawn tools
The reason we started this website in the first place was because we had so much trouble trying to find reasonable, understandable, honest reviews for lawn equipment. And it's not cheap! After hours and hours of research, trying products and returning them, and messing up our yards – we started this site. 
As people who had to learn the hard way, we want you to know exactly what you are signing up for before you purchase a piece of equipment. That's why we are committed to providing honest, easy-to-understand reviews that mean something. 
What to look for in a pressure washer
You gotta know what to look for on these Mr Joe's bad boys! Each one looks basically the same, has a complex acronym name, and comes in a similar color.
Nozzles Matter

When choosing a pressure washer, you should pay attention to the nozzles included in the package. Two types of spray nozzles are available, adjustable spray nozzles that can be controlled and quick-connect nozzles with predefined spray patterns.  
The predefined spray patterns typically come in different angles, allowing for you to quickly switch between a broad, lower pressure spray or a narrow, higher pressure stream.
Soap tank

Additionally, you may want to consider a soap tank – equipped pressure washer. Some of these pressure washers have "foam cannons" where you can simply add some soap and it will mix it in with the water. Pretty cool.
I recommend a soap tank for cars and windows.
Wheels on pressure washers

Despite these seemingly minor features, they can have a big impact, especially with larger units. No sense in lugging around one of these in your yard and tripping all over the place.
Hose types

There's a big difference between how easy or difficult it is to use a pressure washer based on the kind of hose that comes with it. Stiff, rigid hoses make it extremely difficult to have any maneuverability without messing up the job or knocking over the base.

Portability

Even if this has the drawback of making the unit less powerful, a portable, smaller pressure washer will be a better choice if you have to move around or carry the unit with you. Most of us do this, especially if you are doing the exterior of your house.
Totally depends on the job you are trying to do.
Ryobi vs Sun Joe Pressure Washer: A Breakdown
Now that we know what to look for in a pressure washer, we can apply some scrutiny to both the Sun Joe SPX3000 and the Ryobi 2300 PSI Electric pressure washers. Beware, it could get ugly.
Power
The Sun Joe SPX3000 is not called the SPX3000 because of its PSI. In fact, the SPX3000 only has 2030 PSI. Do not be confused by this. 
The Ryobi 2300 PSI pressure washer has…..2300 PSI. True to the name.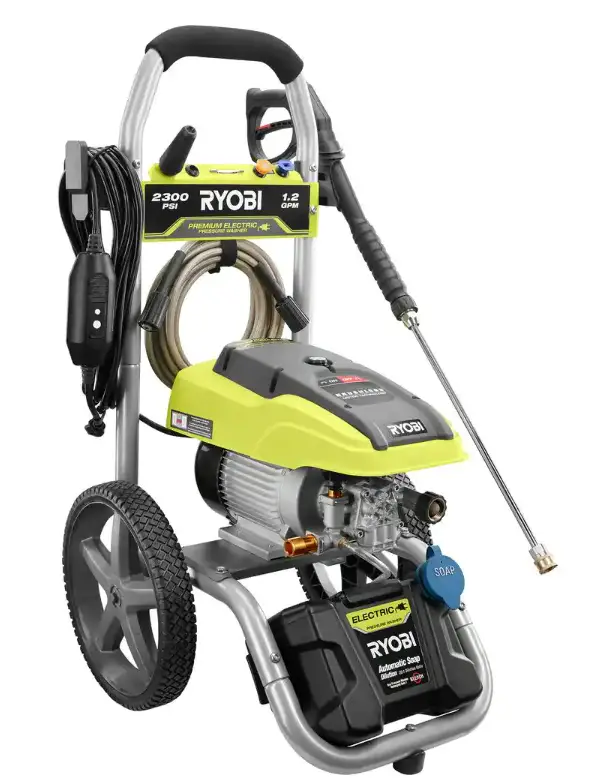 Obviously 2300 PSI is greater than 2030 PSI. This is actually not that big of a difference when it comes to the type of work you'll be doing. When you actually get into the 3000 PSI range is when you can start talking about graffiti removal, concrete removal, etc. Anywhere in the 2000s is going to be household type of work.
Advantage: It's a tie!
A Nozzle Comparison
Now that we have pinpointed nozzles as an important feature, let's see how the Sun Joe SPX3000 and the Ryobi 2300 PSI electric pressure washers stack up.
The Sun Joe SPX3000 comes with five quick-connect nozzles. They say quick connect because you can simply slide them on and off with a cool little contraption on the side of the nozzle. The SPX3000 has 0, 15, 25, and 40 degree tips plus a soap spray tip. 
The Ryobi  2300 PSI electric pressure washer comes with the same tips as the SPX3000, but with an additional "turbo nozzle". The turbo nozzle provides essentially the same exact power as the 0 degree nozzle, but over a much wider area.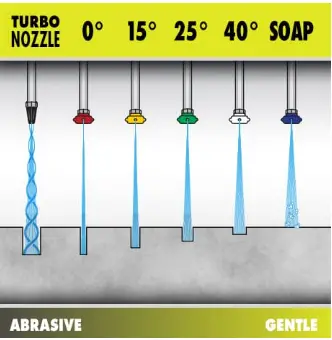 The key benefit provided by this turbo nozzle on the Ryobi pressure washer is for those that are wanting to blast away dirt from larger areas. This turbo nozzle is ideal for cleaning off a sidewalk or a driveway. The 0 degree nozzle has the same power, but can only cover a small area because of how narrow the stream is. 
Advantage: Ryobi 2300 PSI electric pressure washer.
Portability: The Wheels and Why They Matter
Okay so both of these pressure washers have wheels. Most do. But there's a big difference between a horse and buggy and a Ferrari.
The SPX3000 from Mr. Joe has a big set of wheels on the back, basically making it function  like a dolly. Tilt outback and move it. Actually, this thing sort of looks like a vacuum anyways so maybe that's a better comparison. The wheels on this are what I would consider "dinky". 
Yeah, I said it. They are plastic, not very functional, and don't adapt well to not a completely smooth surface. All of this negativity to basically say this could topple over relatively easily. And that's actually one of the most frequent complaints this product receives.
On the other hand, the Ryobi 2300 PSI has two big rubber wheels that allow for easy transport. One thing I love about the design of the Ryobi 2300 PSI is that it has a metal bar that extends down from the front and makes it extremely sturdy. I grabbed the top and gave it a nice rock side-to-side and it didn't budge. Good stuff.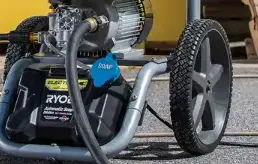 Advantage: Ryobi 2300 PSI electric pressure washer.
Usability and Feel
Usability and feel are extremely important when it comes to using a pressure washer. You will become best buds with this tool because you will hold it for HOURS. So you better like how it feels. 
Candidly, most pressure washer wands are the exact same. Same trigger, mostly plastic body with a metal barrel. Not a big distinction between these two as the nozzles on both are quick-connect.
Both have a 25 ft hose so will take you the exact same distance. Both have similar entry points for the hose on both the machine and the wand. 
These two pressure washers from the wand up are about the exact same. 
The only real differences in usability are the difference in cord length and in weight. The cord on the Ryobi 2300 PSI is about 5 feet longer than the Sun Joe. A modest extension that is slightly better.
The SPX3000 weighs only 31 lbs whereas the Ryobi 2300 PSI is about 49 lbs. That makes a big difference for a lot of people.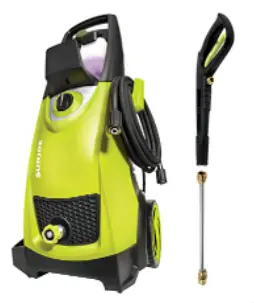 Advantage: Slight advantage to Sun Joe SPX3000 here.
Reliability
Let's get straight to it: both of these pressure washers have had some complaints about reliability. One I have personally experienced and the other I've only heard.
My neighbor has the Ryobi 2300 PSI and it collects dust in his garage. Why? Well – the o-ring around the hose nozzle broke off, so it leaks out a ton of the pressure and is now useless. He plans on buying a new one. 
The SPX 3000 I haven't had any issues with. BUT there are a lot of complaints about the plastic portion that connects the entry hose to the body of the pressure washer having significant leaks. 
This claim is backed up by the creation of the SPX3500, which is the exact same as the SPX3000 but with a metal connection piece. Hmmmmmm…….
Anyways, I hate to do this again but..
Advantage: Nobody.
Cost and Value
The SPX3000 retails around $200 but can often be found for around $170, which is a good deal.
The Ryobi 2300 PSI pressure washer comes in at closer to $300. 
Do I need to do one of those advantage things here, or is it clear?
Advantage: Sun Joe SPX3000 pressure washer
Overall Comparison: Ryobi 2300 PSI vs Sun Joe SPX3000
A few things I like about the Sun Joe SPX3000: it's lightweight, affordable, and just about as powerful as the Ryobi 2300 PSI.
What I like about  the Ryobi 2300 PSI: sturdier, more powerful, and has an additional nozzle?
Which one would I pick? 
Y'all are going to hate me for this, but I would actually go with the newer, not as popular version of the SPX3000, the Sun Joe SPX3500.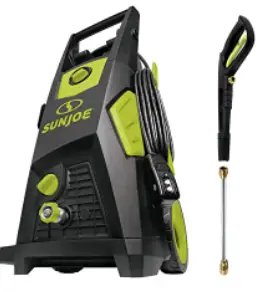 It costs slightly more than the SPX3000, is as powerful as the Ryobi 2300 PSI and has fixed the hose leakage issue and is a bit sturdier.
You can grab the SPX3500 on Amazon for a killer price.
Sun Joe SPX3500
The informed consumer's choice.
---
More powerful than the SPX3000.

More affordable than the Ryobi 2300 PSI.

More reliable than both the SPX3000 and the Ryobi 2300 PSI.
---
We did a full review of the SPX3500 electric pressure washer here.
We also did a SPX3000 vs SPX3001 comparison here.