Craftsman mowers are a huge name. They are one of the most popular outdoor power brands in the game – with a presence in mowers, automotive tools, and even some household appliances.
One of the GOATs in the power tool game just introduced a lawn mower from their new V20 series. 
Honestly, we were skeptical at first. The thing looks like a toy upon unboxing.
But woah. 
This thing packed some power! Let's check out the pros and cons of the Craftsman V20 Brushless electric mower.
Jump ahead
We were super surprised by the power of this mower, despite it's feeble appearance!
Why we review lawn tools
The reason we started this website in the first place was because we had so much trouble trying to find reasonable, understandable, honest reviews for lawn equipment. And it's not cheap! After hours and hours of research, trying products and returning them, and messing up our yards – we started this site.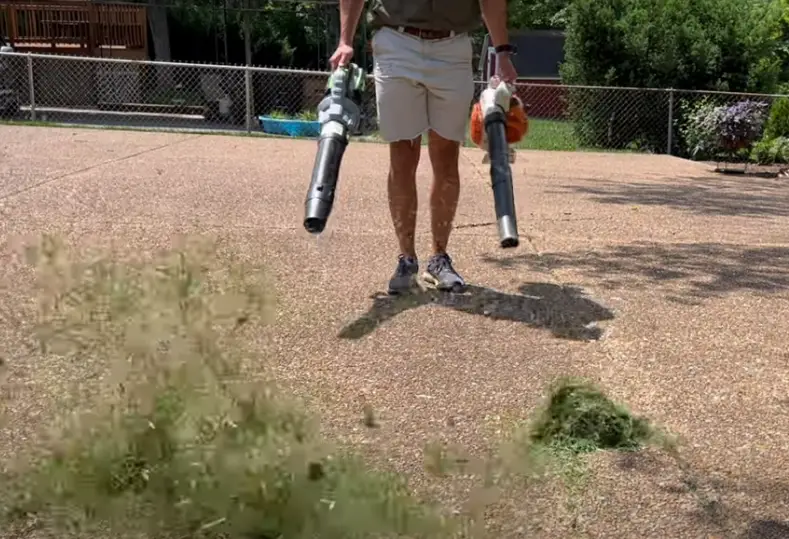 As people who had to learn the hard way, we want you to know exactly what you are signing up for before you purchase a piece of equipment. That's why we are committed to providing honest, easy-to-understand reviews that mean something. 
What to look for in an electric lawn mower 
When looking to purchase an electric lawn mower, you need to make sure you understand what things matter. You will get hit with a lot of technical specifications and marketing tactics. Totally forget them and focus on the things that impact you. Below are my recommendations:
Brand quality

Quality is going to be super important here. Everyone is in the electric mower game these days and there are a ton of junky mowers out there. Avoid anything from a weird brand on Amazon that takes 9 years to ship. It is probably being 3D printed in a Laotian bathroom. Go for brands that have consistent quality and focus on the details, not just flashy colors.

Metal where it matters. 

Most electric mowers are plastic-y. Probably to reduce the weight of the mower so that the battery can get you further, but it feels cheap. Make sure to get metal where it matters – namely the deck. The deck is the part that covers the blades. Don't get plastic here – a rock can rip through it.

Battery interoperability.

 A ten dollar word used here, but really just make sure to buy a mower with a battery that is compatible with other electric tools. Ryobi has this, so does Dewalt, and so do some of the Greenworks products. This will save you garage clutter and plug space.

Self-propelled or not. 

I actually don't like the self-propelled feature. It doesn't help you that much and it drains battery – I would pass here. This is a marketing gimmick in my opinion.
Check out our electric lawn mower guide for more information on this.
Craftsman V20 Brushless Electric Mower: Features and Benefits
As mentioned before, Craftsman is a big name in the tool space. They are bringing their immense knowledge and product lineup to the big stage with the arrival of their new V20 mower. We were lucky enough to get our hands on this mower for a pretty thorough inspection.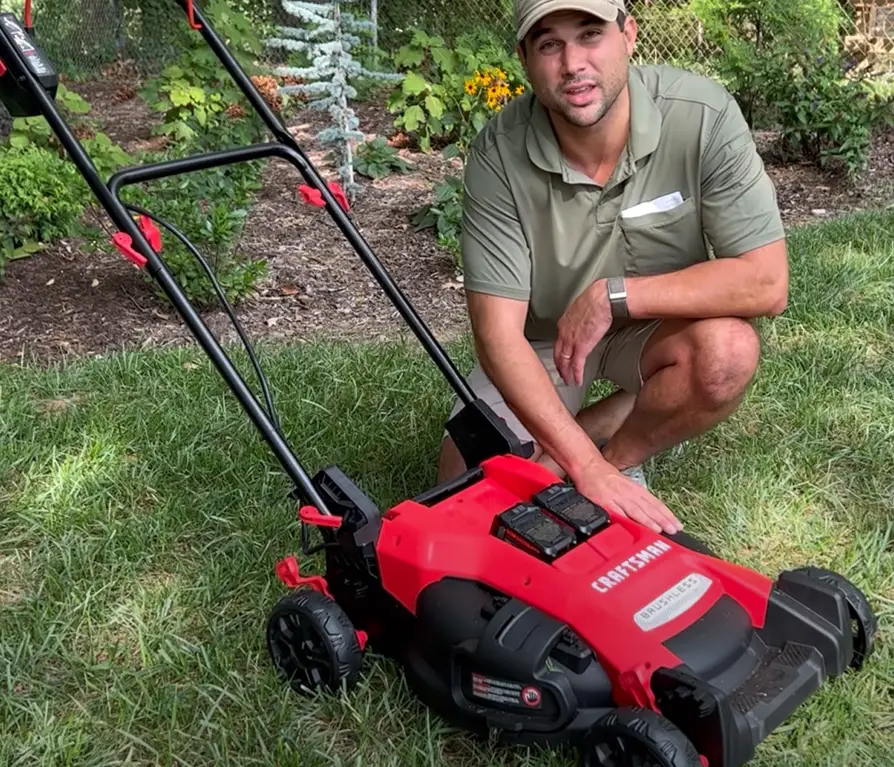 User Experience
Right off the bat, this mower doesn't have the standard design you normally see from a gas mower. It has a slightly odd look where it appears flat and kind of goofy. It has smaller plastic wheels that feel cheap, but has five different settings for height adjustment of the cutting deck. It also has the ability to fold in half for easy storage. 
To start the mower, you simply place the safety key in the "ignition", press the start button on the side, and hold down the bar to initiate the motor. Then simply keep the bar held together and begin walking – just like a normal gas push mower.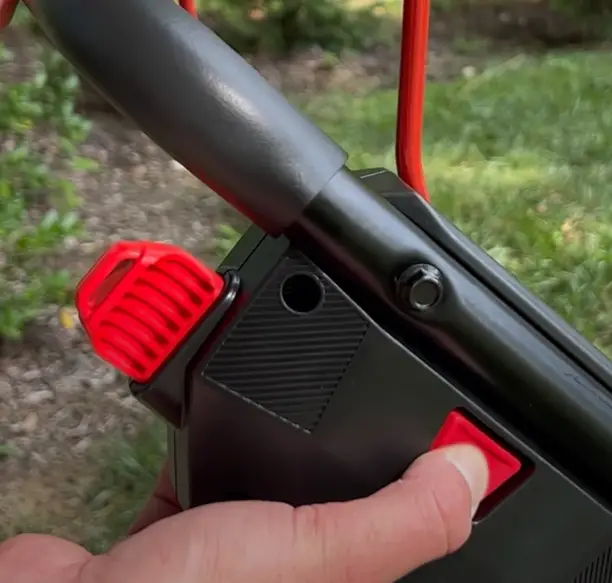 At first glance, the mower appears cheap and plasticy. In fact, one thing I noticed that I didn't love right away was that the batteries don't have an available battery life indicator that you can see while you are mowing. If you take the batteries out, you can check the battery life, but not while you mow.
From a functional perspective, it does have a 3-in-1 cutting system. This is pretty standard for push mowers. The capabilities are mulching, side discharge, and bagging the grass clippings.
The Craftsman V20 mower does not have a self-propelled function, which is honestly fine by us. 
Battery times
The Craftsman V20 brushless mower has an advertised run time of about 50 minutes. Well – we put that to the test in our backyard.
We got about 27 minutes into mowing our lawn before it died. Yikes! Granted, the lawn was a little wet but still – that's barely half of the advertised time!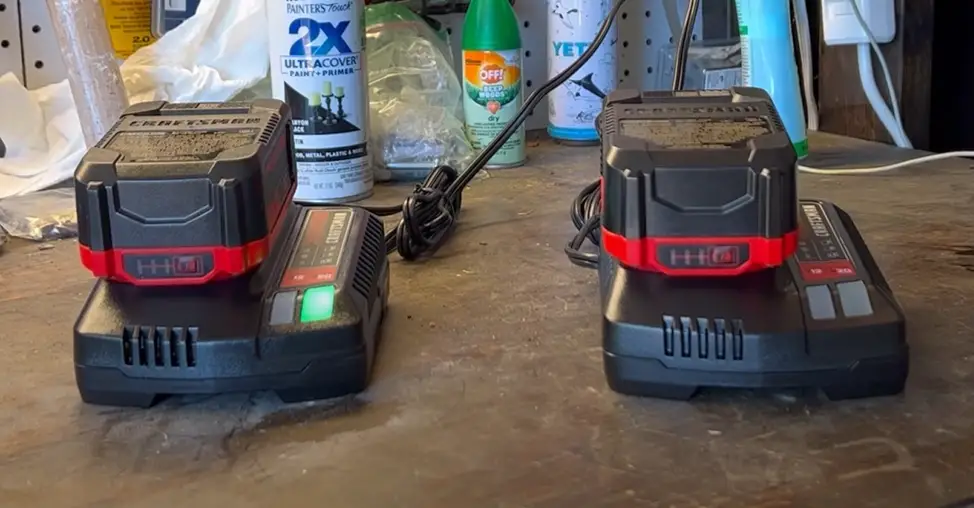 When we took them in to charge, it took each battery well over 3 hours to charge. Not great! 
I honestly expected a bit more from the batteries on this, but with a 20V battery you won't see the same run time you would from an EGO or Ryobi battery, with much higher voltages.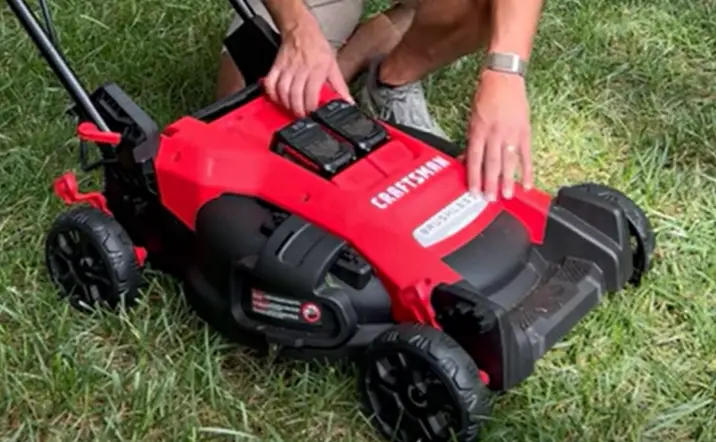 Definitely a lot to be desired when it comes to batteries, but I can't overstate how nice it is to have one battery system for several tools. Despite the underwhelming run time, I would still recommend the Craftsman V20 mower to anyone who already owns V20 tools.
Price and Warranty
The Craftsman V20 battery powered mower is on sale for about $329 right now at Lowe's. Not bad actually. You can also get the version without the batteries and chargers for a lower price – another benefit to owning the batteries already.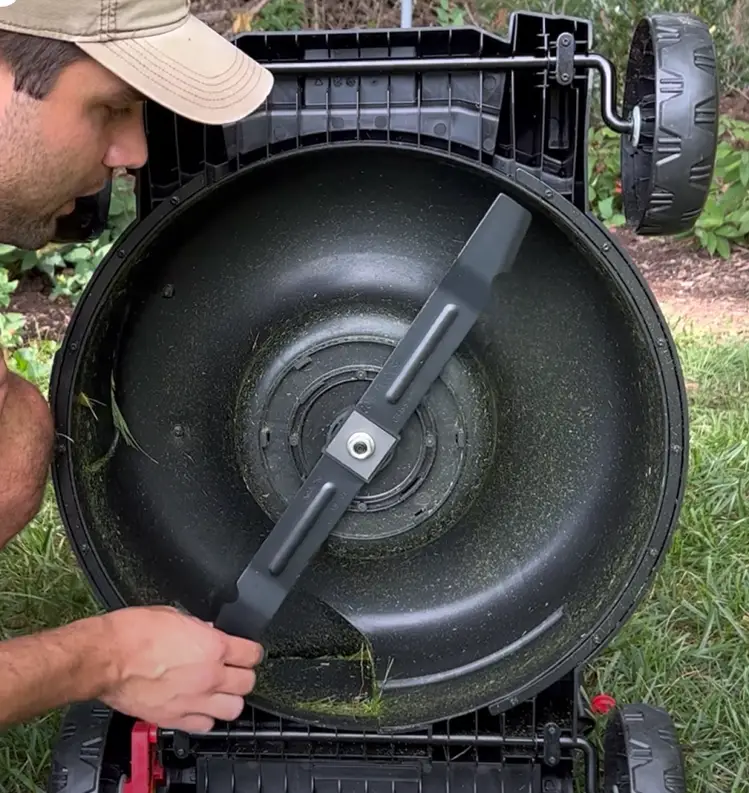 The Official Review: Craftsman V20 Brushless Electric Mower
We wanted to hate this mower. We really did. It looked like a toy and was mostly plastic. The battery run-time wasn't what was advertised.
But boy is it hard to hate. Despite all of the quirky things about it, it cut my super long fescue lawn like my gas mower does. It got the job done without all the bells and whistles.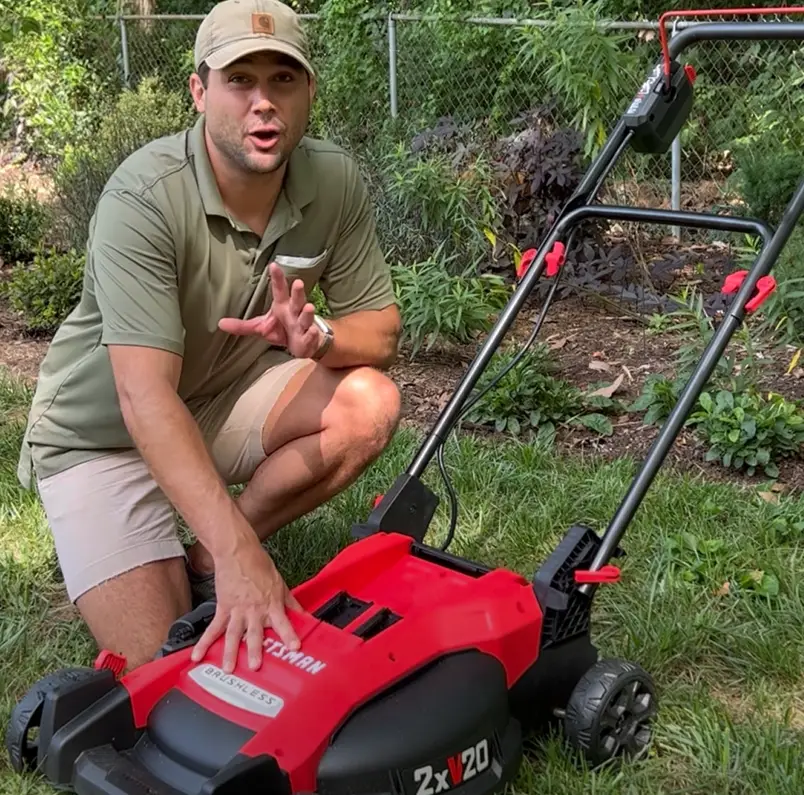 It's lightweight, easy to maneuver, easy to store, and does what it is supposed to do.
You can grab it at a Lowe's near you.