The Greenworks 2000 PSI pressure washer is a super popular pressure washer made by the folks over at Greenworks. Many folks have asked us to review this product because they have a huge presence on Amazon with a ton of reviews. Let's roll up our sleeves and figure out whether or not this pressure washer is right for you. 
Jump ahead:
Why we review lawn tools
The reason we started this website in the first place was because we had so much trouble trying to find reasonable, understandable, honest reviews for lawn equipment. And it's not cheap! After hours and hours of research, trying products and returning them, and messing up our yards – we started this site.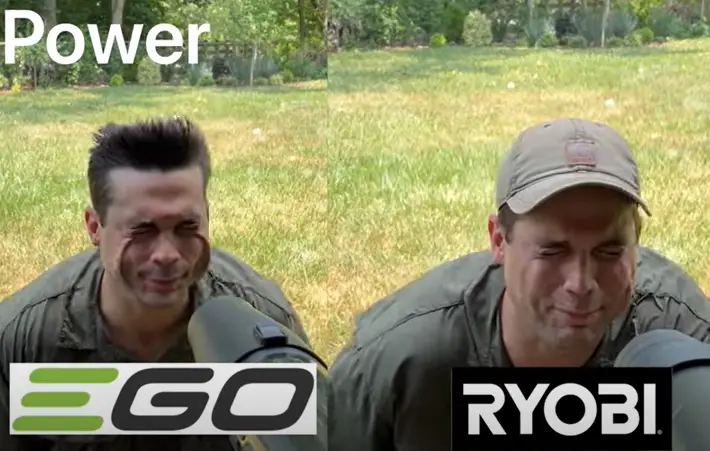 As people who had to learn the hard way, we want you to know exactly what you are signing up for before you purchase a piece of equipment. That's why we are committed to providing honest, easy-to-understand reviews that mean something.
About Greenworks
Greenworks is not necessarily a household name…..yet. They make battery powered yard tools such as robotic lawn mowers, power tools, snow blowers, leaf blowers, and lawn mowers. 
Click here to check out our review of the Greenworks dethatcher and the Greenworks cordless lawn mower.
Greenworks is known for having a green and black color scheme on all of their products – not to be confused with the NEON green and black of Ryobi. Let me clarify one thing – nobody in the commercial lawn care or tool world is using Greenworks. Their products are specifically tailored for lighter use situations that can thrive off of a battery.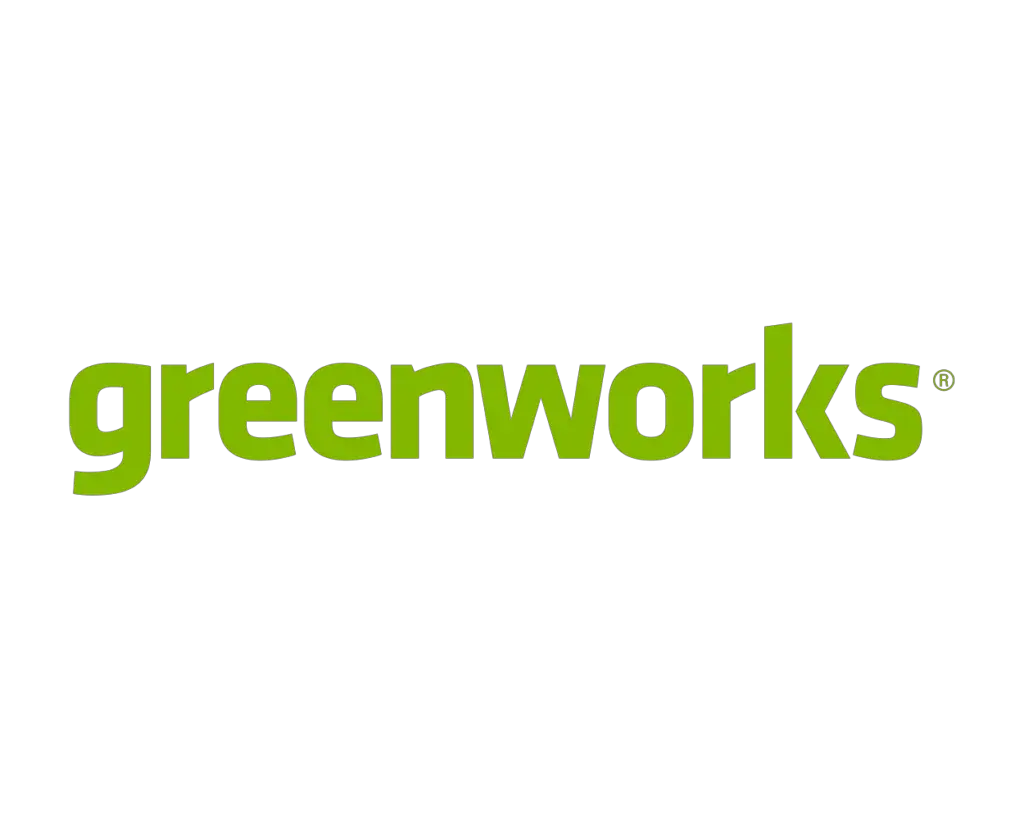 Check out our review of the Ryobi pressure washer by clicking here.
Frankly, most BIG jobs require more reliable power sources that can pack more power. That is not to say that Greenworks products do not have any power, but they simply will not be able to handle the same body of work that gas powered devices can when you get to really big jobs. 
What to look for in a pressure washer
When looking for a pressure washer, you want to have a good understanding of the jobs you want to get done. Most people use pressure washers to deep clean their patio, porch, driveways, windows, or other external surfaces around the house. Most pressure washers are good for these jobs as they are relatively light work and do not require excessive force.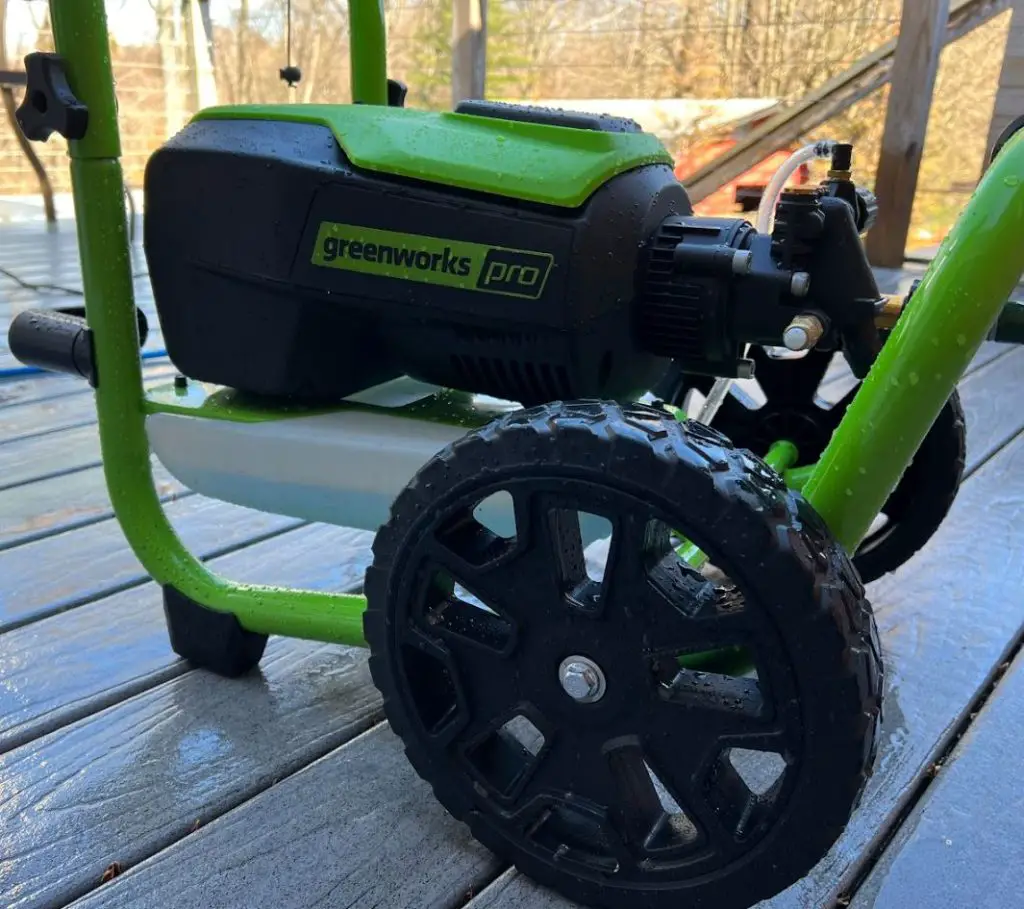 For those of us cleaning the spray paint off of our cars from our crazy ex-girlfriends, you might want one that has a little more "umph" behind it. 
Things to consider before buying a pressure washer 
Some common considerations for those looking for a pressure washer include the following:
Ability to add soap to the hose instead of schlepping around a bucket with soap
Multiple nozzle types for whichever job you need
Length of pole (if cleaning exterior of house, not having one of these could limit how high you can reach)
Storage capability and maintenance requirements
PSI level for either commercial or residential use
Let's check out how the Greenworks 2000 PSI pressure washer stacks up
Greenworks 2000 PSI pressure washer: Feature review
The Greenworks 2000 PSI pressure washer has a lot to like, but also has some quirks and nuances that make it different from its competitors. Let's get started.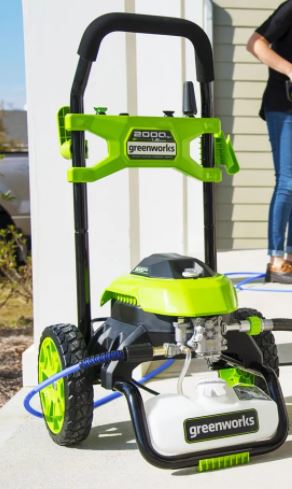 Power
Okay – as I mentioned earlier, power is something that is as important as you need it to be. For those of us just washing windows, cars, garage doors, siding or other lighter-duty jobs, you frankly do not need much power. 
The Greenworks 2000 PSI pressure washer has…..2000 PSI. To put this in perspective, this is on the lower end of the spectrum when evaluating pressure washers AKA not that much power. 
If you are looking to blast away all the dirt and grime from your driveway or sidewalk, the Greenworks pressure washer will simply not be sufficient (unless you want to take 40 hours to do this). You see, pressure can be modified by the size of the nozzle head. Smaller nozzles = higher amounts of power.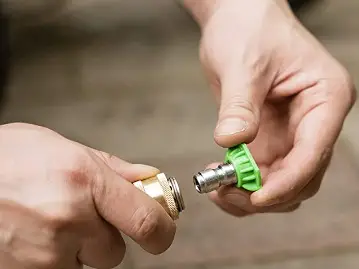 By simple math (or something), smaller nozzles deliver higher power with the tradeoff that you can cover less area. The purpose of this demonstration was to highlight that nozzle modification will only get you so far. If you don't have the power of a higher PSI engine, typically delivered by a gas-powered engine, you won't ever be able to get to a high power level. 
You will see a similar phenomenon from Greenworks biggest rival, Sun Joe. They have a similar wildly popular pressure washer called the SPX3000, which we review here.
If you want more power, check out the Greenworks or Ryobi pressure washers at 3000 PSI.
Usability
Alright, now that we understand the power limitations (which is not necessarily a bad thing), let's talk about the usability of this machine. When I say usability, I mean operator experience. What is it like to actually use this product? What should the ideal product feel like?
Well, this product is easy to use. Frankly, any electric pressure washer is going to be easy to use because it has fewer moving parts and requires less tinkering to get started.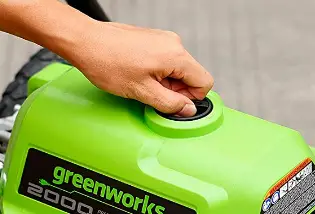 The Greenworks 2000 PSI pressure washer comes with a soap dispensing kit as well as a soap nozzle. These are ideal for providing a soapy base before washing off all of the dirt and grime for whatever is on the other end of the pressure washer. Most pressure washers have some sort of functionality like this that makes the job super easy.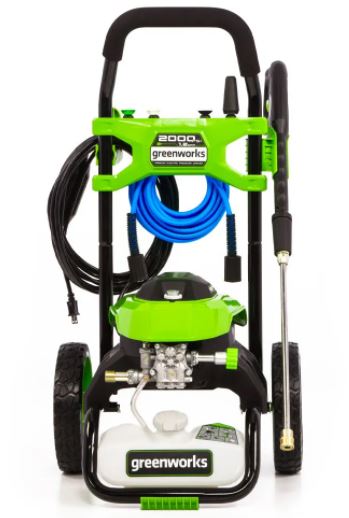 Now here comes the downside. The Greenworks pressure washer only has a 25 foot hose. While this is fine, many of its competitors have longer hoses – closer to 35 or 40 feet. This means you have to stop what you are doing and move the base. Not the worst thing in the world, but I guarantee there will be times you will have to stop and move the base around, left wishing that your hose was a few feet longer.
Durability
Now that we have a good understanding of what kind of power and usability quirks the Greenworks 2000 PSI pressure washer has, let's review the durability. It is difficult to define what good durability is for a pressure washer. Most folks do not use their pressure washer more than a few times per year. 
One thing I can tell you is that this pressure washer comes with a three-year limited warranty on the tool (not the battery). This should provide some comfort to those that purchase the product.
If I am being totally honest, I've read a ton of other user reviews and there are a lot of good ones, but also a lot of bad ones. Most of the bad ones talk about some sort of leak in the pressure box. That being said, the whole dang machine is made of plastic – there are going to be some that get manufactured and break. 
For just as many of the negative reviews, there are a TON of positive reviews with people that have no issues. So….is this a good value?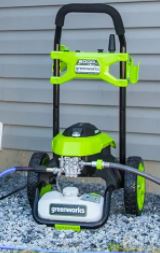 Price and value: Greenworks 2000 PSI pressure washer
I have left you on pins and needles for the past few seconds. Is this a good value?
The Greenworks 2000 PSI pressure washer is a great value. The price is constantly changing, but you can check it here on Amazon. You get about what you pay for. This is a good deal on ANY pressure washer, but if you can get it on sale, this becomes a good value. 
If you are looking for more power, check out our other pressure washer reviews by clicking here.
The official review: Greenworks 2000 PSI pressure washer
| | | |
| --- | --- | --- |
| Feature | Greenworks 2000 PSI pressure washer | Gas powered pressure washer |
| Difficulty to use | Less difficult to use | More difficult to start  |
| Durability | Somewhat durable | Very durable |
| Maintenance | Easiest to maintain | Less easy to maintain |
| Value | Medium value | Medium value |
| Small jobs | Highly recommended | Highly recommended |
| Medium jobs | Recommended | Highly recommended |
| Heavy jobs | Not recommended | Highly recommended |
If you are interested, check out our affiliate link with Amazon. There is some sort of coupon application thing on there that will take an additional $20 off.