The KIMO Cordless Blower is perhaps the greatest blower on the market for less than $80.  
The KIMO 20V cordless blower might look miniature but trust me, it packs a serious punch. This is a tool I promise you won't be disappointed. Let me tell you why.
Every time we have friends over, just after I get out of the shower and get dressed up, right before people begin to arrive… My wife asks me to blow off our front and back porch. 
Seriously, it's like clockwork. 
She has some sixth sense for when I'm clean. Then she asks me to fire up a gas blower just to clean off a few leaves. I then go through the whole evening smelling like gasoline.
Well, this mighty mouse has been an absolute godsend! Guess what… 10,136 reviews with an average of 4.3 stars on Amazon… Looks like quite a few other people agree with me too.
Let's dive in to what makes the KIMO 20V blower something I simply cannot do without.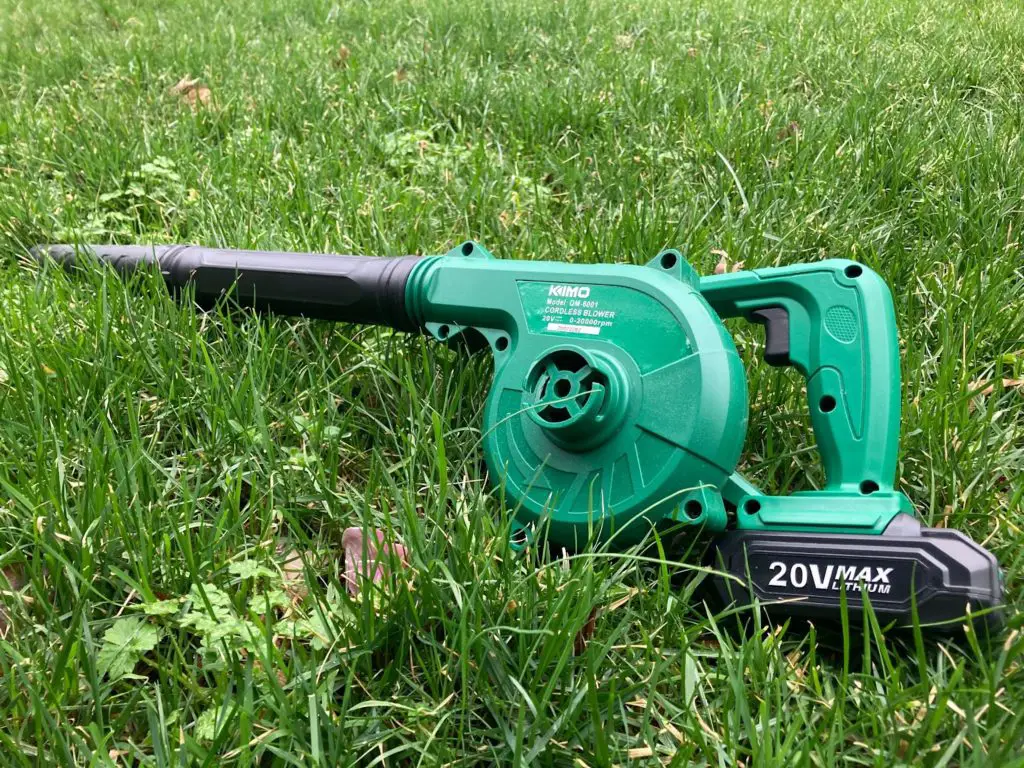 Why we review lawn tools
The reason we started this website in the first place was because we had so much trouble trying to find reasonable, understandable, honest reviews for lawn equipment. And it's not cheap! After hours and hours of research, trying products and returning them, and messing up our yards – we started this site. 
As people who had to learn the hard way, we want you to know exactly what you are signing up for before you purchase a piece of equipment. That's why we are committed to providing honest, easy-to-understand reviews that mean something.
KIMO 20V Products
I'll be the first to admit. Honestly, I'd never even heard of this brand before my mom surprised me one spring afternoon and ordered me one off Amazon. But honestly after checking out there product offerings, I was pretty impressed! 
They definitely specialize more in the handheld DIY type products but they also have some cool landscaping products too! They even have this absolutely sick looking 6 inch cordless chainsaw that has 736 positive reviews!
Another benefit of this brand is their stuff is super affordable compared to the competition. A $67.99 blower?! I mean come on. I'd spend that every day and twice on Sunday not to have to reshower after my wife sees a few leaves next to the front door. 
KIMO Cordless Blower: Features
The KIMO 20V leaf blower has a lot to like, and leaves little to be desired. PUN INTENDED. One of the most important items you need in your arsenal for keeping a top notch lawn, the leaf blower is an essential. Let's check out some of the features in this interesting blower and vacuum combo kit. 
Benefit #1: Weight
At a measly 1.76 lbs, this blower is the absolute epitome of the word light. Seriously, it's insanely light. But it's weird, it doesn't really feel super cheap to me like I'd expect with something of this size.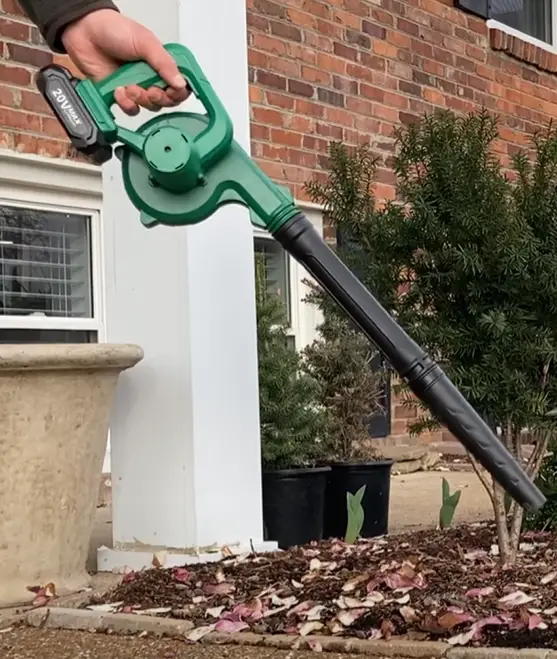 It's a solid, well built plastic in my opinion. This makes my wife's last minute chores much less likely to cause me to break into a disgusting sweat! Add that to the list of things I like about this product.  
Benefit #2: Power
Again, at such a small size, you'd expect this thing to generate only a soft gentle breeze. THINK AGAIN. No joke. Because the opening on this guy is so narrow, you actually get a super strong, concentrated blast of air. Don't get me wrong, you're not going to be able to clean up your fall leaves with this guy but it does what it's supposed to do!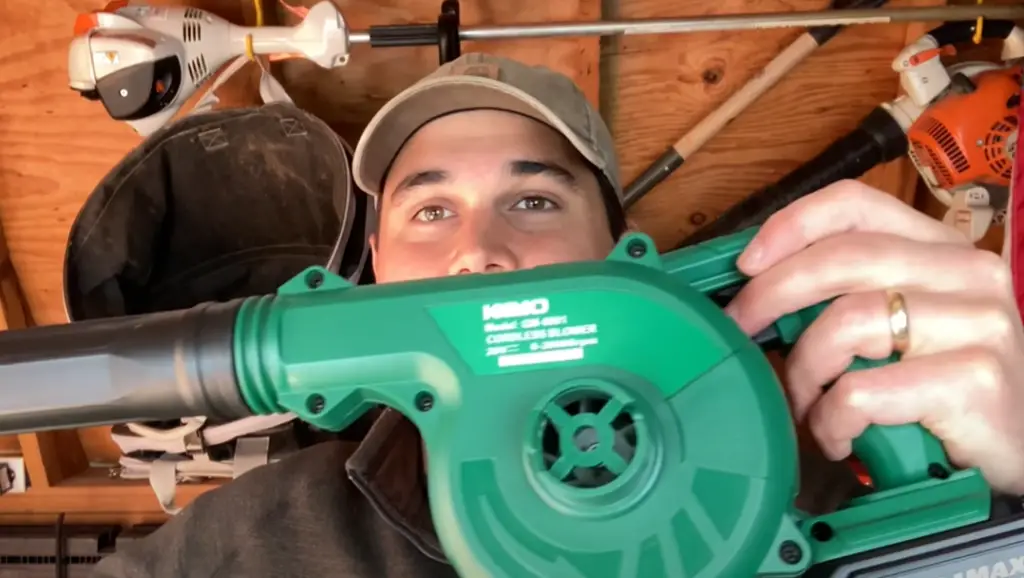 The picture below is to illustrate the variability in power based on how hard you pull the trigger. So if you only need a little bit of air and don't want to ruin your mulch beds or something then just pull the trigger a little bit. If you need a little more juice then pull it all the way. The KIMO 20V blower will generate upwards of 150 CFM.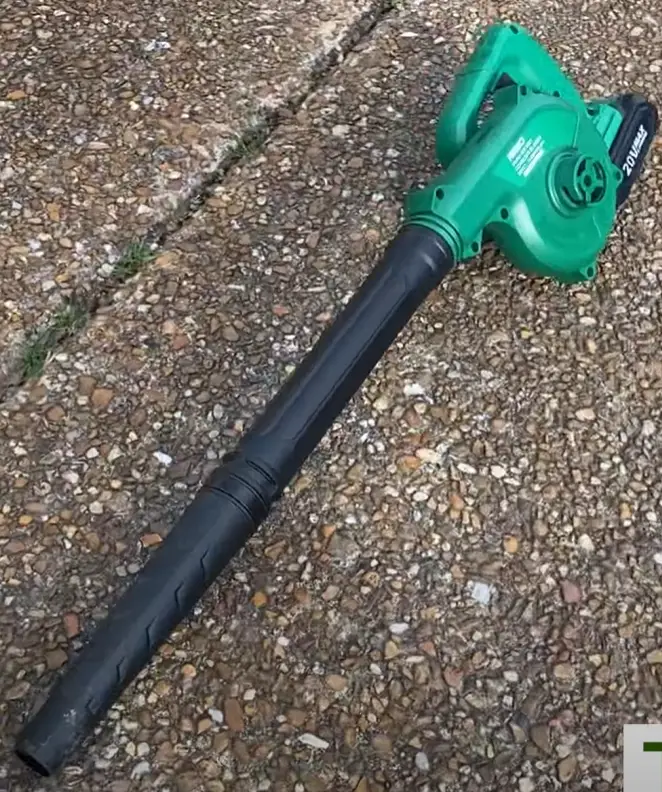 Benefit #3: Durability & Warranty
Like I said earlier this blower feels extremely durable for a plastic blower. It doesn't feel like that cheap plastic crap you can get from other brands. This product feels like it's built to last in my opinion. The parts feel well made in opinion.
In fact, KIMO touts their battery as being able to be charged 1000 charge cycles. That's a considerably high number of charges if you think about it. I mean I probably charge once a week? Maybe… So that's 1000 weeks.. Minimum. Like a bunch of years! 
The KIMO 20V blower actually also has a high efficiency, 20,000 RPM copper motor, that not only helps with the power output, it also ensures that it will last you a long time. Honestly, you can rest easily knowing this has a good motor in it.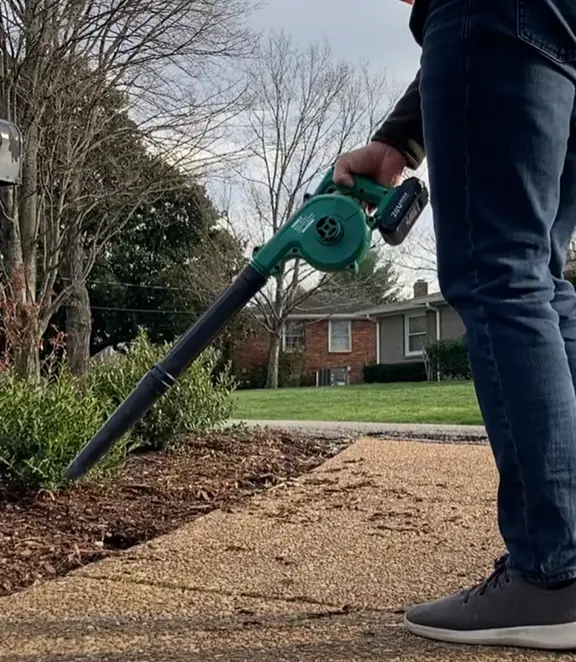 In the event that something does go wrong, KIMO offers a 24 month warranty on all their products. So if something does go wrong, just email kimo-support@kimotools.com and they say they'll reply and ship you a new one in 12 hours. Pretty unreal customer service in this day and age. 
Benefit #4: Cost
Honestly, this is where this product is in a league of it's own for me. It blows 150 mph. It has a 24 month warranty, it doubles as a vacuum, it's insanely light and easy to store AND it's under $100 dollars?! Once I saw that price on Amazon I new I had to give it a shot. 
At the time of this posting it's actually on sale too for 20% off. So it'll run you about $79 + tax. In my opinion, this is a steal. 
I realize I'm extremely excited and love this product but honestly you guys need to give this one a try. There's no way you will be disappointed with this. 
The Official Review: KIMO 20V 2-IN-1 Cordless Blower
Yes.
This one is a SOLID yes for me. I laughed when I opened the box. I thought, "there's no way."
This guy did not disappoint. 
Did I mention you get a vacuum attachment with it too? 
Don't miss out on the 20% off deal on Amazon for the KIMO 20V 2-IN-1 Cordless Blower