Budget Cordless Leaf Blowers are an absolute necessity once that tree in your front yard starts dumping its leaves all over your property.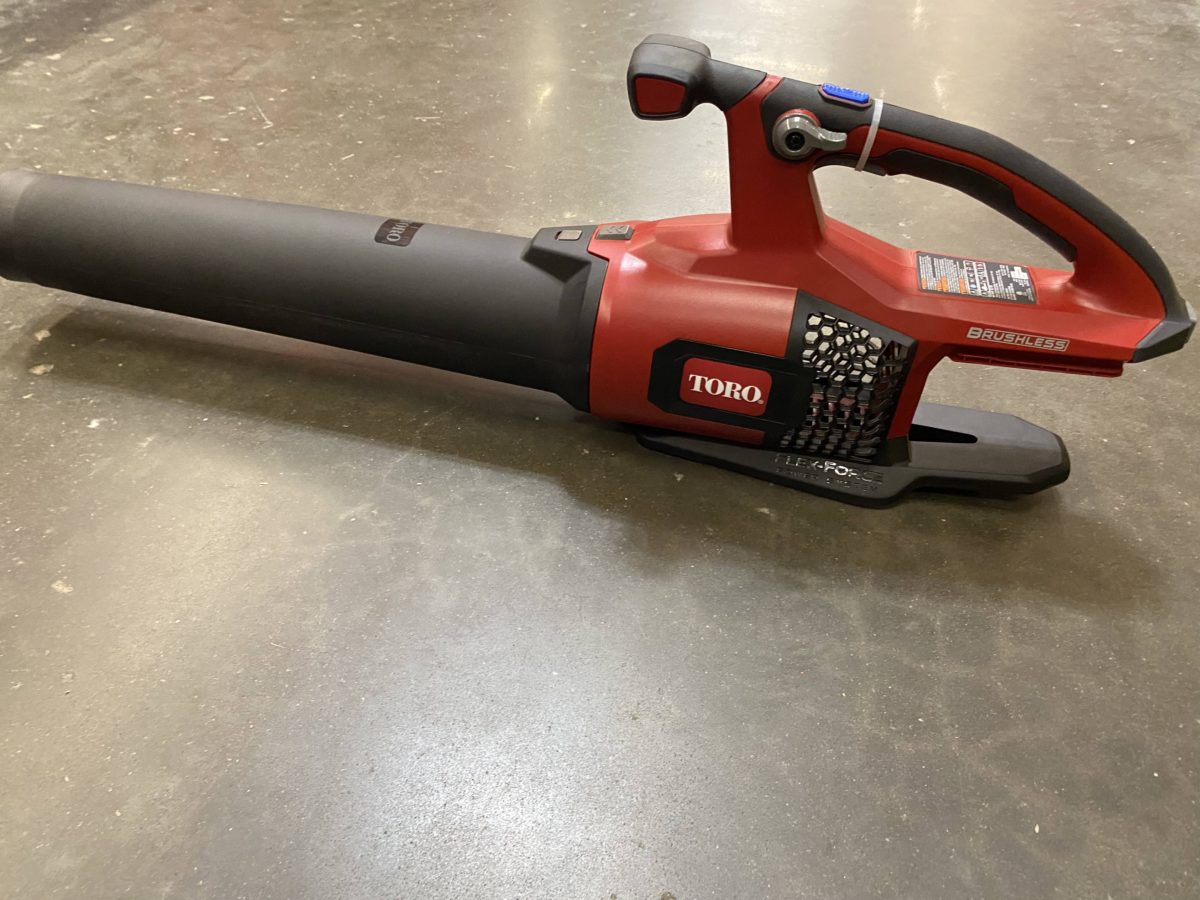 Listen, I used to hate working in the yard. You walk out there and try to ignore the leaves as much as possible.
But they're relentless. They keep piling up. You're definitely not going to pay someone to come get rid of them, but you don't want to spend $400 on a new blower. 
So what do you do?
You get one of the hidden gems below that can do the same work for a quarter (or less) of the price.
Don't overcomplicate this! You can get a budget blower and it still does a great job, takes up minimal space in your garage, and barely makes a dent in your bank account. 
Let's get started.
Here are the Best Budget Leaf Blowers of 2023:
Why we started The Lawn Review
The reason we started this website in the first place was because we had so much trouble trying to find reasonable, understandable, honest reviews for lawn equipment. And it's not cheap! After hours and hours of research, trying products and returning them, and messing up our yards – we started this site.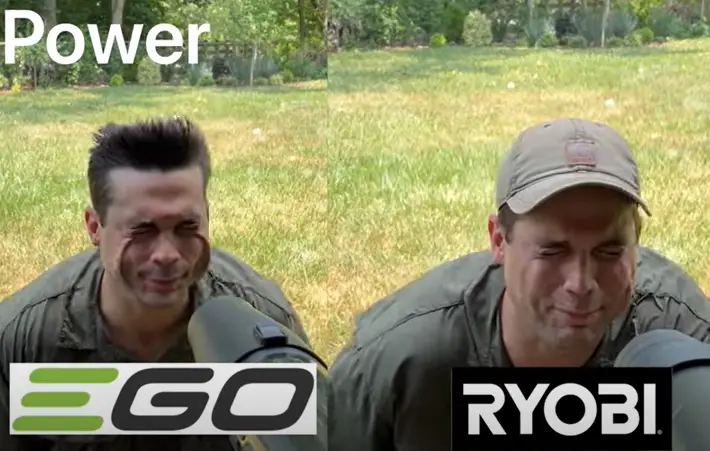 As people who had to learn the hard way, we want you to know exactly what you are signing up for before you purchase a piece of equipment. That's why we are committed to providing honest, easy-to-understand reviews that mean something. 
What to look for in an electric blower
Cordless blowers come in a bunch of shapes and sizes but there are three basic things you need to understand:
CFM – Cubic feet per minute. This is a measure of air output on the blower. Higher CFM = more power, but not necessarily more miles per hour. High CFM with a wide nozzle = lower MPH. High CFM with a narrow nozzle = high miles per hour. Ideally, you want both a high CFM with a narrow to medium nozzle for most residential jobs.
Usability – what is the point of having a blower if it is hard to use? Have to get one that is lightweight, easy to start, and has some functions that make your life easier.
Motor type – brushless motors reign supreme. Cooler running motors with more torque, a longer run-time, and last many more years. Brushless is a no brainer when picking a blower.
These are three things you need to pay attention to when looking through the specifications. 
The Best Budget Cordless Leaf Blowers: Fall 2022 Ranking
Again, it can be done! You can find a great budget cordless leaf blower for a ridiculously low price and corded leaf blowers for an even lower one. We have found not only the most affordable blowers, but ranked them in terms of quality and power. A few of these we personally own and others we have tried and tested ourselves.
Let's get this thing kicked off!
7. Black + Decker 20V MAX Cordless Sweeper with Power Boost
The Black and Decker 20V Max Cordless Sweeper with Power Boost is an affordable, trustworthy, budget cordless leaf blower that is a part of the 20V MAX battery series.
I'm going to stop here and tell you that if you own a Black and Decker 20V MAX series tool, buy  this blower. You can get the tool-only version for an insane price if you already own the battery.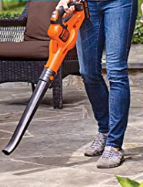 The Black + Decker 20V Max blower gets up to 130 MPH, is really quiet, and can run for 25 minutes straight. The best part – it weighs under 4 lbs. It is technically considered a sweeper instead of a blower, mostly because it has a flat tapered nozzle. This makes it perfect for driveways, garages, and porches. 
I would not get this blower if you're trying to move massive piles of leaves. The tapered nozzle is powerful and great for a strong stream of air, but not going to cover a large area.
You can grab this one on Amazon for well under $100 when it goes on sale.
6. Makita XBU05Z 18V LXT Lithium-Ion Cordless Blower
Makita makes some dang high quality tools. If you've ever owned one of their power drills, you know exactly what I mean. They have recently jumped head-first into the lawn tool game as well. Makita leaf blowers are top notch and growing in popularity (you may have seen the TV commercials).
The Makita XBU05Z is a handheld, cordless, budget leaf blower that reaches speeds up to 220 MPH. Just like the other Makita tools you may already own, it just requires an 18V battery. 
While smaller than most other blowers, it can clear out a sidewalk, front porch, or garage with the best of them. It is extremely easy to use, has the same grip as a power drill, and can be stored in a very small area.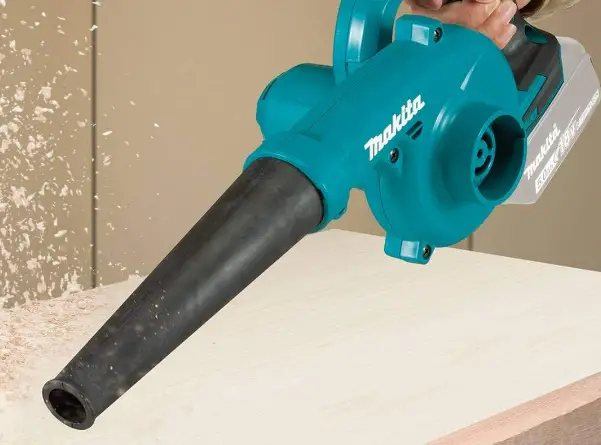 At just a shade under $100, it is a great deal if you already own the battery with your other Makita tools. Grab it on Amazon today for about $95.
5. Kimo Cordless Blower and Vacuum
One of our personal favorites (because Mom bought it for us), we use this thing all the time. In fact, we did a full written review of the Kimo Cordless Blower and a full YouTube video. We love it.
While it is a lesser-known brand, it is the best option if you don't own any yard tools. You can be battery-system agnostic and get a sweet blower/vacuum combo for a ridiculous price.
I use this one all the time to do a quick sweep of the porch, sidewalk, and driveway before we have people over. It can be stored in our coat closet and easily carried outside. It's quiet, lightweight, and super cheap.
It also comes with a vacuum function, although I don't use it that much. But the vacuum works well for sawdust or other things that you want to get rid of in a jiff.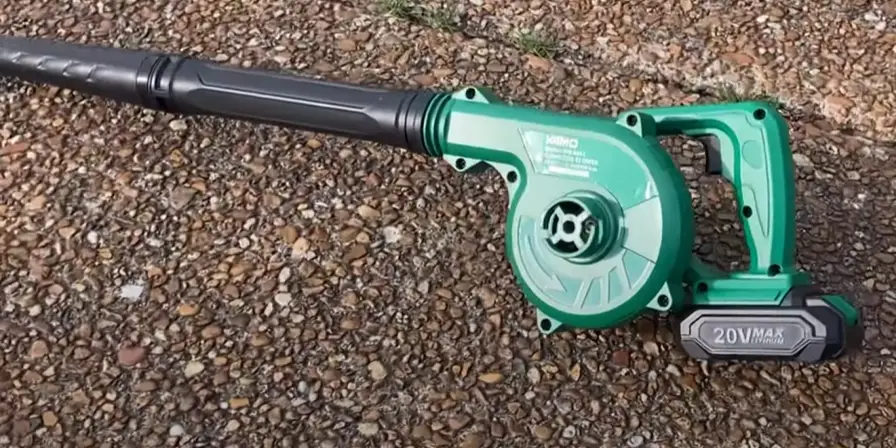 You can read our full review of the Kimo Cordless blower here.
This thing sells for an amazing price on Amazon – under 90 dollars..
4. Ryobi 155 mph 300 CFM 40-Volt Lithium-ion Cordless Jet Fan Blower
So I bought the tool-only version of this cordless budget leaf blower because I already owned the multi-tool Ryobi 40V trimmer and edger. I got it for an awesome deal since I had the batteries already.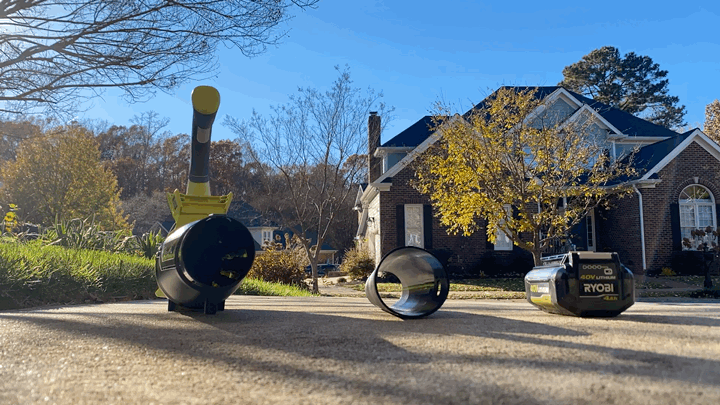 This Ryobi 40V blower works really well. It is easy to assemble right out of the box. One of my favorite things about it is that it has a variable speed trigger, meaning I can control how quickly the air flows. I use this blower every weekend after cutting the grass.
It comes in clutch when the maple tree in the backyard suddenly dumps thousands of leaves on our back deck. It gets rid of all of the leaves in super short order and doesn't wake up the kids. Gotta love it. If you own Ryobi 40V products, this one is a no brainer. 
You can get it on Amazon like I did for a tad more than the others, but still a reasonable price.
3. WORX 20V Turbine Cordless Two-Speed Leaf Blower – WG547
The WORX WG547 cordless budget leaf blower is a pretty sweet looking blower. It has a jet-engine type of motor inside that can put out 75 mph of air, or 340 CFMs.
You may notice that the MPH here is not very high. The CFM, relatively, is pretty dang high. This means that the blower has a wider nozzle. I would NOT use this for wet grass or heavy debris. I would absolutely use this for a pile of leaves.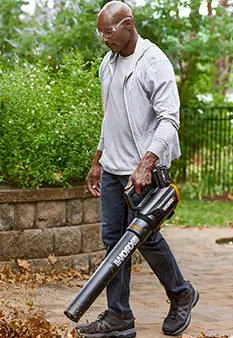 Listen, it isn't going to absolutely destroy leaves like a backpack blower, but it also doesn't cost $600. It will definitely be able to clear loose leaves from your patio or driveway with ease.
Worx is a great brand and is in almost every garage or shed around the country. 
At under $120, this thing is an absolute steal on Amazon.
2. Greenworks 40V (150 MPH / 135 CFM) Cordless Blower
Unlike the last blower, the Greenworks 40V 150 MPH / 135 CFM cordless blower is a high-speed, low air-volume blower. These are super interesting to use because they are basically beams of air that fly out of a narrow tip.
This one is awesome for cleaning off the driveway after a fresh mow. It can also lift off anything underneath a chair, on top of your outdoor tables, and between cracks that other blowers can't reach.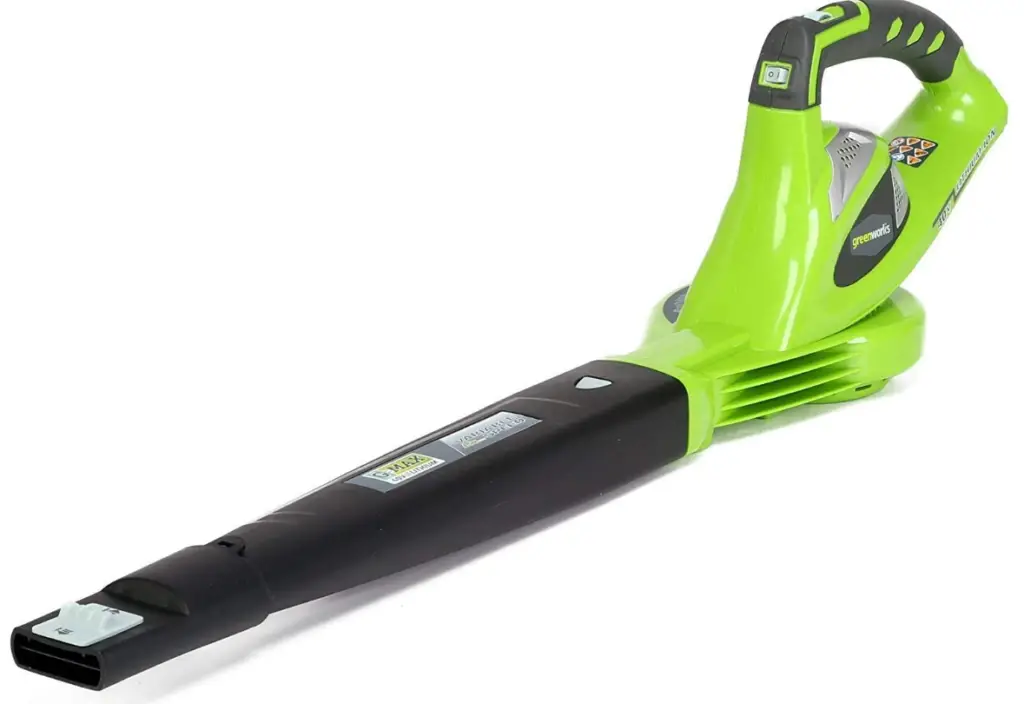 Before you pull the trigger (pun intended), realize that this one isn't great for clearing all the leaves from your lawn. You can do it, but you'll be out there for a while. The Greenworks 150 MPH blower is about precision and power, not as much about pushing big loads of air.
It's a great deal (actually a crazy deal on Amazon), has over 15k reviews, and comes in under $60. That's a hot tamale.
1. Greenworks 40V (185 MPH/340CFM) Brushless Cordless Leaf Blower
The Greenworks 40V 185 MPH brushless cordless budget leaf blower and vacuum combination that makes cleaning up leaves extremely easy. A six speed-option dial allows for you to have complete control over what you are blowing away. Coming in at under 6lbs with a runtime of over 20 minutes on the highest setting, you will be able to quickly crush whatever job you're trying to do.
What I love most about this blower is the brushless motor. Brushless motors last way longer, have more torque, and operate cooler than brushed motors. This one is going to last you a long time.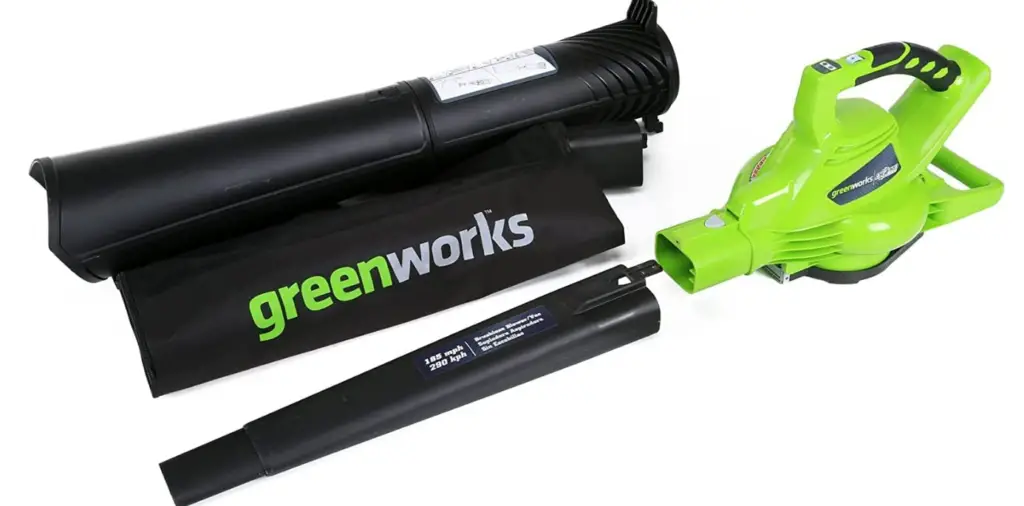 With the additional vacuum add-on pieces, you can easily blow all the leaves into a pile and suck them into a big bag, making cleaning up a snap.
The craziest thing about this blower is that Amazon must be broken or something. It is listed for $70 right now if you get the tool-only version. It honestly seems like a glitch or something.
Oh well – feel free to take advantage of it as long as it lasts on Amazon.