Robotic lawn mowers still seem like a crazy concept, but just about every major mower manufacturer is moving in this direction. If you've ever used a robotic vacuum, you can understand what is appealing about a robotic lawn mower.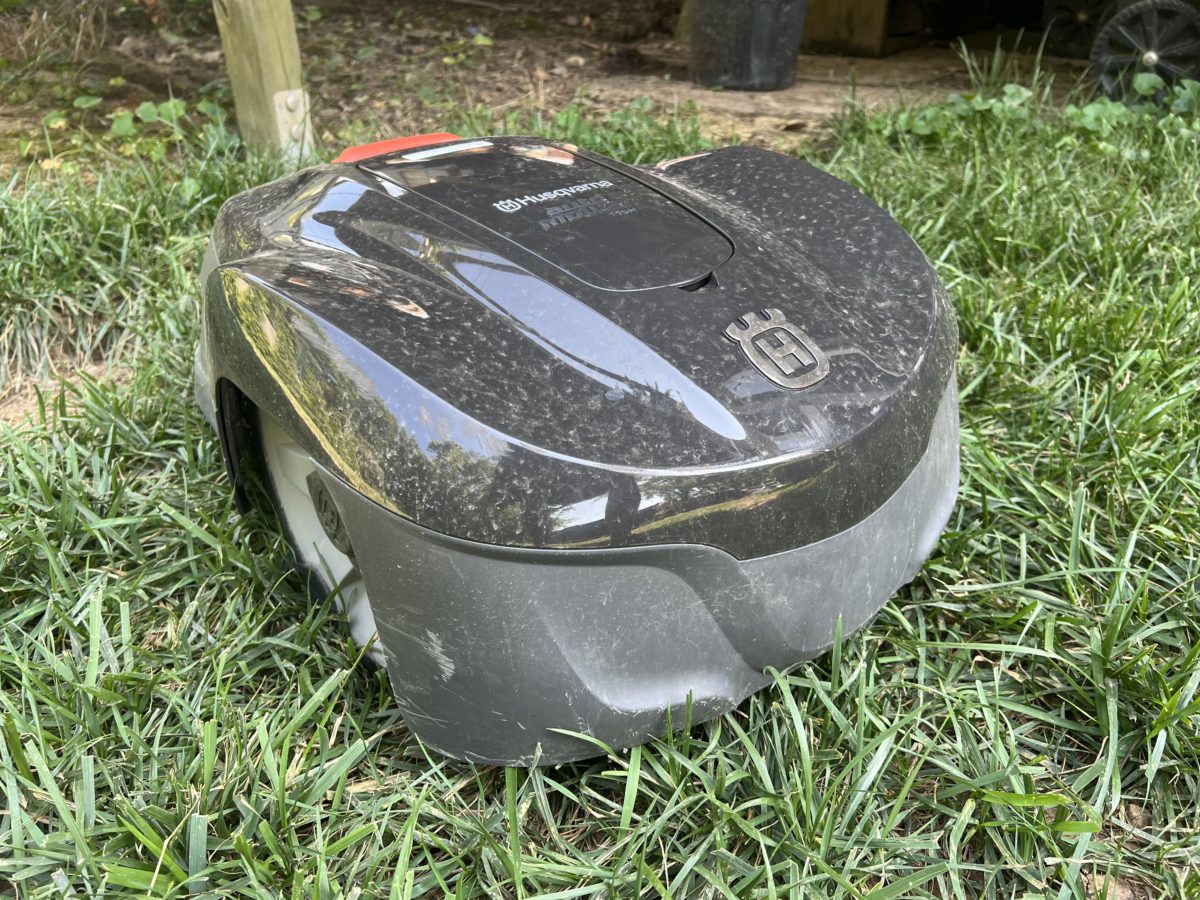 You set it and forget it. You can leave for work and come home to a clean floor, or in this case, a mowed lawn. 
But if you are having hesitations about letting an autonomous machine with spinning blades crawl around your yard unattended, you're not alone. There's a ton of hesitation with buying a robotic lawn mower – especially when you see the price.
So we spent weeks scouring the internet, talking to manufacturers, and reviewing trends to compile the ultimate buying guide for robotic lawn mowers. We will also take a look at some of the robotic lawn mowers from all of the major brands. 
Ready? Let's get started.
Why we review lawn tools
The reason we started this website in the first place was because we had so much trouble trying to find reasonable, understandable, honest reviews for lawn equipment. And it's not cheap! After hours and hours of research, trying products and returning them, and messing up our yards – we started this site.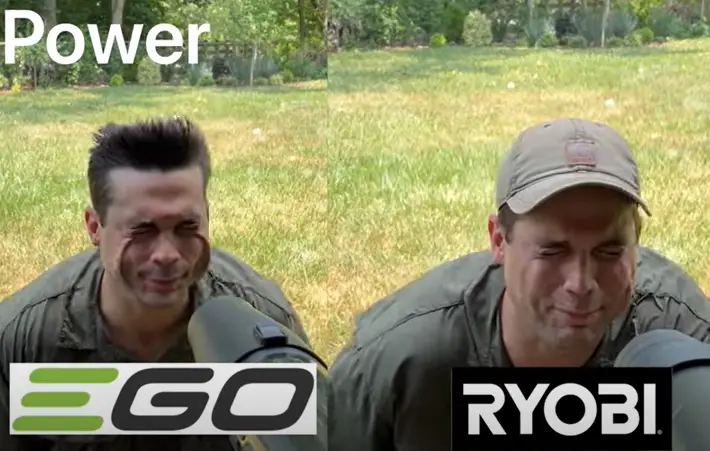 As people who had to learn the hard way, we want you to know exactly what you are signing up for before you purchase a piece of equipment. That's why we are committed to providing honest, easy-to-understand reviews that mean something. 
What to look for in a robotic lawn mower
Robotic lawn mowers are becoming more common and look and sound the same, except they have drastic variations in price. Yikes. So how do you know what to look for when comparing? I'll say a big part of this comes down to convenience and the associated bells and whistles, but here are definitely some non-negotiables. 
Cutting height and width
Please don't buy a robotic lawn mower that can't cut your grass. Sadly, there are some options out there that max out at 2.5 inches of grass length. If you have fescue or other transitional grasses that are supposed to stay at least 2.5 inches long, you will be in steep trouble.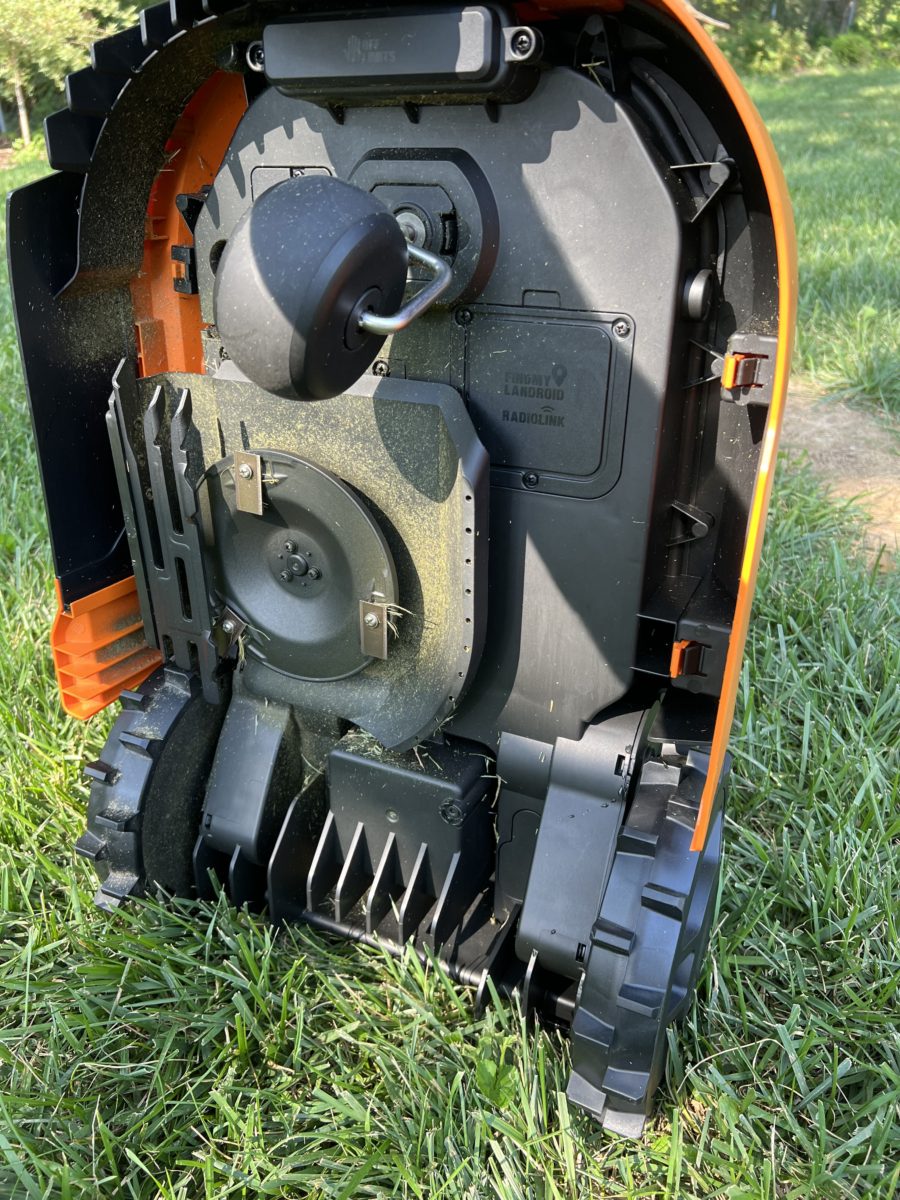 Cutting height and width of robotic mowers is extremely important for assessing how the machine will be able to cut your lawn. The bigger cutting height, the taller the grass it can take. Measure twice, buy once. 
Width is also a consideration. The average push mower width is about 21 inches. Most of these robotic mowers are less than a foot wide, often boasting cutting widths of 9 inches or so. Take this  into account if you have tighter nooks and crannies or a wide open yard. The larger the cutting width, the more efficient the mower will operate.
Run-time and maximum yard size
Robotic mowers operate using a rechargeable battery. They can't run all day without having to charge. If you have a larger yard, there may be times when the mower has to stop mid-way through a cut to recharge for over an hour. Not the best time to have visitors over with a half-mowed lawn! 
Most robotic lawn mowers have the recommended yard size displayed, so make sure it vibes with your yard size. 
Ease of use
This is a super broad category, but how easy is this to use. The number one reason people buy these is because they want to take mowing their lawn off of their plate. If the robotic mower is adding a bunch of set-up time, moving around, re-calibrating, etc. it may be more trouble than it's worth. 
The set-up process is generally laborious for every one of these. Many also come with an app that notifies you of the job progress. Make sure these are seamless to use and make your life easier, not more complex.
Safety features
Obviously super important to have a safe robotic lawn mower. The last thing you need is a puppy puree after a horrific robotic mower incident. Each of these have safety features but make sure they are thoughtful about your specific needs: kids, animals, gardens or anything else of importance. See if there's a way to have a remote kill-switch to make it stop on command.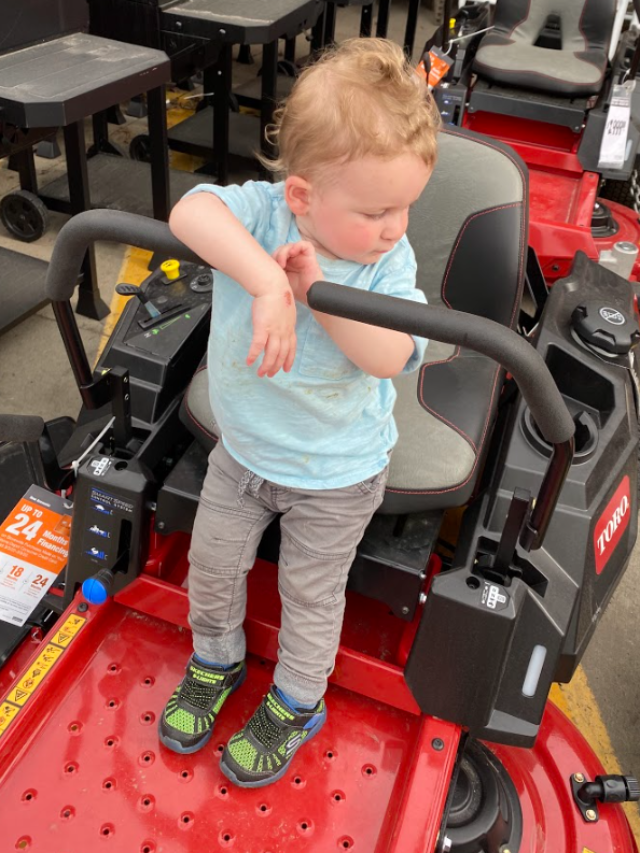 Advantages of robotic lawn mowers
Robotic lawn mowers can be EXTREMELY convenient. Once they're some of the coolest tools on the planet, with a few exceptions. If everything is humming along nicely, you can get your yard mowed to the exact specifications without lifting a finger – and it can even mow in the rain. 
Here are some advantages to robotic lawn mowers:
Able to cut lawn to exact length
Quiet and can mow at night
Connect to your smartphone or even Alexa
Self-charging feature available
Able to mow in the rain
Can connect to other apps to sync up with watering schedule
Tons of safety features
Disadvantages of Robotic Lawn Mowers
Robotic lawn mowers are really cool tools, but with every rose comes a thorn (or more). Let's check out some of the downsides to owning a robotic lawn mower:
Expensive, much more than traditional mowers (5-10x)
Difficult to install
Can't bag your grass well
Can't stripe your lawn (runs in random patterns)
Unknown durability
Unable to perform most maintenance yourself
Robotic mowers essentially take away the control you have over your yard. Similar to robotic vacuums, they often run in random patterns, which means your grass will get cut but not appear in neat rows. This also doesn't replace trimming and edging your yard, which are the final steps of making a decent looking lawn. 
The Future of Robotic Lawn Mowers
Despite some of the negatives associated with robotic lawn mowers, their future is promising. Just about every lawn tool brand we've spoken with (including Greenworks, Husqvarna, Worx and more) are investing heavily in autonomous lawn mowers. Worx even recently announced an upgrade to their top-seller Landroid model that includes a neural network. And these are not just for homeowners.
Massive dollars are flowing into commercial, robotic mowers that simply require landscapers to drop them off in certain locations and pick them up when the yard is done. A future landscaping company might simply be setting robotic mowers in various properties, then picking them up at the end of the day.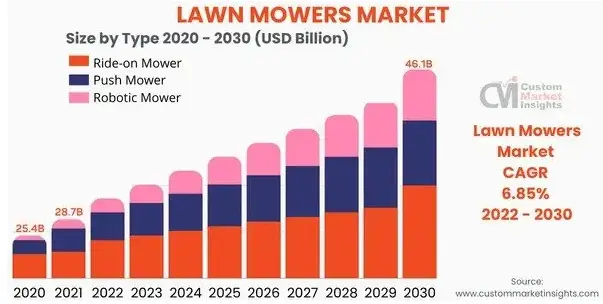 Robotic lawn mowers as a percent of the total lawn mower market are expected to dominate, growing from a sliver of the market today to around a quarter. The overall market growth is extremely impressive as people look to save money on lawn care by ditching landscapers and going robotic.
There also may be new lawn tool entrants from companies like Shark or iRobot who already have the technology to create a safe, smart sensor that could create a safer robotic mower. 
4 Best Robotic Lawn Mowers: 2023
Now that we have a good picture of what you're going to get with a robotic mower, let's break down some of the best residential robotic mowers on the market. Obviously quality is important here, but I want to make sure it's balanced by still being relatively affordable. 
1. Husqvarna Automower 115H
While this robotic lawn mower isn't the fanciest one on the market, it has all of the bare minimum basics at an extremely affordable price. When I think of Husqvarna products, I automatically assume high quality but also higher price.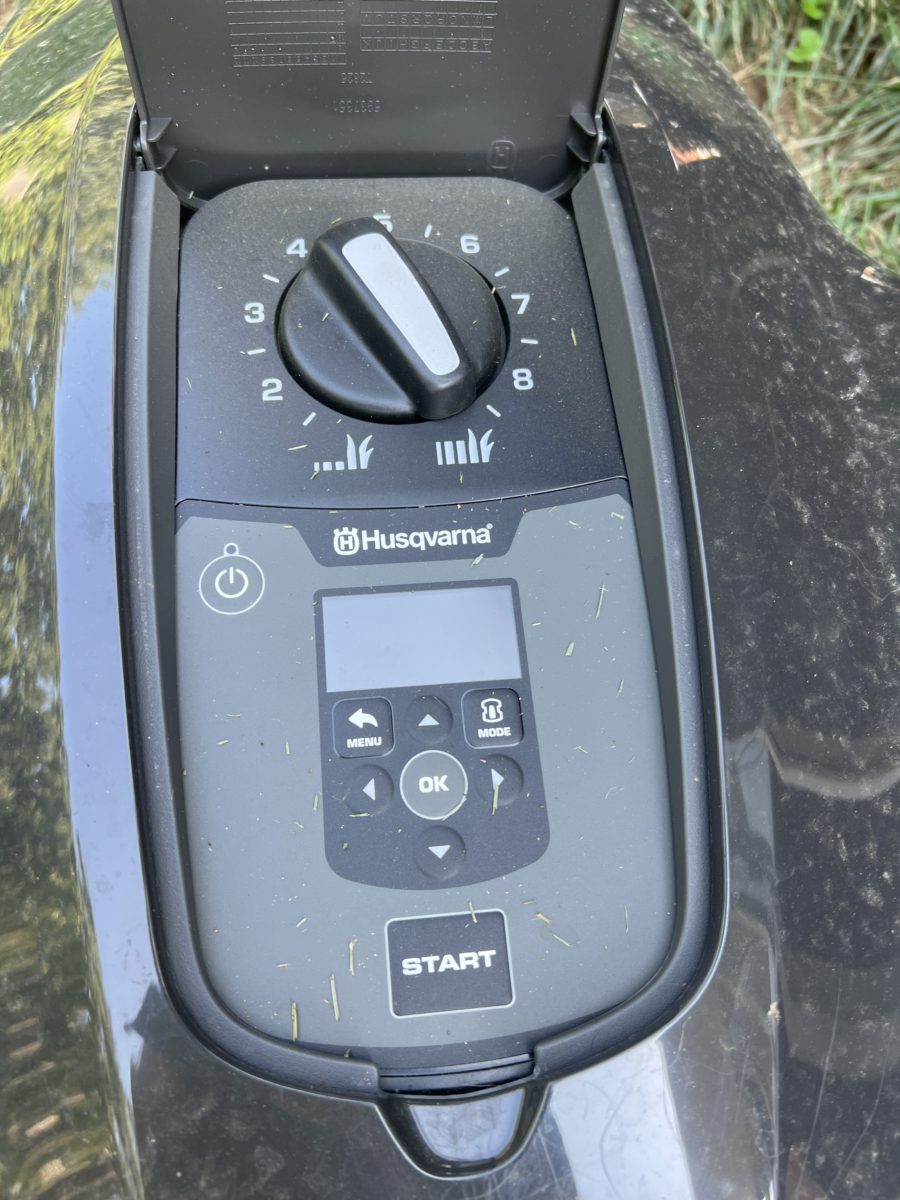 But man, the Automower is changing the game. For reference, Husqvarna has some robotic mowers that go for about 10x the price of the 115H. While it is designed for smaller yards less than half an acre, it can handle tall fescue and other grasses up to 3.5 inches tall. This is going to be great for those of us that live in transitional or cool season grass zones.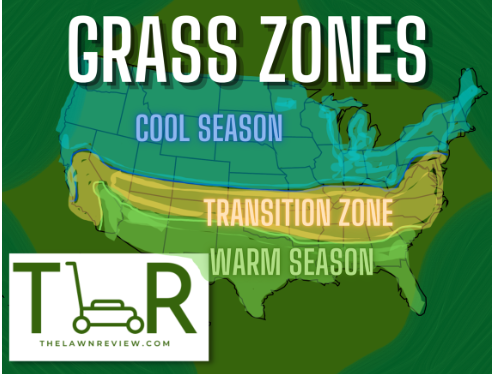 Here are a few other features we liked about the Husqvarna Automower 115H:
Automatically makes its way back to the charger
Super quiet
Onboard display lets you set the schedule directly on the mower
The price
Theft protection
Control from any app-capable device
The price…again
So for a robotic mower, this is a really good price. For a Husqvarna robotic mower, this price is ludicrous. If you are wanting a low-risk way to dip your toe into the water, this is the easiest and most affordable way to get quality. 
You can grab this straight from Husqvarna or get it on Amazon for a really good price.
2. Worx Landroid L Series Robotic Mower
Worx is the biggest surprise of the bunch. The tool company known best for making products that are affordable and light-duty randomly came out with a really, really nice robotic mower. What I love about Worx' Landroid L model is that it uses rechargeable batteries that can also be used with their other lawn tools. Not only does this help it run for a long time (up to ½ acre), but can be popped off when you need to use a Worx weed eater or other Worx tools.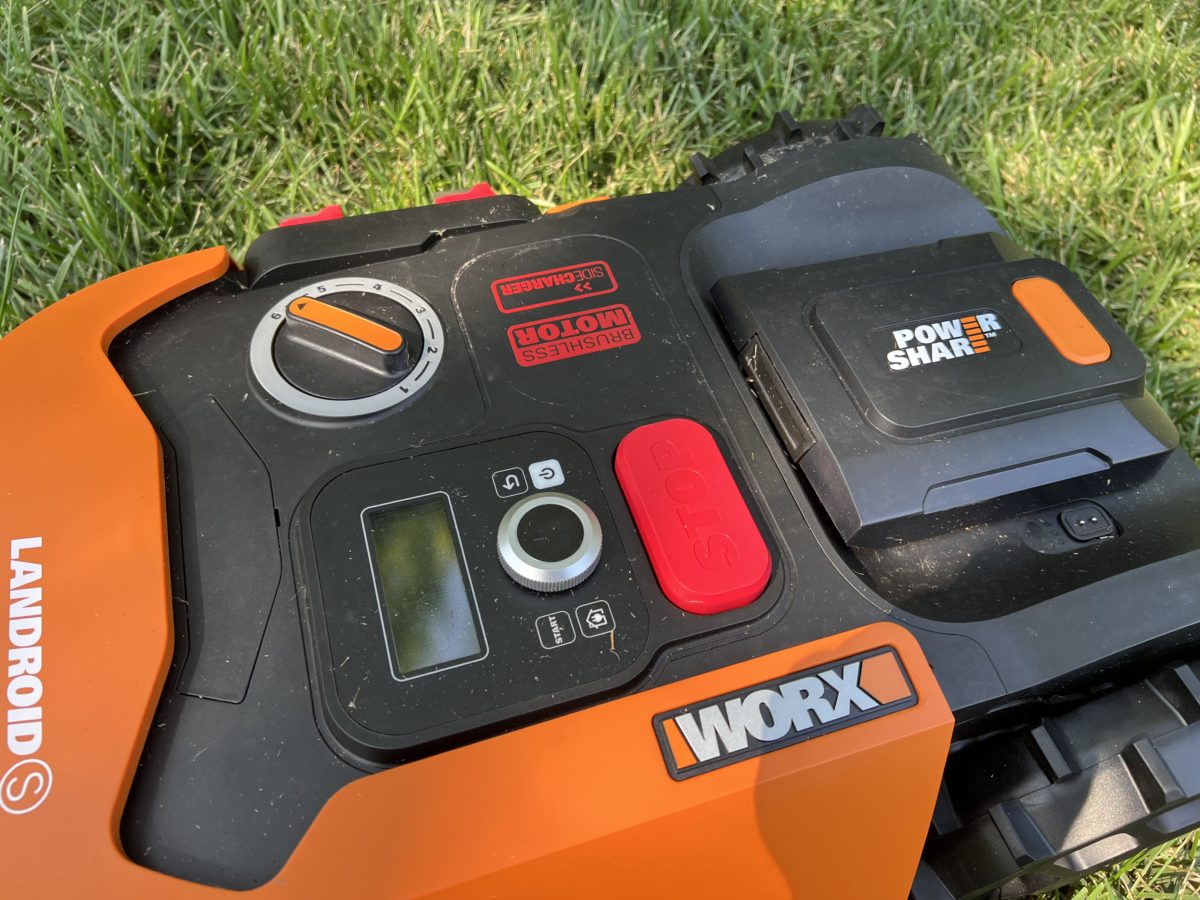 Worx was way ahead of the game when they started working on robotic mowers, and many thought they were crazy. But their Landroid series is one of the most popular (if not the most popular) robotic mowers on the market. They have several different models as a part of their Worx Landroid S series as well, which we've reviewed and compared extensively.
The main downside to the Landroid is the same common downside to a lot of robotic mowers – you have to lay a wire to help it way-find around the yard and back to the charger. Newer, auto-sensing robotic mowers will become the wave of the future.
Either way, the Worx Landroid robotic mower is a great starting point and can be found on Amazon for a really competitive price.
3. Stihl iMow RMI 422 PC-L Robotic Mower
I love Stihl's line of products outside of their recent battery-powered line. But it looks like they've actually put quite a bit of thought into their new iMow Robotic mower. It is definitely one of the more tech-enabled robotic mowers on the market, giving you a peek into the future of this technology.
The Stihl iMow is unique in that it has cellular connection that lets you control it from just about anywhere – including your phone. You can program it to have certain active times where it can quietly mow your lawn. This is a great feature for the middle of the night to ensure your lawn gets mowed without worrying about kids or animals being in the yard.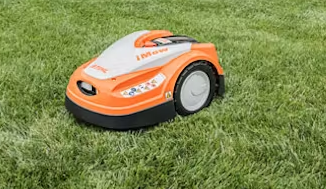 Stihl will come install this in your yard (for a price), which makes the most painful part about robotic mowers totally gone. 
One major downside to the Stihl iMow is that it will be best for warm season grasses that stay shorter but thrive in the summer. If you have a taller grass like fescue, this will not maintain it at the appropriate length. 
4. Greenworks optimow 50H Robotic Lawn Mower
Greenworks is one of our favorite brands for traditional battery-powered lawn tools so we were not surprised to see their optimow robotic mower in our top five. One thing that I consistently love about Greenworks' products is their commitment to quality on the essentials.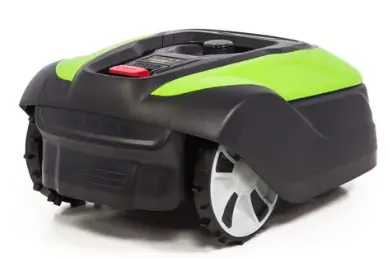 The Greenworks optimow robotic mower has an intelligent TruBrushless mower, which is at it's core the best motor for battery-powered tools. My other favorite part about this mower is that it is designed for transitional and cool season grasses, so it can easily maintain tall fescue and others that Stilh's iMow cannot handle. It gets more intense:
32 height options (somehow)
Can navigate as narrow as 2 feet
Blades that self-pivot away from hard objects
App connectivity and GPS (in case of theft)
This thing is sweet and if I know the guys at Greenworks (I do), then I know that they are going to be jumping to the number one spot VERY soon across all robotic landscaping equipment. 
You can grab their mower from their website (we have no affiliation) for a great price.
Common questions about robotic mowers
As experts in the field of all things outdoor power equipment and battery-powered lawn tools, we are often asked by journalists and industry specialists about robotic mowers. We've started compiling a list of the most common questions that we will continue to expand upon over time. 
How do robotic lawn mowers work?
Most robotic lawn mowers use guidewires that set the perimeter that they can mow and guide them back to the charging station. 
They then mow random patterns within the perimeter until the job is complete, taking several hours each day over the course of a week to complete. They are essentially always running on the schedule you set to maintain the height of the grass.
Newer technology from companies like iRobot will allow for sensing the area without the use of guidewires, which will be a huge step up in future models.
How much does a robotic lawn mower cost?
Robotic lawn mowers start at a little over $500 and up to $5,000 (or more).
Each company has several different models where cutting width, run-time, and programmability all impact the cost of the robotic mower. 
What are the safety features for robotic lawn mowers?
Most robotic mowers have safety features that will stop the blades when the mower is lifted or otherwise disturbed.
These mowers also have self-protective mechanisms that prevent them from taking on water damage. To keep them in a specific area, the use of guidewires as boundaries ensure they don't wander off and cause damage.
How do the sensors work on robotic lawn mowers?
Many robotic mowers still don't have great sensors for determining the boundary of the yard, but do use underground guidewires that serve as an "invisible fence". Some robotic mowers have sensors that can indicate moisture and predict rain. There are even other sensors that help stop the blades when the mower is picked up.
Are robotic lawn mowers worth buying?
Robotic mowers are worth buying if you are a tech nerd who prefers to not spend time mowing their lawn.
It totally depends on how you view your yard work. I prefer to mow my lawn myself because I'm obsessed with the aesthetic of having a striped lawn. But for those that can't stand spending their weekends doing yard work, then robotic mowers can be a great option.
How long do robotic lawn mowers last?
Robotic lawn mowers have not been around very long, so it's hard to say. The first thing to go will likely be communication issues with the ground wires and the sensing technology, especially if the robot has a brushless motor. 
In my experience, the network connection can be spotty and less reliable – which I believe will be the least reliable function of robotic mowers in the long run, until new technology is readily available.