Gas vs battery powered riding mowers is a question nobody would have contemplated 10 years ago. Heck, even five years ago.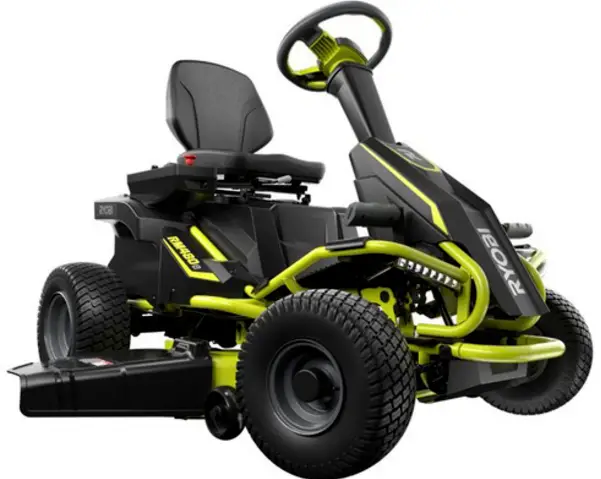 In order to maintain your lawn, you need the right kind of lawn and garden equipment.  If it's time for you to upgrade to a riding lawn mower, you'll have a lot of choices to make. How much horsepower do you need? How big should the cutting width be? Do you need a zero-turn or a lawn tractor? You'll also have to decide whether you want a gas or battery powered rider. This final decision may, in fact, be the most important. Let's break it down.
My experience with riding mowers
When I was a kid and it was my older brother's turn to mow the lawn, I remember my parents screaming at him for having the speed all the way up to "bunny" when it should have been on "turtle". The mower was dang fast and my brother took every chance he could to max that thing out.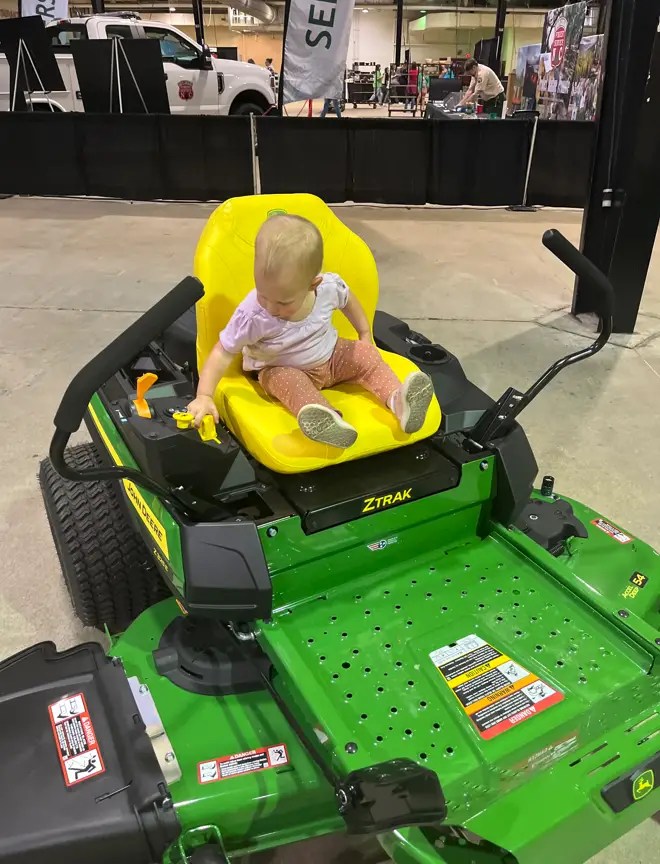 And at the risk of sounding old, they don't make them like they used to. But there are still some great brands out there that make awesome riding mowers. Between zero turns and lawn tractors, you can get a high quality piece of equipment that is still made with serious care. I've had the pleasure of using dozens of different mowers and have found consistencies across some that have stuck with me over the years.
How to pick between gas and battery powered riding mowers
While gas mowers have long been the only choice, battery power is fast becoming nearly as popular (for homeowners). You may be wondering whether it's best to buy a gas powered mower or if battery power is best.There are several reasons to focus your attention on the type of fuel your riding mower uses including price, performance, and durability and most notably – maintenance.
Here are a few pros and cons for each fuel source you should take note of:
Pros of Gas Power for Riding Lawn Mowers
All the commercial folks and really anybody above 55 rolls their eyes at me any time I put a piece of content out about electric riding mowers. And that is for one simple reason: the majority of the riding lawn mowers in use today are equipped with a gas engine. They're strong, effective machines that can operate for long periods to accomplish large scale mowing tasks.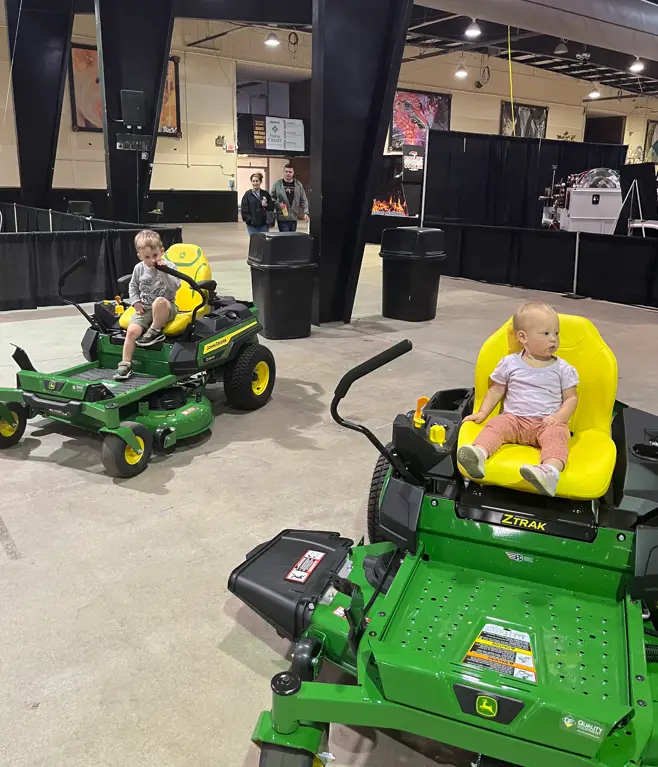 One main pro is that as long as you have gas, you can cut all day long. Not a single electric or battery powered tool can say the same. Any batteries will require downtime for recharging. If you run a commercial landscaping company, you better have a solution for this or you will struggle to put food on the table.
Cons of Gas Power for Riding Lawn Mowers
One of the biggest drawbacks of operating a gas-powered riding lawn mower is the noise. These things are dang loud. But, that's just the beginning. Because it burns gas and oil, the mower also releases toxic exhaust into the air, harming the environment.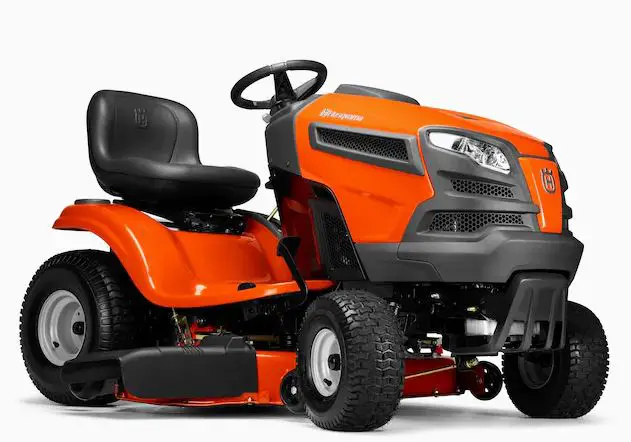 Yeah, I get it. Your riding mower probably isn't putting enough exhaust out to cause the polar bears to lose their homes, but it definitely isn't helping. The other difficult thing about gas mowers is the maintenance schedule. These things are practically cars. In fact many of these cost more than many cars I've purchased. But maintenance on them can be complex. New filters, new tires, oil changes, spark plugs, and batteries (yes, even gas-powered lawn tractors and zero-turns have batteries).
All the maintenance is costly, but also just plain annoying.
Pros of Battery Power for Riding Lawn Mowers
As you can imagine, a battery-powered riding lawn mower is much quieter than a gas mower. That means you can keep the lawn mowed without disturbing the neighbors or your family.They're perfect for smaller lots in cozy neighborhoods. Eco-conscience homeowners may also find this option attractive.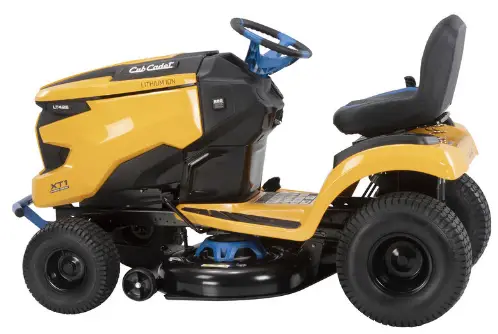 One reason I like battery powered riding mowers is that I can pop in some Airpods and rock out. I also like that I don't smell like gasoline and exhaust when I am done. 
But my absolute favorite part of battery powered riding mowers as compared to gas is the lack of maintenance. There is no oil to change, there are no spark plugs, filters, or really anything else. And after a long winter, these just require a quick pop of the battery and you're good to go.
If you're a homeowner, it kind of makes a LOT of sense.
Cons of Battery Power for Riding Lawn Mowers 
Despite the many benefits of battery power, there are some negatives. First, batteries have a much shorter life than a tank of gasoline. Therefore, it takes longer to get the same amount of work done. Once the battery runs out, it takes time to recharge. Batteries are also super expensive, so despite not having to fill up gas anymore, you still have to shell out a good chunk of change for new batteries. Oh – and they need to be charged, too.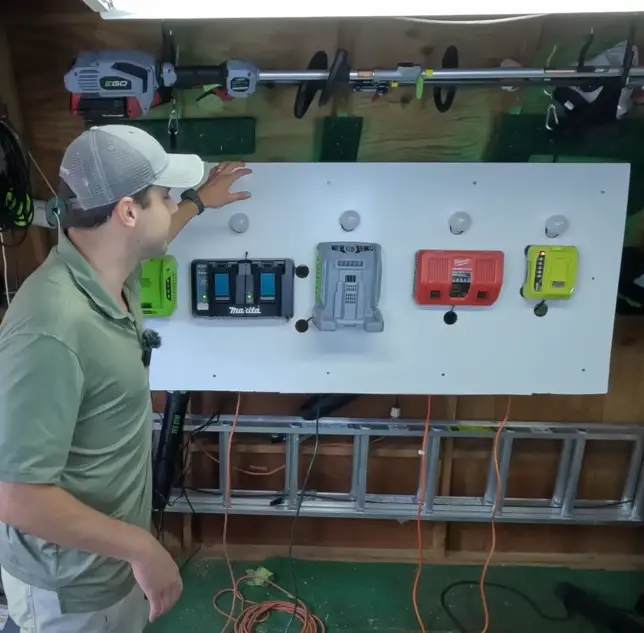 For residential and commercial landscapers, this is a huge problem. Landscaping companies live off of moving from job to job and going quickly. Stopping to charge batteries is going to present a major problem if they can't find a way to keep them charged and ready to go. And that gets expensive and requires a custom trailer build or some sort of super amped up (literally) rig.
Gas or Battery Powered Riding Mower: Our recommendation
Knowing the key differences between gas and battery power riders is important. After reviewing the information here, you can make an informed decision that suits you. For me, I recommend a battery powered riding mower for homeowners and a gas powered mower for landscapers. I think battery technology will only improve, so over the long term I think the battery wins out. In fact, some states like California are banning gas powered lawn tools in general.
Why we review lawn tools
The reason we started this website in the first place was because we had so much trouble trying to find reasonable, understandable, honest reviews for lawn equipment. And it's not cheap! After hours and hours of research, trying products and returning them, and messing up our yards – we started this site.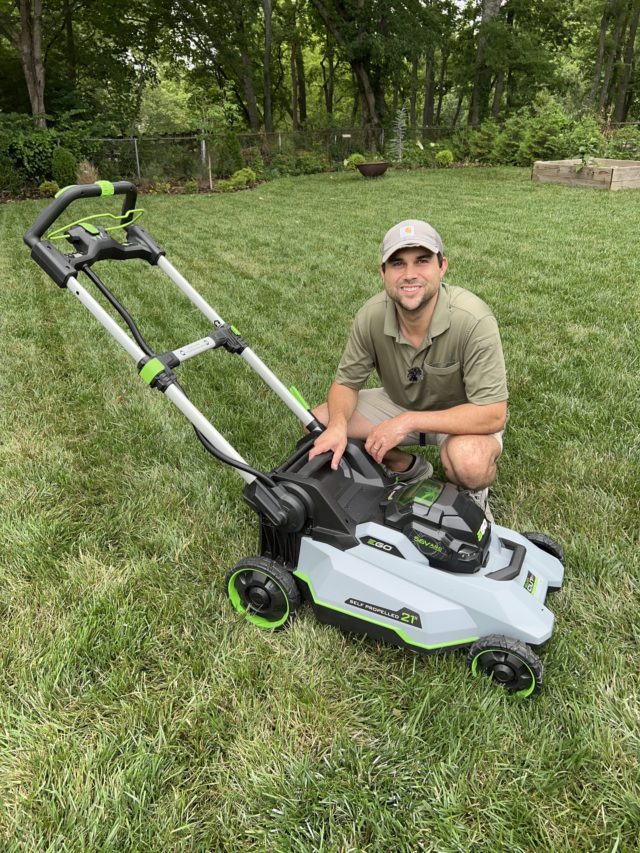 As people who had to learn the hard way, we want you to know exactly what you are signing up for before you purchase a piece of equipment. That's why we are committed to providing honest, easy-to-understand reviews that mean something.