The Eley hose reel is for anyone who works in a garden and wants to use almost indestructible tools. We share the same opinion. The Eley hose reel is a pretty slick product, and if you are on the fence about buying it, you've come to the right place.
Looking at all the reviews made us want to check it out ourselves. So, what we can say in the beginning (without spoiling too much) is that it is a very impressive, high-value product. We looked into its durability, the company's values, and their story.
If you have gone through many hose reels (like me), and none lasted, you must still be looking for one. Today we are presenting one that might last you A LIFETIME (or at least 10 years under warranty).
If you're anything like me, you have either accidentally cranked the handle completely off your hose reel, or got so annoyed with it falling over (or off the wall) that you drop-kicked it into the trash.
Jump ahead:
Why we started The Lawn Review
The reason we started this website in the first place was because we had so much trouble trying to find reasonable, understandable, honest reviews for lawn equipment. And it's not cheap! After hours and hours of research, trying products and returning them, and messing up our yards – we started this site.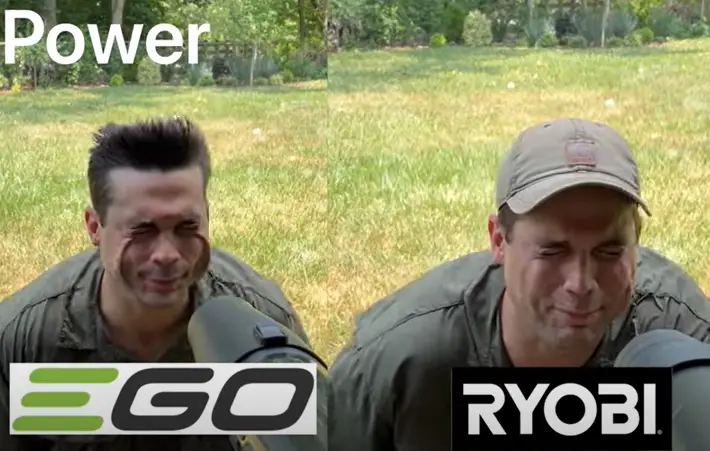 As people who had to learn the hard way, we want you to know exactly what you are signing up for before you purchase a piece of equipment. That's why we are committed to providing honest, easy-to-understand reviews that mean something. 
Why buy a hose reel?
If you are a lawn aesthetics lover like us, you must spend a lot of time in your backyard. As it happens, every garden needs constant work (sometimes even every day). Along the way, you will need some tools to elevate your mobility and efficiency around your favorite space. 
Now, we can all agree water is essential. Whether you want to wash away dirt from something, make sure that your plants are watered properly, or need a sip yourself, you need a long hose that can help you achieve that. But, once you start using the hose every day, you will notice that it gets in the way a lot.
One of my favorite memories of my friend's dad was a time he got super mad that his hose got tangled. He picked up the hose and threw it as hard as he could, and it only went like 2 feet because it was a hose. We died laughing.
This is when you start looking for a hose reel. It is the perfect addition to all those garden enthusiasts out there. It can help you clean up the space and untangle yourself quickly
About Eley's hose reel products
All of their products are made with an aluminum reel with rust-proof metal construction. This includes stainless steel hardware, powder-coated finishes, and oversized tubular frames. You can even opt for a flat-free model. It is the kind of model you can use for many years without any hassle – and it is affordable too!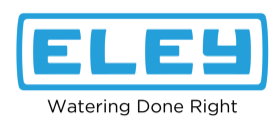 They essentially create high quality, indestructible lawn tools that are rhino-guarded in a way. Tough interior, well constructed, and tough exterior. Basically, these things are bulletproof. 
If you want a great hose to go along with this reel, check out the FlexZilla garden hsoe.
Eley Hose Reel Review: Features & Benefits
A garden hose reel that will check all the boxes -it's one of life's simple pleasures that surprisingly makes a huge difference. I used to have an old plastic one I got from Home Depot, then found the Eley because I cracked off the handle trying to power through the pain with it. I found that the old Rubbermaid hose reels had to be at just the right angle, with both hands helping to pull in the hose and somehow reeling it in as well. A nightmare.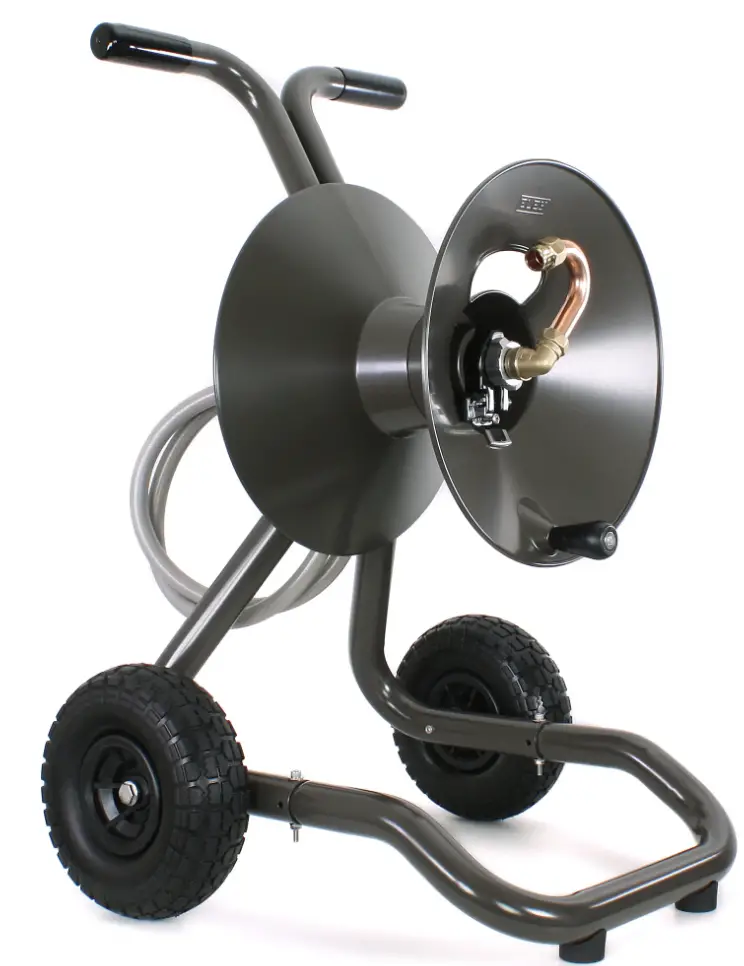 Here are a few things we loved about the Eley Hose Reel.
Are you left-handed?
My wife is. My son is. I'm not. Which means we got the left handed version. Depending on which model you get, you can set it up for either right-hand or left-hand rewinding. All those lefties out there – someone at this company was thinking about you too!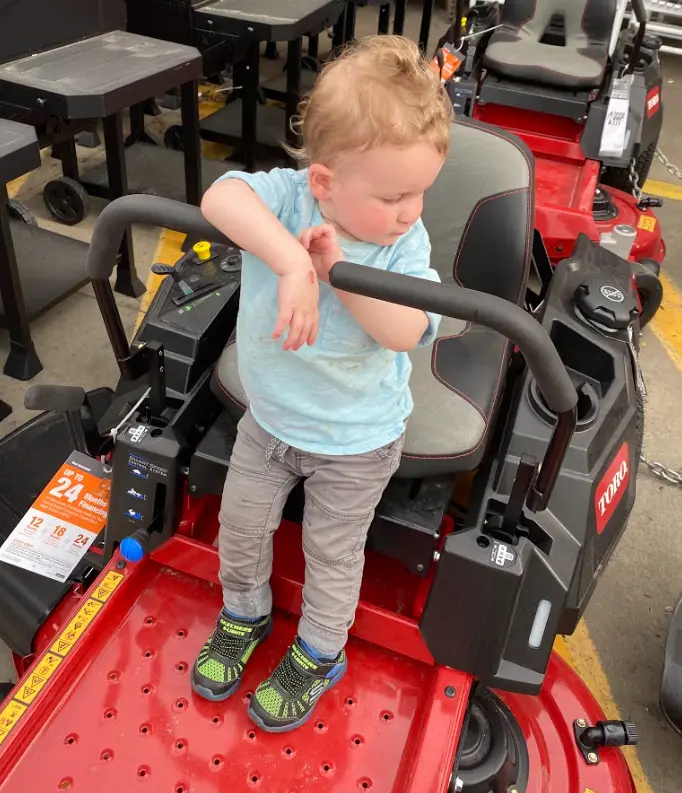 Power improvement
One of the things we love most about this product is that you don't need to strain yourself to get the job done. The sleekness of the design makes it easy to use yet powerful in its task. It is well-engineered, and it can hold about 125 feet of hose.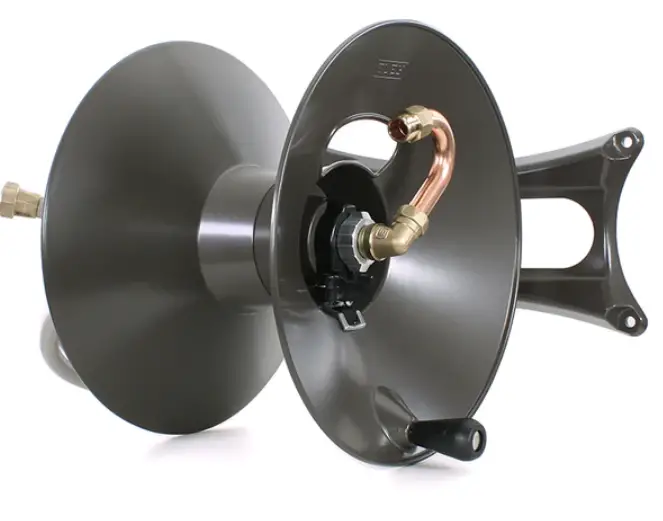 It is able to make the job so easy because it has two cone-shapes on either side of the reel, which automatically forces the hose to fall into formation (shout-out Beyonce) and smooth itself out. This means all the force you're applying to reel it in is being maximized for a super easy reel-in.
Ease of use
Being comfortable is another thing that Eley thought about once they started designing this reel hose. Depending on the model you get, you can install it perpendicularly or parallel, so you can use it with ease. The handle has a comfortable grip. There is a braking system too, that helps you set just the right amount of drag.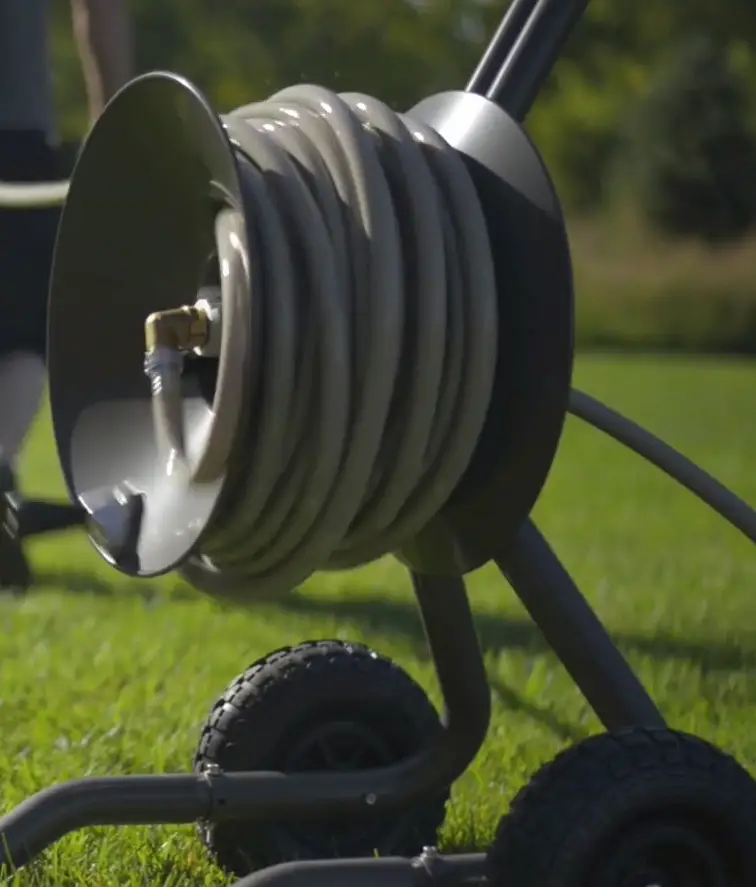 I got the two-wheeled version, which is the most popular, but they also have a wall mount and a wooden pole mount that allow you to put it under your deck or on the side of your house. Very nice!
Durability: Eley's claim to fame
If you want to claim years of use whenever you buy a certain garden product, then expect nothing less from this one as well! As a garden hose reel, it is created from aluminum alloy construction. This means it will not break, leak, or rust. The stainless steel hardware only adds to the ingeniousness of the design, making it truly unbreakable.
Cost: Not that bad
Eley is so sure that you are getting a quality product that their dang hose reel comes along with a 10-year no-break warranty. This is how confident they are in the product they've created. It is a little bit on the pricier side, but you can't really beat the warranty. In 9 years from now if Hulk Hogan comes over and wants to reel in your hose and he breaks it, then it will STILL be under warranty (and Hulk will be like 80 years old). 
You can grab the Eley Hose Reel from their website here.
Eley Hose Reel: Final thoughts of wisdom
Taking pride in having the best garden products in your backyard feels amazing! If you want to up your game and ensure you have all the equipment you need, add the Eley hose reel to your collection. At the end of the day, we loved it, so why not give it a try?
We don't think you will ever have to look for another hose reel after looking into Eley. If you haven't already bought this product, well now is the perfect time to do that!