The Flexzilla garden hose is a bright green (you can't miss it) hose that is a rising star in the flexible hose game. Now I know what you are thinking – ANOTHER flexible hose that claims to be amazing. Well, let me start off by telling you that this one is different.
I have had quite a few flexible hoses in my day, and this one takes the cake. Let's get started by reviewing today's outline:
Shortcut: This hose is for real. Grab it on Amazon and choose your size.
We made an awesome web story highlighting how much we love the Flexzilla Garden Hose and can store it on our favorite Eley Hose reel.
Why we review lawn tools
The reason we started this website in the first place was because we had so much trouble trying to find reasonable, understandable, honest reviews for lawn equipment. And it's not cheap! After hours and hours of research, trying products and returning them, and messing up our yards – we started this site.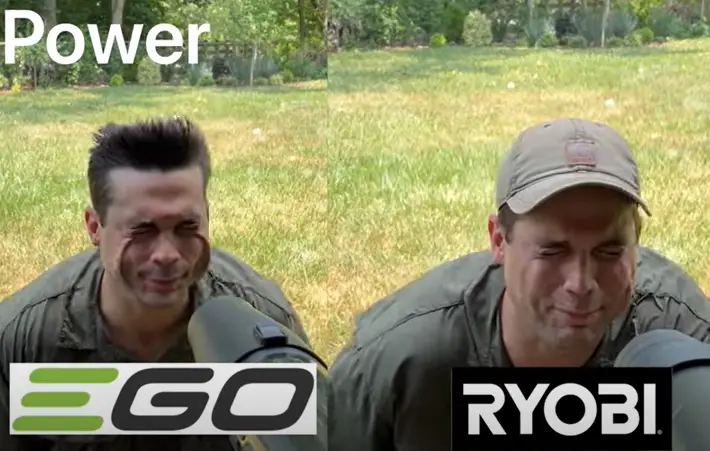 As people who had to learn the hard way, we want you to know exactly what you are signing up for before you purchase a piece of equipment. That's why we are committed to providing honest, easy-to-understand reviews that mean something.
About flexible garden hoses
Flexible hoses are a hot commodity. We have all had the frustration of getting tied up in a garden hose, having to really crank one back in, or having a big "pile" of hose eat up a section of our garden.
For those with small to medium sized yards (less than an acre), flexible hoses are the dream. They come in all different sorts, from a tight, cylindrical side that kind of looks like a slinky, to self-retracting ones that shrink back to their un-stretched size. 
I have gone through a few flexible hoses. The first one we owned was a "WeGuard" hose that was initially short, but could be stretched out to a thinner style. It was great for storage and super light. But the dang hose sucked! It limited how much water came into a narrow little tube. It also would pull the sprinkler back with the self-retracting tension it had. Needless to say, we returned it after about two uses.
Another one I have used before is one of the "slinky" ones that has a harder tubing and then coils back up for easy storage. These are basically only for people who go about 10-15 feet away from their nozzle to do watering by hand. Otherwise, these are totally useless. Sadly, they lose some of their coil power over time and end up just being tangled messes. 
Flexzilla garden hose review: Features
Okay – now that you have heard about my horrible experiences with flexible hoses, let me tell you about the Flexzilla. Let's get started below:
Getting connected
A feature that is super important in any garden hose and picking up in popularity is the little handles that help you connect the hose to the nozzle. I'm not sure what these are called. Anyways, you can connect the hose, spin the little handles, and easily secure the hose to the nozzle. This takes away the pain of trying to keep it at the correct angle, find the grooves, and already create a kink in your garden hose before you turn it on.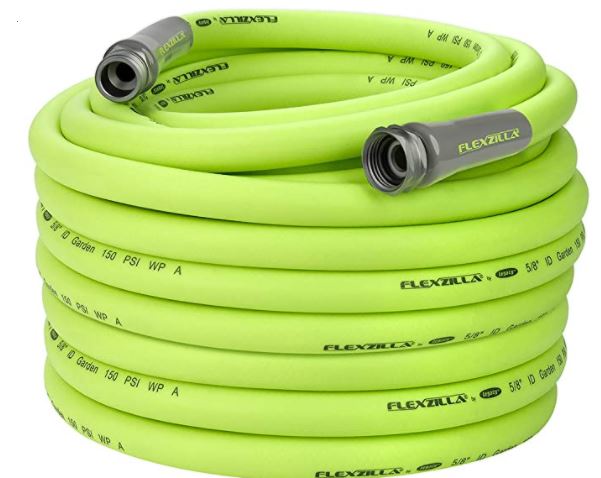 The Flexzilla garden hose has these handles on both ends, making for a seamless and secure connection to your sprinkler and nozzle. These handles also work well for things like attachable nozzles and more.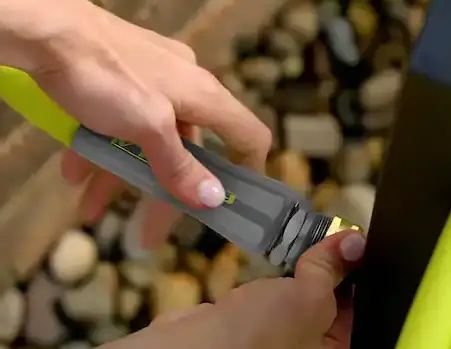 These are great for everyone, but in particular make it easier if you are wearing gloves or have arthritis in your hands.
Do Flexzilla garden hoses kink?
Every hose claims it does not kink. I mean my word, I had a guy at Home Depot sell me on a contractor hose a few years ago by telling me it would never kink. It was a hose that all the big contractors used and was expensive but totally worth it.
That thing kinked like a late night chat room, let me tell you what. At that point, I was jaded by any "anti-kink" system I saw. My first impression when unboxing the Flexzilla was "oh no, another tightly wound hose that will kink right away".
Now, I do not know WHAT the NASA engineers or Elon Musk or whoever created this hose, but it will not kink unless you want it to. I could not and still do not believe it. It is easily maneuverable but is touted because it "lays flat". And it does. I have no clue how it works, but I can say definitively, the Flexzilla Garden Hose does not kink (in my experience).
At this point, we were totally sold. A hose that doesn't kink? And actually means it? So we checked out some of the reviews on Amazon and eventually bought it.
Durability
I'm not sure what sort of hybrid patented polymer the Flexzilla garden hoses are made from, but they are basically indestructible. Even in one of their demonstration videos, a car is shown to run over the end of the hose and it of course continues on just fine. 

This hose won't get the much-disliked cracking in it that you see from traditional hoses because it does not have all of the torque built up in it. Traditional garden hoses have consistent amounts of twisting tension that goes all along the length of the hose, with it obviously being the worst at kinks. When temperatures rise and fall or if there is water in the hose that expands and contracts, it can cause deterioration to the outside of the hose. With Flexzilla, you don't have that issue.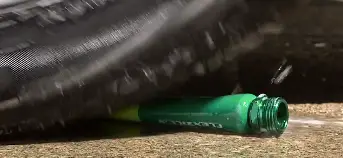 When compared to other flexible hoses, the Flexzilla has twice the diameter (width) of others. This is a huge problem in some of the stretchy, self-retracting hoses. The way they can retract so much is because they narrow the diameter to about the thickness of a pen. No way are you going to get good pressure or water delivery from one of those.
Which size Flexzilla garden hose to get
While the Flexzilla garden hose comes in a variety of sizes (3 feet to 100 feet – I mean come on – who gets a 3 foot hose?), I recommend getting the 100 foot hose. I am in the camp of "you can never have too much hose" and "you would rather have too much than too little hose". Come and join me.
The 100ft Flexzilla garden hose is going to be useful for anyone with a larger yard or simply wants to take their hose from the front yard all the way to the back. 
If you have a larger yard and are interested in zero-turn mowers, check out some of our reviews.
Is the Flexzilla garden hose worth it?
If you have not read any of what I just wrote, then this may be something you are still seriously considering. In short, YES! It is absolutely worth it. The Flexzilla garden hose is slightly more expensive than other flexible hoses on the market, but will last you significantly longer. 
Additionally, the Flexzilla garden hose has better water delivery and is more durable. Regardless of flexible or non-flexible hoses, the Flexzilla garden hose is probably the best hose on the market. At least that I have ever used, and hoses were my main source of drinking water growing up.
The official review: Flexzilla garden hose
The Flexzilla garden hose is an absolute monster of a hose. It is durable, does not kink (for real), connects easily, and has a wider opening than any of the other flexible hoses.
I can tell you right now, do not waste money on any other hose. Go for the Flexzilla, and grab the 100 footer. You can get it on Amazon for about $65. There is a reason it has an astonishing 50,000 reviews on Amazon.
If I had to summarize all of the best things about this hose it would be:
The easy-to-attach and leakproof head(s)
The non-kinking ability. I mean my word, people.
The durability
The fact that I have thrown hoses in anger and they only went like two feet and it made me look stupid