Troy Bilt Lawn Mowers are extremely popular residential mowers built right here in the USA.
What can get more patriotic than an American made lawn mower brand with Red and White colors?
The reason Troy Bilt mowers are so popular is the fact that they are relatively inexpensive and extremely reliable. This is coming from someone who has done minimal maintenance and maximum abuse to my Troy Bilt TB160.
But Troy Bilt has a lot more to offer than cheap push mowers. They have a bunch of self-propelled mowers, lawn tractors and even some sweet zero-turn mowers.
So – let's figure out the best in each category and take EVERYTHING into consideration. 
Here's what we'll cover:
Yeah…it is a lot. So we should probably get started.
Why we review lawn tools
The reason we started this website in the first place was because we had so much trouble trying to find reasonable, understandable, honest reviews for lawn equipment. And it's not cheap! After hours and hours of research, trying products and returning them, and messing up our yards – we started this site.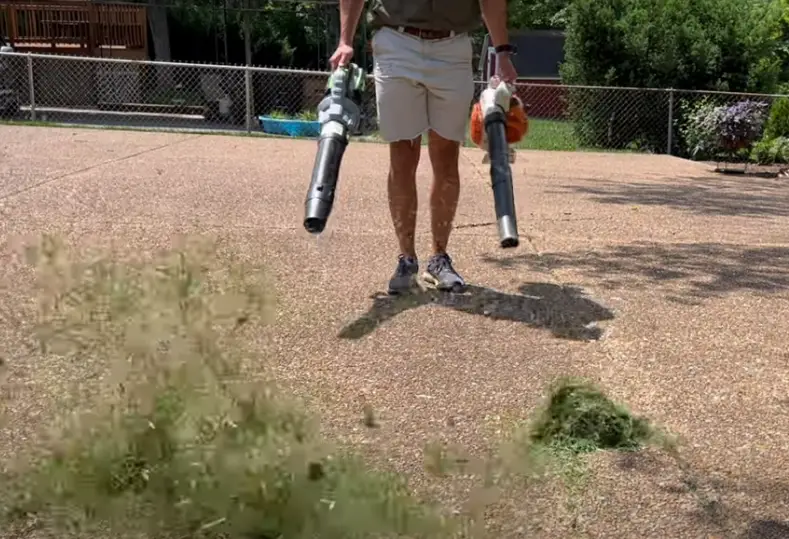 As people who had to learn the hard way, we want you to know exactly what you are signing up for before you purchase a piece of equipment. That's why we are committed to providing honest, easy-to-understand reviews that mean something. 
What we look for in a lawn mower
There are a ton of different mowers we are checking out today, so I'll give you the skinny on what I am evaluating in each.
Push / Walk-Behind Mowers
When I'm looking at a push mower I want to know a few things. First, I consider the build quality and the engine type. My TB160 has a Honda engine, which I love. I'm also looking at deck size and construction to see if it is sturdy and the right fit for the size of my lawn.
Then next I look to see if it has a self-propelled function and if it does, if it's front wheel drive or rear wheel drive (it makes a difference). 
Lastly, I'll look for other bells and whistles that set it apart from others. Mostly the starting function and a whole bevy of other options that can distinguish it with something fancy (if I want to spend more money). 
Lawn Tractors
With the dawn of zero turn mowers, electric riding mowers, and flying hovercraft mowers with drone weed whackers (only kidding), the classic lawn tractor is often overlooked.
The reality is that lawn tractors are great machines that still have a place in the modern lawn care garage. Lawn tractors are great for people with a half of an acre up to two acres. They are also fine for people with more than 2 acres with few obstacles to navigate.
The zero-turn mower craze is largely hyped up for the average homeowner by the admittedly cool features. The downside of these mowers is the massive price tag and difficulty with storage. 
Zero-turn mowers
A few things to look for in zero-turn mowers are blade size, transmission, accessory capabilities and cost. Blade size is important to keep consistent with the size of your lawn. Obviously longer blades are best for larger lawns, but begin to sacrifice a little bit of the agility afforded by a smaller blade. 
Transmission is also an important consideration for a zero-turn mower. Most zero turn mowers do not have manual transmissions, but have either automatic or hydrostatic transmissions. Automatic works just like an automatic car does with a gas pedal and belts. Hydrostatic transmissions use fluid to transfer their power to the blades and the rest of the engine.
Cost is generally of the utmost importance as well. Zero-turn mowers are expensive. In fact, you can buy an old Honda Civic for less than most zero turn mowers. 
The Best Troy Bilt Mowers for Every Job
Now that we know what we are looking for, let's dig right in, starting with push mowers and finishing with zero turns.
Best Troy Bilt Push Mower: TB100
Guys I am super biased here but I actually think the low-end Troy Bilt TB160 is the best push mower. Why? Well I've owned it for over 5 years and it starts on the first try every time. I've pushed this thing through some extremely thick and wet grass and choked it dozens of times. I've even forgotten to do oil changes and the thing still runs just fine.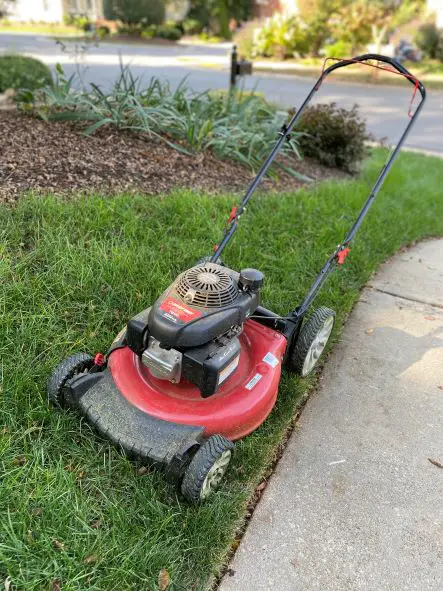 The thing is, Honda has stopped making lawn mower engines, so Troy Bilt has switched over to Briggs & Stratton, another really high quality brand. The thing is a dang beast.
Here's what I love about the Troy Bilt TB100:
Incredibly easy to start
Minimal maintenance (yearly oil change)
Super simple
Very inexpensive
Right-sized cutting deck at 21 inches
Yes, the TB100 can withstand the most abusive of owners. Honestly, it was the first mower I bought in my first home with my first yard. I assembled it right out of the box without any clue of what I was doing.
Basically, if you aren't a lawn nerd like me and want a super easy and effortless mower on the cheap, this is one of best gas push mowers that you can buy. Sad that I can't get the TB160, but this one is a really good alternative.
It's available from Home Depot for a great price, but the price is always changing. Check it by clicking here.
Best Troy Bilt Walk-Behind Mower: TB230B XP
Yes, there's a difference between walk-behind mowers and push mowers. They look the same and you sort of push both of them, but walk-behind mowers are easier. Walk behind mowers are self-propelled, meaning they creep forward and assist the push mower operator (you). 
Self-propelled mowers are pretty dang sweet, especially if you have steep banks and hills. It takes a surprising load off and is a great option for gas powered mowers because there is no battery to destroy.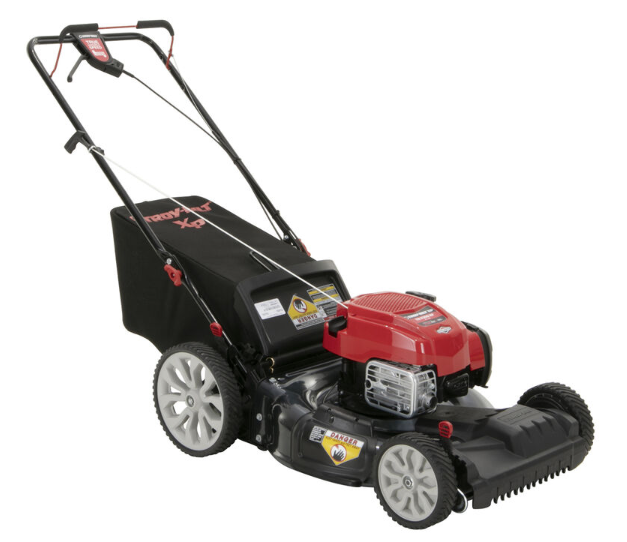 Anyways, Troy Bilt has also mastered this one with the TB230B XP. It is very similar to the TB100 in size, but has 15% more cutting power and a ton of other bells and whistles.
Here is what I love about the TB230B XP mower. 
Super easy to start "ReadyStart" system
Front wheel drive is the superior self-propelled mechanism
Bigger wheels than the other models
Hose adapter to wash out the deck
This honestly reminds me a lot of the Toro Recycler mower. They look the same and have a ton of the same features. Both are classic brands that have long dominated the residential lawn care space.
You can grab this one online at Home Depot and pick it up or ship it.
Best Troy Bilt Wide Area Mower: TBWC28T
Wide Area Mowers are essentially walk-behind mowers with a really big head. They are super wide, allowing for fewer passes in the yard. They're perfect for residential professional landscapers who bounce from house to house for smaller yards.
Our HOA contracts with a company that mows a ton of people's smaller lawns with a wide area mower. They're super efficient for this very specific purpose. It's essentially almost the width of a lawn tractor, but for areas that a lawn tractor would have a tough time navigating. 
Troy Bilt made an extremely aggressive looking wide area mower in the TBWC28T. It will absolutely destroy grass for any professional landscaper or with anyone with a medium sized yard that doesn't want to store a lawn tractor. 
Here are some cool things about the Troy Bilt TBWC28T:
A 28 inch cutting deck – about 30% wider than the other mowers
This cool vacuum chute that launches grass clippings into a bag
Self-propelled
Speed adjustment lever
This thing is honestly for pros and the price reflects it. The other two mowers above are both under $500 and this one is nearly $1,400. Yikes.
But if you are cutting lawns as part of your job, this thing will get paid back in no time. Oh, and the 3 year warranty on these things is a great peace of mind. 
This thing is available online from Troy Bilt.
Best Troy Bilt Lawn Tractor: Pony 42 Riding Lawn Mower
I can hear Peyton Manning calling this one out from the line of Scrimmage. "Pony….42". But seriously, this mower is pretty sweet. Lawn tractors are great for those of us with a larger yard. Sure, you can cut it with a push mower but it would take all afternoon. Even with a walk behind.
Lawn tractors are a great middle ground before you get to zero-turns, which are just freaks of nature.
Anyways, for most people's yards and most people's budgets, lawn tractors are perfect. Enter the Pony 42 Riding Lawn Mower from Troy Bilt. It has a pretty sweet 500cc engine (the push mowers were like 140cc for reference) and a 42 inch steel deck. The Pony 42 has enough power to get the job done without going overboard. It isn't quite a zero-turn, but still has an 18-inch turning radius – not bad.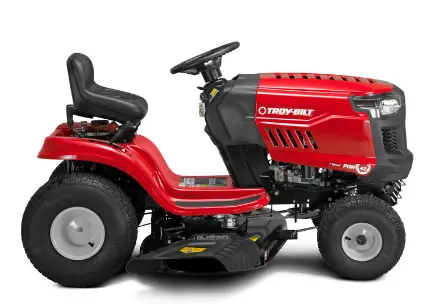 I chose this one over the Bronco for two reasons – the price and the availability. The Bronco 42 is a higher end version of this mower with more power. It is not really necessary for the average homeowner in my opinion, unless you are clearing some serious brush.
Here are a few things that stand out to me about this one:
Very affordable
Large cutting deck
Spacious seating / easy entry
Briggs & Stratton engine
The cool thing about these lawn tractors is that they are available with a ton of accessories that can add new features, like massive bagging systems and snow plows.
I compare this one to the John Deere E100 as they are both barebones lawn tractors from reliable brands.
You can grab the Pony from Home Depot for an awesome price.
Best Troy Bilt Zero-Turn Mower: Mustang Z46 Zero-Turn Rider
It just sounds cool. But Troy Bilt nailed it with this one. Frankly, I don't see a ton of these out and about and they are relatively hard to find, but they're really well made. 
Zero turn mowers differ from lawn tractors in that they are faster and more nimble. They're built for commercial use from professional landscapers. The reason I picked the Mustang Z46 is mostly because it has middle-of-the-pack power but a wide cutting deck. There's no point in getting one of the Z42 models if the cutting size is the same as a residential lawn tractor. 
That being said, there's a lot to like about this Mustang series mower:
A twin-cylinder Kohler engine. Kohler engines are in some of the most expensive, premium zero-turn mowers on the planet. It reminds me of the Ariens IKON XD 52 zero-turn, a much bigger mower with a similar engine.
Anti-scalp wheels that are less abusive to the grass but still have crazy torque and speed
Hydrostatic transmission that makes driving and accelerating extremely smooth
Quality construction from thick aluminum
Built in Ohio, the heartland of America!
A few things I don't love as compared to other zero turn mowers include no armrests and a manual crank-shaft cutting height. It's the 21st century and we need luxury.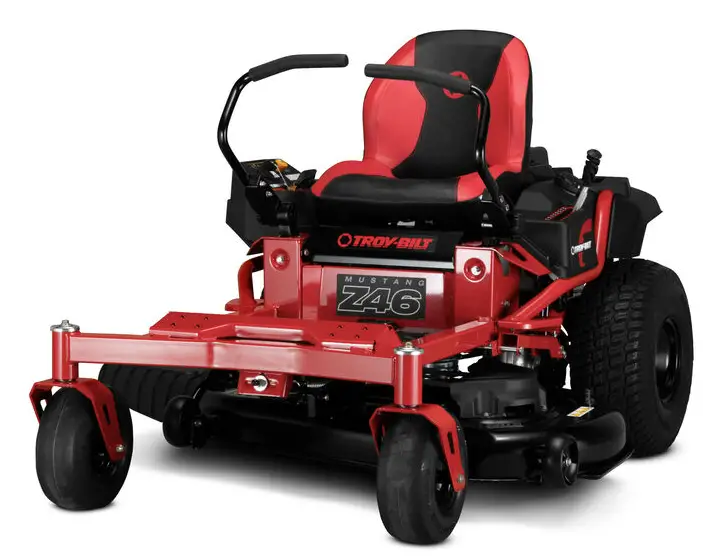 But all-in-all, this is a really nice zero-turn mower that comes in at an amazing price at just over $3,000.
Yeah, that sounds like a lot but the value is pretty wild. 
The bigger, badder version of this one is on Home Depot for a higher price.
Summary: Troy Bilt Mowers for everyone
To close us out, you can't go wrong with a Troy Bilt. They are super well known in the residential lawn care space and are really starting to carve out their presence in the larger zero-turn game. 
The engineering is there and if you have access to grab one of these, then I would put them right up at the top of the list with their competitors like Toro and Husqvarna.