The Ryobi 3000 PSI pressure washer with a HONDA engine is a rare bird. Most Ryobi products (lawn mowers, weed eaters) are battery powered and mostly work for smaller yards or lots. They have their own lawn mowers and weed eaters that use the same battery to provide some compatibility between products.
This pressure washer however, is completely different. This bad boy slaps a Honda GCV160 engine on the cute neon green Ryobi design and makes the battery lovers jealous. 
Real quick, here are my highlights:
If you want a gas pressure washer, I'd probably go with Simpson Pressure Washers
Ryobi has some great electric tools, so this isn't really in their sweet spot.
While this isn't bad, it just is off-brand. I can't NOT recommend this one, but I think you can do better.
Let's get started with our review. Click a link below to jump ahead.
An overview of the Ryobi 3000 PSI pressure washer
Let's take a look at the features of this pressure washer and how it stacks up to its competitors. If you're looking for an electric alternative, we have a full list of the best Ryobi pressure washers you can check out.
Power on the 3000 PSI pressure washer
The Ryobi 3000 PSI pressure washer has a PSI or pounds-per-square-inch of 3000 (duh). This means that it packs a significant punch compared to its other residential peers. You will see some of the dinkier electric pressure washers pack PSIs of around 1600-2500. That is great, but it might take more time and effort on your Sunday afternoon to get the job done.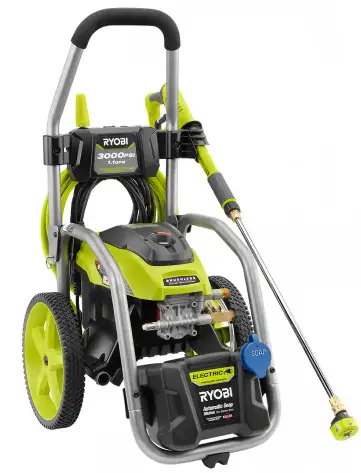 A high-powered pressure washer is what I recommend, even for the lighter jobs. It is always nice to have more than you need when it comes to pressure washers. Consider a situation in which you buy your pressure washer just to clean off your boat or car and some of your exterior windows. 
With the Ryobi 3000 PSI pressure washer, the Honda GCV160 gas powered engine will enable you to clean things like brick, concrete, and other masonry structures. This machine boasts 2.3 gallons per minute of water forcing all the old dirt and grime off of whatever structure you are wanting to clean. 
Nozzle changing
One thing I love about the Ryobi 3000 PSI pressure washer is that it comes with a 5-in-1 pressure washer nozzle. This nozzle has a zero degree, 25 degree, 40 degree, long-range soap, and short-range soap setting. Each of these is accessible by a twist of the same nozzle head.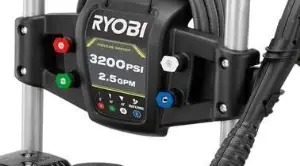 The graphic below from Ryobi shows all of the different uses for the various nozzles. Do not get stuck with a weak pressure washer that takes up your whole day – go with power.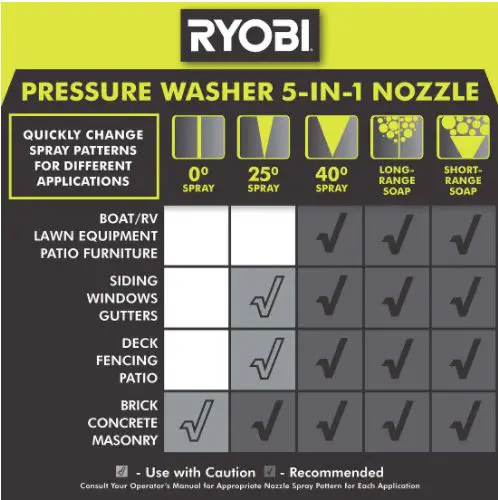 Detergent tank
Speaking of different nozzle heads on the Ryobi 3000 PSI pressure washer, two of them include soap. There is a long-range soap option as well as a short-range soap option. Both of these are activated by the detergent tank on the pressure washer. Simply add soap to the chamber and switch the nozzle to either soap option and you are ready to go. These are great options for cleaning automobiles, boats, hard to reach windows, and more.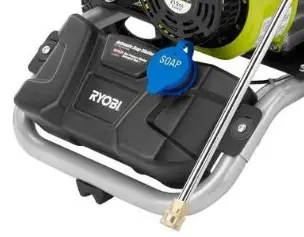 Using the Ryobi pressure washer – gas version
Other than the wide range of applicable uses that the five in one nozzle provides, a few other features make this machine very easy to use.
The Ryobi 3000 PSI pressure washer also boasts a 35 foot high pressure hose that allows for 40% longer reach than many of its peers. It also has a hand-truck design that allows you to move it around easily, supported by the 12 inch wheels on the back.
This handle also attaches to the side of the machine, allowing for easy storage without worrying about the handle getting run over in the garage. 
Ryobi 3000 PSI Pressure washer comparisons
Depending on where you are buying, you may not have the Ryobi 3000 PSI pressure washer available. There may only be the 2900 (like at my local home depot) or the 3300 (also available at my local home depot), but not the 3000. 
The differences between the three are subtle but important.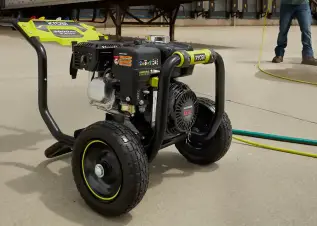 The 2900 does not have a Honda engine as the main workhorse. I love the dependability of the Honda motors, as they work well in every industry that uses them. One other difference in the 2900 vs the 3000 is the detergent tank. If you want to use soap with your pressure washer, make sure to scrub down the surface by hand first. To me, the two soap nozzles on this one do not really make sense without actually being able to disperse soap. 
The 3300 has slightly more power than the 3000 and includes the detergent tank and the honda engine. This honda engine is slightly bigger (GCV190) and includes "Idle Down Technology", which basically means it is quieter and gets better fuel consumption. The 3300 also includes a 50ft hose that allows double the reach of other pressure washers in the market.
All of them are backed by a three year limited warranty, which helps me rest assured as a buyer. 
Either way, this has way more power than Sun Joe's pressure washers.
Cost comparison Ryobi 3000 PSI pressure washer vs. other top-rated pressure washers
Most residential pressure washers sell anywhere from $250 to $500. If you are looking for a super powerful commercial grade pressure washer, be prepared to spend $650 to $1,000 on a machine.
The Ryobi pressure washers reviewed here range from low $300s for the 2900, mid to high $300s for the 3000, and up to the mid $400s for the 3300.
You can check out all the Ryobi pressure washers at Home Depot here.
I recommend the Ryobi 3000 PSI pressure washer with the Honda engine because it is the most bang for the buck. It has the detergent tank, the power of the Honda engine, and the reach that you will need to get the job done. The five in one nozzle head is icing on the cake and really puts this over the edge as compared to other gas powered pressure washers. 
| | | |
| --- | --- | --- |
| Feature | Ryobi 3000 PSI pressure washer | Gas powered pressure washer |
| Difficulty to use | Less difficult to use | More difficult to start  |
| Durability | Somewhat durable | Very durable |
| Maintenance | Easiest to maintain | Less easy to maintain |
| Value | Medium value | Medium value |
| Small jobs | Highly recommended | Highly recommended |
| Medium jobs | Recommended | Highly recommended |
| Heavy jobs | Not recommended | Highly recommended |
Why we review lawn tools
The reason we started this website in the first place was because we had so much trouble trying to find reasonable, understandable, honest reviews for lawn equipment. And it's not cheap! After hours and hours of research, trying products and returning them, and messing up our yards – we started this site.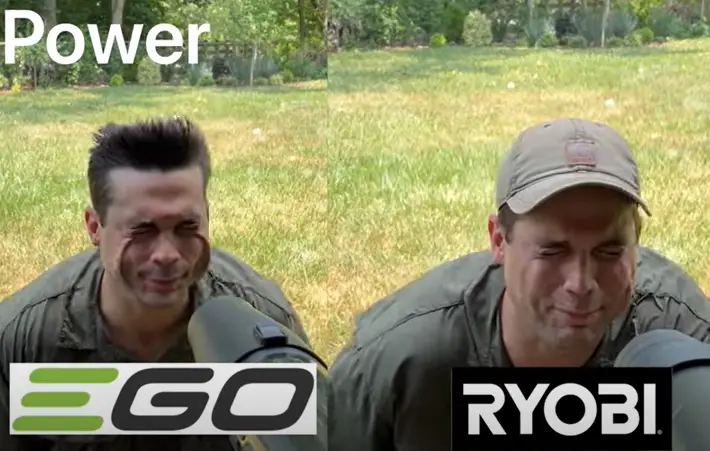 As people who had to learn the hard way, we want you to know exactly what you are signing up for before you purchase a piece of equipment. That's why we are committed to providing honest, easy-to-understand reviews that mean something.
What to look for in a pressure washer
When looking for a pressure washer, you want to have a good understanding of the jobs you want to get done. Most people use pressure washers to deep clean their patio, porch, driveways, windows, or other external surfaces around the house. Most pressure washers are good for these jobs as they are relatively light work and do not require excessive force.
For those of us cleaning the spray paint off of our cars from our crazy ex-girlfriends, you might want one that has a little more "umph" behind it. 
Luckily for you, the Ryobi 3000 PSI pressure washer can handle both.
Check out our full guide to the best Ryobi pressure washers (hint: this one isn't number 1)
Things to consider before buying a pressure washer 
Some common considerations for those looking for a pressure washer include the following:
Ability to add soap to the hose instead of schlepping around a bucket with soap
Multiple nozzle types for whichever job you need
Length of pole (if cleaning exterior of house, not having one of these could limit how high you can reach)
Storage capability and maintenance requirements
PSI level for either commercial or residential use