The PowerSmart Snow Blower is an absolute unit in the snow blowing space. If you live in a place that gets serious snow, then this snow blower is a must-have.
I have spent most of my life in the South, but have definitely spent small bouts of my life in snow-heavy areas. What I wish I would have had at the time is a snow blower that got the job done and saved my back. 
I think there is some statistic out there about a shockingly high number of people who die each year while shoveling snow. Something to do with a heart attack, whatever, the point is that getting a snow blower could save your life. Let's check out the topics of the review today:
---
Why we review lawn tools
The reason we started this website in the first place was because we had so much trouble trying to find reasonable, understandable, honest reviews for lawn equipment. And it's not cheap! After hours and hours of research, trying products and returning them, and messing up our yards – we started this site. 
As people who had to learn the hard way, we want you to know exactly what you are signing up for before you purchase a piece of equipment. That's why we are committed to providing honest, easy-to-understand reviews that mean something.
Snow blowers vs snow throwers
Many people ask what the difference is between a snow blower and a snow thrower. Let me tell you right now, both are far superior to a snow shovel. While snow blowers and snow throwers build significantly less character for young men, they are much easier to use and more effective for clearing out large amounts of snow. 
In short, snow throwers launch snow 10-15 feet away and are generally more narrow. Snow blowers launch snow 25-30 feet away and are wider. Snow blowers are heavier duty and can also handle many, many inches of snow. At the end of the day, it will be much more fun to launch the snow into the neighbor's yard instead of just the edge of your own yard. 
1-stage vs 2-stage blowers
Snow throwers tend to be the name for one-stage blowers. One-stage means that the action of launching the snow happens in one step: it gets scooped up and shot through a tube in one motion. Two-stage blowers are more powerful, and actually what is inside of the PowerSmart snow blower.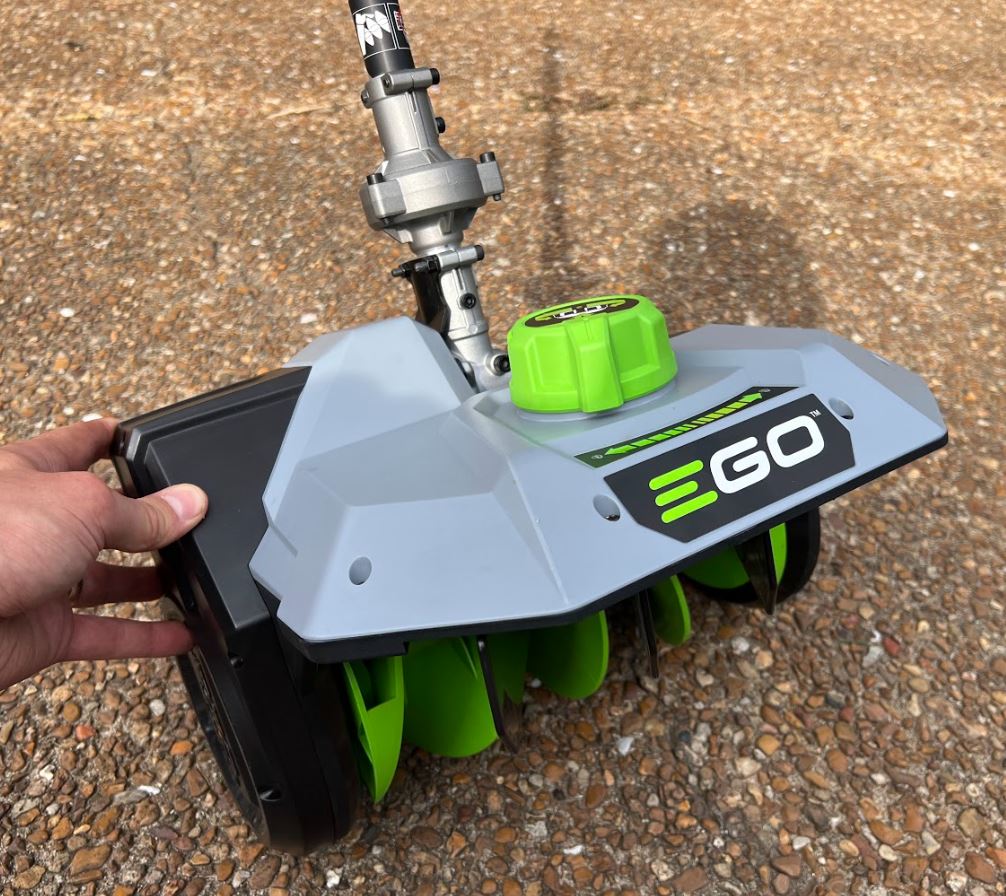 Blowers with two stages have one action that scoops up the snow and another that launches it. This allows for a much stronger "launching" capacity, sending snow to the moon.
About PowerSmart
PowerSmart is a brand of heavier lawn and commercial machinery. The reason you may not have heard of them before is that their scope is relatively small. PowerSmart really focuses all of their attention and effort on lawn mowers, snow blowers, snow throwers, pressure washers, and woodchippers. Notice a similarity? These tools all focus on taking in an item and then powerfully launching them into another galaxy.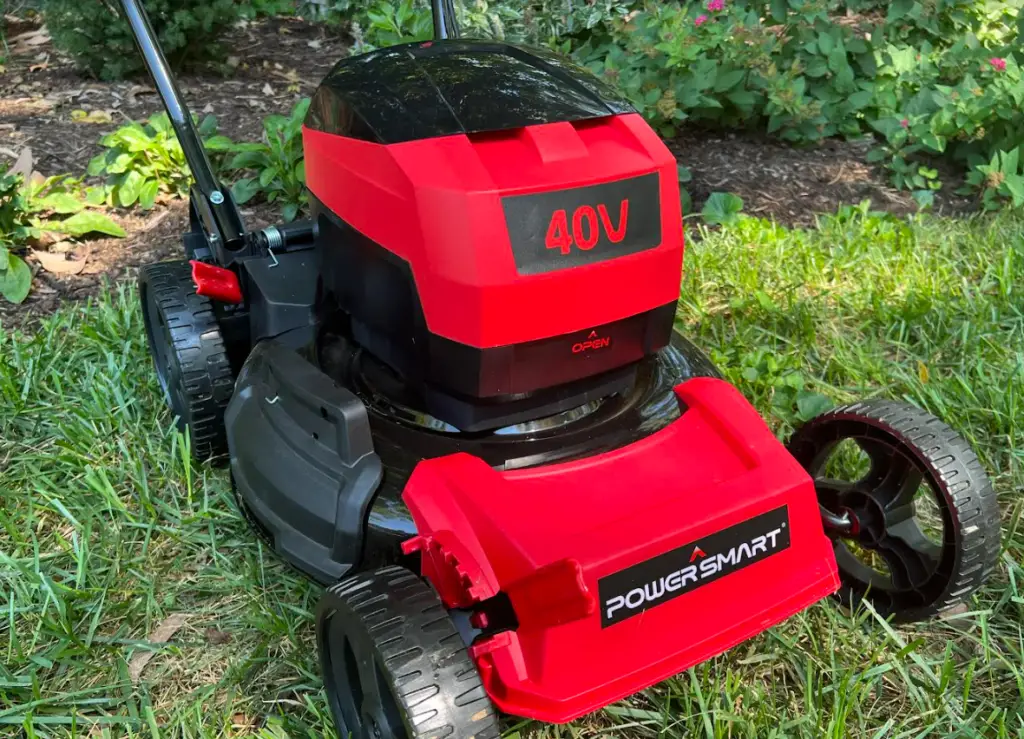 PowerSmart has field-leading expertise in this area and makes some solid products. While you may not have a shed fool of PowerSmart equipment, you will surely come across some of their products over time. 
PowerSmart Snow Blower review: Features
There is a lot to like about the PowerSmart Snow Blower. When the first snowfall comes, you will be glad that you got your hands on one of these machines and are not left out in the cold (ha).
Truly, these machines are lifesavers especially for those that commute for work or in case you need to quickly leave your home. Let's check out some of the features that make the PowerSmart snow blower a top-tier snow blower.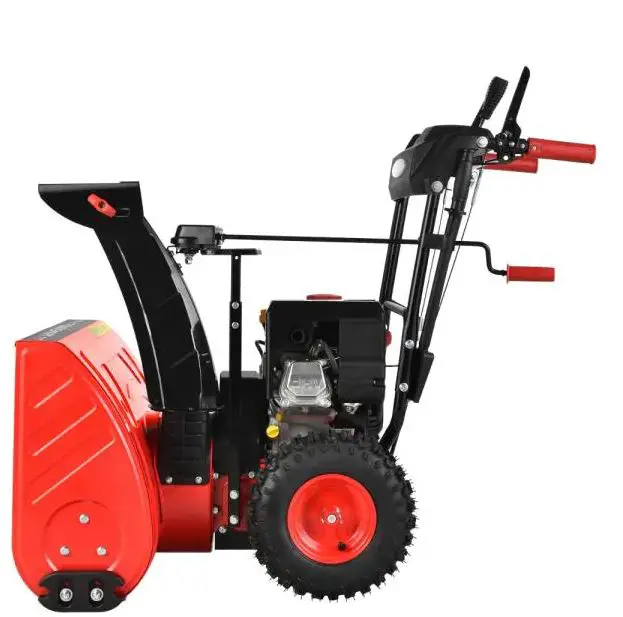 Power
When it comes to a snow blower, power is everything. The last thing you need is to be pushing a heavy snow blower with all your might and doing the same job as a simple snow shovel. The PowerSmart snow blower can work in temperatures of to -20 degrees Fahrenheit. Heaven forbid you live in an area where this can happen, but if you do, you are all set.
The PowerSmart has "Power" in the name highlights just how powerful this blower is. This is a two-stage blower, meaning that it has separate functions to pick up the snow and then launch it. Two-stage blowers can handle a LOT more snow than one-stage snow blowers, who max out at 6-7 inches of snow.
The PowerSmart two-stage blower can launch snow 30 to 40 feet away. This is a safe distance to your least favorite neighbor's yard and makes it his problem. The snow blower can also handle about 20 inches deep of snow and 24 inches wide. This is a huge pathway to erase any snow on your lawn.
Usability
PowerSmart has thought of everything in this snow blower. It truly is an incredible gift for those that live in snow-heavy environments. Firstly, the PowerSmart snow blower has an auger control handle and a drive control handle. These handles allow for maximum control over the machine. One will engage the auger and the other will start moving the wheels.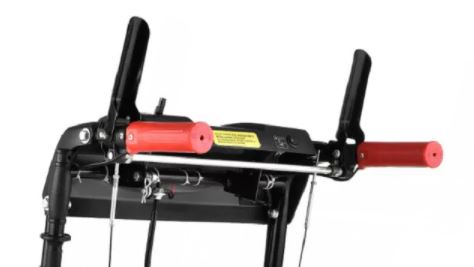 To top it off, there are also eight speeds – two reverse speeds and six forward speeds. This allows you to decide how quickly you want to complete your job (hopefully ASAP as possible). As a reminder, make sure to never try to change the speed when the blower is in motion. 
A couple other things I love about this blower: the LED light that helps you clear snow in the early morning and the push button electric start. Both of these are small details that can make your life much better.
The most difficult thing about getting the blower out and started is the old pull-string process. Nothing is more difficult than having gloves and a heavy, thick coat on while trying to dramatically pull a string. 
The last thing I will say in the usability department is the perfection of the large, 13 inch tires. These are big, spiky, and have deep treads. Treads help prevent the machine from rolling down the driveway but also help push into the snow and move forward. 
Okay I lied, another incredible feature of this is the heated handle. I mean what an incredible little detail to add to this machine to make the experience even better. 
Durability and maintenance
The PowerSmart snow blower does use oil and requires regular oil changes. It also comes with a two year limited warranty, which is great assurance that it will last. 
Maintaining equipment like this isn't all that difficult. Most folks don't use their snow blowers but 5-6 times per year. Oil changes don't need to happen super frequently.
PowerSmart snow blower price: Cost and value
The PowerSmart snow blower comes in at around $600-$800 depending on which model you get. I have found that purchasing it directly from the PowerSmart website can save a significant amount of money versus a Home Depot or Lowe's.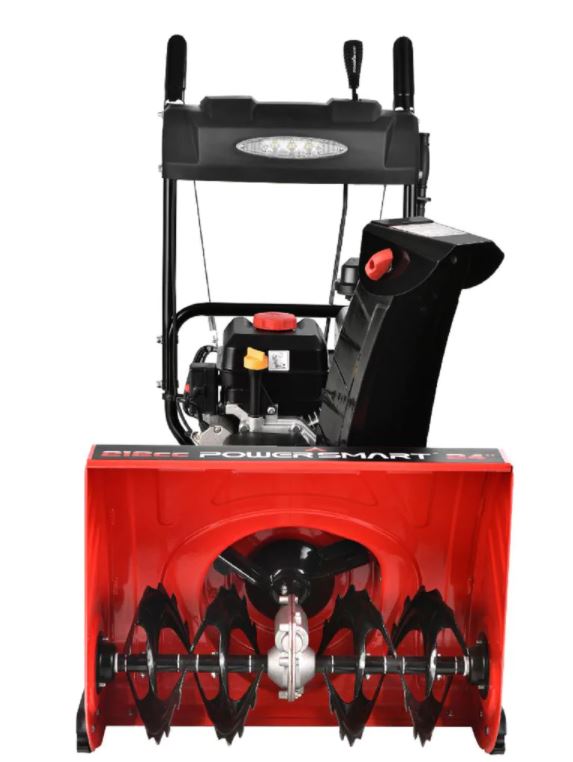 I think this is a great value. This blower will last for several years and can save you a ton of time, back pain, and heart health. The PowerSmart snow blower is truly the cadillac of snow blowers. The heated handles really put it over the top for me.
The official review: The PowerSmart snow blower
The PowerSmart snow blower is a high-value product that will save you tons of time and pain. We recommend it highly here at The Lawn Review.
You can grab the PowerSmart snow blower on Amazon for a great price.