PowerSmart's battery powered lawn mowers are lesser known in the electric world, but have gas alternatives that are super popular.
PowerSmart is known for having extremely well-built, quality products. We reviewed their PowerSmart gas-powered snow blower and were….blown away.
But they've recently stepped into the electric lawn mower space.
We were fortunate enough to get our hands on one of their brand new mowers, the 40V electric mower.
Here's our thoughts:
Why we review lawn tools
The reason we started this website in the first place was because we had so much trouble trying to find reasonable, understandable, honest reviews for lawn equipment. And it's not cheap! After hours and hours of research, trying products and returning them, and messing up our yards – we started this site.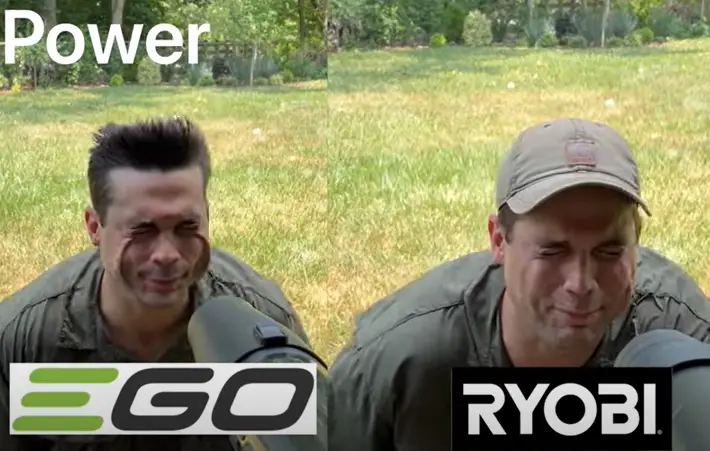 As people who had to learn the hard way, we want you to know exactly what you are signing up for before you purchase a piece of equipment. That's why we are committed to providing honest, easy-to-understand reviews that mean something. 
What to look for in an electric lawn mower 
When looking to purchase an electric lawn mower, you need to make sure you understand what things matter. You will get hit with a lot of technical specifications and marketing tactics. Totally forget them and focus on the things that impact you. Below are my recommendations:
Brand quality

Quality is going to be super important here. Everyone is in the electric mower game these days and there are a ton of junky mowers out there. Avoid anything from a weird brand on Amazon that takes 9 years to ship. It is probably being 3D printed in a Laotian bathroom. Go for brands that have consistent quality and focus on the details, not just flashy colors.

Metal where it matters. 

Most electric mowers are plastic-y. Probably to reduce the weight of the mower so that the battery can get you further, but it feels cheap. Make sure to get metal where it matters – namely the deck. The deck is the part that covers the blades. Don't get plastic here – a rock can rip through it.

Battery interoperability.

 A ten dollar word used here, but really just make sure to buy a mower with a battery that is compatible with other electric tools. Ryobi has this, so does Dewalt, and so do some of the Greenworks products. This will save you garage clutter and plug space.
If you have more questions, check out our guide to electric lawn mowers.
PowerSmart Battery Powered Lawn Mower: Features and benefits
Let's check out some of the great features and benefits from the PowerSmart 40V Battery-powered lawn mower.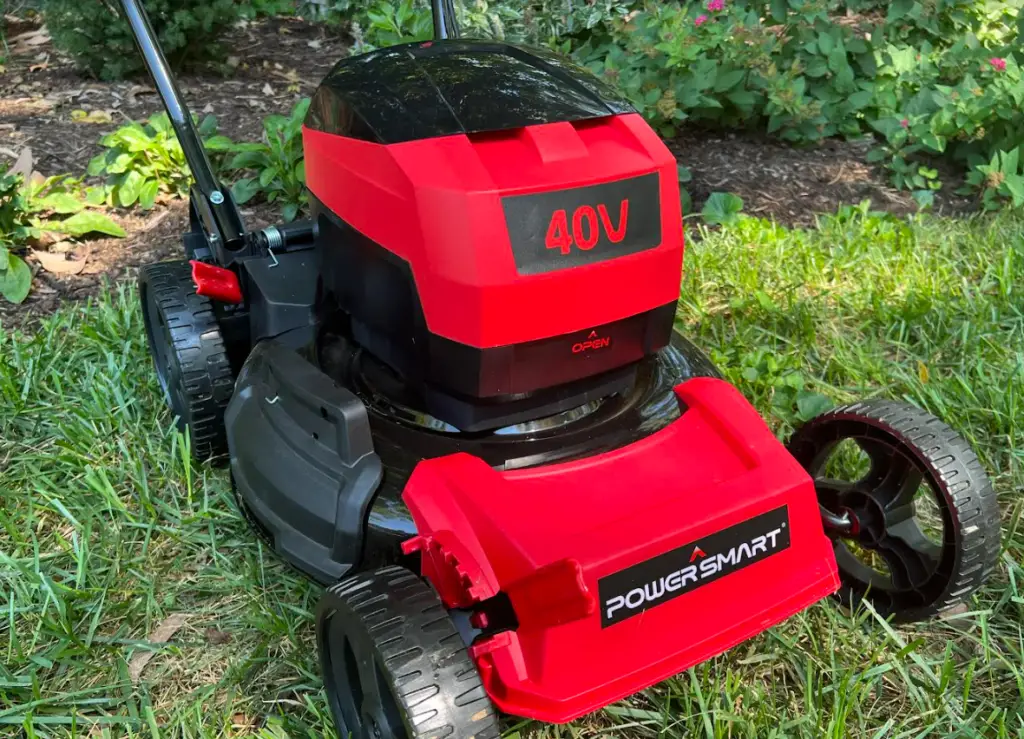 User Experience
The most important thing about a lawn mower isn't how well it cuts, it's how the mower feels to use. If you are going to be walking a couple of miles in a straight line in your yard, then you want to make sure it is with an intuitive, easy to use mower. 
The PowerSmart battery powered mower has five different height settings for cutting the grass. This helps folks with grass like tall fescue, which requires a lifted cutting deck, but also someone  with bermuda or zoysia, which requires a shorter cut.
This PowerSmart mower also comes with 3 discharge options: side discharge, mulching, and bagging. We always recommend mulching, which allows for the re-use of the grass clippings as a nice fertilizer for the soil.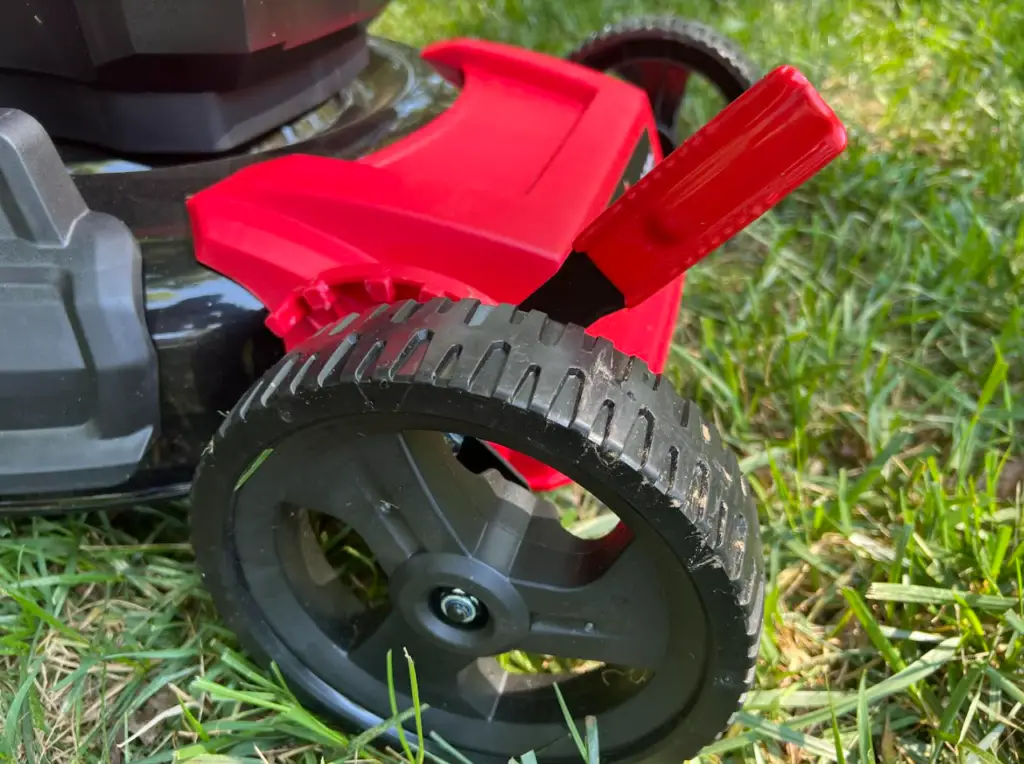 It easily breaks down and folds in half, which is nice for storage in your garage or shed.
This mower comes in at about 42 lbs, which I actually like in an electric mower. The metal deck on this mower means that it is going to be more durable and better downward force for stabilizing the mower. 
How to operate
The PowerSmart battery lawn mower comes with a safety key, which is actually really unusual for a lot of battery powered mowers. It only comes with one key, and without it you cannot operate the mower.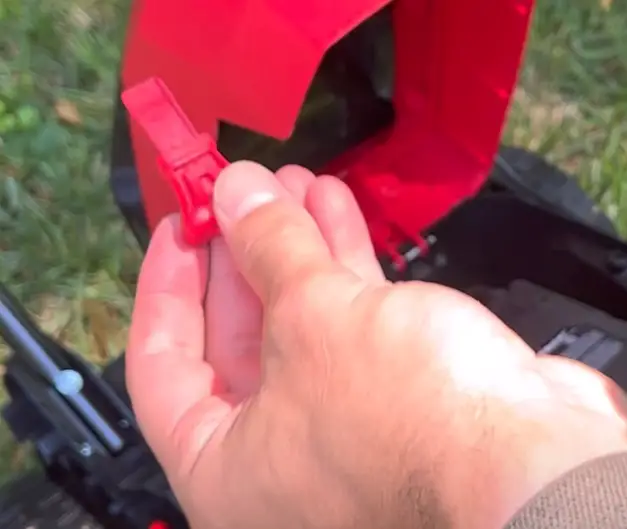 After the key is in place, you simply press the start button, pull down the trigger, and engage the blades. 
One thing we also enjoyed about  this mower is that it has an indicator light for battery life and another for some sort of system fault (heaven forbid).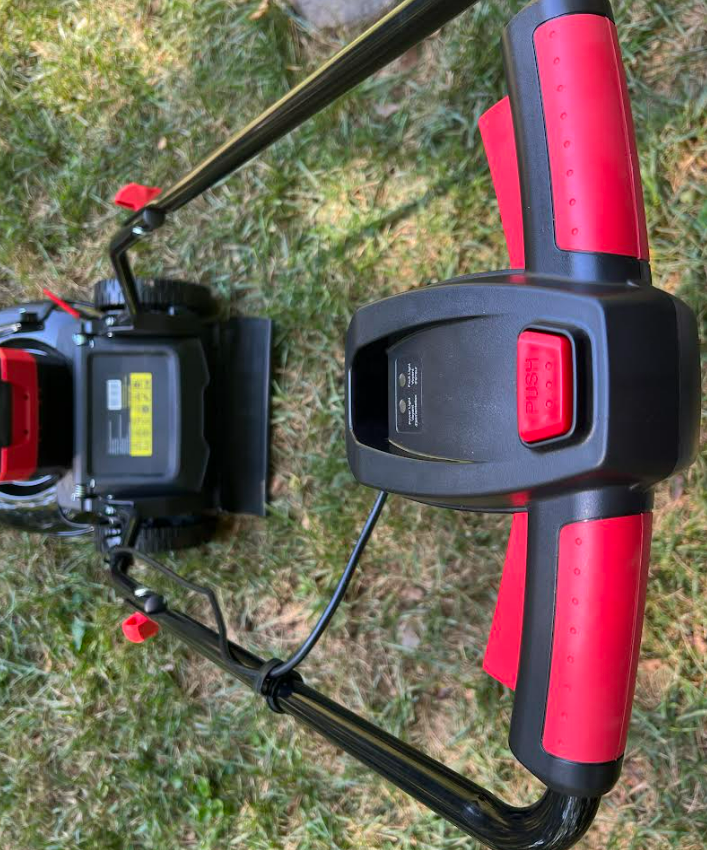 The trigger is actually pretty sensitive and you'll want to make sure that you have it pulled down all the way for the entirety of the mowing journey. Any let-up on the trigger at all will cut off the mower.
Bells and whistles
Overall, this mower is pretty basic. It doesn't have many of the bells and whistles, isn't self-propelled, and doesn't have many parts that can break. We really like that it comes in a basic form because it allows the mower to come in at an extremely reasonable price.
Battery life and run-time
PowerSmart claims that this battery can run for 42 minutes, which is usually under optimal conditions. We put this to the test (as seen in our video) and got 56 minutes.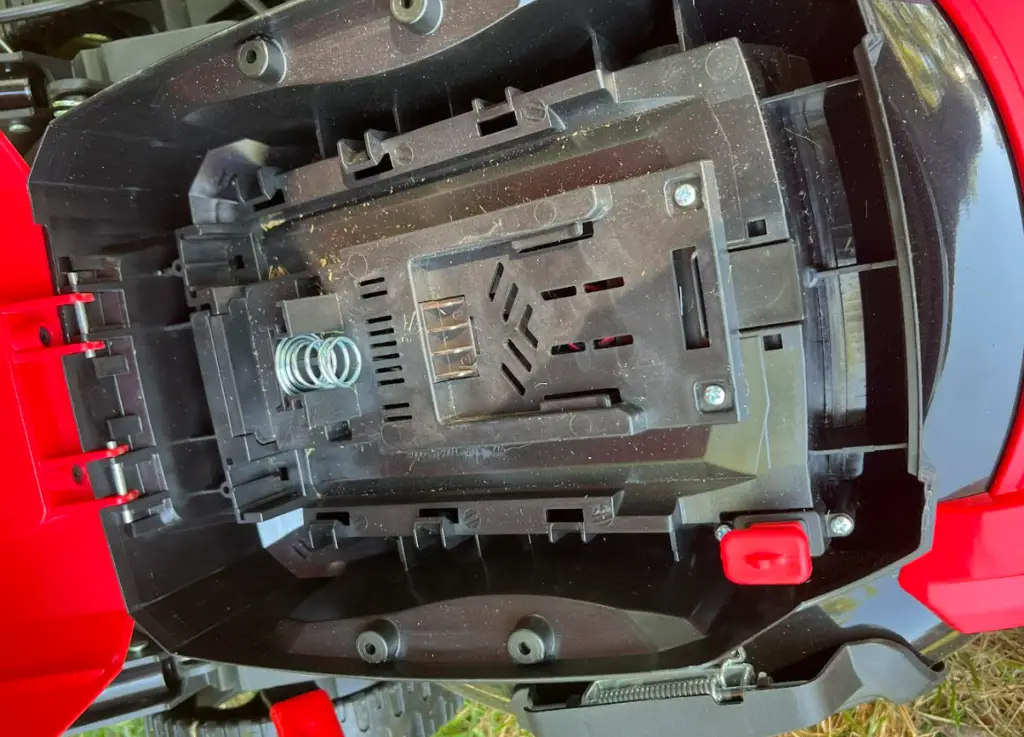 Wow. We really liked this as some of the competitors have been WAY below their advertised time. We almost cut an entire 1/2 acre yard with a single charge. Oh yeah.
We also put the battery recharge time to the test as well. The base has three different light indicators. Blinking red means that it's charging, alternating red and green if it's overheated, and solid green when it's done charging.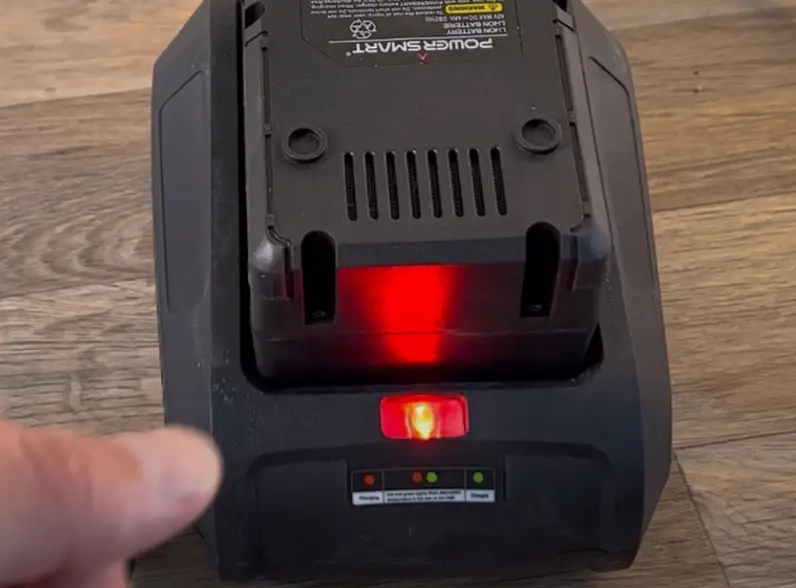 It took about 3 hours to fully charge from dead.
Price and Warranty
The PowerSmart 40V Battery Powered mower comes in at about $280, including the charger and battery. It also comes with a nice 3-year warranty – which is really good.
Official Review: PowerSmart Battery Powered Lawn Mower 40V
The mower has some things to love and a few things not to love. If you have a smaller yard and are looking to get the job done, this is a really good value. It comes in at a great price point and will be good for at least three years. 
We did find it a little bit "bumpy" and noisier than we would have liked. With a few small modifications, it could become a lot more comfortable. 
If you have a larger yard, I'd probably check out some other mowers, especially some self-propelled ones, that will help tackle the job for you.
All-in-all, the PowerSmart 40V Battery Powered mower is a great value mower. You can pick it up straight from PowerSmart.