The Greenworks Pro 60V 22 inch brushless snow blower makes having snow fun again.
I mean, who doesn't love waking up to snow? 
The real challenge is walking up to the car to leave for work or reaching the mailbox without falling and busting your butt. 
But man was made to conquer the elements. Take back your driveway. Refuse to be held hostage by some snowflakes.
Let's get started.
Why we review lawn tools
The reason we started this website in the first place was because we had so much trouble trying to find reasonable, understandable, honest reviews for lawn equipment. And it's not cheap! After hours and hours of research, trying products and returning them, and messing up our yards – we started this site.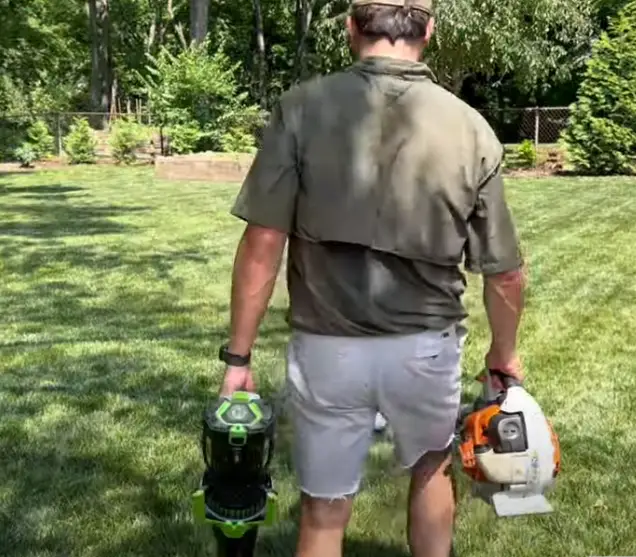 As people who had to learn the hard way, we want you to know exactly what you are signing up for before you purchase a piece of equipment. That's why we are committed to providing honest, easy-to-understand reviews that mean something. 
Snow throwers vs snow blowers
The common attribute between the snow blower and snow thrower is that both are better options than manually shoveling snow. 
Snow throwers will send snow at most fifteen feet away. However, a snow blower will launch it for 40 feet and then some (outer space). Snowblowers are industrially engineered machines with a compact design. They will get rid of more snow, too. Just don't catapult it to the neighbor's yard. Unless he deserves it.
Greenworks also has a snow thrower which is pretty nice.
One-stage vs. two-stage
Snow throwers are also categorized as one or two-stage. 
A

one-stage

snow thrower will suck and shoot the snow in one motion.
The

two-stage

has the same operations. However, there is a different compartment for shooting, which increases the distance. The feature makes the two-stage snow blowers very powerful.
Check out our PowerSmart Snow Blower review and our Snow Joe Snow Shovel.
About Greenworks
Greenworks is one of our favorite electric lawn tool brands. They consistently provide badass tools that compete with, and often beat, their gas-powered competitors. They are hands down the most powerful and well-made electric tools on the market. Well designed, well engineered,  and actually look cool as well.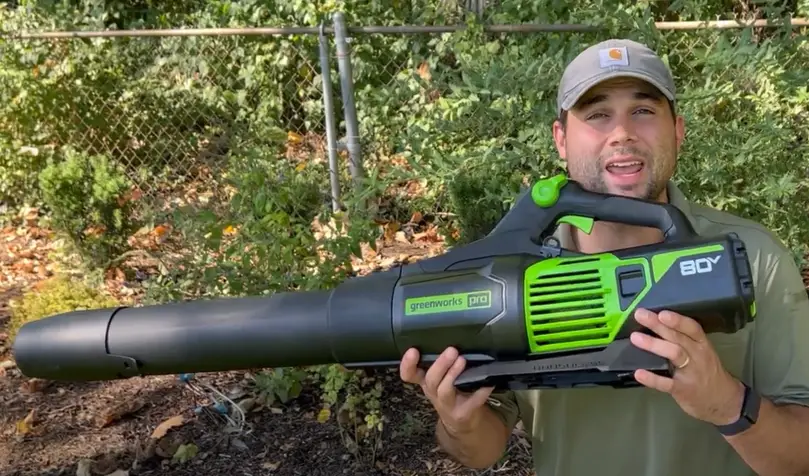 Greenworks provides professional tools for landscaping, gardening and DIY-ing. Greenworks distributes its products to private labels and official outlets over a widespread network.
It offers a wide range of reliable, cordless, and powerful tools. 
The voltage ranges from 24V, 40V, 60V, 80V, and 82V-commercialized tools. Greenworks' diversified approach toward manufacturing ensures there is a product for everyone. The brand uses in-house technology for sustainable production in accordance with its core values, including innovation and openness to newer ideas.
Greenworks Pro 60v 22-inch brushless snow blower: Features and benefits
Greenworks and snow blower go very well together in the same sentence. The product is beneficial for individuals who live at high altitudes and experience snow more than I do down here in the South. The auger control system guides the Greenworks snow blower perfectly. I'm talking poetry in motion.
The handle moves according to the lightest of wrist movements, allowing for flawless and responsive movement.
Variable speed control on the Greenworks Snow Blower
The snowblower is very easy to operate with an interface very similar to a battery-operated lawn mower. Simply press down the safety button and pull up the bar. The self-propelled function will instantly begin turning the wheels. Once you are done using it, release the bar to turn it off. However, once the auger is launched, the 8-inch wheels instantly start doing their thing.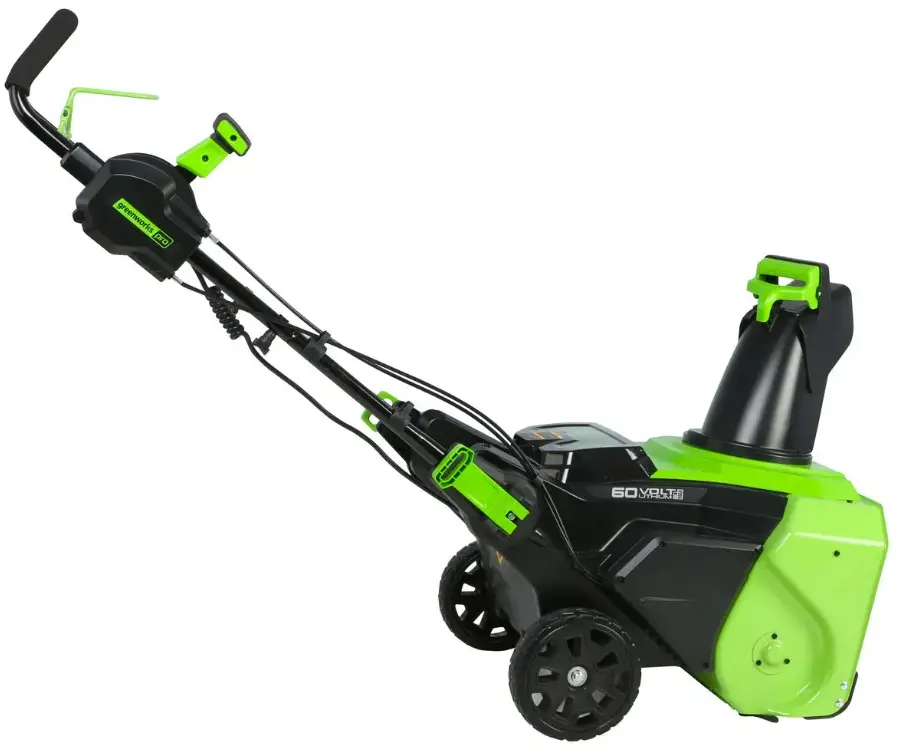 The Greenworks Pro 60v 22-inch brushless snow blower features an automatic steering system. The speed provides optimum control on different terrains and slopes. Furthermore, you can also choose where you want to launch the snow.
Why the Greenworks Snow Blower Chute matters
You can alternate the chute angle options on the side of the control box. Push or aim it toward the left or right at a 90-degree angle. The 180 degree rotating chute gives you total control over which side you want to launch the snow, which is great for if you are making several passes, allowing it to all be launched to the same side instead of going back and forth and spreading over the area you just cleared.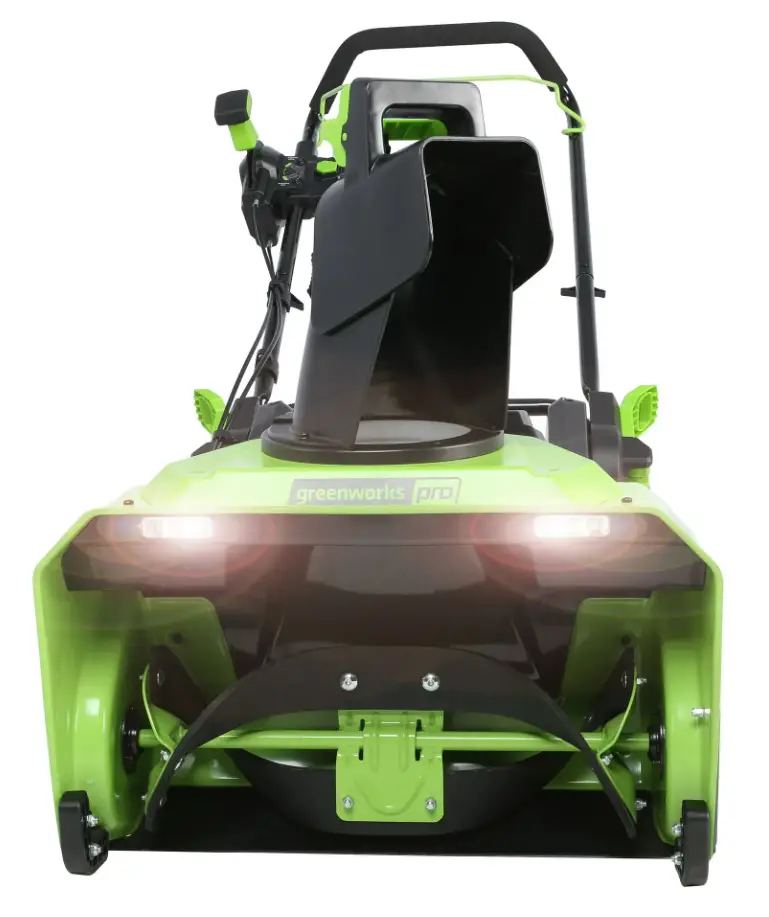 Big Boy Power on the Greenworks Snow blower
A Greenworks snow blower would not be a Greenworks snowblower without insane power. And the box here is definitely checked. 22 inch clearing width. Launches the snow thirty feet. Do I need to say anything else?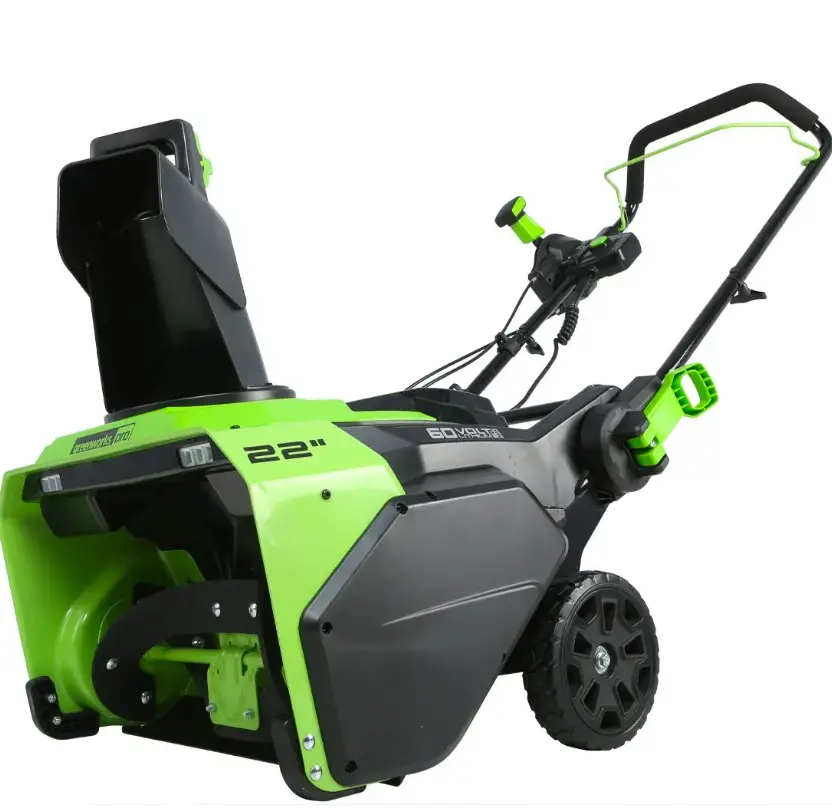 Sometimes you may want to revert to the snow shovel for easy handling and no hassle. Forget  it! This thing launches snow but it also launches you into the future. 
Battery time – Greenworks 60V series
The snowblower comes with two ports for battery insertion. However, you only need one battery to operate it successfully. The second port is an additional option to elongate the run time. 
When both batteries are inserted, the system alternates by prioritizing the more used battery with an "Automatic Switchover" (as seen below). Now you can remove snow without any hiccups.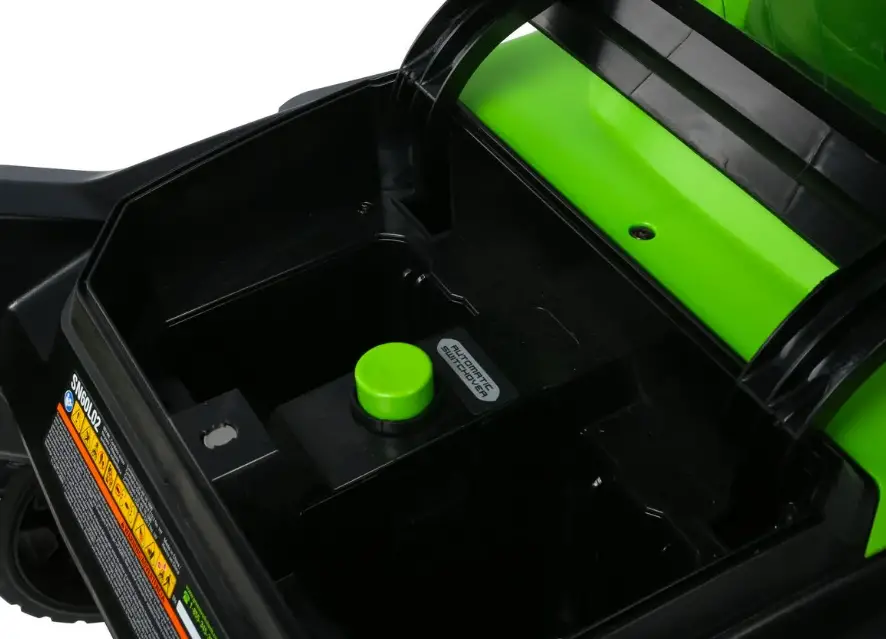 Fine tuned snow blowing machine
The snowblower sucks the snow and then re-launches it wherever you want (preferably your neighbors yard). The internal machinery prevents clogging and keeps the snow moving smoothly. It can handle a lot of snow, making it a longtime companion. The only downside is that it does not automatically make a snowman for you.
The Greenworks Pro 60v 22-inch brushless snow blower makes it easy to handle snow from different surfaces, including gravel driveways. The snowblower does not suck the gravel bits, ensuring long-term assistance and minimum auger breakage. Smart!
The rubber paddles work in cohesion with the steel impeller. Both the parts are replaceable according to the warranty guidelines. However, the rubbers must be frequently replaced for efficient results. On the other hand, replace the impeller as necessary, assuming you live in a region that uses salt frequently.
Warranty and durability
The manufacturer offers a 4-year limited warranty and lifetime online support. The technical support and repair center is always live for questions. You can call Greenworks' representatives anytime by dialing 1-888-909-6757. 
The Greenworks Pro 60v 22-inch brushless snowblower is expected to last for ten years, but can go much longer if it's properly maintained.
Check out some other great Greenworks 60V tools we have used:
It's good for your health?
The easy-to-operate system and helpful technical features also protect your health. It will save you from years of back pain. Furthermore, the absence of strain will not put pressure on your heart. You are investing in a machine as well as your health, as well (or at least that's what I told my wife).
Sadly, many people do keel over with heart attacks when shoveling snow.
The official review and How to buy the Greenworks Pro 60V snow blower
The Greenworks Pro 60v 22-inch brushless snowblower is incredibly helpful in harsh weather. In addition, the price tag justifies the long useful life. It is durable and practical, all things you expect from a snowblower. 
The Greenworks Pro 60v 22-inch brushless snow blower costs $599. However, the shipping costs may vary. You can purchase it directly from Greenworks's website or grab its little brother on Amazon for a great price.