The Mulch sale at Home Depot is the best time of year to go pick up some bagged mulch. They have massive racks of mulch all over the place in their garden facility, plus an entire parking lot out front with pallets full of mulch. 
When is Home Depot's Mulch Sale in 2024? 5 for $10?
The Vigoro Mulch Sale usually happens on Easter Sunday weekend. I think we will get another sale on or around Easter from Home Depot in 2024, which is March 31st, 2024. This is one of the best times to grab Mulch – the Spring.
My favorite thing to do is place an online order for pick-up, then avoid having to go in and pay. Way easier that way.
There is also an EarthGro mulch sale that happens around the first of May every year – wait for 5/1/2024 for this mulch sale at Home Depot.
What about the 4th of July Mulch Sale at Home Depot?
There will likely be a Home Depot Mulch Sale on July 4th and again on Labor Day in 2024.
The July 4th Mulch Sale at Home Depot is for Vigoro Mulch and is $.60 off per bag, leaving them at about $2.98 per bag.
The Mulch Sale at Home Depot varies, but often has 5 bags of mulch for $10. 
Interested in Lowe's mulch sale? Check out our Lowe's mulch guide.
Which Mulch to buy at Home Depot
Why so many different types of mulch?
Which one should I get?
All that and more is explained below.
Mulch 101: Know before you Depot, Home Depot
In its most basic form, mulch is just anything you spread over the top of soil. It can be organic or synthetic matter, both can serve the same and different purposes. Some of the main reasons for applying is to spruce up the landscape, retain soil moisture, maintain and improve soil health and reduce weeds. There's not much better than a freshly mulched landscape in my opinion. 
As mentioned earlier it can be organic or synthetic, though most people tend to go the organic route. Organic material usually comes in the form of shredded hardwood of some sort along with some manure, compost blend, and grass clippings. Inorganic can be rubber, plastic or some other weird thing the scientists have come up with this year. 
If you're looking for a great guide for how to lay down mulch, check out this article.
For the purposes of this article, I'm not going to go over every possible mulch composition but will stick to the heavy hitters found at most Home Depot's around the country.
Home Depot Mulch Buying Guide
Home Depot really only has a few specific brands of Mulch. Vigoro and EarthGro are darn near universal at Home Depot, so I will start with those, but my store carries Garden Logic so I will cover that, too. 
Check out our mulch buying guide web story.
Vigoro Mulch reputation
Vigoro mulch is a do-it-all mulch that does its job. Basically, Vigoro comes in all different colors and even has a rubber form.
But let's start with their shredded mulch. Most of you are here because you are buying a shredded mulch because that's what normal people do.
Shredded mulch that comes in a bag is inexpensive and primarily serves to cover soil and prevent weed growth. 
When it comes to picking a color, do what matches your home the best. 
EarthGro Mulch reputation
EarthGro is a Scotts product, which means they mean business in the lawn care game.
I personally use EarthGro's brown shredded mulch for my backyard and the black shredded mulch for my front yard (because I like to party). 
I chose EarthGro because I trust Scotts quality, the mulch is local (they pull it from in-state mulch providers), and because it was almost the same price as Vigoro. 
Check out our Scotts Turf Builder review here.
Garden Logic mulch reputation
Garden Logic is a newer brand of mulch that I haven't seen at Home Depot until now. They have different mulch blends depending on the type of wood. 
They don't seem to offer colored mulch at my Home Depot, but they do have all natural materials and you can select the type of mulch you want by the tree. 
If you are a gardening nerd, this is probably something you love.
I am a cheapo who just wants it to look okay, so I go with EarthGro :).
Vigoro 2 cu. Ft. Bagger Premium Brown, Black, and Red Wood Mulch at Home Depot
Vigoro mulch describes themselves as a 100% premium wood mulch. A benefit to this mulch is that it comes with a 12-month color guarantee, so you can rest assured that your lawn will continue to have its curb appeal for a year.
You can get this mulch in red, black or brown.
One benefit to Vigoro mulch is that it comes in 2 cu. Ft bags, making it the larger of the two between Vigoro and EarthGro.
Vigoro Premium Red Mulch
I typically see red mulch in commercial properties like outside of restaurants, shopping centers, parks, or alongside roads. For this reason, I don't like to use red at my house.
For some people, red makes a lot of sense.
Vigoro Premium Black Mulch
I like black mulch because it ties the front of a house together very well. It generally more closely matches the soil, and can add a contrast to any garden bed. For me, this makes our shrubbery and flowers at the front of our house and by our mailbox pop.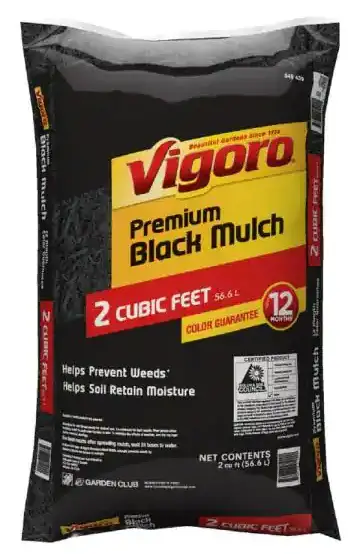 Vigoro Premium Brown Mulch
Brown mulch is also great for houses that have non-brick color. For example, a light blue or white wood-paneled house can look really good with brown mulch. 
I use brown mulch in my backyard because it fits in well with our deck coloring.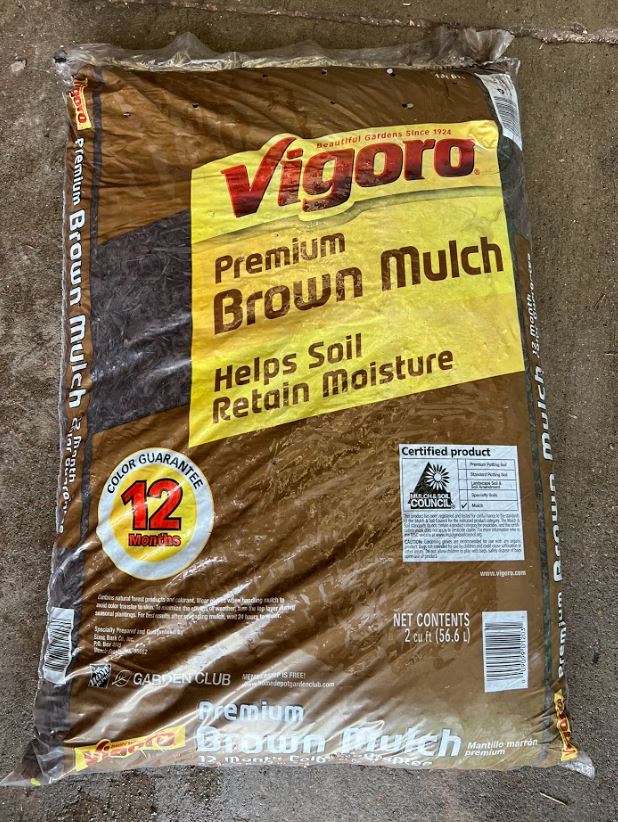 Vigoro premium mulch cost
At its base price, Vigoro mulch is about $3.67 per bag, or $1.33 per cubic foot. 
Mulch does go on sale at Home Depot during a certain time of year, which I will get to later.
EarthGro Brown, Black and Red mulch at Home Depot
Again, I use Earthgro at home because they are locally made, albeit a little bit more expensive than Vigoro.
One thing I like about Earthgro and their black and brown mulch is that they don't have any construction debris, the bags never seem to break, and they also come with a 12-month color advantage. 
Earthgro Brown Mulch
Earthgro's brown mulch is definitely a deep shade of brown. The shredded mulch offering they have fits in well to my backyard, as about a third of our backyard is just mulch. 
Since I have a brownish-reddish deck color, the brown compliments the color. The black mulch would contrast too sharply. 
I buy between 30-40 of these bags each year to spread in my backyard and it always seems to do well despite my crazy dog's efforts to trample around in it.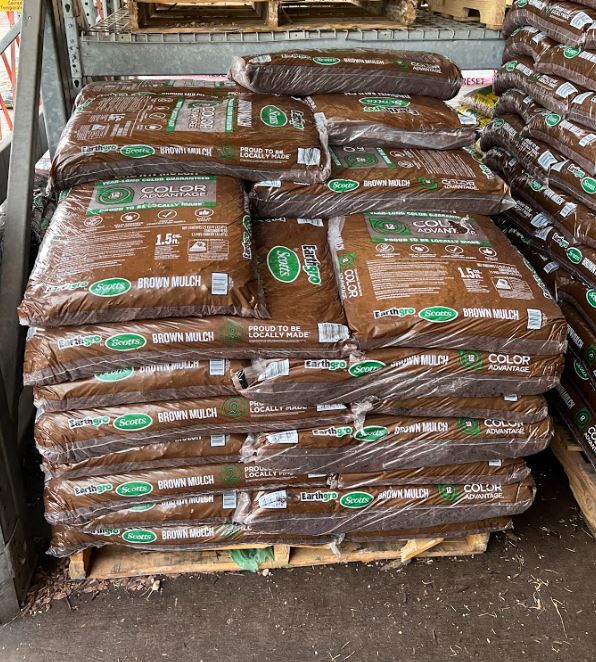 Earthgro black mulch
The black mulch works great in my front yard because we have a lighter colored brick house. We also have a rolled brick walkway that leads to our front door. Because of this brick combination, I wanted a mulch that would contrast deeply with the lighter pink color of the brick.
Black mulch does a great job of contrasting our bushes and flowers with the rest of the house, making them stand out to passers by. 
We re-mulch our front yard every 18 months or so with Earthgro, so I think their 12 month color advantage can take you further than you imagine.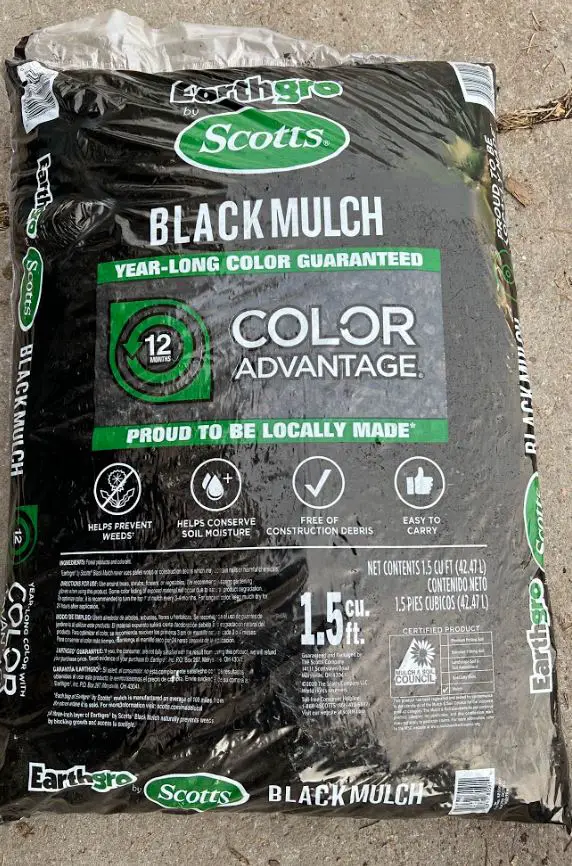 EarthGro red mulch
I don't have much experience with Earthgro's red mulch, namely because I try to avoid red mulch in residential properties. 
A lot of folks use red mulch around their home and love it. I am just not one of those people and don't live in one of those climates.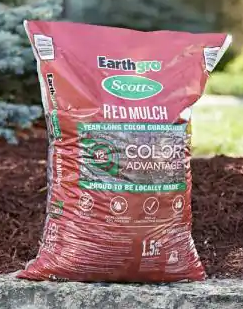 Earthgro mulch cost at Home Depot
Earthgro bags cost the same as Vigoro bags, at about $3.67 per bag. Earthgro does only come in a 1.5ft bag, so the price per cubic foot goes up to $2.44 per cubic foot. 
Vigoro Bagged Recycled Rubber Mulch
Vigoro also offers recycled rubber mulch in two colors: brown and red.
Now I know what you're thinking, rubber mulch? But it does have its benefits.
Rubber mulch has the same weed-preventing benefits as regular shredded mulch, but it does not attract any bugs like ants or termites. 
Unlike traditional wooden products, Vigoro rubber mulch does not decay and can actually reduce the risk of allergies as well.
Rubber mulch goes great in places like playgrounds, swingsets, or other outdoor play places for kids, too. 
My favorite part, you don't have to mulch annually. 
Rubber mulch comes in smaller bag, is much more expensive, but only requires one initial upfront investment to cover you for 12 years.
Vigoro rubber mulch cost at Home Depot
Vigoro rubber mulch comes in 0.8 cubic ft bags, costing $6.97 per bag. This comes to just over $8.71 per bag. Wow. It seems like a big investment, but you actually can save money over the course of a few years by not having to replace mulch annually.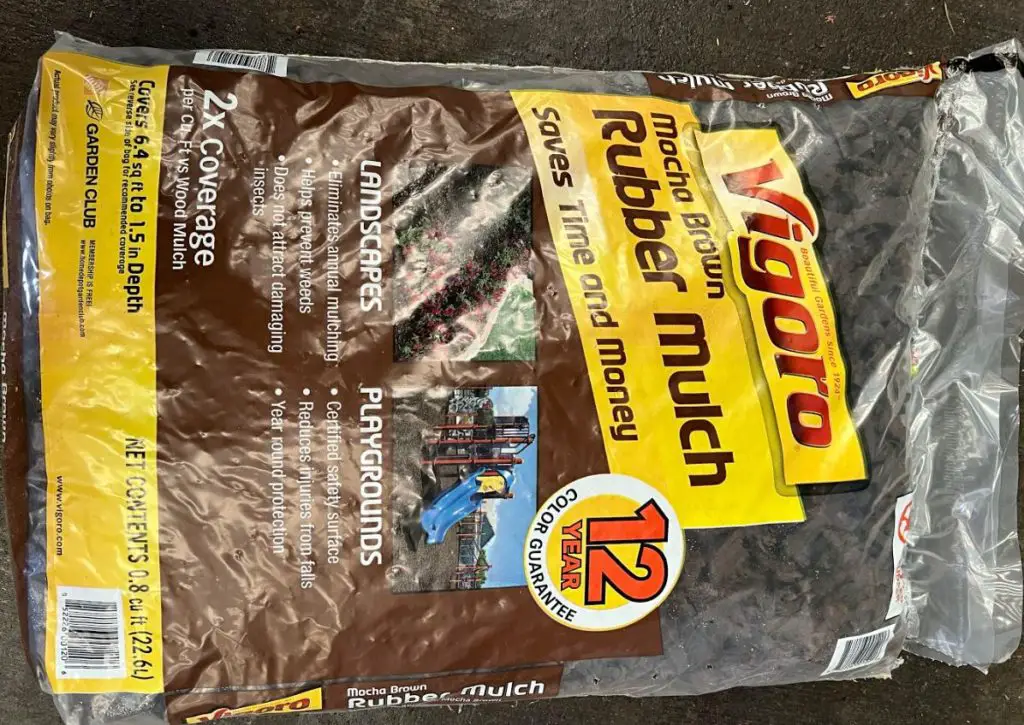 Garden Logic and Gardener's Pride Mulch at Home Depot
Garden Logic and Gardener's Pride appear to be the same brand, but I have never seen them before so its hard to say. 
They have the same design on the package, but different names depending on the type of mulch.
Nevertheless, they have some good stuff – and it's cheap!
Let's review.
Garden Logic Pine Bark mini nuggets
Garden Logic's Pine Bark mini nuggets are great for smaller areas, like a little garden bed. They tend to be lighter and more airy. These also work well for indoor plants and outdoor potted plants. 
Because they are light and airy, they don't do as great of a job with weed control or locking in moisture, but tend to rot much less.
These are very aesthetically pleasing, but in larger beds can wash out pretty quickly because of their size.
2 cubic foot bags of these are selling for about $3.47 or $1.75 per foot.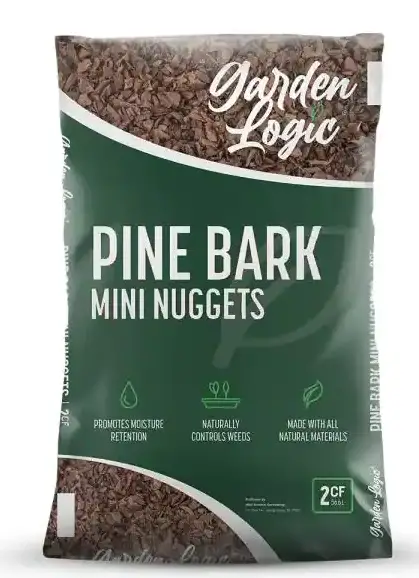 Garden Logic or Gardener's Pride Hardwood Mulch
The Garden Logic Hardwood mulch is a typical shredded mulch blend, identical to what you would find in a Vigoro or EarthGro bag of mulch.
This is your standard bag of mulch that contains a mixture of wood and usually some sort of dye to give it a rich, brown color. 
This will spread easily and is great for larger yards or garden beds. 
At $3.67 per 2 cubic foot bag, it is pound-for-pound identical to Vigoro mulch.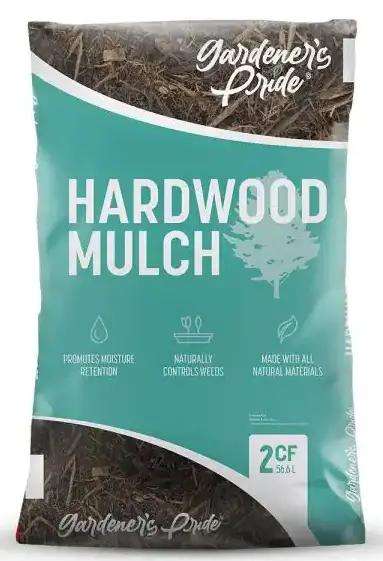 Garden Logic or Gardener's Pride Cypress Mulch Blend
Cypress blends are interesting to me because I don't see them around where I live. But they do have a lot of benefits, namely their natural tendencies.
Cypress blends are pure shredded cypress wood and typically come without any coloring added. They can appear bland in some contexts.
If you've ever gone through a nature trail or any outdoor path, these are typically covered in this type of mulch. It is much cheaper and gets the job done, though without the deep coloring. 
At $2.97 per 2 cubic foot bag, these will only cost about $1.49 per cubic foot – making them one of the most affordable mulches on the market.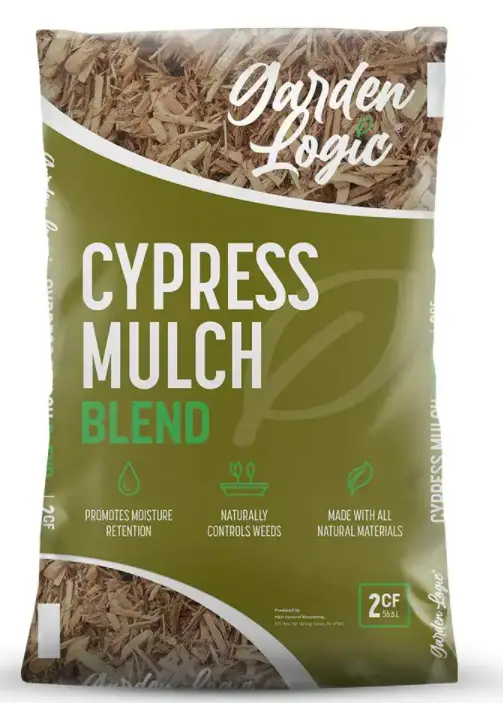 How much mulch do I need?
Check out this mulch calculator for more info.