The Litheli U20 Cordless Pole Saw is a tool that I wish I had known about earlier. Cordless pole saws like this one make it super easy to prune your trees.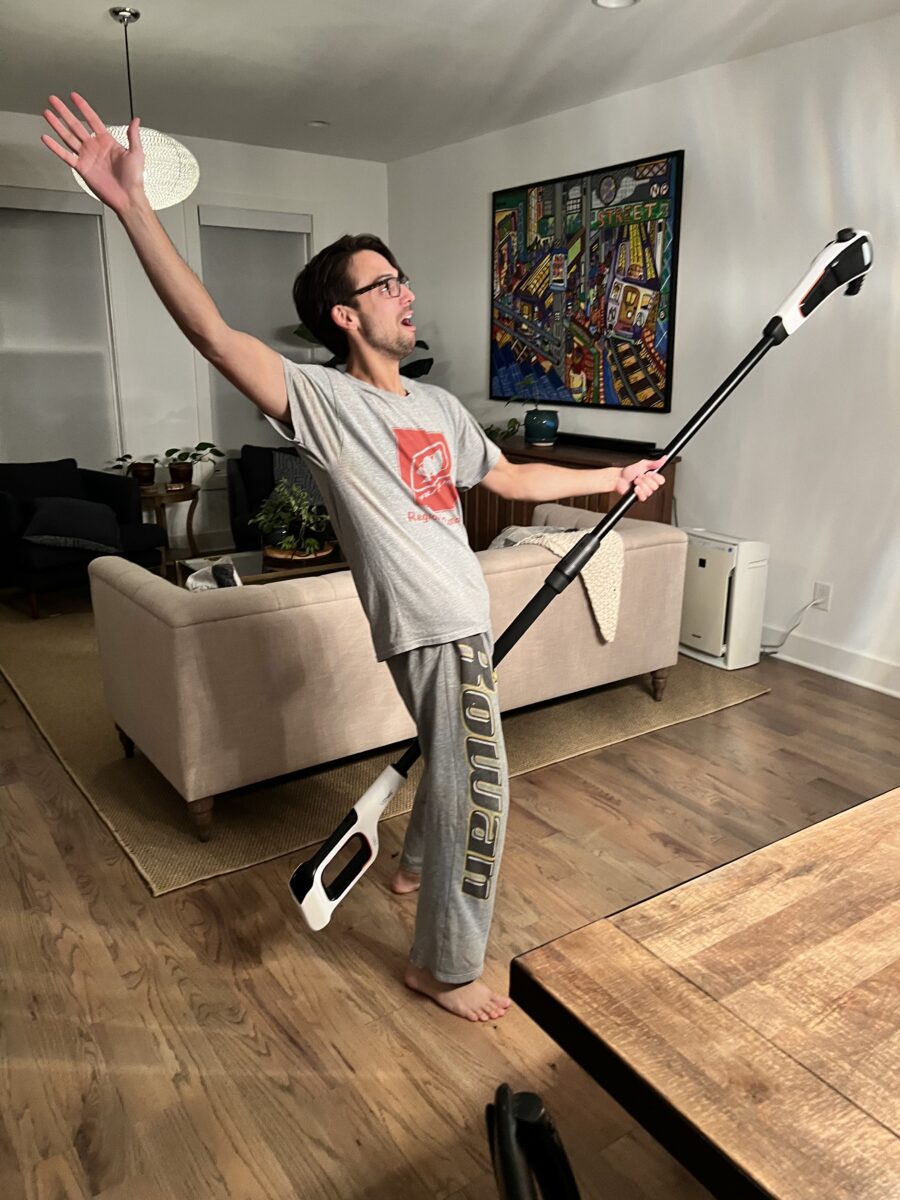 Honestly, I had never heard of Litheli and am still not super familiar with the brand, but that doesn't mean they don't have great products. Let me explain why.
Jump ahead:
Takeaway: If you don't want to read the whole review, I thought this was a really nice pole saw and would give it a 7/10. If you want to grab the newest version featured here, you can check it out on Amazon.
Litheli U20 Pole Saw Review: My experience
Litheli initially reached out and asked me if I would put this pole saw to the test. I had one condition: I was going to be brutally honest. So here it goes.
Unboxing the Litheli Pole Saw
One thing that surprised me about this pole saw was how sleek it was when I unpacked it. The Litheli Pole Saw looks like it was made by Apple. Not kidding.
The battery pack on this pole saw seems like it would also power my Mac. And if I really wanted it to, it probably could. Overall, the assembly of this pole saw was super intuitive and easy. A difficult part that I didn't anticipate was trying to put the chain on the end of this pole saw. It felt like my bike chain fell off on a muddy mountain and I was struggling to put it on.
I also wish this pole saw came with chain oil. If you don't want to go grab some from your local hardware store, you can use olive oil or really any vegetable oil (although I avoid seed oils).
Using this pole saw to trim some branches
Now I wasn't expecting this to be a majorly powerful chainsaw like a Stihl chainsaw or a big ole Husqvarna, but I was actually surprised at the force that came out. I took it out to my backyard to use it on a Chinese Maple and a regular Maple tree that were hanging over my gutters.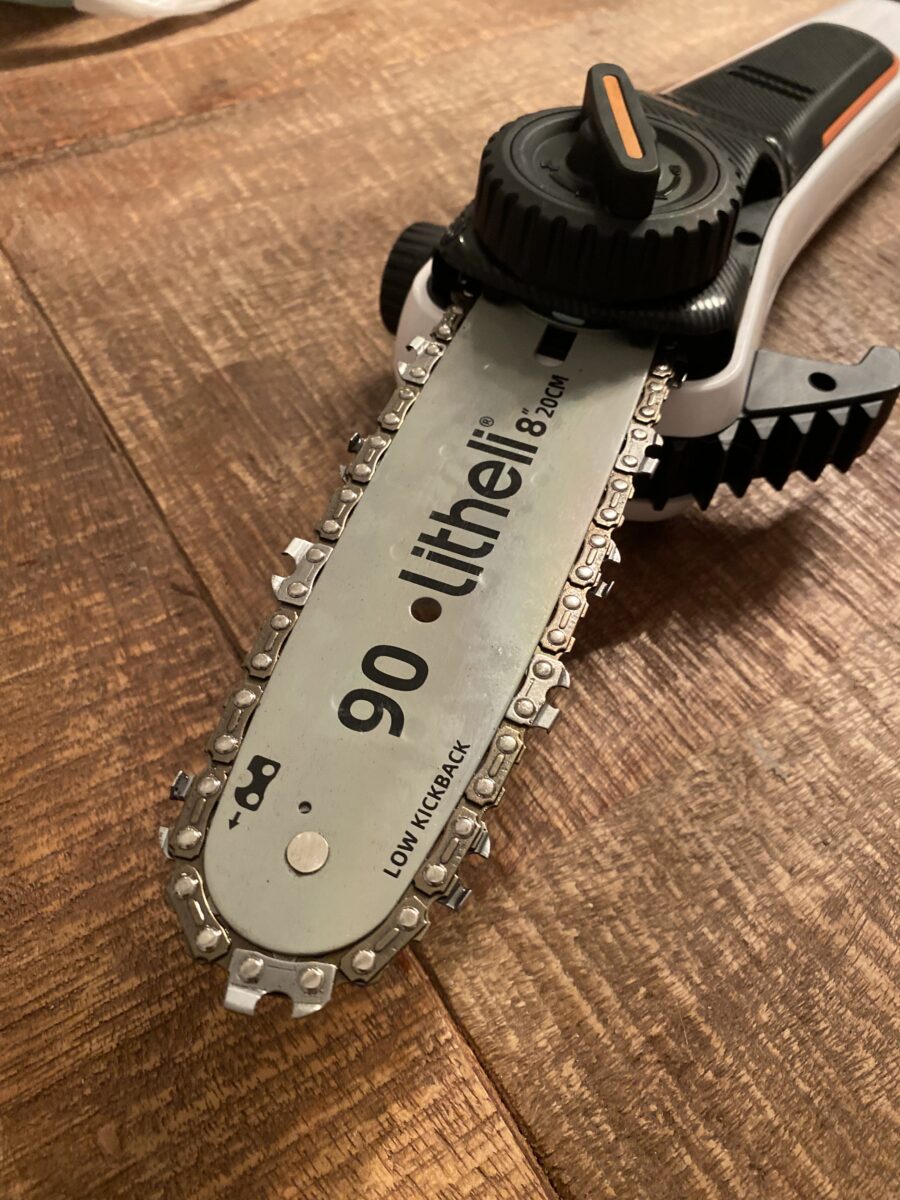 My Litheli pole saw finally got some branches that were way too high for me to use with normal pruners. I'm talking branches 10-12 feet tall that were causing an influx of bugs into my bedroom window. 
The best part about this pole saw is that my wife came home while I was using it and I looked super manly. Nice.
How easy it was to use the Litheli U20 Pole Saw
Assembling the Litheli pole saw is easy, turning it on is easy, and chopping up limbs is easy. If you compare this pole saw to other pole saws, it won't have the run time or absolute raw power that a larger 10 to 12 inch pole saw or gas powered pole saw would have.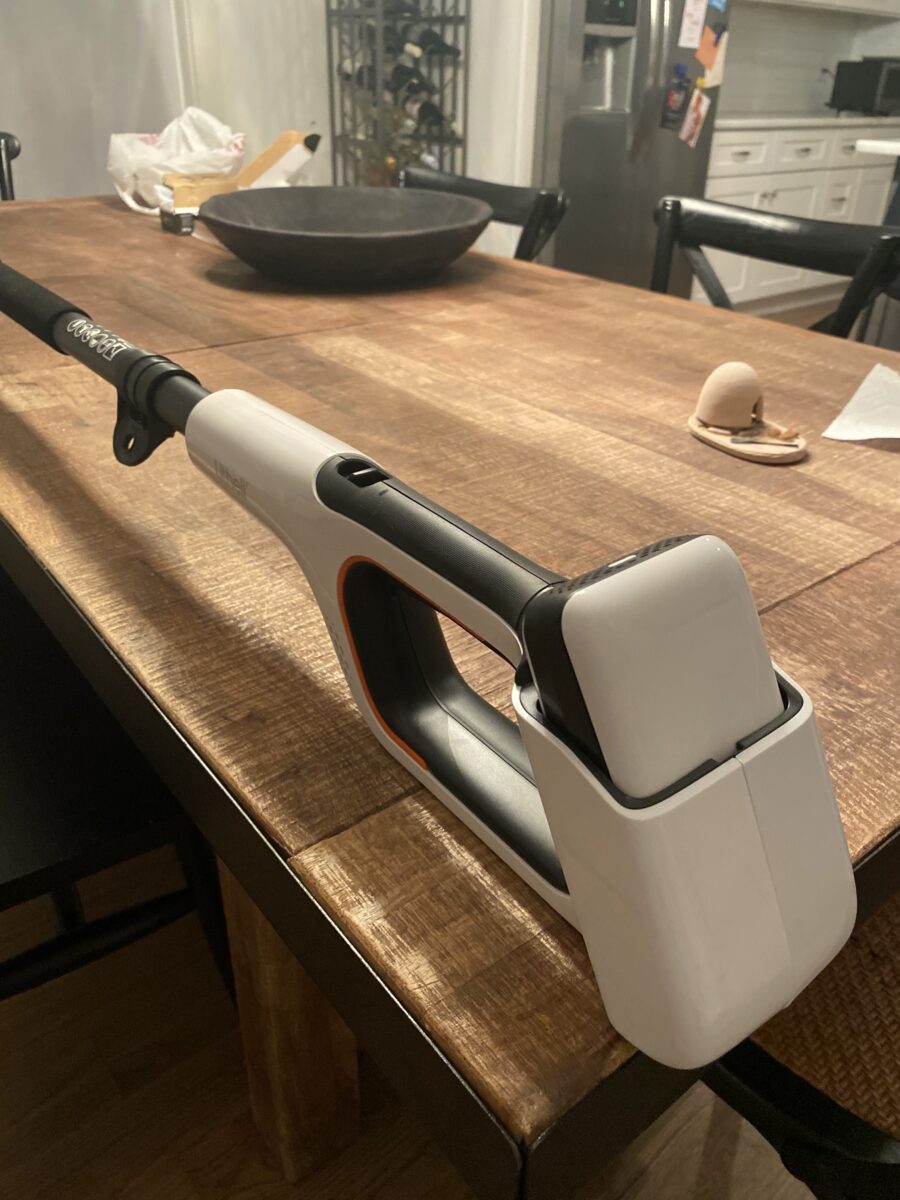 But for a small pole saw with an 8 inch cutting width, I was actually impressed. Yes, I was using it at its sharpest time, fresh out of the box, but I was still impressed to see this pole saw cut through some decently thick limbs with minimal effort on my part.
To be able to simply pop a battery on and take this chainsaw on a stick out to the backyard and get the job done quickly is something I will never take for granted. While this is comparable to just about any other battery-powered pole saw, it is a big step above the gas-powered and even corded electric pole saws.
Overall cost and value of the pole saw
At a bit over $100, this pole saw is about average when it comes to cost. One upside is that Litheli's U20 battery can work with a bunch of other Litheli tools. That is also a downside in that they don't manufacture a ton of them compared to other tool brands like Ryobi.
My final review: Litheli U20 Cordless Pole Saw
To summarize, my experience using the Litheli U20 pole saw was surprisingly good. While I don't think this pole saw is the most powerful, it also isn't the most expensive. It is really easy to use, works wonders for normal homeowners, and is pretty dang affordable given the size of the tool.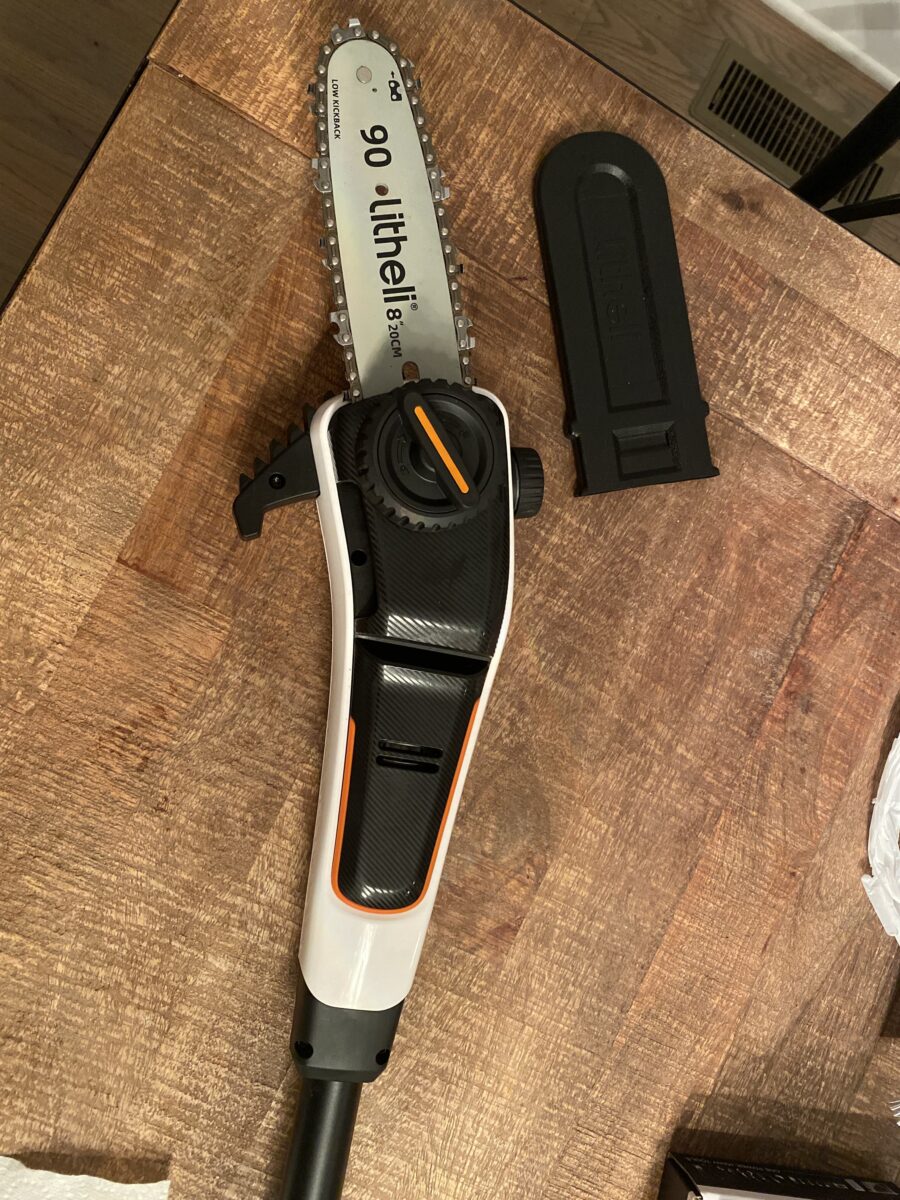 If you want to grab it, you should check it out on Amazon where it seems to regularly go on sale.
My experience using pole saws
I've had the pleasure of using many pole saws in my day after having my mind blown watching my neighbor use one. I've done a few other pole saw reviews that you can check out – if you feel strongly about wanting to see a side-by-side comparison of some of the best pole saws, let me know and I will do a video!
Here are some of my other pole saw reviews:
Why I review lawn tools
The reason we started this website in the first place was because we had so much trouble trying to find reasonable, understandable, honest reviews for lawn equipment. And it's not cheap! After hours and hours of research, trying products and returning them, and messing up our yards – we started this site.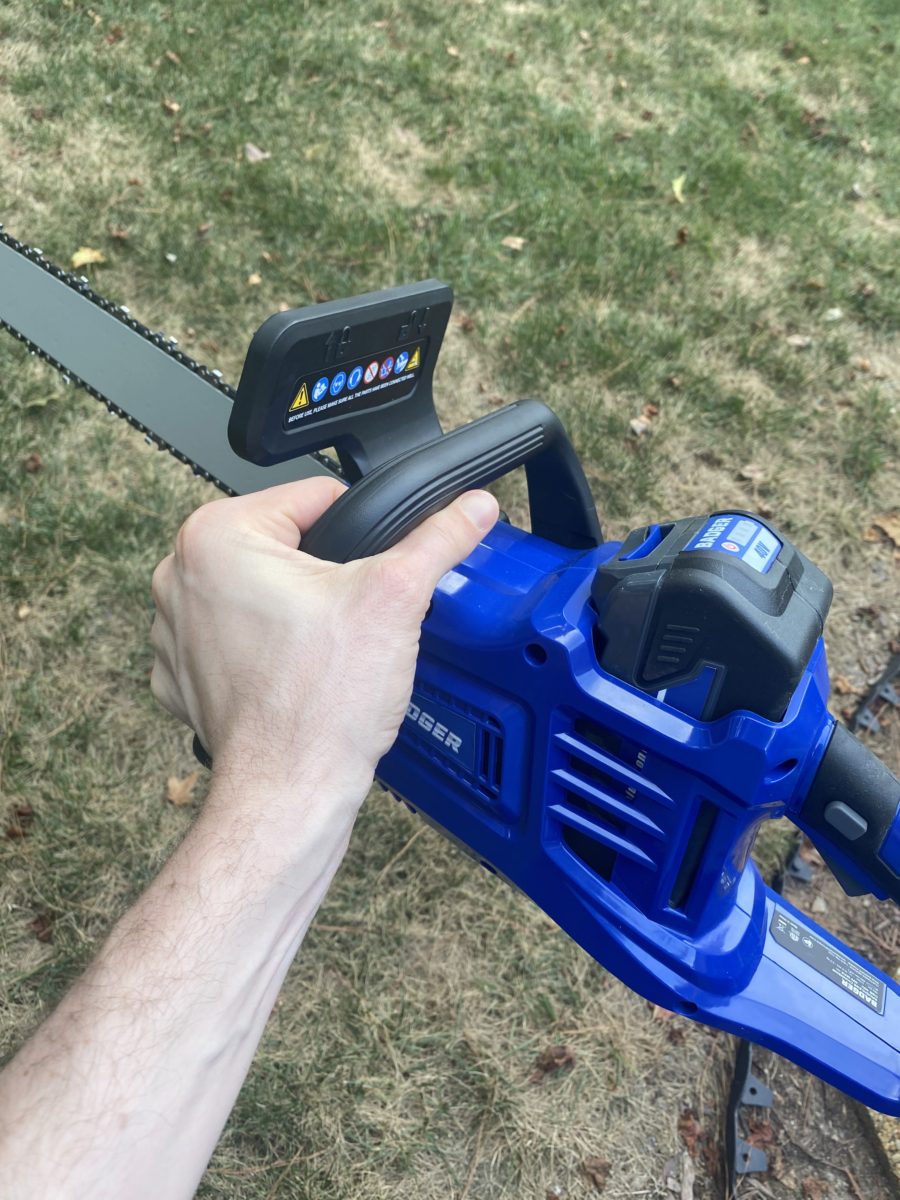 As people who had to learn the hard way, we want you to know exactly what you are signing up for before you purchase a piece of equipment. That's why we are committed to providing honest, easy-to-understand reviews that mean something. 
Check out some of our products on Amazon here!