The Husqvarna Z242f is one of the more affordable residential zero-turn mowers on the market. One thing we know about Husqvarna is their consistent power output and reliability. Let's review the critical components of what you need to know before considering the Husqvarna Z242f for a purchase.
Jump ahead:
Why we review lawn tools
The reason we started this website in the first place was because we had so much trouble trying to find reasonable, understandable, honest reviews for lawn equipment. And it's not cheap! After hours and hours of research, trying products and returning them, and messing up our yards – we started this site.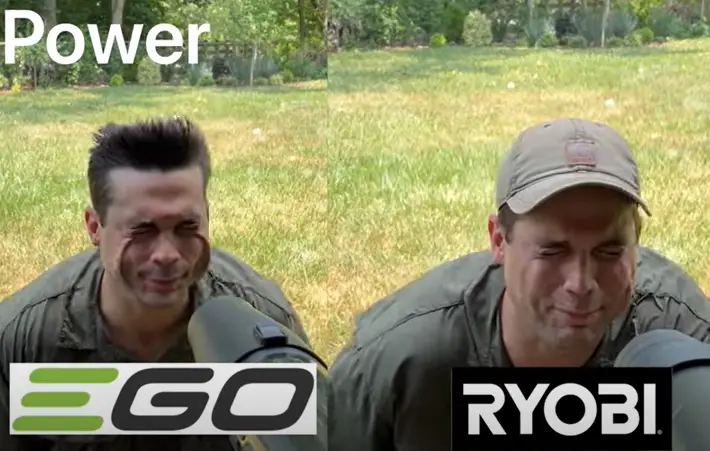 As people who had to learn the hard way, we want you to know exactly what you are signing up for before you purchase a piece of equipment. That's why we are committed to providing honest, easy-to-understand reviews that mean something. Always feel free to leave a comment or request a review using the form you see at the top of this page.
About Husqvarna
Husqvarna is one of the most respected names in lawn care. Not only are they producers of great, high quality lawn care tools for residential property owners, but they also create really great machinery for commercial use in parks, golf courses, and all over construction sites.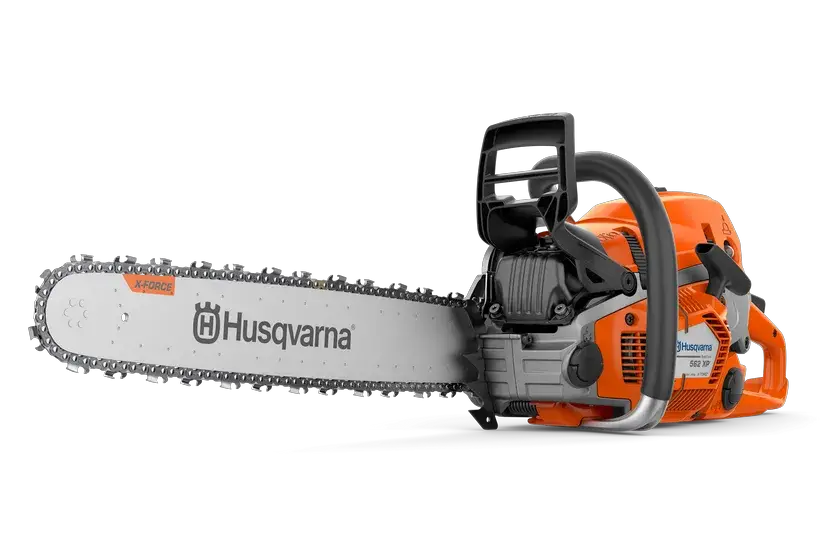 Husqvarna's bread and butter is the heavier, commercial machinery for sure. For example, they don't have a huge presence in the push mower space, but have some absolute units in the zero-turn mower space. Likewise, they produce big boy commercial lawn mowers and chainsaws that you will see clearing forests. 
That being said, you can see how all of Husqvarna's industry experience could lead to them making the best zero-turn mowers for homeowners. 
Zero-turn mowers
A few things to look for in zero-turn mowers are blade size, transmission, accessory capabilities and cost. Blade size is important to keep consistent with the size of your lawn. Obviously longer blades are best for larger lawns, but begin to sacrifice a little bit of the agility afforded by a smaller blade. 
Transmission is also an important consideration for a zero-turn mower. Most zero turn mowers do not have manual transmissions, but have either automatic or hydrostatic transmissions. Automatic works just like an automatic car does with a gas pedal and belts. Hydrostatic transmissions use fluid to transfer their power to the blades and the rest of the engine. I prefer and recommend hydrostatic transmissions because they typically require less maintenance and have a longer life (plus it sounds cooler).
Cost is generally of the utmost importance as well. Zero-turn mowers are expensive. In fact, you can buy an old Honda Civic for less than most zero turn mowers. Expect to spend no less than $3,000 for a zero turn mower. Keep in mind that these will last a long time and save you a ton of weekend time when compared to a riding tractor or push mower. Zero turn mowers are an upfront investment, but reap a huge return over time.
Check out some of our other zero-turn mower reviews by clicking here.
Husqvarna Z242f: Feature review
Alright, now that we have wrapped our heads around ZT mowers and Husqvarna, let's check out this specific mower from the Z200 series of Husqvarna.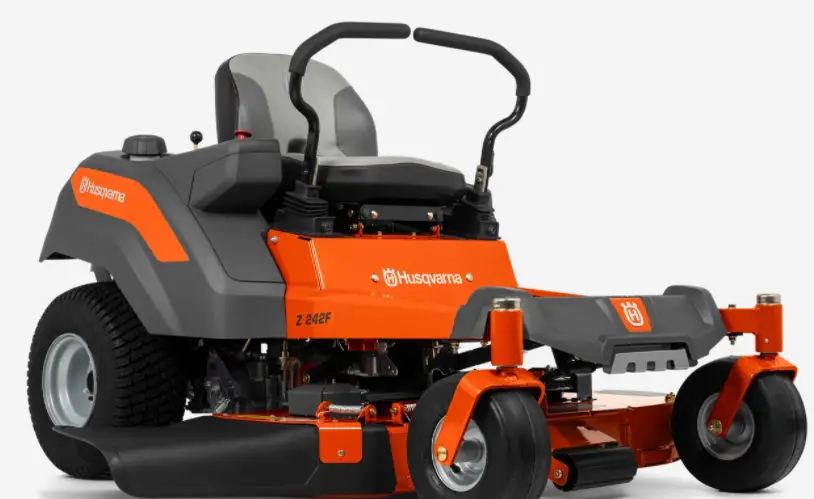 Power
The Husqvarna Z242f packs a punch, no doubt. This mower has an 18hp Kawasaki engine from their FR series (which is where I think the "f" in Z242f) comes from. The Kawaski engine runs up to almost 7 miles per hour and can cover 2.2 acres in an hour. I don't know about you, but that acre/hour statistic is pretty compelling, especially if you are looking to save time on the weekends (who isn't?).
Just about everything you would need for a residential property is covered by this engine. No complaints from a power perspective – this is going to be more than enough to cover a multi-acre parcel of land.
One consideration for this mower, and for the Z200 series as a whole, is what size cutting deck do you need? The Z242f has a 42 inch cutting deck (the 42 in Z242f) that will leave three and a half feet of cut grass behind you. As you think through your land, consider a few things:
How many obstacles do I have to navigate? 
The more obstacles you have, the more nimble you will want to be. If you have a ton of trees, flower beds, or other structures, going any higher than a 42 inch deck will require some serious agility.
How much open land do I have?
If you have acres of open land and are making straight pass over straight pass, consider a larger deck than a 42 inch deck. If you go up to a 60 inch deck, you will cut an additional foot and a half with each pass. This foot and a half will add up tremendously after a handful of passes, saving you time. And time is money.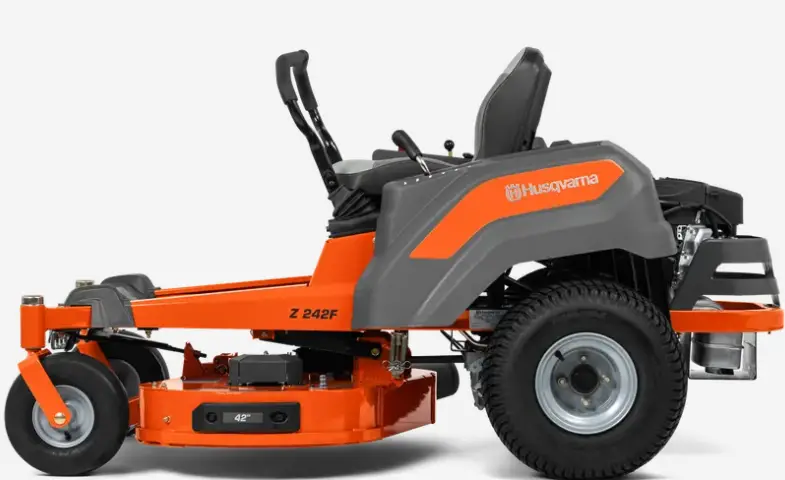 Check out our review of the Z254, which has a 54 inch cutting deck.
Usability of the Husqvarna Z242f
Okay, all the power in the world is totally worthless if it is difficult to use. We have reviewed quite a few Husqvarna zero-turn mowers here at The Lawn Review, but absolutely love the features that come with the Husqvarna Z242f. 
First of all, Husqvarna has a sick automatic park brake system. After you find out what it is, you will wonder why all zero-turn mowers do not have this feature. The park brake system is activated when the steering levers fall to the side (as they naturally do when you let go of them). Yep – it is that simple. No crank you have to crank or anything else that you could forget, and then end up chasing your several thousand dollar mower down the street.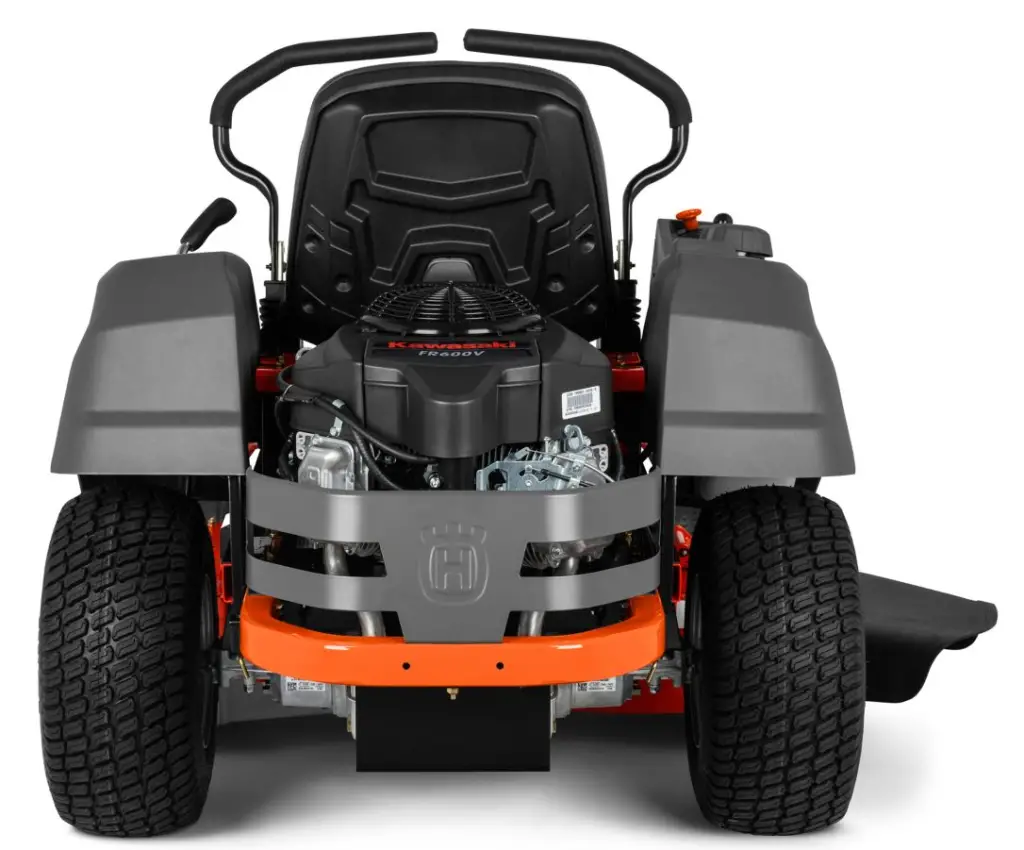 Another great feature of the Husqvarna Z242f is the nice little ergonomic control panel. This has things like an hour meter, choke, speed control, and ignition all in one spot. You would not believe how many manufacturers leave out something simple like an hour meter! 
Husqvarna has also addressed a few of the finer things in life, like a comfortable seat. Yes, a comfortable seat. This does have a downside of no arm rests BUT comes with a cup holder – a total game changer. Armrests are optional and are best suited for those of us with arms. 
Maintenance and durability
The Z242f comes with a hydrostatic transmission, which is an absolute must-have if you own a zero-turn mower. These will help keep your tranny (…) in good shape and tend to last longer than other transmission styles. 
From a maintenance perspective, you will have to do your regular oil changes and air filter changes, both of which are pretty standard and straight forward. Again, this is when the hour meter comes in handy so that you can freaking track when this needs to get done. Even better, it already has programmed service intervals that will remind you when this stuff needs to get done.
To top it off, as with most of their products Husqvarna offers a three year warranty for residential users. See below for reviews from their website:
Husqvarna Z242f price and value
Almost spit out my coffee when I checked the price on this bad boy. The Husqvarna Z242f comes in right at $3,000, otherwise known as three racks. 
This is a great price for a residential zero-turn mower. Shoot, there are some lawn tractors we have reviewed that cost this much and those things are not nearly as powerful. 
The official review: Husqvarna Z242f zero turn mower
| | | |
| --- | --- | --- |
| Feature | Husqvarna Z242 | Comparable residential ZT mower |
| Difficulty to use | Slightly above average | Average |
| Durability | Average durability | Average durability |
| Maintenance | Avg. maintenance | Avg. maintenance |
| Value | Very high value | Medium value |
| For lots <10,000 sq. ft | Would not fit | Would not fit |
| For lots <1 acre | Probably overkill but is fun and looks cool | Probably overkill but is fun and looks cool |
| For lots >1 acre | Highly recommended | Highly recommended |