The Sun Joe Electric Garden Tiller slaps (in a good way). 
I'm serious – this thing has some serious power that I was not expecting, especially for an electric tool. 
But I think you will really dig this review (pun absolutely intended). 
(Spoiler: Our pick is the Sun Joe TJ604E Garden Tiller)
(P.S. You are going to need a good extension cord, we recommend this one)
What we will cover:
Why we review lawn tools
The reason we started this website in the first place was because we had so much trouble trying to find reasonable, understandable, honest reviews for lawn equipment. And it's not cheap! After hours and hours of research, trying products and returning them, and messing up our yards – we started this site.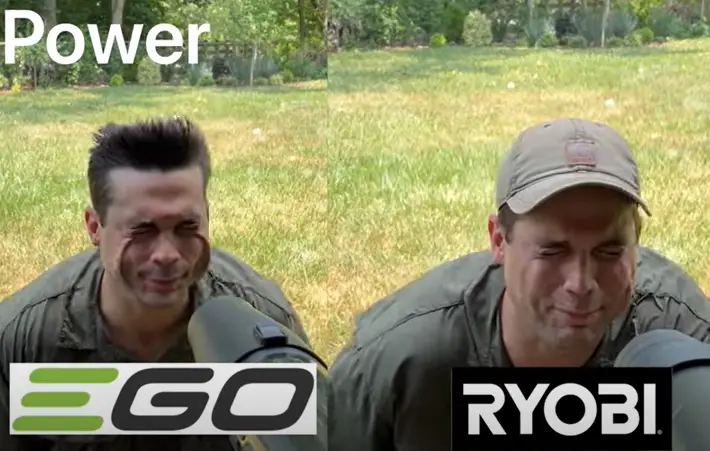 As people who had to learn the hard way, we want you to know exactly what you are signing up for before you purchase a piece of equipment. That's why we are committed to providing honest, easy-to-understand reviews that mean something. 
Sun Joe product reputation
Sun Joe produces electric lawn and home care equipment. They are popular for their Sun Joe dethatcher (you wouldn't believe how satisfying it is), and of course their pressure washer. You may have also seen their pressure washer, the SPX3000, on Amazon as well.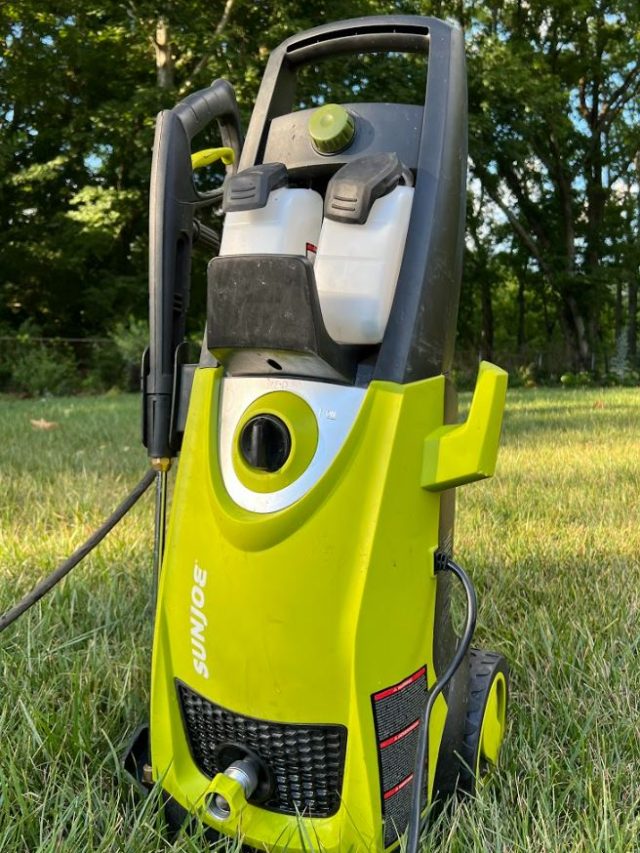 Sun Joe absolutely dominates Amazon. They have found their market niche and it is in not-overly-powerful-electric lawn tools. Pretty narrow niche, but it is realllllly working for them. 
Sun Joe is the summer version of Snow Joe, the original company founded for electric snow removal equipment (like this Cordless Snow Shovel).
What to look for in a garden tiller
Listen, we all know why we till a garden. We want to turn the soil over and get ready for planting szn. 
But what makes a good garden tiller? What makes a good ELECTRIC garden tiller? Should I get a gas or electric garden tiller?
Questions that have been asked since the dawn of man (or woman).
Really it comes down to two things:
Ease of use

Obviously you need something that is easy to use. It doesn't need bells and whistles, it just needs to be able to move in a straight line without breaking your back. It is also important to make sure it is not spinning out and jostling up and down uncontrollably. Garden tillers need to be powerful, yet easily controlled. Otherwise you are just slinging dirt around.

Power

A no brainer. There are very few, if any, things worse on God's green earth than having a weak garden tool. You want the product to actually turn over God's green earth, not just freeze at the surface and not get anything done. 
That's it. Anything else is a nice-to-have, but these two things are the absolute requirements. So let's see how the Sun Joe Garden Tiller(s) stack up.
Sun Joe Electric Garden Tiller and Cultivator: Features
Now that we are looking at this product (presumably on Amazon), let's see how it stacks up. 
Ease of use: Sun Joe Garden Tillers
Sun Joe has five models of Garden Tillers (all in their Sun Joe TJ600 line). I'll actually rank these in order of ease of use for you.
5. Sun Joe TJ602E Garden Tiller
This is the middle-weight of the group. The middle child, if you will, because it seeks attention. It has a handle that differs from the other Sun Joe Garden Tillers. 
This is unfortunately what ranks it at the bottom. The handlebars on this Tiller are horizontal, and not parallel to the motor. This makes handling it and digging the garden tiller into the ground very difficult. 

4.  Sun Joe TJ600E Garden Tiller
This garden tiller barely made it past the last spot, but ultimately jumped the TJ602E. Their base model, the weakest, smallest and cheapest, does not have a wheel. 
The other tillers all have a wheel in the middle to help guide it. The Sun Joe TJ600E does not, so any depth you want to reach needs to be done by your gut instinct. Same with steering in a straight line. 
Just make sure not to have any drinks before you start.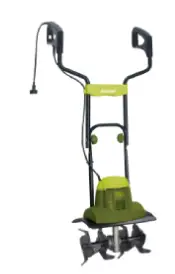 3. Sun Joe TJ601E Garden Tiller
The second smallest in the Sun Joe Garden Tiller line, it actually has decent wheel adjustments, with 7 positions. Might not be needed, but wow. 
This one is also relatively weak, albeit a step up from both the TJ600E and the TJ602E when it comes to usability. It also has 6 blades, beating out the others as well. It cannot hold a candle to the other two, though.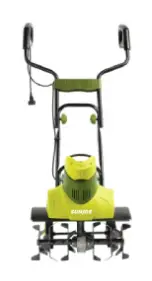 2. Sun Joe TJ603E Garden Tiller and Cultivator
Now we are talking. This one has great handle width, in line with where you would have the most force applied directly downwards. It also has the most power, which makes steering actually easier once it digs into the dirt.
It also has six steel tilling blades and a 16 inch cultivating width. This thing means business.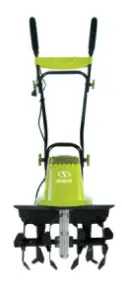 Top Pick: Sun Joe TJ604E Garden Tiller
I can't not pick this one. It has all of the things you are looking for, and appears identical to the one above. It does have a slightly more powerful motor, which allows for more direction when digging.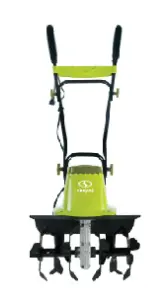 One caveat is that ALL of these products have Instant Start capability (aka push-to-start) as long as they are plugged in. 
They also all come with a folding handle, making storage much more simple. 
Comparing Power Among Sun Joe Tillers
When it comes to power, there are three things that are important to look at. The Amps of the motor and the cultivating width and depth.
Obviously more Amps mean more power output from the electric motor. cultivating width means how wide of a lane you are tilling and cultivating depth means how deep you can go when tilling. 
That being said, I'm going to break it down real easy for you in the table below. Again, ranked from least powerful to most powerful. 
| | | | | | |
| --- | --- | --- | --- | --- | --- |
| Category | Sun Joe TJ600E | Sun Joe TJ602E | Sun Joe TJ601E | Sun Joe TJ603E | Sun Joe TJ604E |
| Amps | 6.5 A | 9 A | 8 A | 12 A | 13.5 A |
| Cultivating width | 14 in. | 18 in. | 12 in. | 16 in. | 16 in. |
| Cultivating Depth | 7 in | 7 in | 8 in  | 8 in | 8 in |
| Power Ranking | 5 | 4 | 3 | 2 | 1 |
As you can see from the table, cultivating depth is pretty consistent among tillers. Cultivating width varies widely (pun intended yet again). Power output also can range by over 2x. 
Cost comparison: Sun Joe Electric Garden Tillers
If none of those numbers in the power table made sense to you, don't fret. I know something that will definitely make cents (I am on fire with puns today). 
Of course, I am talking dollars. These tend to speak the loudest. So I will qualitatively rank these by power and ease of use, while providing a link to the current cost on Amazon – which changes all the time.
We receive affiliate income from Amazon, so if you make a purchase after clicking the link, we make a small amount of commission (consider it a tip!). 
Let's go:
| | | | | | |
| --- | --- | --- | --- | --- | --- |
| Category | Sun Joe TJ600E | Sun Joe TJ602E | Sun Joe TJ601E | Sun Joe TJ603E | Sun Joe TJ604E |
| Power | Least powerful | Pretty powerful | Not very powerful | Second most powerful | Most powerful |
| Ease of Use | Difficult | Very easy | Easy | Second easiest. | Easiest |
| Cost | Check price | Check price | Check price | Check price | Check price |
So which Sun Joe Electric Garden Tiller would you get for your garden?
Honestly, I am a sucker for power. The price on all of these is actually not bad at all either, even for the biggest and baddest.
If I am going to till my garden, I want to do it the right way, do it quickly, and move on to the next task.
For that reason, we at The Lawn Review would have to pick the Sun Joe TJ604E Garden Tiller.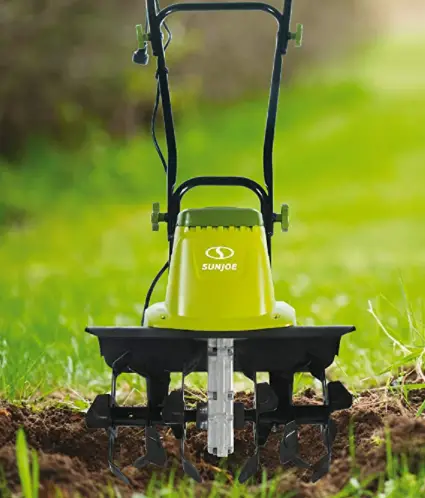 Right now it is 20% off on Amazon, but can also be found in person at Home Depot and Lowes.
Check to see if the sale is still going on by following this link.