The Greenworks 40V 8-inch cordless pole saw is one of the coolest tools I've had the pleasure of using. If you have never used a pole saw, I have two recommendations: use one as soon as possible because they are awesome and get this Greenworks pole saw because it is so easy to use. 
Let's get started reviewing this pole saw so that you can get off your computer and start sawing stuff with a pole. 
Why we review lawn tools
The reason we started this website in the first place was because we had so much trouble trying to find reasonable, understandable, honest reviews for lawn equipment. And it's not cheap! After hours and hours of research, trying products and returning them, and messing up our yards – we started this site. 
As people who had to learn the hard way, we want you to know exactly what you are signing up for before you purchase a piece of equipment. That's why we are committed to providing honest, easy-to-understand reviews that mean something.
Greenworks products
Greenworks makes some of the best battery-powered and electric lawn tools on the planet. A few reasons why I am extremely bullish on this brand taking over the market:
Quality

Greenworks has some of the highest quality battery-powered tools on the market. I attribute this mostly to their focus. Whereas some other brands (cough cough *Ryobi*) make a million products, Greenworks is focused on high quality tools. Although they have a smaller selection, the engineering and lasting life on each of these are worth it. They have awesome lawn mowers, pressure washers, and more.

Power

Greenworks products are generally high power. For example, they have a leaf blower that is just as strong as most backpack blowers. They also have some really nice lawn mowers that can easily replace any gas-powered push mower as well. 

Looks

Greenworks products have the best looks of all battery-powered tools, hands-down. Most of their products are all-black, with a darker neon green accent. Much less gimmicky and plastic. 
What should I look for in a cordless pole saw?
When purchasing a cordless pole saw, there are a few items you need to check before getting started. Below is a guide to help you figure out what to look for in a cordless pole saw.
Pole length

This might seem like an obvious answer, but you want to make sure you can find a pole saw that extends to the desired length before buying. The last place you want to be is on top of a ladder while extending out a dangerous piece of equipment. Get a pole saw that extends to the right height while allowing you to keep both feet safely on the ground.

Saw length

Another way to put this is how big of a job do you have? The bigger the branch, the bigger the saw you will want. Large saws also have drawbacks, particularly the fact that they are harder to navigate and are heavier. If you just want to do some basic saw work, then you will be just fine with a smaller saw length (about 8 to 10 inches).

Comfort and ease of use

This is everything. There are fewer jobs that have potential for horrible things to happen than a pole saw. Just ask my dad who spent a few weeks with a pirate patch. Make sure the pole saw has comfortable grips and an intuitive use before buying. This doesn't mean you need to try it out in person – it just needs to have a design that makes sense.
Greenworks 40V 8-inch Cordless Pole Saw (20672) Feature review
Let me start off by saying the Greenworks 40V 8-inch Cordless Pole Saw (20672) is a beast. I would recommend it to just about anyone. That being said, it may not be the perfect fit for you. Check out each of the features and how they align with your needs. Let's get started!
Saw length and power
Pole length and power on the Greenworks 40V pole saw are relatively synonymous. While the battery delivers 2 Ah of power, the length is really the biggest driver of power.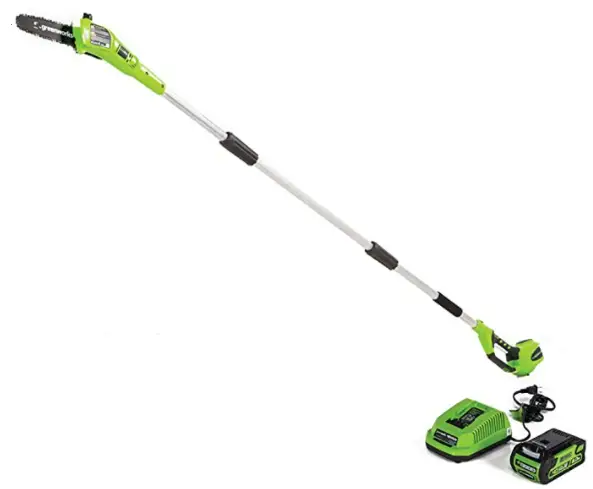 Think about it: when you are using a manual hand-saw or even a bread knife, what makes the biggest impact? It is all about using long, consistent strokes over a specific area. This goes with just about any similar action: filing nails, grating cheese, etc..
This power will be enough to break through most backyard limbs and branches without a concern. While you may not be knocking down sequoias, you will  have just about all the power you need for residential jobs. 

8 inches is definitely on the smaller side, but has its advantages. One advantage of a smaller pole saw is that it allows you to be much more nimble. There is nothing more frustrating than getting the saw to the point in the tree that you want, only to be unable to fit it into a tight spot. An 8 inch pole saw allows you to do that.  
Pole length
No jokes allowed. Pole length is another super important feature. The worst case scenario is trying to reach up to a spot and have it be just out of reach. With a chainsaw on a stick, the situation can get super hairy. Avoid ladders, uneven ground, or anything else that could disrupt your stability.
The pole length on the Greenwork 40V pole saw can extend all the way out to 11 feet. I don't know about you, but that is pretty darn good. With the way my vision is going, that's probably as far as I can see anyways.
Having an extendable pole (main feature of the Greenworks 40V pole saw) will allow you to reach new places, have a safer cutting experience, and get the job done higher up the tree than most competitors.
Comfort and ease of use
Comfort and ease of use are the big differentiators when it comes to a pole saw. You can have the most powerful pole saw on the planet, but if it is hard to use or uncomfortable, it is barely worth the scrap metal. 
The Greenworks 40V 8-inch pole saw has a custom molded grip at the trigger point. This makes sure that you have a solid grip on the power delivery control at all times. It also has intuitive grips where you twist to extend out the pole.
Another thing I love about the Greenworks 40V pole saw is that it has an instant electric start. Nothing more annoying than having to crank on the gas pole saws 10-20 times. This one is super easy to use.
Alternatives
The Greenworks 40V cordless pole saw definitely has some good competitors. Worx has another pole saw that is pretty darn great, too. When it comes down to it, I love Greenworks' commitment to quality and focus. They don't miss when it comes to yard equipment.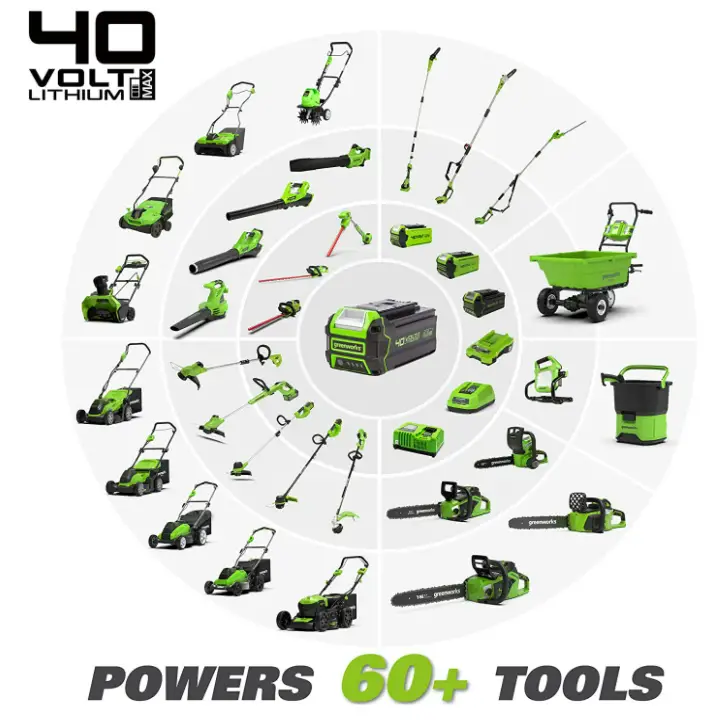 Greenworks 40V cordless pole saw cost
The Greenworks 40V 8-inch Cordless Pole Saw 20672 is on a freaking sale right now on Amazon. It typically lists for $230 but is on sale for a major discount. This is the time of year to grab it, so make sure to get it while it's hot.
The official review: Greenworks 40V 8-inch cordless pole saw
| | | |
| --- | --- | --- |
| Category | Greenworks 40V pole saw | Competitor's pole  saw |
| Power | Average | Average |
| Brand reputation | Above average | Average |
| Comfort | Above average | Average |
Gotta give it to Greenworks here – they just make high quality products. If you are looking for an around-the-house pole saw, look no further.