The Scott's Edgeguard Broadcast Spreader is proof that you can't get those pearly whites without a toothbrush, you can't get that perfect 'doo without a hairbrush, and you can't get that beautiful lush green yard without a broadcast spreader. In all disciplines, there's a product, and equally as important, there's a tool that applies the product. 
When it comes to applying seed, fertilizer, pre-emergent, etc., the broadcast spreader is the cog that makes the wheel turn. It doesn't get the love it deserves – always the bridesmaid and never the bride.  Today, we're going to be talking about the MacDaddy of them all – the Scotts Turf Builder EdgeGuard Spreader. 
This is the piece of equipment that you need before laying down any of the Scott's products that bring your lawn to the next level. Why do we recommend this specific spreader? Have no fear, I'll break it down for you below:
Why we review lawn tools
The reason we started this website in the first place was because we had so much trouble trying to find reasonable, understandable, honest reviews for lawn equipment. And it's not cheap! After hours and hours of research, trying products and returning them, and messing up our yards – we started this site. 
Check out our web story highlighting the benefits of Scott's Turf Builder and how the turf builder works.
As people who had to learn the hard way, we want you to know exactly what you are signing up for before you purchase a piece of equipment. That's why we are committed to providing honest, easy-to-understand reviews that mean something.
Why to fertilize your lawn using a broadcast spreader
Before we dive into the specifics of the Scotts Edgeguard Broadcast Spreader, I want to back up and explain what a spreader is and what makes it crucial for the development of a lush, green lawn. Why do you need a spreader? Honestly, it's all about timesaving and efficiency. Getting an even coating of fertilizer or seed over your lawn by hand is nearly impossible. Of course, you can do it by hand, but it will take MUCH longer, and you will likely end up applying product unevenly.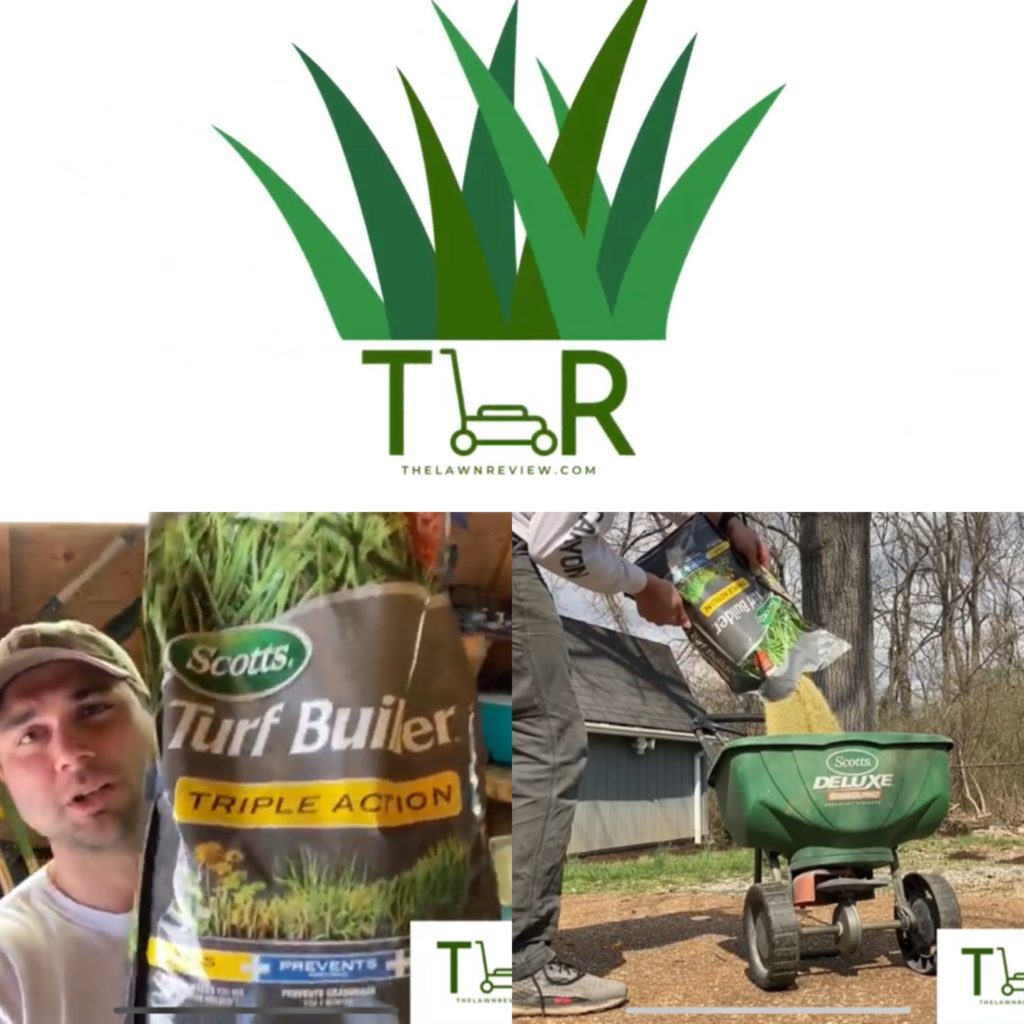 There are two main types of spreaders, and I'll explain the difference in applications below:
Drop Spreader
Drop spreaders are slightly more accurate than broadcast spreaders, as they distribute even rows of fertilizer precisely where you want it (similarly to a lawn mower, if you don't go over a specific area under the spreader, it will not receive product). These are best used for smaller lawns, usually those under 5,000 square feet. Drop spreaders cover a smaller surface area of lawn per pass compared to broadcast spreaders, which means it'll take a bit more time to fertilize your lawn.
Broadcast Spreader
Broadcast spreaders distribute fertilizer in a fan-like pattern in all directions and cover a wider area per pass than drop spreaders. The rate you walk and the spreader's hole size (In Scott's Edgeguard's case, the rate setting knob) impact how much product is distributed. Broadcast spreaders distribute less product toward the edge of its broadcast range.
Some broadcast spreaders, the Scott's Edgeguard in particular, have a side-shield feature that allows you to block off half of the spreader, which is particularly helpful for applying product around the perimeter of your lawn and avoiding driveways, sidewalks, and garden beds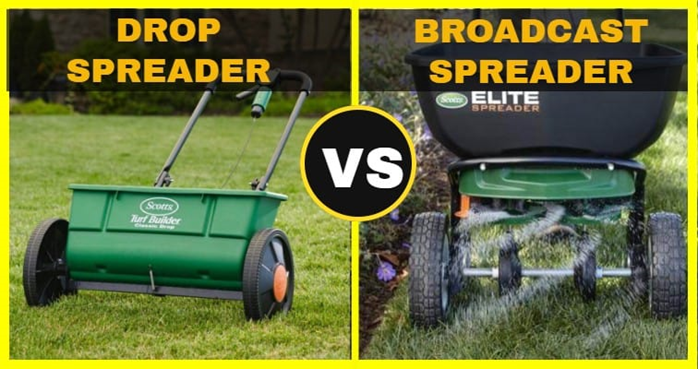 With a broadcast spreader like the Scott's Edgeguard, you're able to cover more lawn in a less amount of time. And with the Edgeguard technology that I'll explain below, it has the benefits of both drop spreader and broadcast spreader.
We've done a full breakdown of drop spreaders vs broadcast spreaders here.
Breaking down the Scott's EdgeGuard Broadcast Spreader
Let's get started with our breakdown of this beast.
EdgeGuard Technology
In my opinion, the most useful feature on this broadcast spreader is right in the name. The tool comes with Scott's patented EdgeGuard® technology which is designed to keep product where it belongs and away from landscaping, driveways, and sidewalks. This allows you to have the accuracy of a drop spreader, but with the reach and coverage of a broadcast spreader. The best of both worlds!
Look at the Edgeguard as a knight in shining armor, protecting your beds from receiving unwanted fescue seeds (far and away the best type of grass, IMHO) from your beautiful flower beds. The flap that controls your spreading circumference is able to be slid back and forth depending on your need. Seeding right next to a bed? Move that sucker to the halfway position, and you won't see any seed thrown to the right-hand side of the spreader. In the middle of your yard? Open that sucker up and let the seed spray!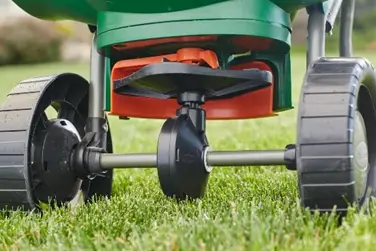 Rate Setting on the Scott's EdgeGuard
Possibly my favorite feature on this piece of equipment is the intuitive rate setting knob. 
The Scotts Edgeguard has 14 setting levels for how much you want to disburse and exactly where you want to throw it. This prevents burning or overseeding your lawn. The best thing about it is, when you buy a Scotts product, whether that be fertilizer, seed, or pre emergent, it tells you exactly what setting to use on your broadcast spreader. I know in my case; I always tend to lean on the side of overseeding.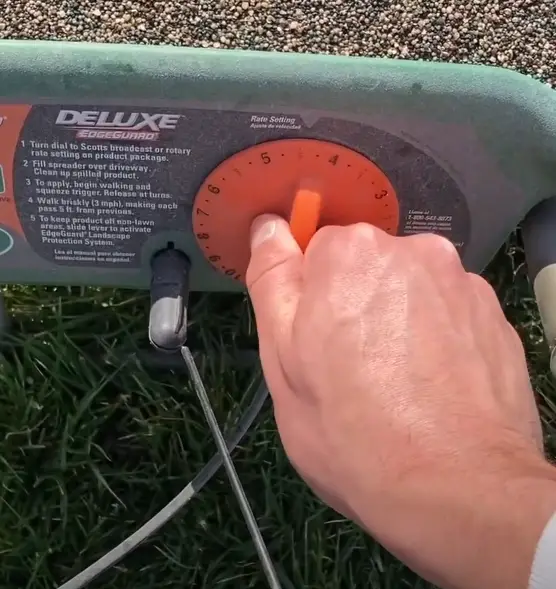 This feature, paired with the setting recommendation on the Scott's products, completely removes the guesswork from the process – saving time AND money.
Scott's Broadcast Spreader Yard Size
In the broadcast spread game, let's face it: size matters. The Edgeguard certainly doesn't struggle with that. This thing holds enough product to cover 15,000 square feet. Unless you live at the Biltmore, that's plenty of capacity for more than 99.9% of residual properties.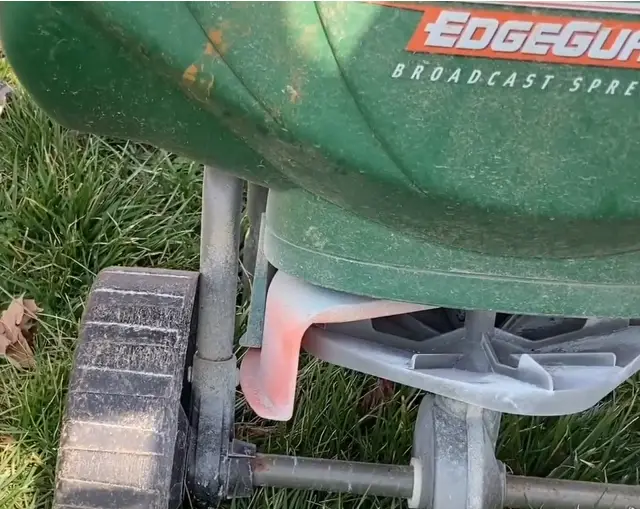 Nothing worse when spreading seed than running out of product mid-yard and forgetting exactly where you left off after refilling. It's also very compact, making it easy to store in your garage or crawlspace during the off-season.
Scott's EdgeGuard Broadcast Spreader Cost
You might be asking – a tool this useful, that saves me THIS much time and money, must cost a fortune. Well brother, you are in luck. The Scott's Edgeguard Broadcast Spreader comes out at a measly $64 on Amazon. Additionally, this product literally pays for itself in less than a year.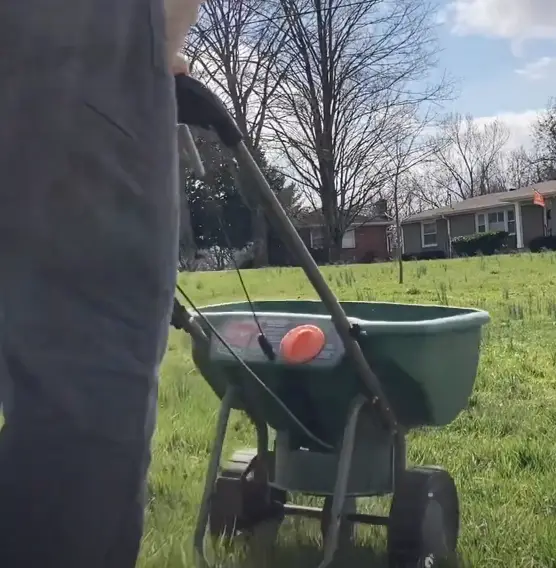 With how expensive seed and fertilizer have gotten over the past decade, this product allows you to throw down exactly as much as you need for your yard, removing the issue of lost product in beds and ancillary areas.
Our final thoughts
To my point in the introduction, if you're going to go through the trouble of applying product to your lawn, whether that be seed, fertilizer, pre-emergent, herbicide, etc., a broadcast spreader is vital to the process. It the cog that makes the wheel go around.
If you are going to grab the Scott's Turf Builder (check out our review here), then you'll want this product.
If you're in the market for a spreader, the Scotts Edgeguard Broadcast Spreader is going to be the best bang for your buck, and has some incredible features and benefits that simplify the process and take the guess work out of the game.
Grab one from Home Depot today to get your lawn back to green.