The Husqvarna 125B is a light, easy-to-use leaf blower offered by the folks at Husqvarna. While Husqvarna is known for their mega-powerful backpack blowers, zero-turn mowers, and trimmers – the 125B is showing off their softer side.
Handheld blowers are not for plots of land with a ton of acres. They are for normal residential folks like you and me who want to clean off their back porch or driveway. While seemingly unassuming, the 125B still packs a punch and comes with all of the great features you would expect in a Husqvarna blower. 
Let's check it out:
Why we review lawn tools
The reason we started this website in the first place was because we had so much trouble trying to find reasonable, understandable, honest reviews for lawn equipment. And it's not cheap! After hours and hours of research, trying products and returning them, and messing up our yards – we started this site.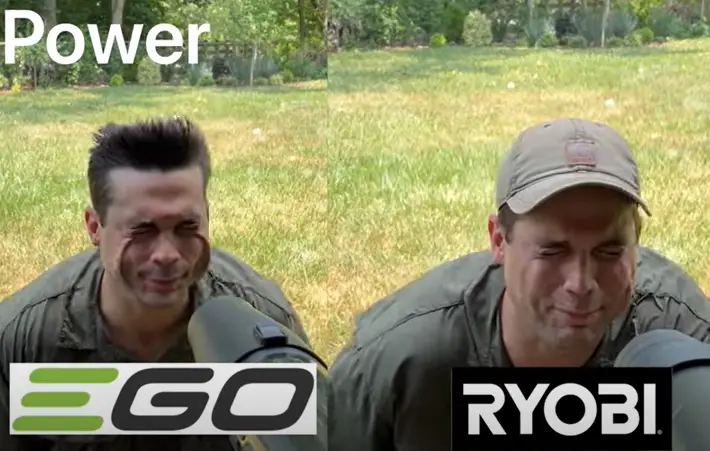 As people who had to learn the hard way, we want you to know exactly what you are signing up for before you purchase a piece of equipment. That's why we are committed to providing honest, easy-to-understand reviews that mean something.
About Husqvarna products
Husqvarna manufactures chainsaws, leaf blowers, lawn mowers, trimmers, snow blowers, edgers, pressure washers – basically any outdoor tool you could imagine. They stand out with their bright-orange color scheme. The chances that you have seen a ton of their products when you are out for a drive are extremely high.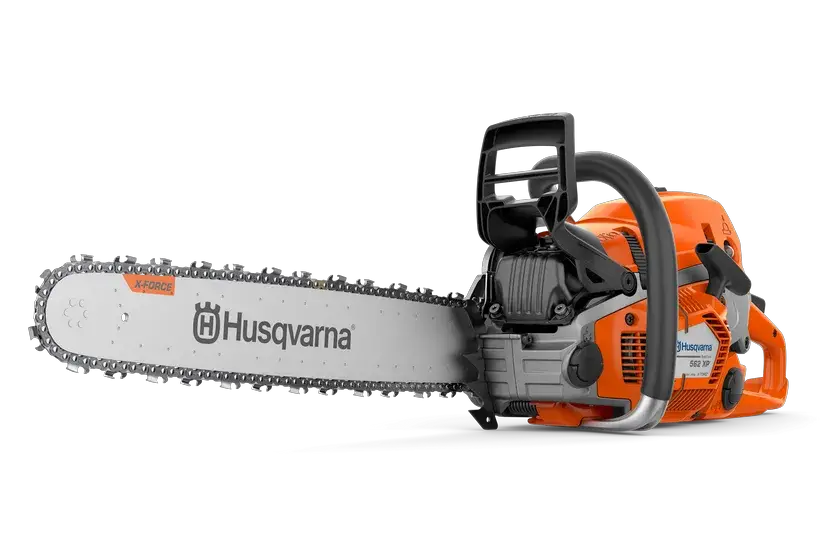 Husqvarna is one of the leading product suppliers for commercial lawn care companies including government and public agencies. Ever wonder how a vast open area at a park gets trimmed? It is likely a Husqvarna product. 
If you are wondering how to pronounce Husqvarna, you have come to the wrong place. But this company's 330 year history started in Sweden by manufacturing muskets. In 1919, they began engineering their first lawnmower engines. Since then, they have become a dominant force in all outdoor equipment. 
Check out more of our Husqvarna reviews by clicking here.
Handheld leaf blowers: electric vs. gas
The Husqvarna 125B is a handheld blower powered by gas. Most handheld blowers have electric power sources, whether they are corded or battery-powered. There are a few main pros and cons when looking at a gas handheld blower:
Pros and cons of handheld gas blower:
PRO: They tend to be more powerful (170 mph)
PRO: They tend to have a longer run-time
PRO: Handheld gas blowers will last many years
PRO: You don't have to worry about charging it
CON: Maintenance and blending oil/gas
CON: Noise levels are higher
CON: Starting takes longer
Pros and cons of electric blowers:
PRO: Super easy to operate, no maintenance
PRO: Generally lighter
PRO: Battery can often be used in other tools
CON: Battery life can run short
CON: Less powerful on average
CON: Corded blowers require long extension cords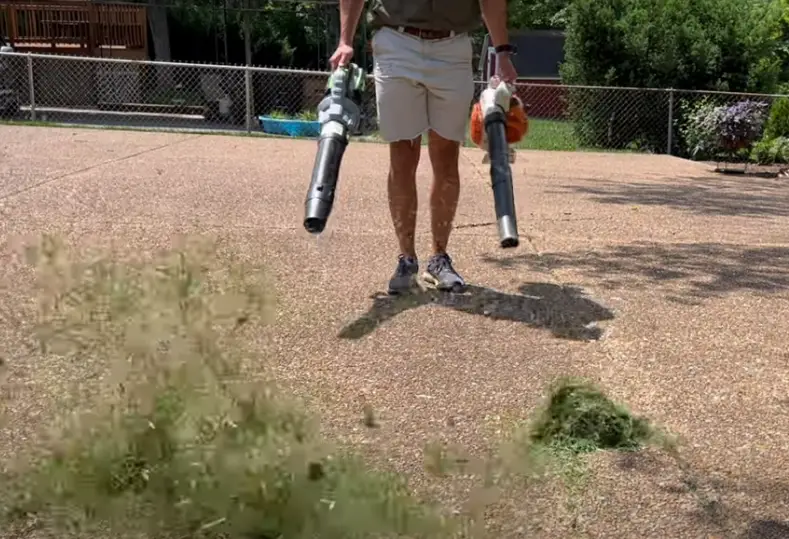 As you can see, there is not really a "better" option, simply whatever you prefer and what your jobs require. 
To check out some of our electric blower reviews, click here.
Husqvarna 125B: Features
There are a lot of things to like about the Husqvarna 125B – let's get started by reviewing the most important things to keep an eye out for when picking a blower that is right for you.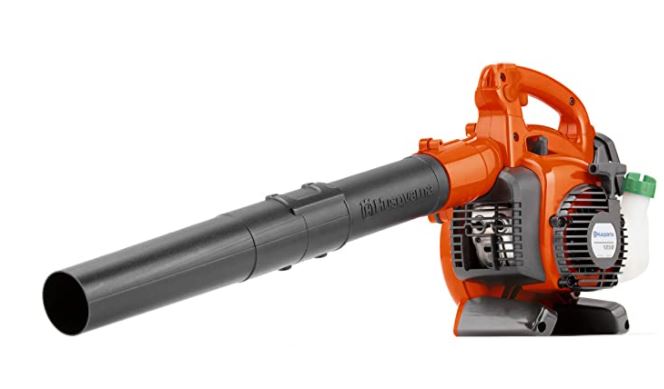 Power
Alright, I know I started this review by knocking handheld blowers a little bit and letting you know that they did not have a ton of power. This lack of power is only in comparison to the big backpack blowers. 
To check out some of our backpack blower reviews, click here.
The Husqvarna 125B still packs a punch. This blower moves air at about 425 cubic feet per minute, or 170 mph with a flat nozzle. Nozzle shape totally impacts the speed at which the air leaves the nozzle. For higher-powered, focused streams, you will want to use something like a flat nozzle attachment. If you are wanting to push a bigger pile and are not as focused, using a round, open nozzle will be better for you. 
For comparison sake, most electric blowers put out around 125 mph of air, so the 125B will still provide more "umph" than you would get otherwise. The narrow nozzle for this blower will be super helpful for knocking away wet leaves and even clearing snow off of your car.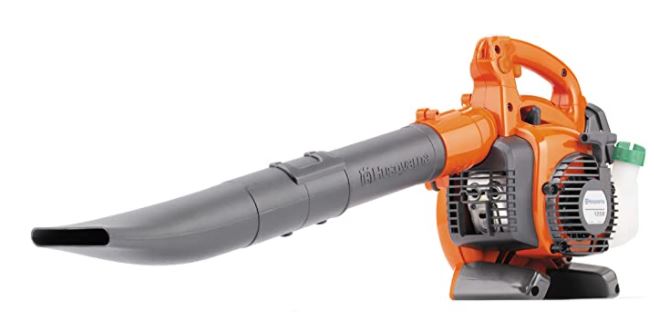 How many cc is a Husqvarna 125B?
The Husqvarna 125B has 28 cubic centimeters of cylinder displacement, or 1.1 horsepower. 
Usability
Obviously there are a lot of things to like about the Husqvarna 125B, but let's break each of those down. For starters, the thing weighs 9.4 lbs – which is extremely light for a blower. You don't have to add on a huge 4 lb battery either, which is a plus. 
Next, the handle has a few key components that make operating this blower easy. The auto return stop switch makes re-starting the blower super easy after you cut it off. There are countless times when I am blowing that I have to cut power and move something out of the way. What traditionally would have re-started the multiple pull-string attempts has been squashed by the auto return stop switch, allowing for a quick pull and being ready to get back to work. 
This blower also features a trigger handle with air speed cruise control. Simply dial the lever to lock in a speed, saving you some finger ache. The tube also has an adjustable length to help get underneath tables and decks, or to back up and cover a wider area.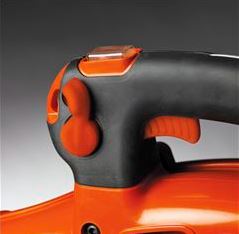 One often overlooked component in a blower is which direction the airflow comes from. Many blowers have an offset airflow, meaning the direction of the air flow is not in line with where the handle is. This makes for an uncomfortable holding position that has the operator using unnecessary force to keep the blower straight. The inline design on the 125B prevents that from happening.
Durability and maintenance
The one thing I love and hate about gas blowers as opposed to electric blowers is the durability and maintenance. They go together – less maintenance, less durability – more maintenance, more durability. 
The 125B does not require an oil change, but does take a mixture of fuel. Otherwise, this blower requires the occasional filter change and that's about it.
Husqvarna 125B fuel mixture
The fuel mixture required on a Husqvarna 125B is 1 gallon of gasoline to 2.5 ounce of two-stroke oil, or 2% (1:50). 
Husqvarna 125B price and value
The Husqvarna 125B leaf blower costs about $170 on Amazon. I think this is a very high value. In fact, this is less expensive than most electric blowers but provides more power, will last longer, and has the trusted guarantee of a Husqvarna product.
To see how this price stacks up, check out our lawn equipment cost guide.
The official review: Husqvarna 125B
| | | |
| --- | --- | --- |
| Feature | Husqvarna 125B | Electric blower |
| Difficulty to use | More difficult to start and store | Easier to start |
| Durability | Much more durable | Avg. durability |
| Maintenance | Average maintenance | No maintenance |
| Value | High value | Low to medium value |
| For lots <10,000 sq. ft | Highly recommended | Highly recommended |
| For lots <1 acre | Highly recommended | Less recommended |
| For lots >1 acre | Not recommended | Less recommended |