The WORX WG896 Edger is a beast. We all know the battle takes place in the trenches.
But you need a trench to start with.
So before you go into battle – make a trench.
Or just edge your lawn or whatever it's not that serious.
Today we will cover:
Why we review lawn tools
The reason we started this website in the first place was because we had so much trouble trying to find reasonable, understandable, honest reviews for lawn equipment. And it's not cheap! After hours and hours of research, trying products and returning them, and messing up our yards – we started this site.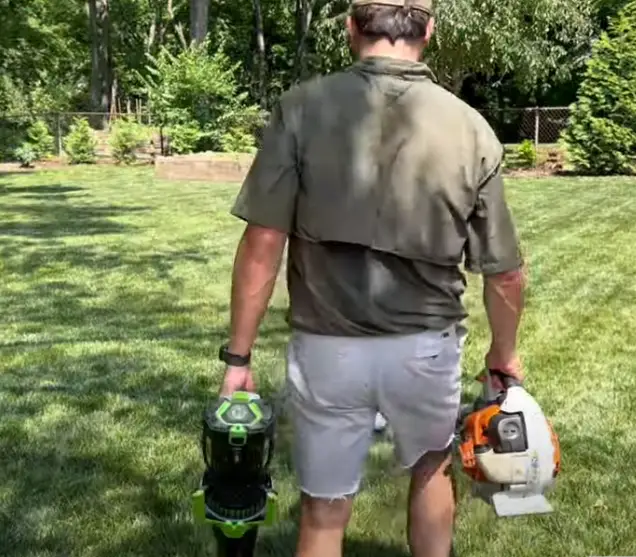 As people who had to learn the hard way, we want you to know exactly what you are signing up for before you purchase a piece of equipment. That's why we are committed to providing honest, easy-to-understand reviews that mean something.
All About WORX products
Worx and their battery-powered equipment are some of the most popular up and coming lawn tools on the planet.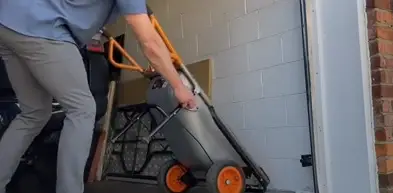 For example, the Worx WG896 12 Amp 7.5in edger has 8,800 reviews on Amazon. An edger. 8,800 people felt strongly enough about it to stop and take time out of their day to write about their electric edger and trencher. A LOT of people are buying this edger – and for a good reason (we will get to that in a minute).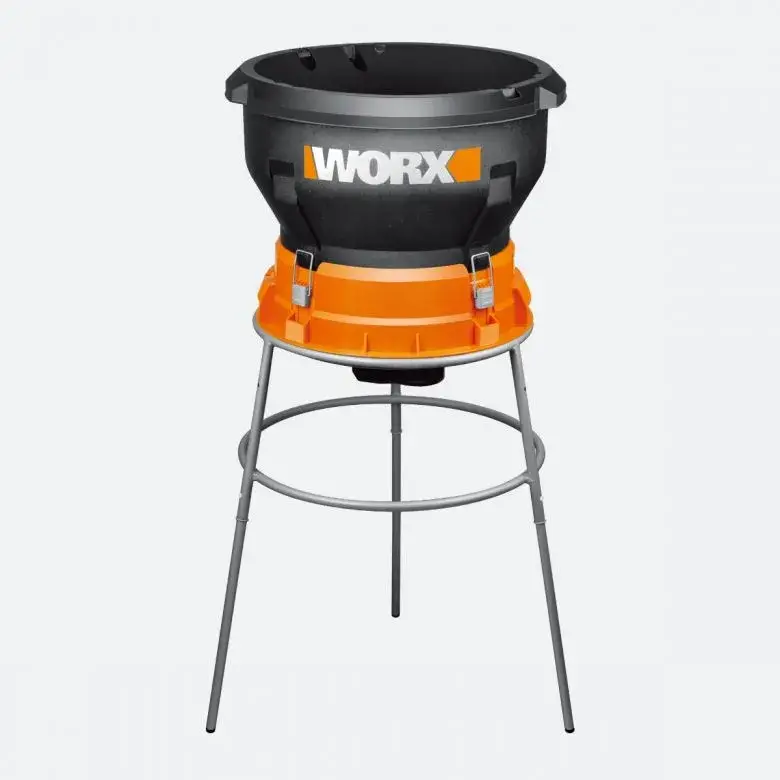 Something that many of you may be scratching your head around is….what is Worx? It isn't quite the household name that Dewalt (hedge trimmer review), John Deere (X350 review), or some of the other big name brands. Worx has quietly been creeping into the marketplace and has found a niche in electric lawn tools. 
WORX also make a cool hydroshot portable pressure washer and some great string trimmers.
What to look for in an electric edger
Let's get something out of the way quickly. This is not the most powerful edger on the market. But it is going to be fine for any residential lawn care and some patience. There are some gas-powered edgers out there that could cut through diamonds, but you don't need all that. 
Here's what you should be focused on:
Ability to stay steady:

You want an edger to provide a consistent, straight line. Otherwise it looks like a drunk person walking. In this case, weight is a good thing if allocated correctly. A heavy front-end where the blade is helps to keep it steady.

Easy to use

Again, this job requires precision, if you are hunched over or have a weird grasp on it, then you might as well turn your mower sideways and try edging that way.
That's really it. Power is what it is, you might have to make an extra pass – but you'll have no problem getting the job done. 
Check out the WORX pole saw when you get a chance. Or watch our video review of the Worx leaf mulcher!
The WORX WG896 Electric Edger: A breakdown
Let's get crackin'.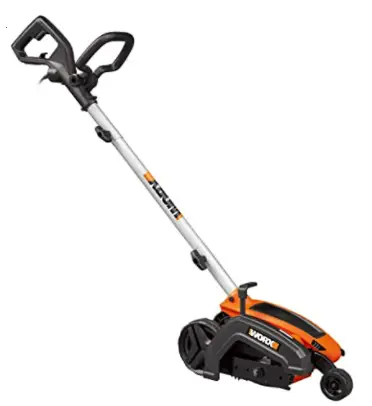 Benefit #1: Steadiness
Steady Eddie finally showed up in the edger world. I've tried to keep it steady with my Ryobi 3-in-1 attachment but every time I use it, it looks like I'm two whiskeys deep.
Here's what makes the difference with the WORX WG896 – it is kinda heavy. It actually brags about being lightweight, which is hilarious because it is like 15 lbs. But against all odds, this heavy front-weight is great. It holds the base down to the ground.
This also has three wheels, two back wheels and one guiding wheel on the front. Three wheels is another huge advantage for keeping it steady – most only have two. This lop-sided tricycle approach keeps you locked into the line you are trying to carve out. 
The last piece of the WORX WG896 that I will comment on is the cutting line indicator. Basically a line that can help guide you as you edge. Again, another nice little addition to the overall goal of steadiness and straightness (?). 
Benefit #2: Easy to use
Another important feature of an edger is the ease of use. This thing has a blade that spins 4,700 times per minute. Not something you want to have difficulty using unless you hate having toes. 
The edger has a number of features that make it easy to use. Let's start with the handle. I'm less concerned with the 3-way adjustable handle that WORX likes to brag about, but the handle that holds the trigger, as this is generally the hand providing the power. This rear handle with the trigger has a nice ergonomic grip in line with the blade.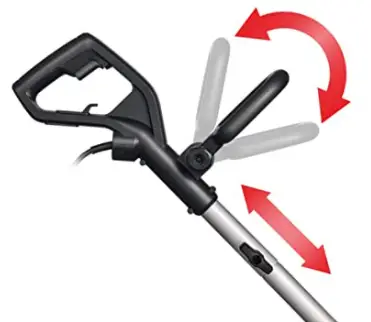 Exactly what you want to see.
Another benefit is that the shaft is adjustable (trying to avoid saying extendable). It can be adjusted to a length that leaves you not hunched over. Important.
The last innovation that this product has is incredibly underrated and not something you see often. 
Critical benefit #3: Extension cord holder
Yep, the unsung hero. A small little piece of plastic on the back of the handle.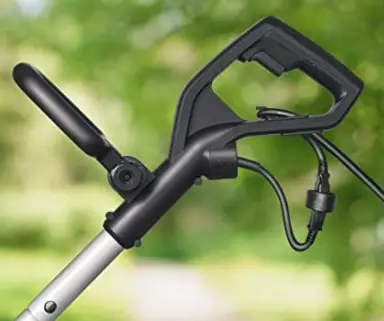 You know the worst part about corded electric tools? When the dang electric cord falls out with the slightest bit of tension. Happens to me all the time with my hedge trimmers and it's why battery powered tools have grown so quickly.
But hope has arrived and you no longer have to worry. The WORX WG896 has crushed this horrible issue by creating a tension breaker from the extension cord. This means you will be using this bad boy without fear that the plug will pop off.
Game changer.
WORX WG896 Edger Cost
The WG896 comes in at a decent price – about $120. 
Right now, it is on sale on Amazon for 20% off. If you're gonna get it, I would get it now from them before inflation gets any worse. 
How to instantly improve your weed eater
Upgrade your weed eating game with the ultimate GrassKicker Weed Eater String! While weed eaters and lawn edgers are great tools, it's not complete without the right string. Our specially crafted line is designed to enhance your weed eater's performance and give you flawless edges around your yard and garden.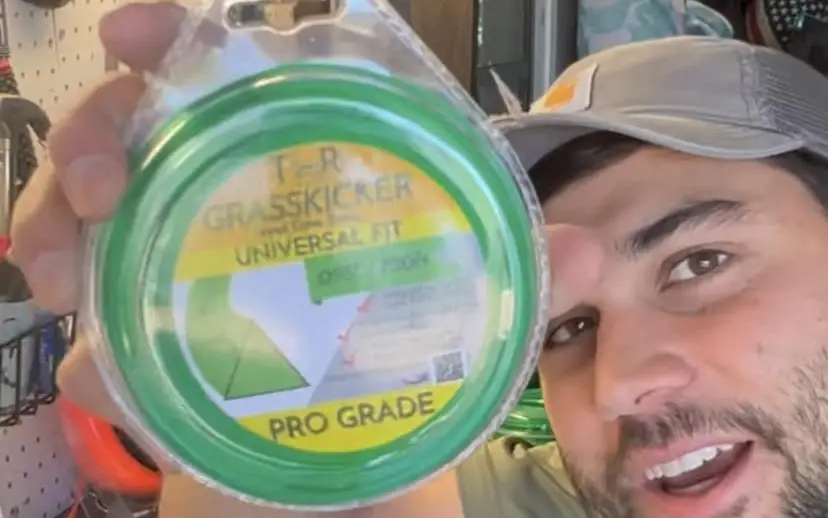 Don't settle for subpar string that breaks easily and leaves ragged edges. Our team has scoured the market and combined the best colors, shapes, thicknesses, and materials to create a superior line that cuts more cleanly and lasts longer.
With GrassKicker, you can take pride in your perfectly manicured lawn and make a lasting impression on your friends and family. And who knows, your envious neighbors might just start dropping by more often! Don't wait, elevate your weed eating game with GrassKicker Weed Eater String today! Click the link now to buy.
Overall review: WORK WG896 Edger
If you don't have an edger and are looking for a decent, hassle-free, get-it-done edger, I would easily take this one. While I am sure you can find more powerful ones out there, the fact that this basically guarantees a clean, straight line is worth its weight in gold.