Ladies and gentlemen, Worx has outdone themselves again with the WORX WG543 LEAFJET blower. Cordless, lightweight, and lovable – this handheld (literally in one hand) blower is wonderful. 
Not all of you are as nerdy as we are when it comes to leaf blowers, but this is simply a cool innovation from the folks over at Worx. We will get to more of it later, but the WG543 has a retractable opening (like the Dallas Cowboys stadium) that allows you to change the speed and size of the air stream.
Before I get carried away, let's summarize our findings:
We spent almost 10 hours reading reviews, technical specifications, and researching competitor's blowers so that you didn't have to. As former frustrated consumers, we created The Lawn Review to cut through the BS and explain things in plain English.
Why we review lawn tools
The reason we started this website in the first place was because we had so much trouble trying to find reasonable, understandable, honest reviews for lawn equipment. And it's not cheap! After hours and hours of research, trying products and returning them, and messing up our yards – we started this site.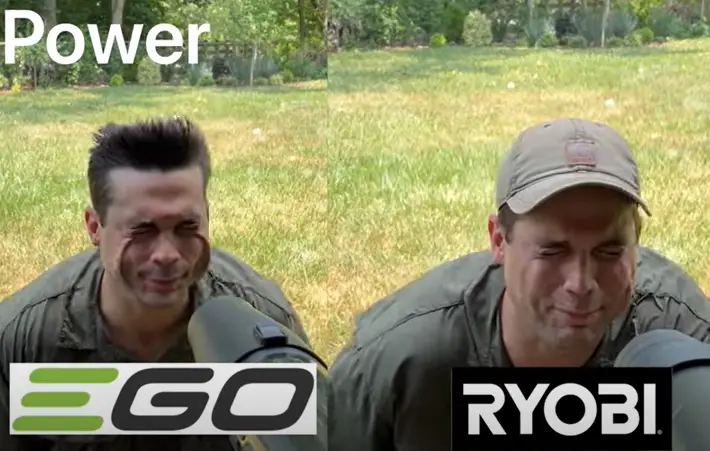 As people who had to learn the hard way, we want you to know exactly what you are signing up for before you purchase a piece of equipment. That's why we are committed to providing honest, easy-to-understand reviews that mean something.
Worx and Innovation
Something that many of you may be scratching your head around is….what is Worx? It isn't quite the household name that Dewalt, John Deere, or some of the other big name brands. Worx has quietly been creeping into the marketplace and has found a niche in electric lawn tools. 
Check out our review of a popular Worx trimmer here.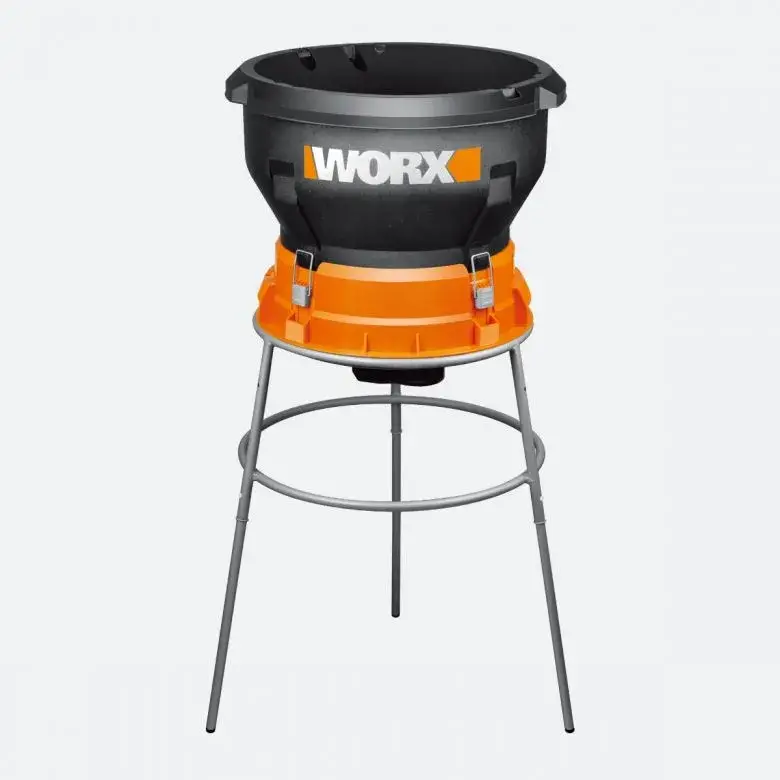 They offer low price, medium-to-high quality products that….work. Worx is super popular on places like Amazon, but also have a presence in some of the big box stores. Worx started off in lawn equipment and took off like a rocket, but are now transitioning into new products. One hallmark of Worx' brand is that of innovation. They continue to push the envelope with the Worx WG543 20V Leafjet blower.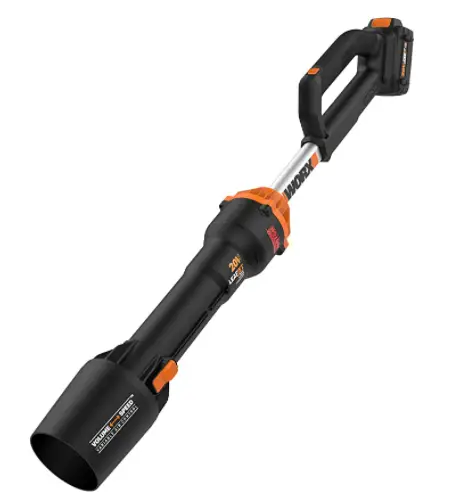 What to look for in a cordless blower
When looking to purchase a cordless blower, there are a few things to take into account. We have listed them below so that you can consider them before you buy this blower, or really any blower.
Power of the blower

Duh – you are going to want the blower to work and actually blow leaves. Cordless blowers aren't known for their power, but have slowly become just as powerful as many gas blowers. Power is measured in CFM (cubic feet per minute) and MPH (miles per hour). With cordless blowers, I really focus only on MPH as the size of the jobs are smaller. Make sure to get a blower with at least 110 MPH of air speed.

Battery interoperability

Fancy way of saying get a tool with a battery that you can use on other tools. Getting a multi-tool battery allows you to declutter your garage and save a ton of money on lawn tools. Most come with tool-only options that come without a battery and are significantly cheaper

Reliability

There are some brands that are basically unheard of and trying to make a buck. They have totally plastic products, no warranty, and some don't even have a website. Avoid these. Brands I recommend are Greenworks, WORX, Sun Joe, Craftsman, Dewalt, Black + Decker, and EGO. 
Worx WG543 LeafJet cordless blower: Features
Now I can finally nerd out. This blower has a lot to like, so let's get started.
Worx WG543 Power
Remember what I said earlier about CFMs and MPH? Yep – let's take that piece of advice here.
What you will find in large, commercial blowers is a really high CFM count but a lower MPH. That's because they have a super wide opening so that they are able to push big piles of leaves across parking lots and other large property. 
The fascinating thing about this blower is that it can kind of do both. It has a retractable head that can either increase the air speed or increase the size of the opening.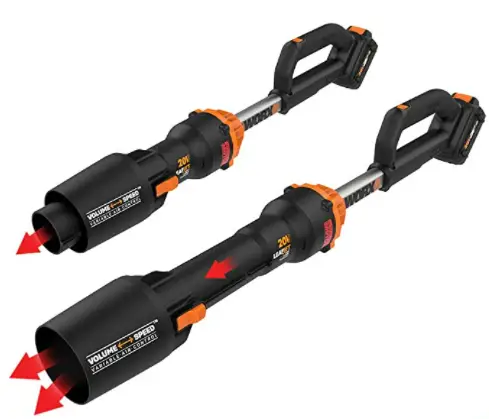 The Worx WG543 has 410 CFM and can blow at about 130 MPH. This is the sweet spot for homeowners with smaller yards. 130 MPH is enough to blow out your garage, driveway, patio, and deck without concern for power. 
Battery life and PowerShare
The Worx WG543 has a 20V battery that is a part of the PowerShare series in Worx. This simply means that the 20V battery can also be used with a ton of other tools. 
A huge plus to this is that you can buy the tool-only version for a much lower price. This also allows you to save shelf space and plug space in your garage or shed for charging the battery. 
Comfort and usability on the LeafJet blower
Usability is everything. I have had some really bad blowers in my day and the thing that always stuck out was how tired it made my shoulder and back while lugging it around. 
Things are different now. The Worx WG543 was designed specifically to be used with one hand. And it only weighs three pounds! For reference, that is about as much as a half-gallon of milk.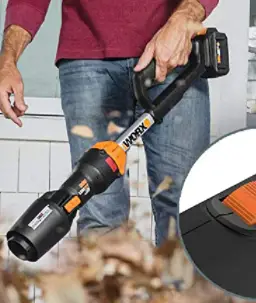 The handle on the WG543 is super usable as well. One overlooked item is the weight distribution, which is right above the handle. The battery will add some weight, but where the battery is positioned will allow for the most control without the battery controlling you. 
Storage
The lightweight, compact design of the Worx LeafJet (WG543) allows for easy storage. It can be hung up on a bike rack or nail in the garage with relative ease. I love battery powered tools because they can hang in one spot throughout the winter and then easily be started back up when Spring comes around.
Worx LeafJet: Where to find the best deal
The Worx WG543 LEAFJET blower is offered for a low price on Amazon. We checked the Worx website as well, but it runs for the same price, if not a little higher over there.
We recommend grabbing the tool-only version on Amazon if you already have batteries.
If  you don't have any Worx 20V or 40V batteries, grab the full kit for about $150 right now on Amazon.
This leaf blower will not only save you time, but it will keep your back and shoulders feeling good so that you can continue to tackle whatever life throws at you.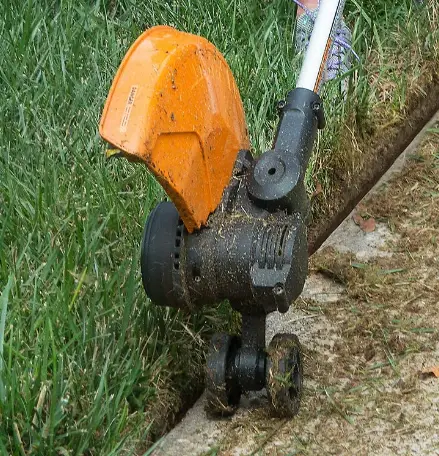 Alternatives to the Worx LeafJet
If I am going with another battery-powered blower that is NOT the Worx LeafJet, I am probably going to go with a Greenworks blower. You can check out some of our favorites in this article.