The WORX WG520 Turbine 600 Electric Leaf Blower not only has an intimidating name, but has unmatched power and usability.
Oh yeah, and the sales to back it up.
The Turbine 600 from WORX is one, if not THE best-selling corded blower.
It is strong AF and super convenient. And it comes at a great price.
There's a reason that this blower has so many 5 star reviews on Amazon.
Let's get started:
Why we review lawn tools
The reason we started this website in the first place was because we had so much trouble trying to find reasonable, understandable, honest reviews for lawn equipment. And it's not cheap! After hours and hours of research, trying products and returning them, and messing up our yards – we started this site.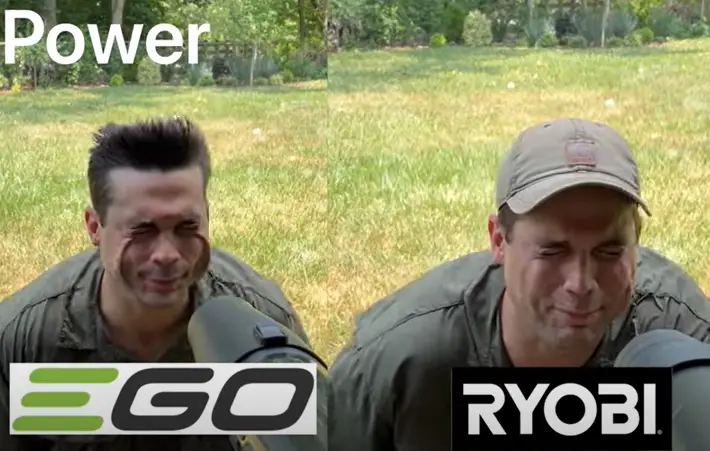 As people who had to learn the hard way, we want you to know exactly what you are signing up for before you purchase a piece of equipment. That's why we are committed to providing honest, easy-to-understand reviews that mean something. 
Worx and Innovation
Something that many of you may be scratching your head around is….what is Worx? It isn't quite the household name that Dewalt, John Deere, or some of the other big name brands. Worx has quietly been creeping into the marketplace and has found a niche in electric lawn tools. 
Check out our review of a popular Worx trimmer here.
They offer low price, medium-to-high quality products that….work. Worx is super popular on places like Amazon, but also have a presence in some of the big box stores. Worx started off in lawn equipment and took off like a rocket, but are now transitioning into new products. One hallmark of Worx' brand is that of innovation.
What to look for in an electric blower
Cordless blowers come in a bunch of shapes and sizes but there are two basic things you need to understand:
CFM – Cubic feet per minute. This is a measure of air output on the blower. Higher CFM = more power, but not necessarily more miles per hour. High CFM with a wide nozzle = lower MPH. High CFM with a narrow nozzle = high miles per hour. Ideally, you want both a high CFM with a narrow to medium nozzle for most residential jobs.
Usability – what is the point of having a blower if it is hard to use? Have to get one that is lightweight, easy to start, and has some functions that make your life easier.
These are two things you need to pay attention to when looking through the specifications. 
WORX WG520 Turbine 600: Features and benefits
Alright, let's get to it. Here we are going to break down the WORX WG520 12 Amp Turbine 600. Corded blowers mean that this requires an extension cord. While this sounds painful, it is actually the easiest and most convenient way of operating a leaf blower.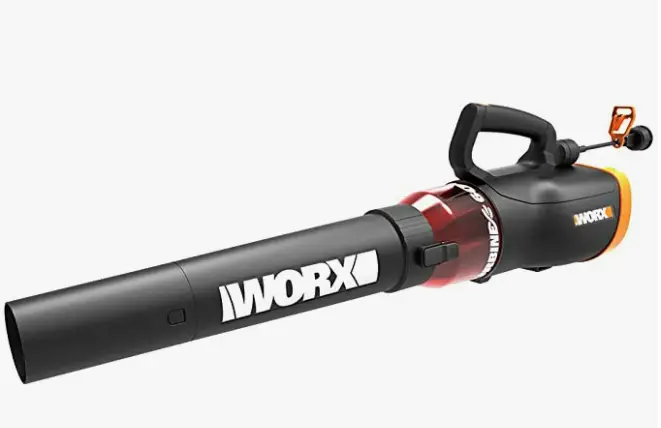 WORX WG520 Power: Let's chat
First thing that pops into your mind when you think of an electric blower? Probably somewhat weak.
WRONG.
The WORX WG520 Turbine 600 is different. You see, it is actually built like a commercial leaf blower used on properties. 
At 600 CFM, this bad boy pushes out air. With an option for either a lower air speed or all the way up to 110 MPH, I can tell you exactly what this blower is best suited for.
Medium to large sized yards. Not tiny yards or small porches with wet leaves stuck on them. Save those for the blowers that have a super high MPH like the Sun Joe 3-in-1 blower, mulcher, vacuum.
Yep, this thing pushes a lot of air, but not necessarily through a jet stream. The Worx WG520 Turbine 600 pushes a wide stream of air that can move big piles of leaves across your backyard. 
The Hyper-Stream Air Nozzle
The Hyper-Stream Air nozzle is a brilliant addition to this blower, allowing it to keep the same power output, but with a much narrower snap-on tip.
What does this mean for you?
It means this blower can do it all. I know I am fangirling right now, but this is such a cool feature I can't help myself. 
This  nozzle is easy to attach and allows for versatility in the blower. Essentially you can do anything with this blower.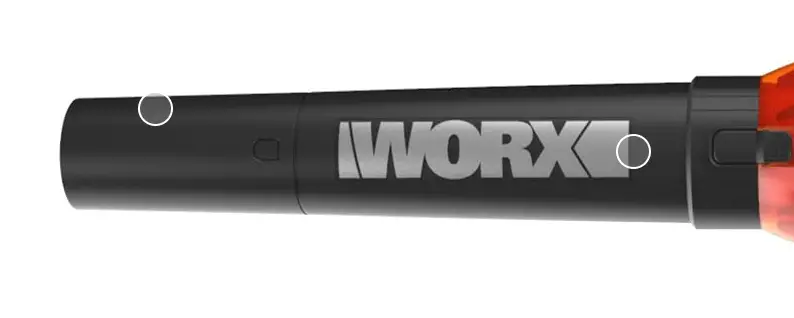 We love this addition and have seen it in other blowers as well – but never to ones this powerful.
WORX WG520 Usability
Again, corded electric blowers sound like a hassle – but WORX knows that and has built some functionality to make it really nice. The WORST part of using a corded lawn tool is that the cord rips away from the back of it and you have to start all over.
The Worx Turbine 600 has an extension cord retainer that stops this from happening. Finally. If I were them, I would patent that sucker and make a killing.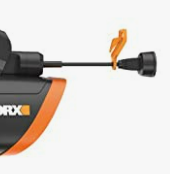 Another benefit to this blower is the weight. While I feel comfortable easily holding and curling a blower that weighs up to 950 lbs, this one is only a little over 6 lbs. 
When I am using this blower, I can let my arm hang without getting a tired shoulder or feeling like my grip is going to slip. It rocks.
Bring the noise
The sound level on this thing is: to be expected. It won't crush your ears without ear protection like a gas blower, but its not as quiet as the Ryobi Brushless Whisper blower, either. 
Gotta keep it honest – probably about as loud as a loud blender. So imagine walking into a Smoothie Shop or something.
Cost and Value
The cost is constantly changing (thanks, Biden!), but you can always go check it on Amazon for reference.
Basically, this thing is dirt cheap. Should be illegal. But its not, so its a really good deal.
WORX Turbine 600 WG520: Candid review
A few things here as we like to be fully transparent at The Lawn Review:
Corded electric blowers are not normally our cup of tea
We like battery powered blowers
BUT – if we had to get a corded blower, we would get this one again
Make sure you get a good extension cord (like this one)
This thing will outlast you
There – it is off our chest.