The WORX WG309 10 inch pole saw is something else. If you are looking for a pole saw and haven't checked out WORX, your life could potentially be changed. We have checked out a few of the battery-powered pole saws in the space and think this may be the best. 
Let's get started:
Why we review lawn tools
The reason we started this website in the first place was because we had so much trouble trying to find reasonable, understandable, honest reviews for lawn equipment. And it's not cheap! After hours and hours of research, trying products and returning them, and messing up our yards – we started this site.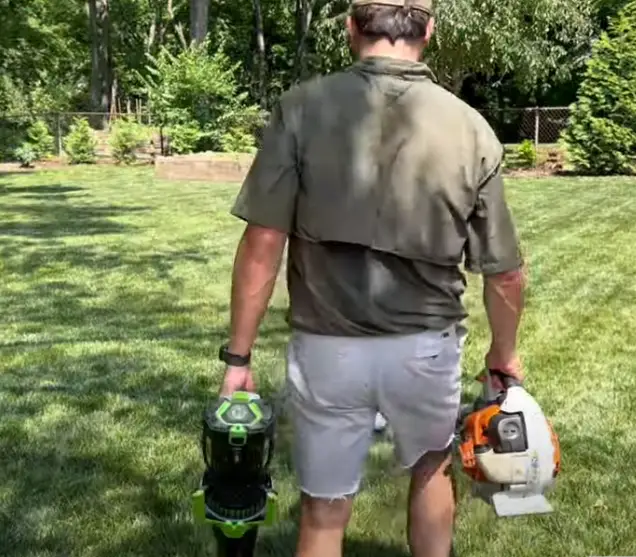 As people who had to learn the hard way, we want you to know exactly what you are signing up for before you purchase a piece of equipment. That's why we are committed to providing honest, easy-to-understand reviews that mean something.
Worx products
Worx and their battery-powered equipment are some of the most popular up and coming lawn tools on the planet.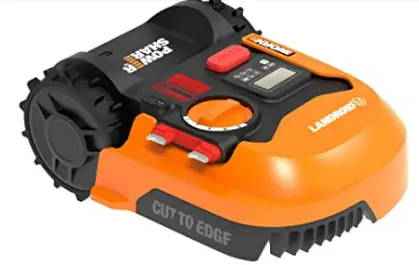 For example, the Worx WG309 10 inch pole saw has 5,800 reviews on Amazon. A pole saw. 5,800 people felt strongly enough about it to stop and take time out of their day to write about their POLE SAW. A LOT of people are buying this trimmer – and for a good reason (we will get to that in a minute).
Something that many of you may be scratching your head around is….what is Worx? It isn't quite the household name that Dewalt, John Deere, or some of the other big name brands. Worx has quietly been creeping into the marketplace and has found a niche in electric lawn tools. 
To check out some of our other Worx reviews, click here.
What should I look for in an electric pole saw?
When purchasing an electric pole saw, there are a few items you need to check before getting started. Below is a guide to help you figure out what to look for in a cordless pole saw.
Pole length

This might seem like an obvious answer, but you want to make sure you can find a pole saw that extends to the desired length before buying. The last place you want to be is on top of a ladder while extending out a dangerous piece of equipment. Get a pole saw that extends to the right height while allowing you to keep both feet safely on the ground.

Saw length

Another way to put this is how big of a job do you have? The bigger the branch, the bigger the saw you will want. Large saws also have drawbacks, particularly the fact that they are harder to navigate and are heavier. If you just want to do some basic saw work, then you will be just fine with a smaller saw length (about 8 to 10 inches).

Comfort and ease of use

This is everything. There are fewer jobs that have potential for horrible things to happen than a pole saw. Just ask my dad who spent a few weeks with a pirate patch. Make sure the pole saw has comfortable grips and an intuitive use before buying. This doesn't mean you need to try it out in person – it just needs to have a design that makes sense.
Worx WG309 8 amp 10 inch Pole Saw: Feature review
Before I break down each element of this pole saw, I want you to know. These puppies are dangerous. A lot can go wrong from saw dust in the eyes, branches falling on your head, or the saw swinging around and chopping your head off (which would hurt). 
Pole length
The Worx WG309 8 amp 10 inch pole saw extends to a whopping 10 feet. 10 feet is more than enough to get most jobs done. Basically, you want a pole saw that keeps your two feet flat on the ground.
One of my favorite elements of this pole saw is that the chainsaw at the end of it is detachable.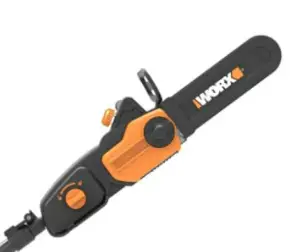 Yep, you are getting two tools in one. A pole saw and a regular ole' chainsaw. This is huge. Not everything you will need to cut around the yard will require a 10 foot extension. Some branches are at waist level. Keeping the pole extension on will result in a lack of control and ultimately be more dangerous.
For full-size chainsaw recommendations, check out our YouTube Stihl chainsaw review.
Saw length
Another important element of any pole saw is the length of the saw. Of course we have ten feet to work with on the pole, but bigger jobs require bigger saws.
Again, there are downsides to having a large chainsaw on the end. You don't want a big ole saw up there unable to fit in between tight spaces. 
The Worx WG309 10 inch pole saw is on the upper end of what I'm comfortable lugging up into the air, but it works. Most pole saws are between 8 to 10 inches. The reason I like this one being at 10 inches is the detachable head that can be used for handheld, non-extended jobs would be useless if it was any smaller. This is the perfect size for a 2-in-1 tool.
Comfort and ease of use
I've said it before and I will say it again: comfort and ease of use are everything when it comes to extending a chainsaw above your head. Grip is incredibly important. 
Now, most pole saws are inherently difficult to operate. I mean, there is a dang huge chainsaw hanging on a ten foot pole. The Worx WG309 10 inch pole saw has sufficient grip. Nothing mind-blowing, but nothing that will make you slip and cut your head off.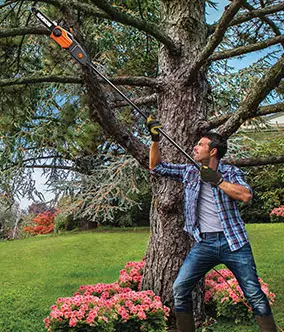 This pole saw has a small grip at the bottom to hold on. I have seen more impressive handles that have a full on grip and trigger that more so resemble a hedge trimmer or regular chainsaw. This is one of the most "stock" seeming handles on the market.
Work WG309 10 inch pole saw cost and value
The Worx WG309 runs about $89 but occasionally goes on sale. This price point is great, especially considering you get two tools in one. It is interesting that this is a corded pole saw and requires an extension cord. Definitely more room for hazard, but will also be much lighter than its battery-powered peers.
Alternatives to the Worx WG309 pole saw
Another alternative to this pole saw that is pretty nice is the Greenworks pole saw, which we reviewed here.
We recommend the Greenworks pole saw to those with existing Greenworks products. Give it a read to see if it is the right choice for you!
Official review: Work WG309 8 Amp 10 inch pole saw
The WORX WG309 8 Amp 10 inch pole saw is one of our favorites on the market. It is versatile, strong, and has a detachable chainsaw head that offers outsized value. It comes in at a great price point of around $89.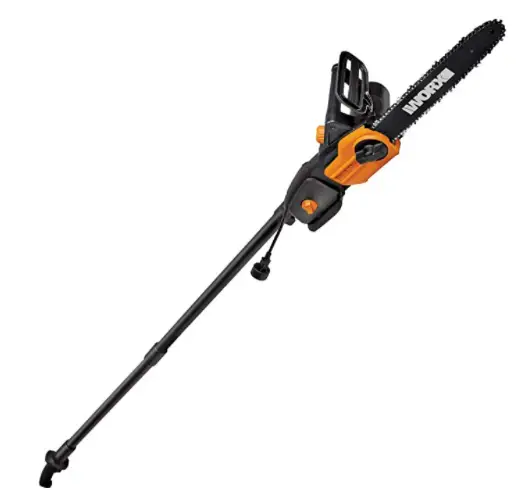 All things considered, this is a great backyard investment for those that want to take care of their trees themselves. 
Grab it on Amazon today and get to chopping those trees.