Worx WG184 40V cordless string trimmer is the biggest and baddest string trimmer offered by Worx. 
You may have a few Worx products in your garage, you may not. Either way, I want you to forget everything you know about Worx.

They've stepped it up to a trimmer I would use (and I've reviewed a TON of weed eaters).
So what makes this one different?
Let's find out.
Why we review lawn tools
The reason we started this website in the first place was because we had so much trouble trying to find reasonable, understandable, honest reviews for lawn equipment. And it's not cheap! After hours and hours of research, trying products and returning them, and messing up our yards – we started this site.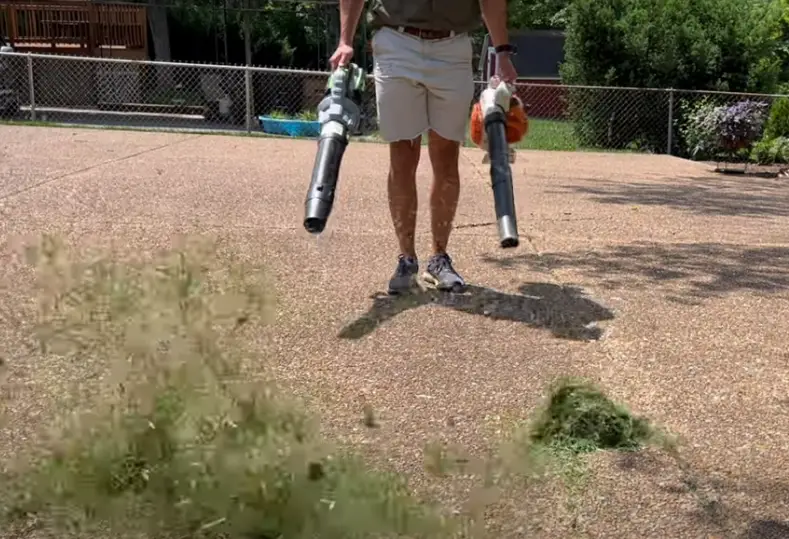 As people who had to learn the hard way, we want you to know exactly what you are signing up for before you purchase a piece of equipment. That's why we are committed to providing honest, easy-to-understand reviews that mean something.
How to instantly improve your weed eater
Upgrade your weed eating game with the ultimate GrassKicker Weed Eater String! While weed eaters and lawn edgers are great tools, it's not complete without the right string. Our specially crafted line is designed to enhance your weed eater's performance and give you flawless edges around your yard and garden.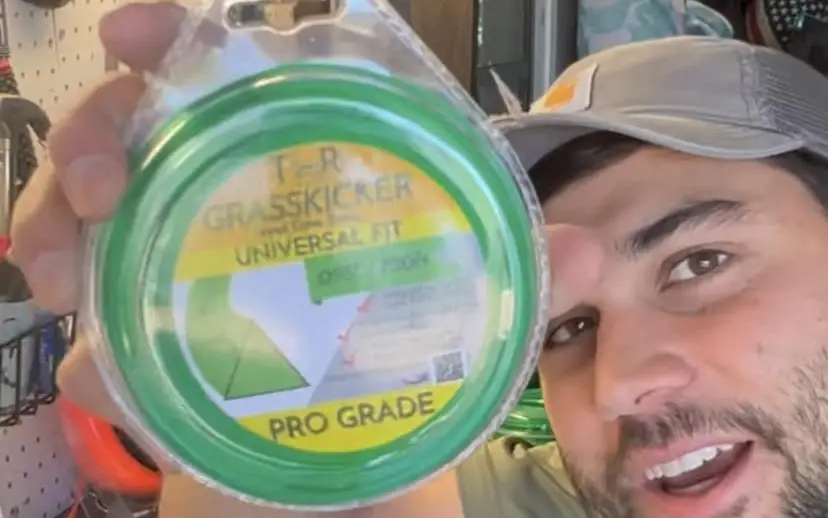 Don't settle for subpar string that breaks easily and leaves ragged edges. Our team has scoured the market and combined the best colors, shapes, thicknesses, and materials to create a superior line that cuts more cleanly and lasts longer.
With GrassKicker, you can take pride in your perfectly manicured lawn and make a lasting impression on your friends and family. And who knows, your envious neighbors might just start dropping by more often! Don't wait, elevate your weed eating game with GrassKicker Weed Eater String today! Click the link now to buy.
What to look for in a cordless string trimmer
Cordless weed eaters come in all shapes and sizes. They aren't highly complicated pieces of equipment, but they do have a few nuances. Here is how I see it:
Feel – Obviously this is subjective, but feel is everything to me. I have had weed eaters in the past where the handle is off to the side, making me torque my shoulders and back. If you can, get as many adjustable pieces as possible to make this customizable. It doesn't seem like you use a weed eater for a long time, but the work is precision work that requires a steady hand and focus.
Motor – brushless motors are king here. They are longer lasting and more durable. Regular brushed motors are fine, too. The key difference here is that brushless motors use magnets, instead of friction, to power the motor. This means less heat, more durability, and a longer life. Brushed motors will still do the job, however they tend to have a shorter life. Brushless motors are relatively new, so if you have had an electric tool back in the day, it was probably brushed.
Interchangeable batteries – Get a dang tool that has batteries that you can use with other batteries. C'mon people – save money by doing this! You don't have to keep buying new battery sets. There are a lot of tool companies that have batteries that work with a ton of different tools. But some of these companies have a bunch of different battery types. Be careful!
Curved vs Straight shaft – I always, always, always prefer straight shafts. They are so much easier to use and control and are much longer than curved shafts. Curved shafts are good for clearing out a small piece of land unable to be mowed. But if you want to actually do some good trimming and edging, a straight shaft is much better. Curved shafts are difficult to maneuver and create a straight line for edging. 
WORX WG184 40V PowerShare String Trimmer: Benefits
A lot to love about the WG184. Worx has a funny way of making products that are super intuitive to use that somehow other brands aren't doing.
Now they've combined it with a high-power bada** string trimmer. Nobody is ready for this. It's like Eleven being made in a lab. Truly the best of both worlds.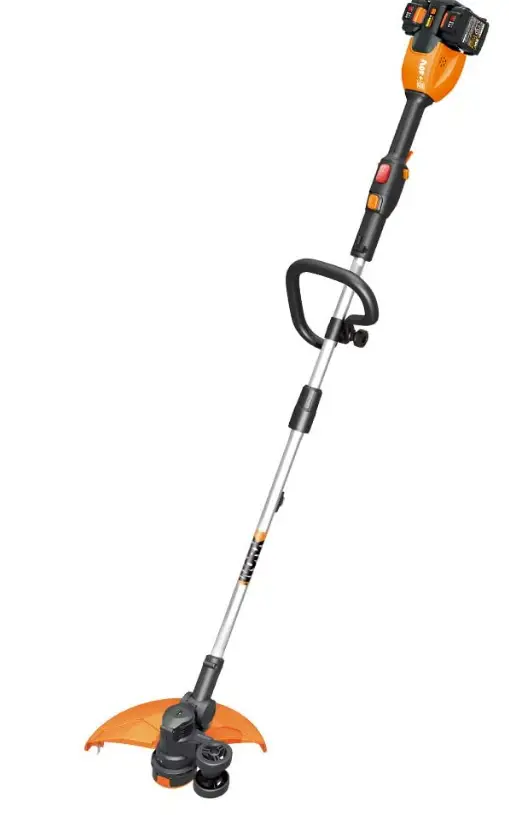 Power on the WG184
Alright well we are really jumping right into it. The power on the Worx WG184 trimmer is absolutely what sets it apart from its peers. Here are a few things that stick out:
Cutting width
Line diameter
Speed control
The first thing that sticks out is the cutting width. Most of these electric trimmers have relatively small cutting width – ranging anywhere from 9 to 11 inches. Cutting width matters because it indicates how much force you are going to get from your spin. The wider the cutting width, the more power that's going to be delivered. If you think about it in terms of geometry, the longest point is traveling the fastest. When you keep the rotations the same and increase the length of the trimmer line, the furthest tip moves faster.
Boring, I know, but the Worx WG184 comes in at about 13 inches. This is right at the bottom of the range for commercial landscapers. While this likely wouldn't be used in a commercial setting, it's darn near close. 
Another thing that sticks out to me is the line diameter. The diameter of the line is another indicator of power because it is also correlated with weight, and obviously has a wider cutting force as well. Most of the other Worx trimmers have .065 inch line whereas the Worx WG184 has a .08 cutting line. Big increase. Commercial trimmers are closer to .095, putting this just near the bottom of the commercial range once again.
Lastly, speed control is a distinct feature to the WG184 string trimmer as well. When you have a string trimmer with this much power, you don't always want it on full blast. Having a trigger that allows you to control the speed gives you balance to tackle some lighter duty things without constantly tearing up everything in sight. With great power comes with great responsibility.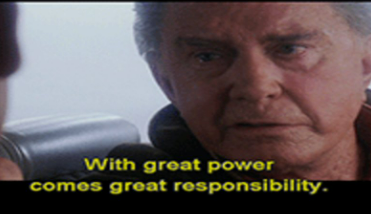 Ease of use and feel
Worx may be the best in the world in making easy-to-use lawn tools. They have mastered user experience to where it's almost scary. They're the Apple of the lawn tool game.
They knocked it out of the park with this one again. Something I love about the WG184 but also most of their other string trimmers is the ability to rotate the trimmer on its side and use a wheel-guided edger.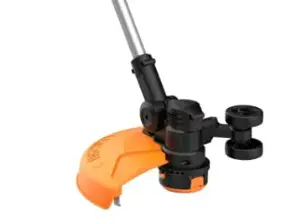 Basically, it takes the guesswork and drunken-path edging out of your hands. It gives you a straight, clean path for edging your yard without having to go buy an edger. This one actually has the power and cutting width to make a pretty deep trench around your yard as well. Win-win. The pivoting head also can adjust, so you don't crank your back trying to edge like I do with my Ryobi trimmer. 
Unlike some of the cheaper models of Worx trimmers like the GT Revolution, this one has a D-grip handle. Now before you make any jokes, this is the same handle that is on commercial trimmers. These aren't just your straight up-and-down handles, they wrap around the trimmer and allow you to make graceful swoops across areas. Basically it is for people who know what they are doing.
The heaviest of all of the Worx trimmers, I'm actually okay with carrying a bit more. I mean it requires two batteries so you know that it is going to be a tad heavier. Again, if you want it to have supreme power, you have to expect that it's going to be heavier. But with both batteries, it only weighs a little under 9 lbs. Not bad at all.
Durability of Worx trimmers
The WG184 40V cordless trimmer is also one of the most durable Worx models. Despite it having more power and weight, it actually has less moving parts. The trimmer itself does not have a telescoping pole, it just is a solid rock metal pole that is at a good length. 
Not much else to say about the durability. It is a relatively simple machine. One thing I will say about the life of this trimmer is that it doesn't appear to have a brushless motor. Sadly, brushed motors aren't as durable or long-lasting as brushless motors, which have become the dominant motor type for battery-powered trimmers.
If you are interested in brushless trimmers, I would check out Makita's line of trimmers. 
Cost and value
The Worx WG184 40V cordless string trimmer comes in at around $180, but is often on sale for much lower on Amazon. At the time of this article, it was for sale for about $165 – so fingers crossed it stays that way.
This is a great deal considering many other (weaker) string trimmers can run way more. For example, Stihl has a new electric trimmer that is smaller and weaker and costs $200. 
If you get this without the batteries –  like if you already own them – this thing runs you about $120. Which is actually a felony and you will get locked up for stealing (just kidding).
Overall Review: Worx WG184 40V Power Share 13" Cordless String Trimmer
Here I am going to give my honest thoughts about the WG184. For starters, I don't like that it doesn't have a brushless motor like most of EGO and Greenworks' products. But that's about  the only thing I'm not in love with.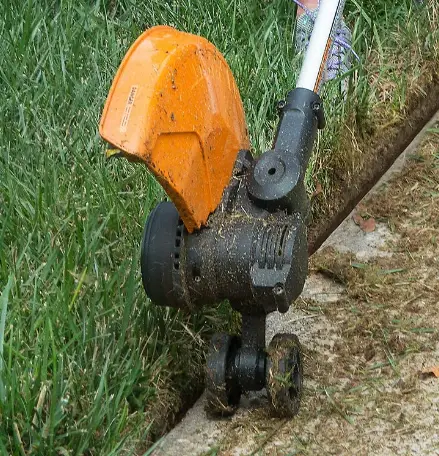 It is easy to use, powerful as heck, extremely functional, and selling at a great price. You can grab one on Amazon here.