WORX is something you will see hanging on just about every garage in your neighborhood.
From leaf blowers to leaf mulchers to robotic lawn mowers – they have just about everything. 
The WORX WG163 is a super popular string trimmer made for those of us that just want to get the job done. 
The type of person who is not going to sit and compare the 20V batteries ampere-hours or think through the perfect circumference of the trimmer line.
You know – normal people.
Well, this review of the WORX WG163 is for you.

Why we review lawn tools
The reason we started this website in the first place was because we had so much trouble trying to find reasonable, understandable, honest reviews for lawn equipment. And it's not cheap! After hours and hours of research, trying products and returning them, and messing up our yards – we started this site.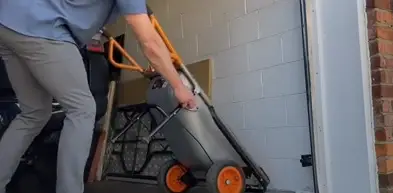 As people who had to learn the hard way, we want you to know exactly what you are signing up for before you purchase a piece of equipment. That's why we are committed to providing honest, easy-to-understand reviews that mean something. 
What to look for in a cordless string trimmer
Cordless weed eaters come in all shapes and sizes. They aren't highly complicated pieces of equipment, but they do have a few nuances. Here is how I see it:
Feel – Obviously this is subjective, but feel is everything to me. I have had weed eaters in the past where the handle is off to the side, making me torque my shoulders and back. If you can, get as many adjustable pieces as possible to make this customizable. It doesn't seem like you use a weed eater for a long time, but the work is precision work that requires a steady hand and focus.
Motor – brushless motors are king here. They are longer lasting and more durable. Regular brushed motors are fine, too. The key difference here is that brushless motors use magnets, instead of friction, to power the motor. This means less heat, more durability, and a longer life. Brushed motors will still do the job, however they tend to have a shorter life. Brushless motors are relatively new, so if you have had an electric tool back in the day, it was probably brushed.
Interchangeable batteries – Get a dang tool that has batteries that you can use with other batteries. C'mon people – save money by doing this! You don't have to keep buying new battery sets. There are a lot of tool companies that have batteries that work with a ton of different tools. But some of these companies have a bunch of different battery types. Be careful!
Curved vs Straight shaft – I always, always, always prefer straight shafts. They are so much easier to use and control and are much longer than curved shafts. Curved shafts are good for clearing out a small piece of land unable to be mowed. But if you want to actually do some good trimming and edging, a straight shaft is much better. Curved shafts are difficult to maneuver and create a straight line for edging. 
If you're looking for some other Worx products, check out the WORX leaf blowers and leaf jets.
WORX WG163 GT 3.0 Weed Eater: Features and benefits
The WORX WG163 PowerShare string trimmer has a lot to like, but is great for only a certain group of people. Let's check out what makes this trimmer great.
If you are choosing between the WORX vs Black and Decker string trimmer, check our comparison post.
Power: WORX PowerShare 20V
Let's be very clear about something: this weed eater is not a gas powered killer. It is going to be a great weed eater for the average Joe or average Joe Ann. And that's fine.
While this won't chop down a tree or clear bush like an ultra powered gas trimmer, the WORX WG163 will still be able to cut through the spots you missed mowing, the areas around the garden bed and mailbox, and will produce clean lines that border your driveway, street, or walkway.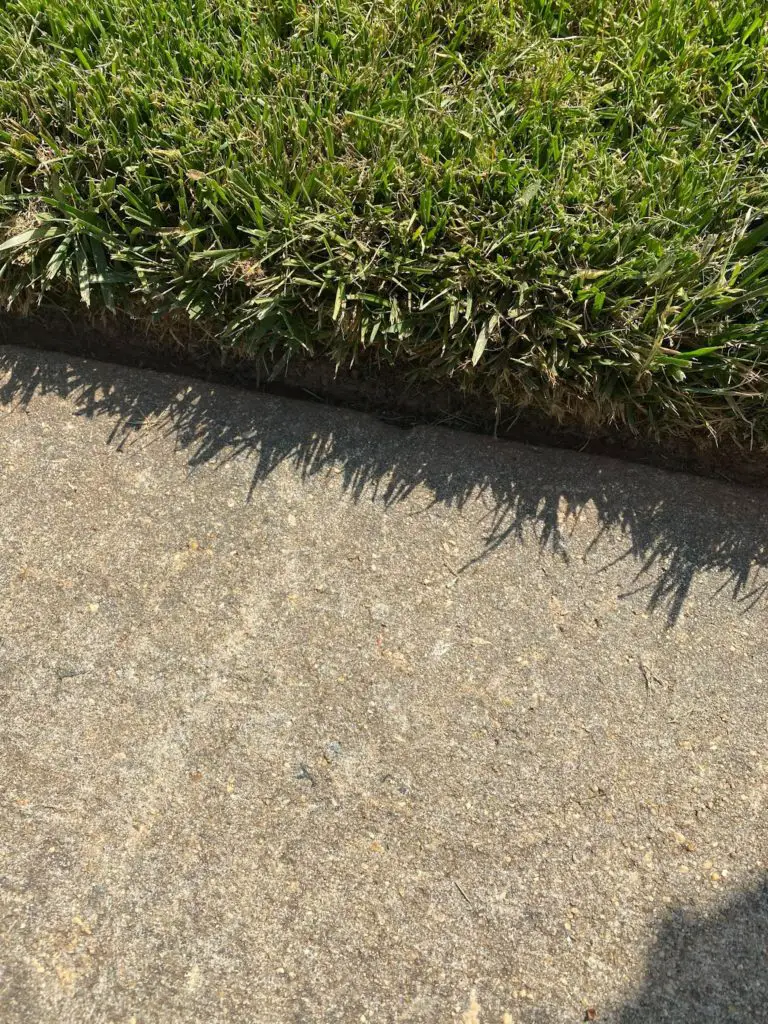 That's what we are all looking for anyways, right? A nice, crisp border around the yard. 
Usability
The WORX WG163 shines in the usability department. This whole trimmer and edger combo was designed around being easy to use for anybody. 
For starters, the WG163 has a telescoping pole that allows for additional length for any project. Being six and a half feet tall, this was huge for me. The worst feeling in the world is having a tight back after being bent over trying to trim the yard. No thanks!
Another cool thing about this trimmer is that it doubles as an edger. That's right, the dang thing can be plopped on its side, where it has wheels and a spacer that allows you to edge the lawn in a straight line. This is a huge money saver as edgers can be sold separately for an equivalent price.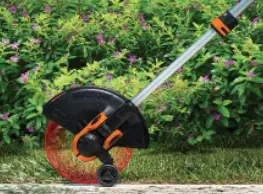 Comfort: The WORX WG163
A few things I like about the WORX WG163 trimmer and edger combo in the comfort department.
The first is obviously the telescoping pole, but the second is the handle. The handle has a button that allows you to change the angle of it, meaning you can grip it however the situation requires. Sometimes when I am trimming, I have to get my shoulder at a weird angle to move around a fence or a garden. The difficult thing with my old trimmer is that it has a static handle. 
This one will angle up or down at the push of a button, making the weird angles easy to tackle.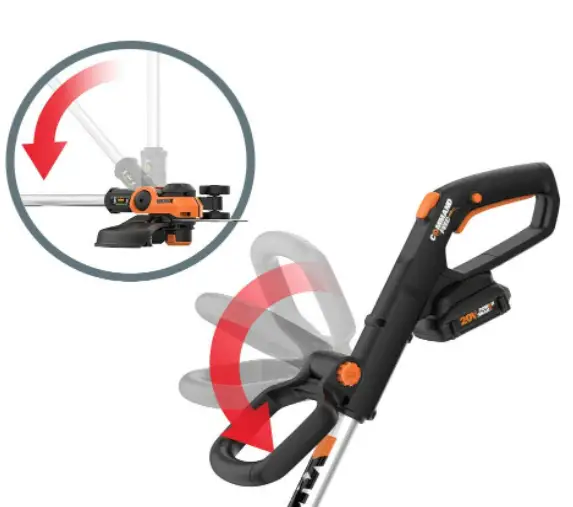 The last piece I really love which is extremely nuanced but also important is the location of the battery. The 20V battery on this trimmer is underneath the handle instead of on top of it. This is great for so many ergonomic reasons. It's slightly more balanced, meaning you won't be fighting against gravity the entire time you're trimming.
This battery placement gives you a steadier hand and more downward pressure, making the job easier.
Don't underestimate this!
Downsides
One downside to the WORX WG163 GT 3.0 is that it does not have a brushless motor. This means that it will get hotter inside the motor, hurting the overall longevity of the weed eater in comparison to brushless motors.
The other downside is that WORX has several different types of 20V batteries. Make sure you use the Power Share MaxLithium batteries – not any of the other ones on this product.

Can be confusing, but if you know this before you buy you can save a lot of heartache.
How to instantly improve your weed eater
Upgrade your weed eating game with the ultimate GrassKicker Weed Eater String! While weed eaters and lawn edgers are great tools, it's not complete without the right string. Our specially crafted line is designed to enhance your weed eater's performance and give you flawless edges around your yard and garden.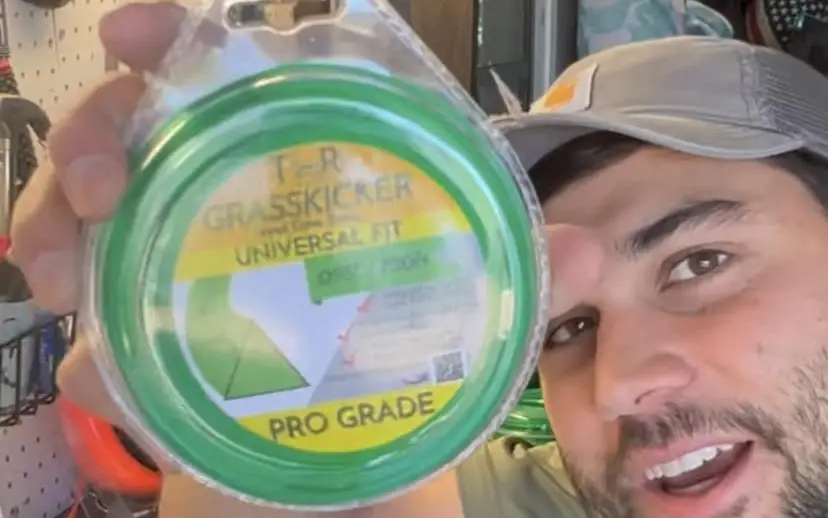 Don't settle for subpar string that breaks easily and leaves ragged edges. Our team has scoured the market and combined the best colors, shapes, thicknesses, and materials to create a superior line that cuts more cleanly and lasts longer.
With GrassKicker, you can take pride in your perfectly manicured lawn and make a lasting impression on your friends and family. And who knows, your envious neighbors might just start dropping by more often! Don't wait, elevate your weed eating game with GrassKicker Weed Eater String today! Click the link now to buy.
The official review: WORX WG163 GT 3.0
The WORX WG163 GT 3.0 string trimmer / weed eater is a good buy. It is super affordable, can serve as both a trimmer and an edger, and a surprisingly easy and comfortable feel. 
This trimmer was recommended to my parents when they moved into their new house and I would recommend it to you as well. You can buy it straight from the WORX website, or grab it on Amazon for under $120.