The Sun Joe SWJ803E 10 inch 8 Amp Electric Multi-Angle pole chain saw (whew) is a nice little garden tool! While it isn't going to chop down some Redwoods, it is definitely handy for those doing light work around the yard.
If you're interested in buying – which many people are – it is the number one selling pole saw on Amazon, then you'll want to make sure you've read the below.
Let's get started:
We spent about six hours researching other reviews, comparing this pole saw to competitors, and reading the technical specifications so that you don't have to. 
Sun Joe SWJ803E 10 inch 8 Amp electric pole saw: Features
This Sun Joe Pole Saw is not the Cadillac of pole saws, and that's okay. I'm perfectly happy with a Honda Accord that can get me from point A to point B. But before we start buying just anything, make sure to read the below features of this pole saw.
Pole Length: All you need
Okay, this one is hard to mess up. The pole itself comes in at close to six feet long and can extend a few more feet if needed. This is a pretty standard pole length for pole saws.
Frankly, you don't want to go too much longer. When they get really long they become very difficult to handle and maneuver. It is a delicate balance of keeping your feet on the ground and not overextending while still maintaining good grip.
As a warning, pole saws can be extremely dangerous. Make sure to always wear protective eye gear, and be extremely careful when using.

Saw length on the Sun Joe
The length of the Sun Joe SWJ803E is perfect. The versatile head takes this pole saw far and above its competition. Let me explain.
When working a pole saw, eight to ten inches is exactly what you will want. The difficulty with a 10 inch and above pole saw is that it becomes less nimble and harder to move between branches. This is why you generally don't want to go over ten inches. 
While the Sun Joe SWJ803E is right at the limit of saw length, the multi-angle head takes it to the next level. Being able to change the head from anywhere between zero and thirty degree angles allows for the ultimate ease of use.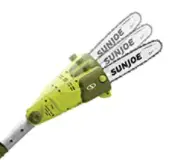 Comfort and ease of use: The differentiator
Speaking of ease of use, the Sun Joe has it. One thing I love about this pole saw is that it doesn't come with a bunch of gadgets. There is another pole saw competitor that has a detachable head that allows it to serve as a regular chainsaw, too.
That's great, but when I hear that all I can think about is extra weight. The Sun Joe SWJ803E comes in at just under eight pounds, making it super easy to lift over your shoulders to get the highest branches.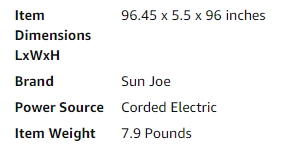 I also like the grip on this pole saw. It has a full wrap-around grip with a safety switch. The telescoping pole also features a grip (first time we have seen this at TLR), that allows for even better comfort and ease of use.
Alternatives to the Sun Joe Pole Saw
Yes, we have seen other pole saws. Sun Joe also has a few others, such as the SWJ800E, 801E and 802E. These are all smaller and less powerful.
Comparing the Sun Joe SWJ803E to the others, you can quickly see that the 9.5 inch branch thickness maximum of the SWJ803E vastly outpowers the 7.5 inch thickness of the others. 
Cost and value
The Sun Joe SWJ803E can be purchased on Amazon for about $80 right now, but it is also on sale for 15% off. Not sure how long this sale will last, but I know I would nap one if I was looking for a lightweight, low maintenance, easy-to-use pole saw.
The official review: Sun Joe Pole Saw (SWJ803E)
The Sun Joe SWJ803E is a dang good pole saw. If you are going to buy an electric one, this is the best bang for the buck. It is lightweight, easy to use, inexpensive, and the best combination of flexibility and power.
Grab it today and start taking down big branches in your yard.
| | | |
| --- | --- | --- |
| Category | Sun Joe SWJ803E | Competitor's pole saw |
| Pole length | Average | Average |
| Saw Length | Above average | Average |
| Comfort/ease of use | Above average | Average |
Why we review lawn tools
The reason we started this website in the first place was because we had so much trouble trying to find reasonable, understandable, honest reviews for lawn equipment. And it's not cheap! After hours and hours of research, trying products and returning them, and messing up our yards – we started this site.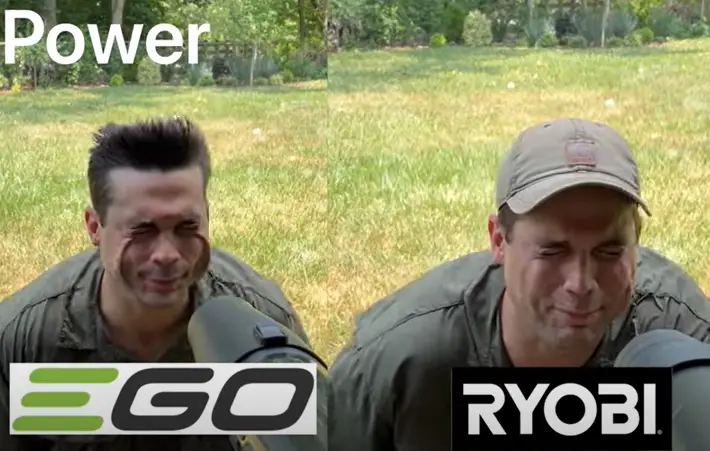 As people who had to learn the hard way, we want you to know exactly what you are signing up for before you purchase a piece of equipment. That's why we are committed to providing honest, easy-to-understand reviews that mean something.
About Sun Joe
Sun Joe produces electric lawn and home care equipment. They are popular for their dethatcher (you wouldn't believe how satisfying it is), and of course their pressure washer. You may have also seen their pressure washer, the SPX3000, on Amazon as well.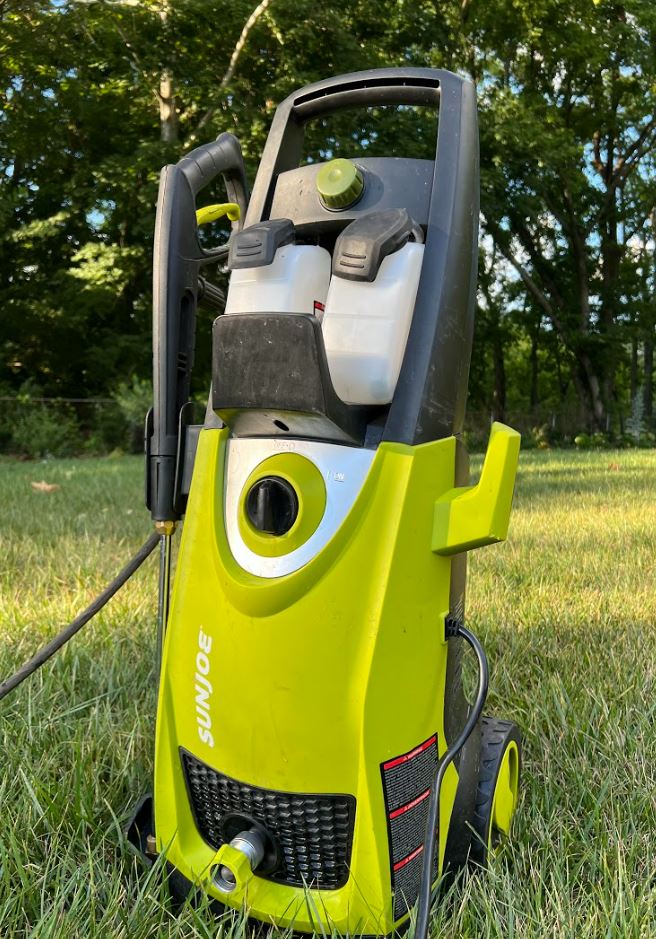 Sun Joe absolutely dominates Amazon. They have found their market niche and it is in not-overly-powerful-electric lawn tools. Pretty narrow niche, but it is realllllly working for them.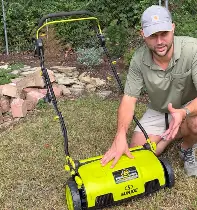 Sun Joe is the summer version of Snow Joe, the original company founded for electric snow removal equipment (like this Cordless Snow Shovel).
What to look for in a pole saw
When purchasing an electric pole saw, there are a few items you need to check before getting started. Below is a guide to help you figure out what to look for in a pole saw.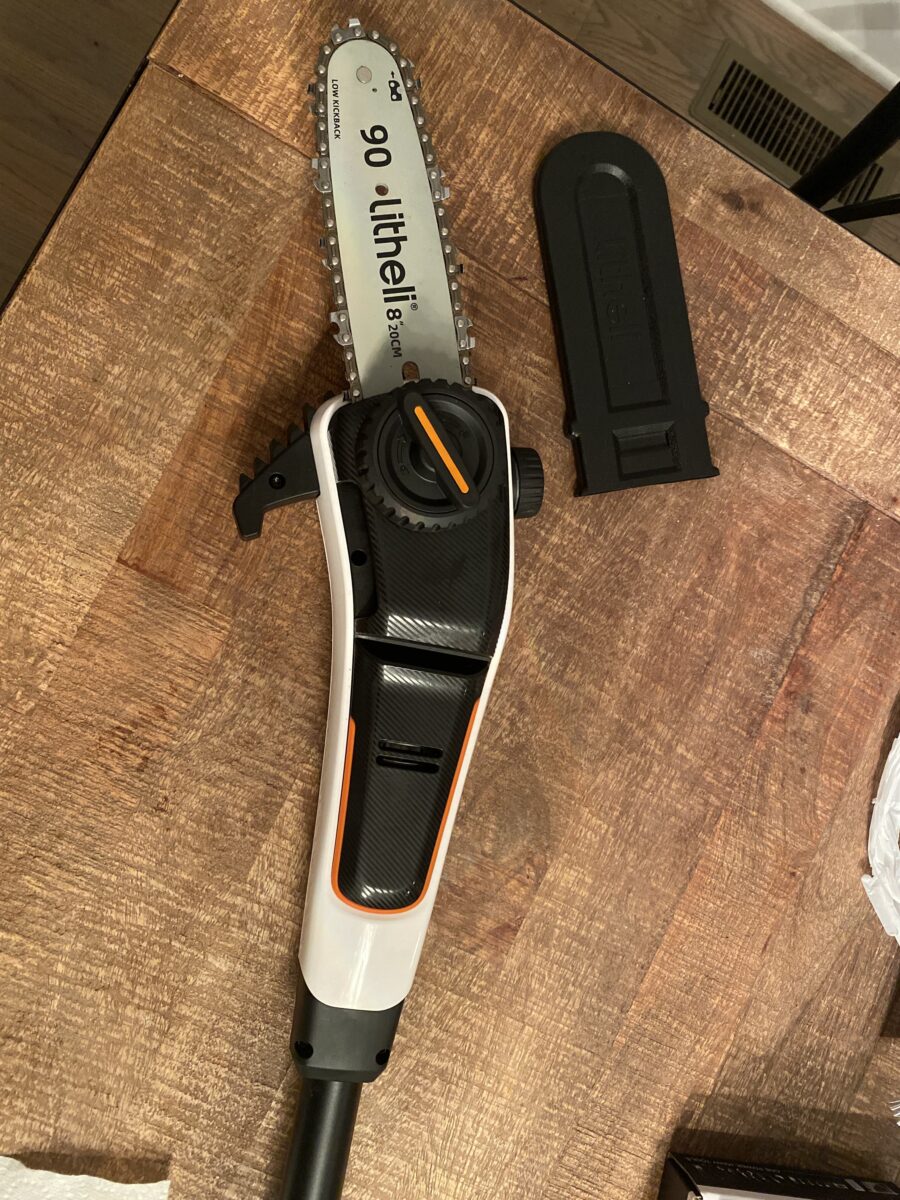 Pole length

This might seem like an obvious answer, but you want to make sure you can find a pole saw that extends to the desired length before buying. The last place you want to be is on top of a ladder while extending out a dangerous piece of equipment. Get a pole saw that extends to the right height while allowing you to keep both feet safely on the ground.

Saw length

Another way to put this is how big of a job do you have? The bigger the branch, the bigger the saw you will want. Large saws also have drawbacks, particularly the fact that they are harder to navigate and are heavier. If you just want to do some basic saw work, then you will be just fine with a smaller saw length (about 8 to 10 inches).

Comfort and ease of use

This is everything. There are fewer jobs that have potential for horrible things to happen than a pole saw. Just ask my dad who spent a few weeks with a pirate patch. Make sure the pole saw has comfortable grips and an intuitive use before buying. This doesn't mean you need to try it out in person – it just needs to have a design that makes sense.