The Sun Joe Chainsaw is nothing like you've seen before.
Frankly, I didn't even know electric corded chainsaws existed.
I've heard of gas ones (we've done some gas chainsaw reviews) and even used some of the cordless chainsaws, but a chainsaw that plugs in? Never.
Then I got my hands on the Sun Joe SWJ599E electric chainsaw.
What happened next was…..well about what I expected.
Let me break it down for you:
Why we review lawn tools
The reason we started this website in the first place was because we had so much trouble trying to find reasonable, understandable, honest reviews for lawn equipment. And it's not cheap! After hours and hours of research, trying products and returning them, and messing up our yards – we started this site.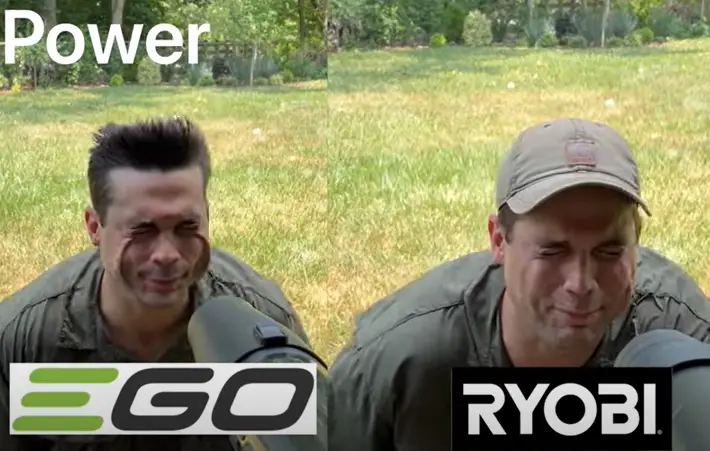 As people who had to learn the hard way, we want you to know exactly what you are signing up for before you purchase a piece of equipment. That's why we are committed to providing honest, easy-to-understand reviews that mean something.
What to look for in a chainsaw
A solid chainsaw is one of the most important tools a homeowner can have. Buying the right one is absolutely essential to your kids thinking you're a cool man or woman. Chainsaws come in a variety of different shapes, sizes, types and models. Most are either gas or electric powered. Depending on your application of course, most people can get away with a 14" bar and chain. Unless you're cutting up massive trees you probably don't need anything bigger than that.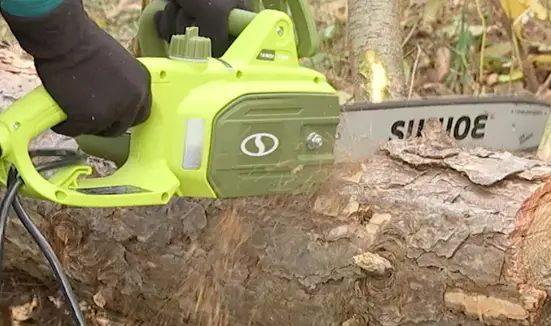 In addition to that, most people nowadays can probably get away with an electric model vs a more powerful, smoother cutting gas powered model. But it's all personal preference. However, honestly I tend to always go with the bigger more powerful engines because I think they'll last longer. So far that's proven to be true, but I could just be wasting money. 
Sun Joe SWJ599E 14 inch electric chainsaw: Features and Benefits
Alright folks, let's break down what it is like to use this chainsaw. It has a few neat features that I will do my best to compare with a traditional gas-powered chainsaw.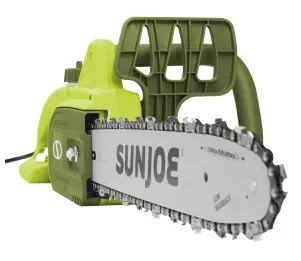 Power
Sun Joe SWJ599E chainsaw is a real powerhouse. It's plugged into a wall, so you would think it would be weak, but it has a 9 Amp motor and can cut through logs over a foot wide. We've all seen those pictures of people cutting down trees with a hand saw, and it's always impressive. But it's even more impressive when you see someone doing it with a Sun Joe SWJ599E chainsaw. 
Picture it: you see some guy (me) come out of his garage with a chainsaw plugged into a wall. Your first thought? Not a real man.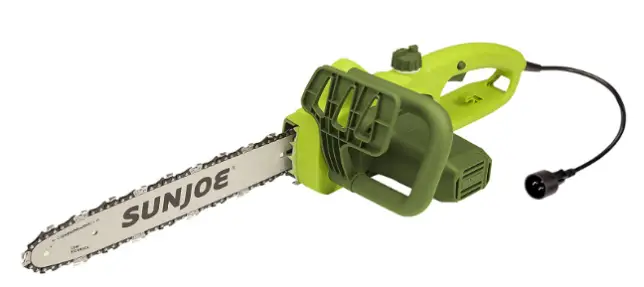 But then I come and completely save the day by cutting up the tree that fell in the storm and everyone comes and picks me up on their shoulders and gives me a key to the city. 
Ease of use is everything
Sun Joe Chainsaw is the perfect tool for anyone who needs to fell a tree (like in my previous scenario) in their backyard or cut some wood for a bonfire. Sun Joe makes getting the job done easy, with a lightweight design that is easy to maneuver, and a push-start button that eliminates the need for pulling a cord. Sun Joe also includes a safety feature to prevent accidental start-ups. 
It truly is one of the most straightforward designs in a chainsaw I've seen. It is simply made up of the saw portion, and a lightweight plastic handle that plugs into an extension cord. It doesn't get more basic. The only cool nifty addition on here is the cord holder that secures your extension cord and prevents it from becoming unplugged.
And with my Stihl chainsaw, I am often pulling the gas cord 20-30 times to get it started. Yikes!

With the Sun Joe Chainsaw, there was a little bit of kickback and bounce, but it can come with a kickback brake that helps limit any real kickback.
Maintenance (or lack thereof)
Sun Joe's SWJ599E chainsaw is the perfect tool for anyone who wants to avoid the hassle of maintaining a gas-powered chainsaw. 
This electric chainsaw is self-lubricating, so you don't have to worry about regularly oiling the bar and chain. Just make sure to store it flat to prevent oil leaks. 
You also don't need to worry about gas and oil mixtures or filters – Sun Joe's SWJ599E is hassle-free. That's what I'm talking about!
You'll have to refill the lubricating oil every now and then and maybe sharpen the blades, but that's about it.
The Best Part: Cost and Value
The absolute craziest thing about the Sun Joe Chainsaw is the fact that it comes in at an absolutely bonkers price. 
It retails for just about $60 (lmao) and is currently on sale for under $50 from Amazon. That is unreal.
Not sure how long this will last because it doesn't make mathematical sense, but I would grab it before anyone notices.
The official review: Sun Joe SWJ599E electric chainsaw
The Sun Joe Chainsaw is powerful enough to tackle any job that 95% of the American population would need it for. With its extremely lightweight build and push-button start, you simply won't be able to compare it to a gas chainsaw. It is so much easier and a fraction of the price (like 1/10th).
Grab it today on Sun Joe's website or on Amazon, where it is on a ridiculous sale.
We recommend this extension cord which can be bought on Amazon as well.