The Sun Joe AIRJ24C 24V portable air compressor is the tool you didn't know you needed. The ultimate timesaver, the Sun Joe air compressor can refill a tire in a flash, without the messy cords or insanely loud noises.
Nowadays, I don't let anyone in my family travel without one of these in the trunk of their car. Not only is it extremely handy, but it gives me peace of mind knowing that I can refill a tire in a flash.
The Sun Joe air compressor is also a huge money saver. Whenever it starts to get cold out, the air in my tires immediately seems to start leaking out.
I no longer have to find a way to get my hands on some quarters and go to the gas station. No more!
Today, we are going to dive into what makes this digital air compressor so great.
Let's get started:
Why we review lawn tools
The reason we started this website in the first place was because we had so much trouble trying to find reasonable, understandable, honest reviews for lawn equipment. And it's not cheap! After hours and hours of research, trying products and returning them, and messing up our yards – we started this site.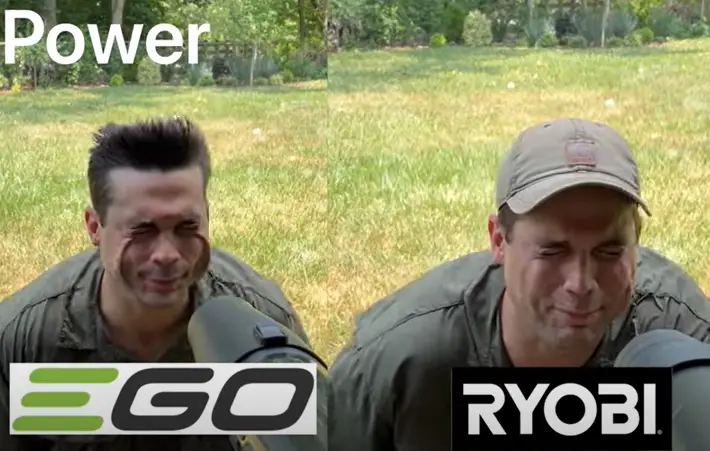 As people who had to learn the hard way, we want you to know exactly what you are signing up for before you purchase a piece of equipment. That's why we are committed to providing honest, easy-to-understand reviews that mean something. 
About Sun Joe
Sun Joe is a US-based company that specializes in outdoor/garden tools. They sell an array of products, including electric lawn mowers, snow blowers, and now air compressors.
Sun Joe originally started as Snow Joe, a team of products focused on snow removal technology, mostly battery-powered. They have since seen the light (lmao), and offer full on outdoor summer and spring products as well. 
We have reviewed a ton of their products like their Sun Joe Dethatcher, Sun Joe pressure washers, and even some Sun Joe Pole Saws and Garden Tillers.
Why you need an air compressor
Air compressors are fun tools to have. If you have ever manually pumped up a bike tire, then you know why these are so sweet. Remember trying to use all the air in your lungs to the point of getting dizzy while trying to blow up a pool toy? You just saved 18 hours of your life by doing this.
But seriously, getting caught without an air compressor is like not having jumper cables. Hopefully you don't need it, but not having one is going to be a humongous headache when the time comes to use one. Avoid getting your car towed or getting stranded on a long bike ride and grab one of these.
Feature review: Sun Joe AIRJ24C Portable Air Compressor
The Sun Joe AIRJ24C portable air compressor has a lot of things to like. It is a futuristic and intelligent portable air compressor, giving it two qualities I will never have.
Digital Display
The digital display on the Sun Joe AIRJ24C air compressor is extremely easy to use and understand. It has clear, concise readings of the PSI (pounds per square inch) levels, making it easy to monitor the pressure as you work. It's also very lightweight and easy to control – perfect for anyone who wants a compressor without having to lug around or store one of those big tanks.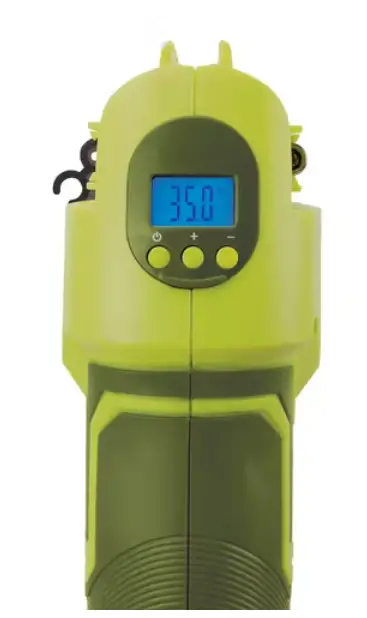 I mean think about it – air is everywhere. Why on planet Earth would I need a tank to compress the air? Glad Sun Joe finally figured it out.
Lightweight and powerful
Sun Joe's Portable Air Compressor is one of the lightest and most powerful on the market today. Weighing in at only 3.1lbs, it is perfect for use in any situation where you need a quick and easy way to inflate tires or other objects. The 24V battery gives it plenty of power to get the job done quickly, while the compact size means that it can be easily stored in your trunk or glove compartment. Whether you're dealing with a flat tire on the road or just want to keep your tires properly inflated at home, Sun Joe's Portable Air Compressor is the perfect solution.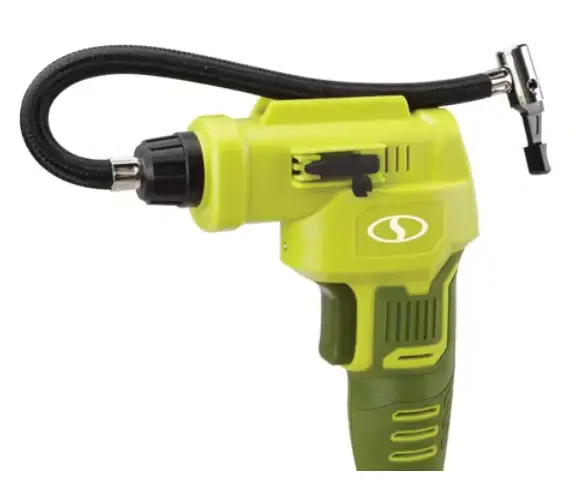 Easy to use and control
Sun Joe's Portable Air Compressor is quite the handy little machine. It's easy to use, with a nice digital display, and it even shuts itself off automatically when it's done. I don't know about you, but I find that really handy! Sun Joe also includes a carrying case and some inflation accessories, so you can take it with you wherever you go.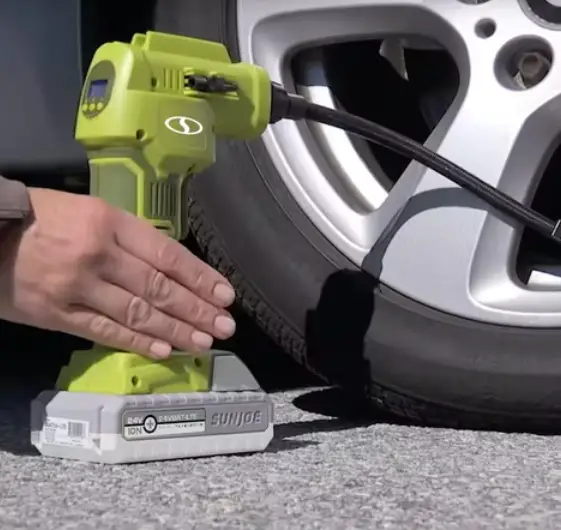 Yeah, you better believe I'm gonna make my wife put this in her purse in the one-off scenario that I actually want to go inflate someone's tire. I'll keep it right next to the snacks she keeps for me (I'm an adult child).
Final thoughts and how to buy
The Sun Joe AIRJ24C 24V portable air compressor is a handy tool that can be used to quickly inflate tires or other objects. It's lightweight and easy to control, and it even shuts off automatically when it's done. The Sun Joe AIRJ24C 24V portable air compressor is a great choice for anyone who needs a quick and easy way to keep you PUMPED UP BABY!
If you want to grab one of these, I'd check on Sun Joe/Snow Joe's website directly. Otherwise, you can grab it on Amazon for a really good price.