Stihl's battery chainsaw, the MSA 120 C-BQ has high expectations surrounding it.
The king of chainsaw's, Stihl (pronounced steel) is known for making super high quality chainsaws used by the most serious of loggers all the way to the most normal backyard dads. 
But now they have a new battery line of lawn tools, including this chainsaw.
Sadly, I've already tried out the string trimmer and blower and frankly……….was unimpressed.
Surely the chainsaw will be good, right? Right?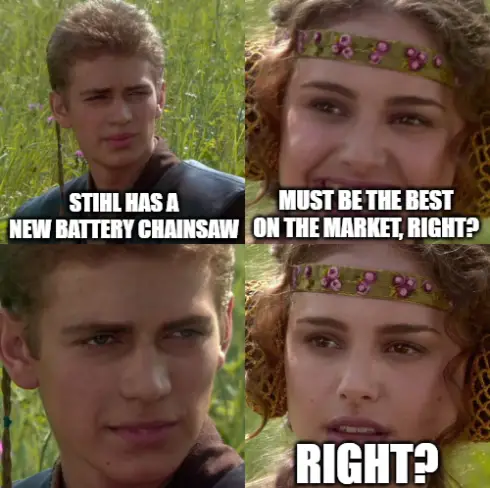 Well let's find out together.
Why we review lawn tools
The reason we started this website in the first place was because we had so much trouble trying to find reasonable, understandable, honest reviews for lawn equipment. And it's not cheap! After hours and hours of research, trying products and returning them, and messing up our yards – we started this site.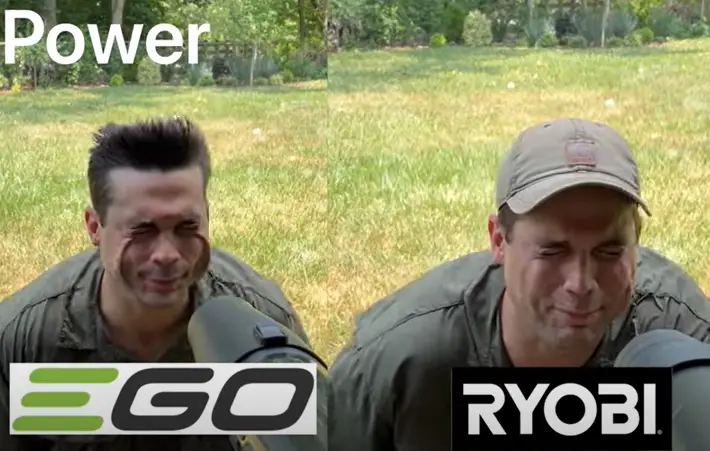 As people who had to learn the hard way, we want you to know exactly what you are signing up for before you purchase a piece of equipment. That's why we are committed to providing honest, easy-to-understand reviews that mean something. 
What to look for in a chainsaw
A solid chainsaw is one of the most important tools a homeowner can have. Buying the right one is absolutely essential to your kids thinking you're a cool man or woman. Chainsaws come in a variety of different shapes, sizes, types and models. Most are either gas or electric powered. Depending on your application of course, most people can get away with a 14" bar and chain. Unless you're cutting up massive trees you probably don't need anything bigger than that. 
In addition to that, most people nowadays can probably get away with an electric model vs a more powerful, smoother cutting gas powered model. But it's all personal preference. However, honestly I tend to always go with the bigger more powerful engines because I think they'll last longer. So far that's proven to be true, but I could just be wasting money. 
Must-have chainsaw features
Just make sure your chainsaw at least has a kickback reduction feature. This prevents you from losing one of your precious fingers! You only have 10 of them ya know! Kickback reductions can be in the form of the chain or bar itself. Basically these just prevent you from cutting too aggressively which prevents your saw from bouncing back on you. Or a chain brake which causes the chain to stop when it hits something hard or moves too abruptly 
Other features that are nice to have are more comfort-centric. These include tool-less tensioners, mufflers, anti-vibration, automatic chain oilers, etc. 
Stihl MSA 120 C-BQ Battery Powered Chainsaw: Features and benefits
To really give this chainsaw a thorough review, we have to compare it to its gas counterpart, the Stihl MS 251 C gas-powered chainsaw. So, let's get started.
Power
It is always hard to compare power when it comes to battery powered equipment because they don't use ccs like gas chainsaws do. Fortunately, we can still get a good grip on what the power is like by thinking through what types of jobs it does.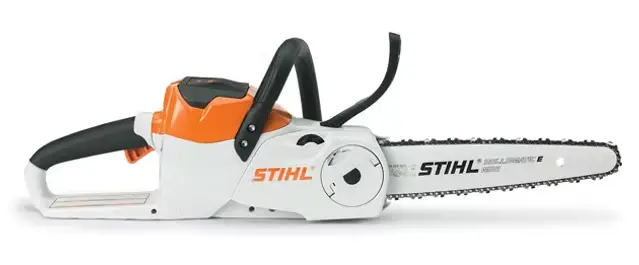 Gas chainsaws reign supreme when it comes to power. Battery chainsaws just aren't there yet. In fact, on Stihl's website they even describe their battery chainsaw as being "for suburban homeowners with various cutting needs". Notice that they do not say "for loggers who dangle from trees and chop down forests". So let's get our expectations aligned.
Stihl does a great job of describing what this chainsaw can do. According to their tests, you can get up to 100 cuts of a 4 inch tree branch before the battery dies. 
In just about every test we have done with other tools who make claims like this, it's never quite accurate. Tree type, density and water composition could change this drastically. So to be sure, I would expect probably 50-60 cuts reliably. 
Gas powered chainsaws will go as long as you keep them fueled and the saw sharpened.
Battery life
I usually put battery life at the end, but battery life is actually extremely important for these chainsaws. When you purchase it, it offers you three different types of batteries: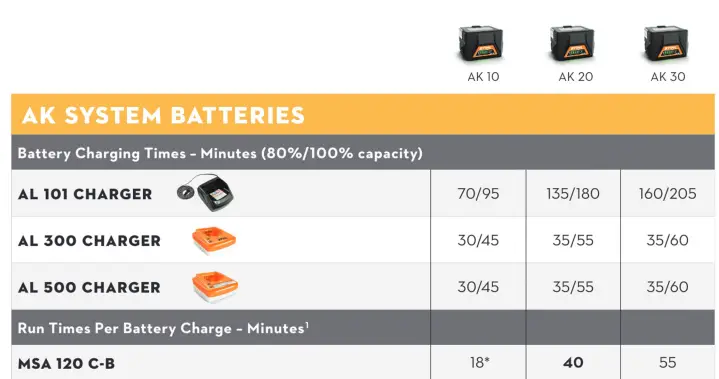 This chart is a little confusing, but basically if you get the AK 10 battery, expect this Stihl battery chainsaw to be wimpy. The minimum is the AK 20, but to be safe I would probably go with the AK 30 and the AL 300 charger. These maximize your performance and can keep you out doing the job longer without having to stop and take breaks for battery charging.
Fortunately, you can use these same batteries on other Stihl battery powered tools, like Stihl's new battery trimmer and Stihl battery leaf blower.
Usability and comfort
Bells and whistles – this thing has them. For whatever this lacks in power, it has all the awesome things you could ever want in a chainsaw. Here's a quick reference:
Quick chain adjuster – a no-tool way of adjusting tension in the chain (this is nice)
Coast-down brake – stops the chain when you stop pulling on the trigger
Stihl Quickstop – basically stops the chain when you get too much kick back, a safety feature
A nice rubberized handle 
5.5 lbs without a battery – very light
Automatic chain lubrication – make sure to store this flat so it doesn't drip oil all over the place
Anyways, this thing is sweet. It definitely doesn't feel "stock". It feels just like a gas powered chainsaw and has all the nice additions that remind you that Stihl is still the best game in town when it comes to chainsaws.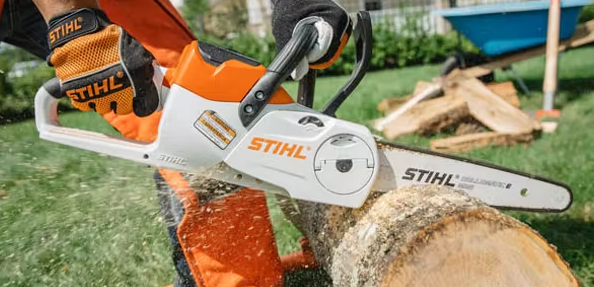 Durability and maintenance
Durability and maintenance on Stihl's battery chainsaw are both super important. 
The beauty of the maintenance required for Stihl's battery chainsaw is that it is basically nothing. It has an automatic chain oiler system which helps keep it oiled, only requiring you to add more occasionally.
Otherwise there are no requirements for gas and oil mixtures, cold starts, or anything else that can make this a pain to maintain. Simply pop in the battery and get started. 
The MSA 120C-BQ does have a brushless motor (EC motor line, thanks Marek) – so I do expect some decent durability from the motor itself.
Stihl MSA 120 C-BQ Battery Chainsaw Review: Final thoughts
In the battery powered chainsaw world, this thing is above average. It has all the bells and whistles and even has a brushless motor – but it all comes at a price.
As compared to gas chainsaws, it is going to be a light-duty alternative, perfect for the backyard suburbanite but not for the true professionals.
This thing is going for about $350 online at Ace and Northern Tool. Honestly, I would check out some of the other battery powered chainsaws like the Greenworks chainsaws for a great comparison.