Ryobi's 40V HP Brushless 18" Snow Blower is what you need to prepare for winter. 
Winter is coming. Or is already here. Depends on when you read this.
But the last thing you want to do is look at 7 inches of snow out of your front window and realize nothing stands between you and that snow except for a shovel. 
Shovels are so 1996. 
So why not check out one of these big, battery-powered snow blowers that will toss all this snow to another dimension?
Seriously, why not?
Let's check out this one from Ryobi.
Why we review lawn tools
The reason we started this website in the first place was because we had so much trouble trying to find reasonable, understandable, honest reviews for lawn equipment. And it's not cheap! After hours and hours of research, trying products and returning them, and messing up our yards – we started this site. 
As people who had to learn the hard way, we want you to know exactly what you are signing up for before you purchase a piece of equipment. That's why we are committed to providing honest, easy-to-understand reviews that mean something. 
Snow blowers vs snow throwers
Many people ask what the difference is between a snow blower and a snow thrower. Let me tell you right now, both are far superior to a snow shovel. While snow blowers and snow throwers build significantly less character for young men, they are much easier to use and more effective for clearing out large amounts of snow.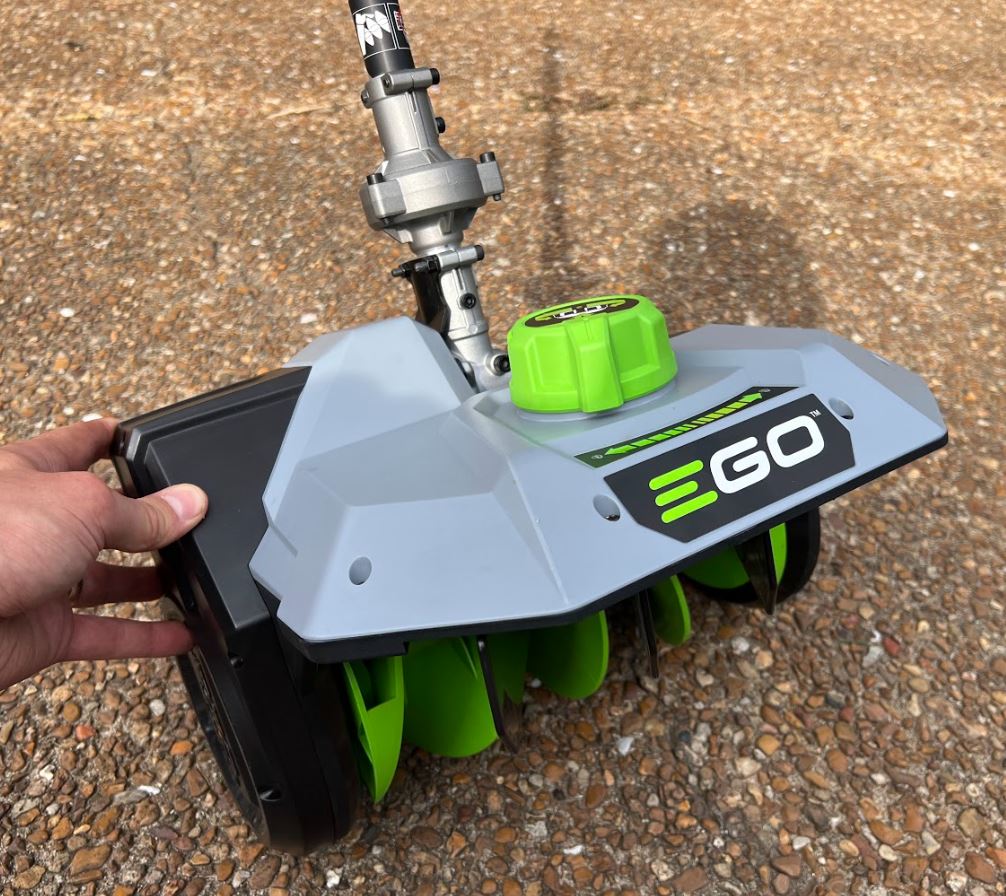 In short, snow throwers launch snow 10-15 feet away and are generally more narrow. Snow blowers launch snow 25-30 feet away and are wider. Snow blowers are heavier duty and can also handle many, many inches of snow. At the end of the day, it will be much more fun to launch the snow into the neighbor's yard instead of just the edge of your own yard. 
1-stage vs 2-stage blowers
Snow throwers tend to be the name for one-stage blowers. One-stage means that the action of launching the snow happens in one step: it gets scooped up and shot through a tube in one motion. Blowers with two stages have one action that scoops up the snow and another that launches it. This allows for a much stronger "launching" capacity, sending snow to the moon.
Ryobi 40V HP Brushless 18 in. Snow Blower: Features and benefits
Okay – now that we understand the major differences in snow removal equipment, let's jump right into the Ryobi 40V HP Brushless snow blower review.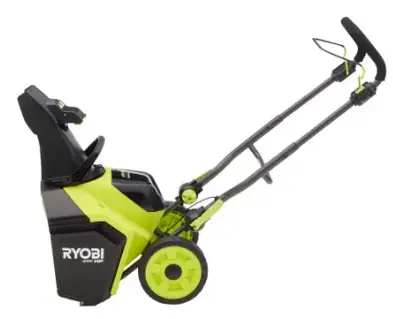 Power
Power is everything when it comes to a snow blower. If it didn't matter, then you would be out there shoveling instead of dropping $500 on a snow tool.
The Ryobi 40V HP Brushless 18 inch snow blower has a clearing width of a foot and a half, with a depth of just under a foot. That's a lot of snow. There are definitely bigger, badder snow blowers out there, but if you are a Ryobi loyalist, then this is a good choice. 
I would rate the power as "okay".
Sadly, this is only a single stage snow blower, so while it claims to launch the snow 25 feet, I have a hard time believing that this has the same capabilities as a two-stage snow blower. For smaller to medium-sized jobs – I think this one is going to be just fine for getting rid of the snow.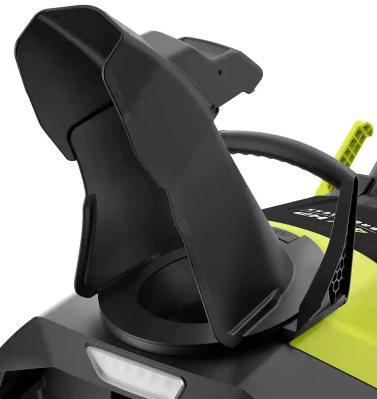 Usability
While the Ryobi 40V Brushless Snow blower is leaps and bounds a massive improvement from gas snow blowers, it is missing one function that is super important: a self-propelled function.
Sadly, if you are pushing this thing across your driveway in 8 inches of snow, it is still going to require quite a bit of force to push through the snow. 
Otherwise, this thing has some great bells and whistles. It comes with a nice light for those early morning snow blower jobs. The Ryobi snow blower also comes with a configurable chute, so you get to choose which neighbor you like the least when sending snow flying.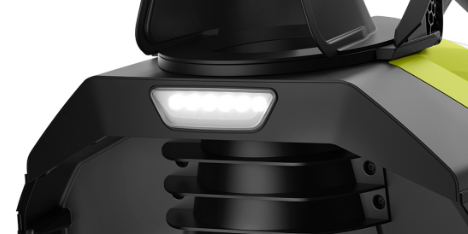 Compared to gas snow blowers, the ease of having a push-button start and no oil or gas to mess with is amazing. Time is absolutely critical when you are in freezing temperatures and having to crank a cord a dozen times to get started is miserable. The beauty of these electric snow blowers is just how reliably they start up with the push of a button.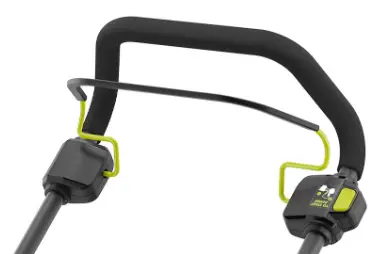 Once you push the button, simply close the lever by the handles to activate the auger. Then get to pushing and throwing snow. 
Durability and maintenance
I've glossed over this already, but with the Ryobi 40V HP Brushless Snow Blower, there is no maintenance. No oil changes, no gas and oil mixing, no filters or spark plugs – just charging the battery.
Wow. 
The beauty of this electric snow blower in particular is that it has a brushless motor. Ryobi brushless motors are the absolute top of the line when it comes to battery-powered lawn tools. They are quieter, more efficient, provide more torque, run cooler, and last longer. Compared to regular brushed motors, they are way better in every way.
Fortunately, this snow blower is going to last you.
Cost and value
The Ryobi 40V HP Brushless snow blower ain't cheap. At almost $550, it comes at a premium. You are getting a reliable, dependable product that is going to knock out snow for most folks. 
Sadly, at this price point I would expect a two stage snow blower with a self-propelled function.
In our opinion, this thing is a bit overpriced. 
Ryobi 40V HP 18" Brushless Snow Blower: Official Review
While I love most of Ryobi's products, I really expected more from this one. As I mentioned above, it is a bit pricey and I'm shocked to see it only being a one-stage snow blower. 
This one is for sale at Home Depot right now for a great price.
We have reviewed a few other snow blowers that I would recommend before this one unless you already own the Ryobi 40V HP battery. 
Check out the Greenworks snow blower here for more information on a competitor.