Patio heaters are all the craze right now. I mean, who doesn't want to be able to enjoy their beautiful lawn year around.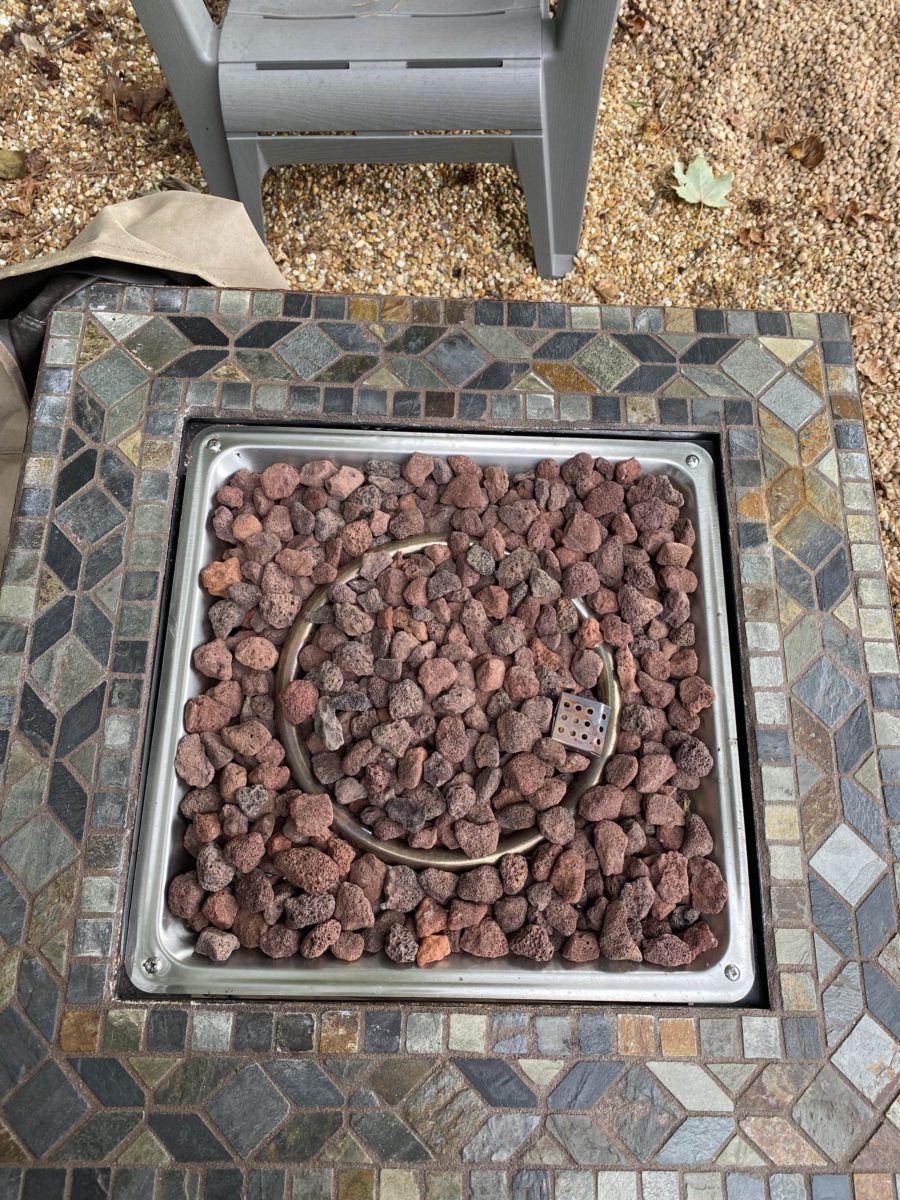 For me, nothing hits better than watching a college football game (Tennessee Volunteers, of course) and enjoying the beautiful Fall weather. Without a patio heater, this can turn pretty dang cold pretty dang fast. A patio heater changes the game (not football) – making tailgating season way more enjoyable and lasting much further into the season.
My experience with patio heaters
I wrote this patio heater buying guide specifically because I didn't know anything about patio heaters when I started out. I did a TON of research and since I'm a lawn tool enthusiast, figured it would be easy to help others enjoy the outdoors like I did. 
Back when I first wanted a patio heater was during the great Patio Heater Shortage of 2020. Yes – this was during COVID when all the restaurants bought up the patio heaters from every Home Depot and Lowes on the planet. It sucked.
I ended up getting a cheap one that my family friend snagged for me and placed on hold. It wasn't the best – but it worked. Now that I've got the time, money, and global supply chain – I feel like I have made some better choices.
What are the different types of patio heaters?
Thought it would be simple to just "go out and buy a patio heater" – think again. There are tons of different patio heaters. From different fuel types, sizes ranging from tabletop to floor-to-ceiling, and just about everything in between.
Let me break down the key things to look for when you get started looking for a great outdoor patio heater.
Gas vs Propane vs Electric Outdoor Patio Heaters
The first choice I had to make in my extensive research was fuel type. The three main fuel types include natural gas, propane, and electric outdoor heaters.
The below table highlights some key points in each of these paragraphs.
Pros and cons of gas outdoor heaters
Natural gas is super accessible and cheap if you already have a natural gas set up at your home. It also does a pretty good job of putting heat out and will get fired up to full speed right away.
On the other hand, natural gas is prone to leaks if not installed correctly. Gas outdoor heaters can also lose some heat from strong gusts of wind. 
Pros and cons of propane patio heaters
Propane heaters are a really great option for most patio enjoyers (like me). I learned this after buying a nice tabletop type of firepit that I can use wherever and whenever. If I run out of propane, I run and get more from my grill's propane tank or one of my backup tanks.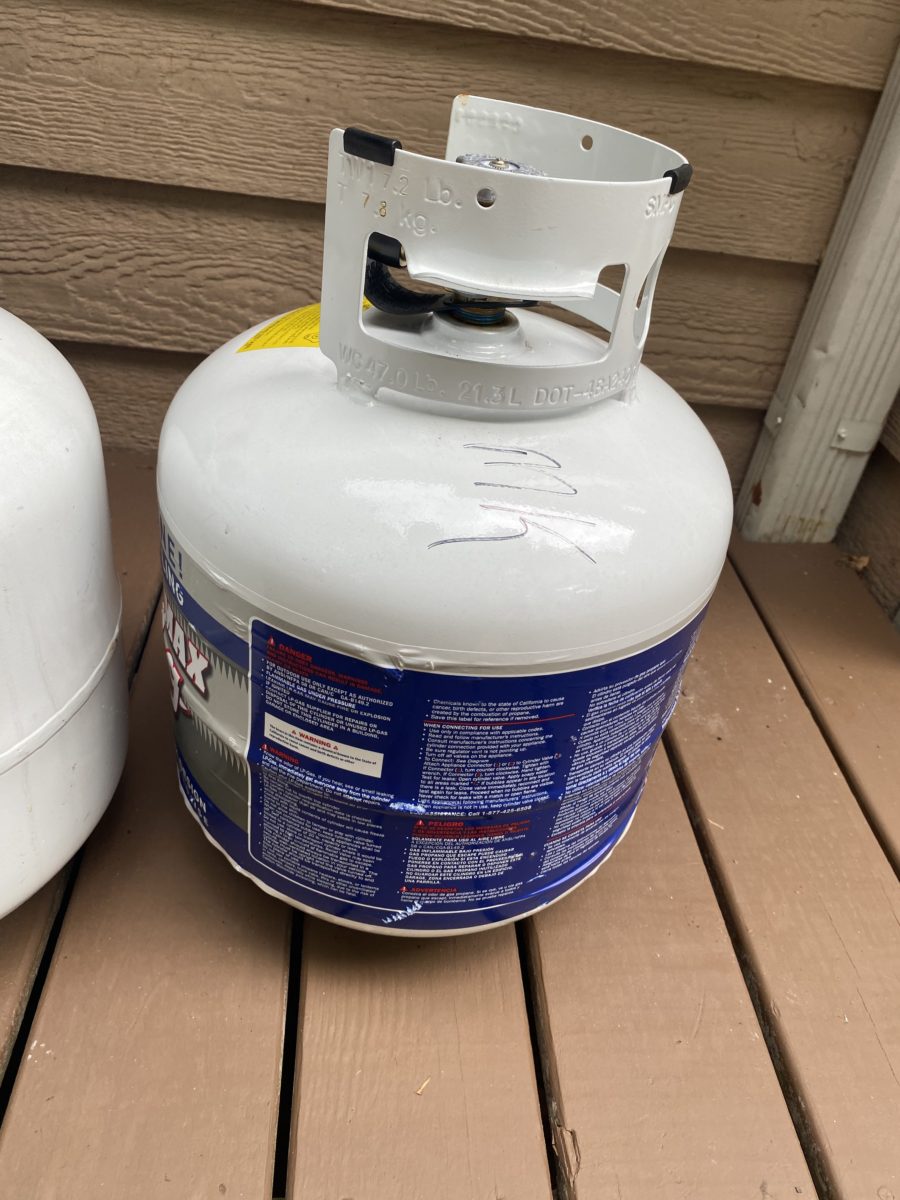 Some of the pros include some extreme heat output (better than natural gas and electric), it is pretty safe, and super portable.
On the other hand, refilling the tanks can get expensive if you have multiple units, like an outdoor restaurant or something. For most homeowners, though, I think propane may be your best bet.
Pros and cons of electric outdoor heaters
While electric outdoor heaters are relatively inexpensive and extremely safe, they can't really be transported beyond what an extension cord can do and have the least amount of heat output when compared to their gas counterparts.
The below table is a good summary of natural gas vs propane vs electric outdoor patio heaters:
| | | | |
| --- | --- | --- | --- |
| Category | Natural Gas | Propane | Electric |
| Cost | + | +++ | ++ |
| Heat output | ++ | +++ | + |
| Safety | + | ++ | +++ |
| Portability | + | +++ | ++ |
Table highlighting differences between gas, propane, and electric
Mounted vs Standing Patio Heaters
Mounted vs standing patio heaters isn't a crazy concept to figure out. This is totally personal preference, but here are some things to know about each type.
Mounted patio heaters are going to be fixed and installed somewhere, most often seen in overhead patio heaters that span across an outdoor patio's ceiling or overhang. These are going to be either natural gas or electric mounted patio heaters. They are great for those looking for a permanent solution for a single spot.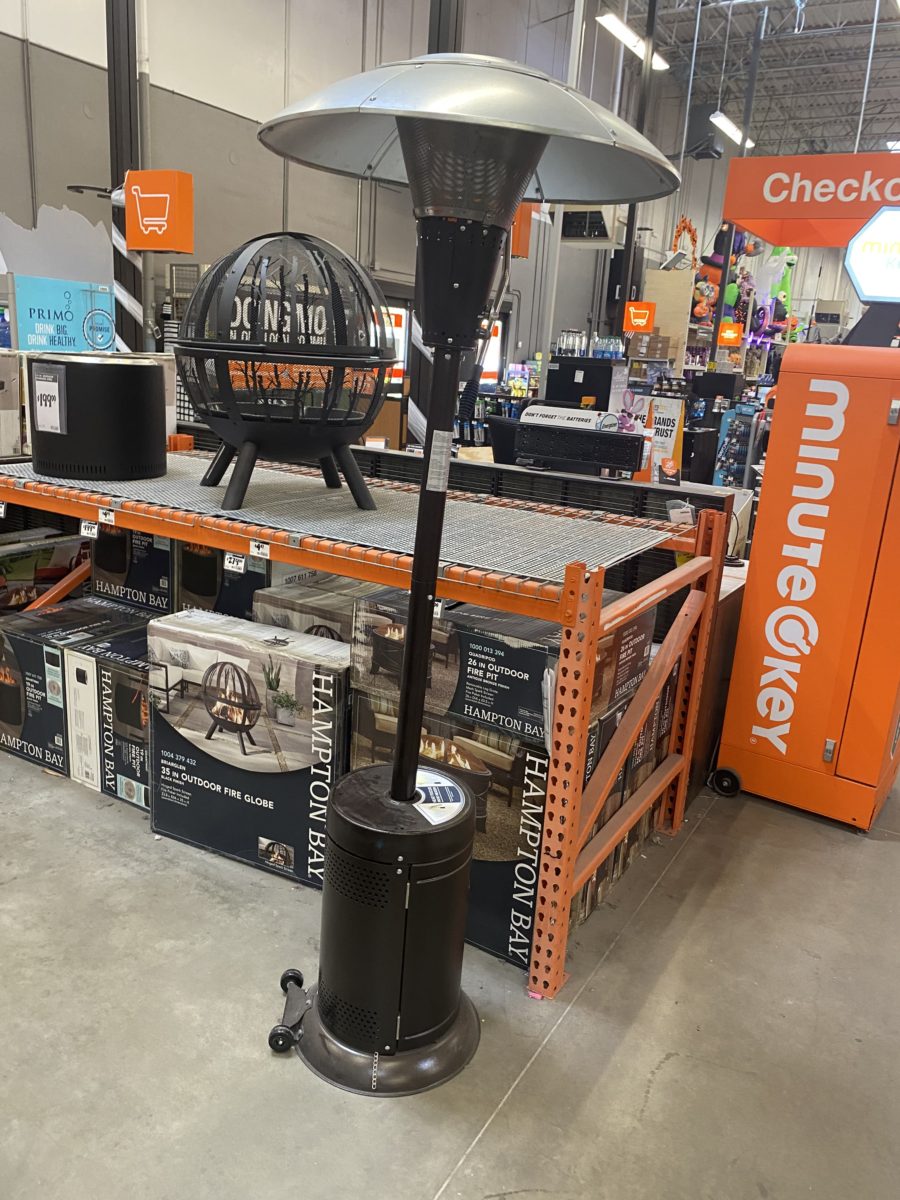 Standing patio heaters are more commonly seen at events and restaurants, but can also be great for home patio use. Standing  patio heaters are much more portable and can range in size from small table-top heaters to 8 ft. tall monsters with wheels. Standing patio heaters are more commonly propane-powered, making them portable to any part of your patio and can be stored elsewhere (like a garage) during warmer months.
What are the different sizes of patio heaters?
Patio heaters come in all shapes and sizes – but what you really want to look for in a patio heater is the BTU (aka British Thermal Unit). For some reason, we haven't switched this thing over to American Units – but that is my long-term life goal. 
The BTUs range from pretty low (less than 10,000 units) all the way up to about 50,000 units. The units generally correlate with the square footage they can cover. When looking for a patio heater, you can focus on maximizing the "warmed area" or having more of a personal heater. Most folks opt to have area coverage.
I'd say the common ranges you should look for in a standing, portable outdoor heater are anything above 35,000 BTUs. Below that you will have a bunch of folks huddled around the heater – and you can always adjust the flame size to decrease if needed.
For fixed, mounted heaters – BTUs are closer to the 10,000-20,000 range. These are great individually, but most commonly paired up with other heaters. So a patio may have 4-5 of these all warming a large area.
What are the most popular brands of patio heaters?
If you are perusing all the billions of options online, you may see some familiar names. 
In the outdoor patio world, you'll see some of these common brands:
Hampton Bay – they must have some sort of exclusive agreement with Home Depot because they are EVERYWHERE. Luckily, they provide a ton of good options for homeowners.
HotShot – these are the manufacturers of some of the most recognizable portable patio heaters.
King Electric – they make some cool infrared heaters that are great for mounting.
Cuisinart – another staple in the home goods space. They make some nice looking propane heaters.
All of these can be found at their respective manufacturer's websites, but also are on some sweet deals at Home Depot if you get it at the right time.
Getting the right look
When it comes to buying an outdoor patio heater, you tend to see a few different styles. Let me break it down for you.
Mounted patio heaters
This one is easy to knock out right away. Mounted patio heaters should be aesthetically invisible. If these are mounted on the wall and not transportable, then they should blend in as much as possible.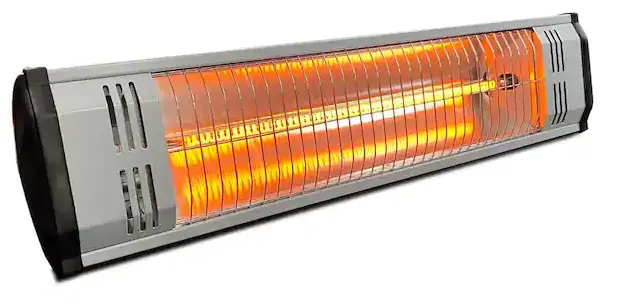 With mounted patio heaters, the look you want to go for is "blending in". Try to find a patio heater with a low profile and a color that won't draw attention. The rest is totally preference basd.
Standing patio heaters
Standing patio heaters have a bit more variety. The two most popular standing patio heater designs are the tubular glass patio heaters and the mushroom style patio heaters. Without even scrolling down, I bet you have seen both before.
Glass tube standing patio heaters
Glass tube standing patio heaters have an aesthetic that looks like you're at a fancy restaurant eating outdoors in LA. That being said, they are common in places like restaurants that have permanent outdoor seating and less common in homes.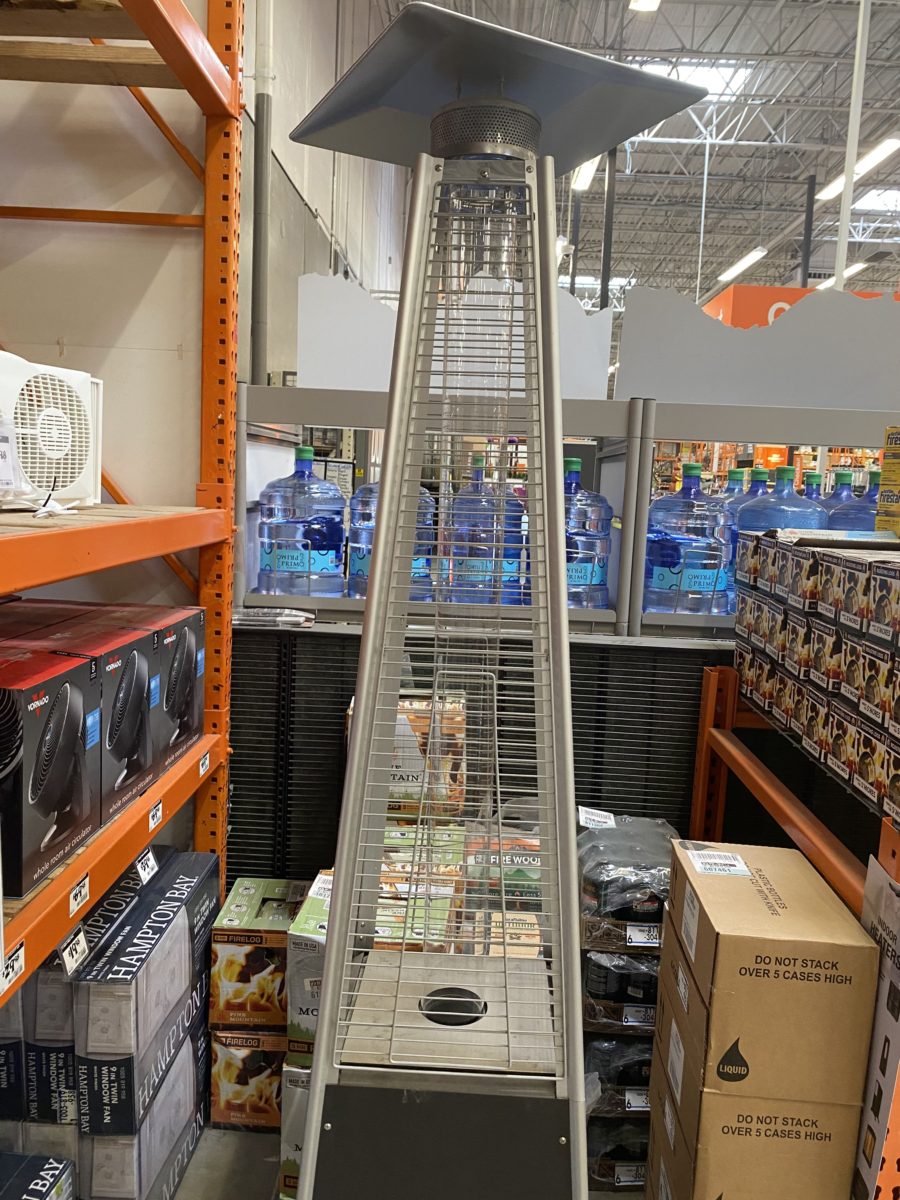 Mushroom style patio heaters
Mushroom style patio heaters are more of your "outdoor bar" vibe. They are also much more common in residential patios. Chances are, if you've been at a friend's house near a patio heater – this is the one. They work by radiating heat from a propane tank and the mushroom shield at the top radiates the heat back down to the desired area.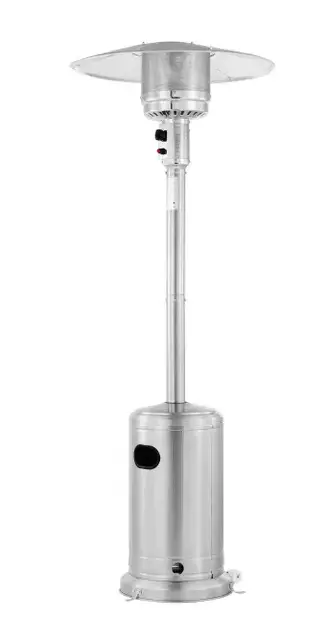 Fire pits
Fire pits are relatively self-explanatory. A table-top fire pit is super common in patio settings as they are perfect for convening a group. Many of these have enough table space to set drinks on, while outputting heat in a way that isn't going to be overbearing. While these are awesome from a decorative perspective, they won't heat the area efficiently.
You can also get a nice smokeless fire pit that burns hotter and won't make you smell.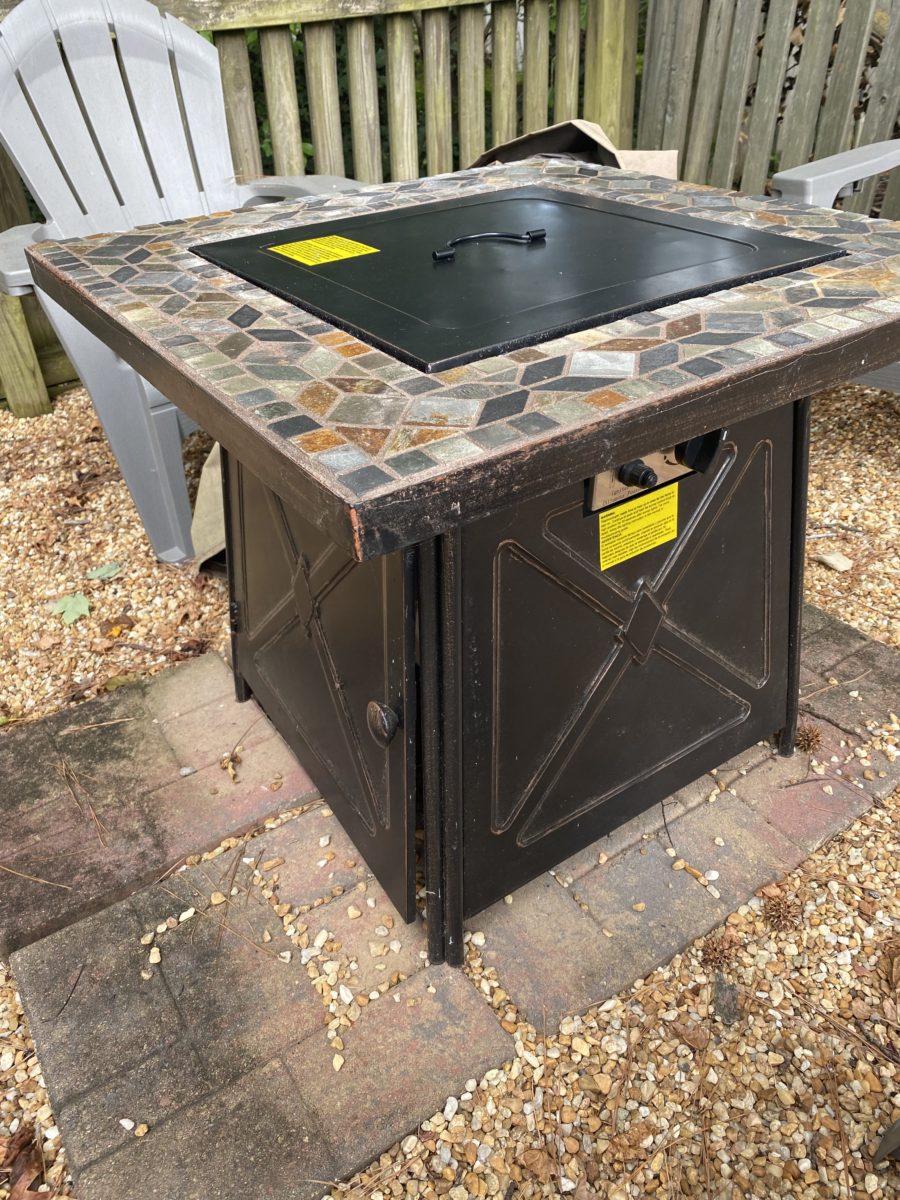 Common Patio Heater Questions I had when I started
I've put together a list of questions I had down that helped me start on my journey. Here they are:
What size patio heater do you need?
Getting the right sized patio heater means you need to understand the heat output in terms of BTUs. The higher the BTUs, the greater the area. Some smaller electric heaters have BTUs in the 10-15,000 range whereas most outdoor propane heaters will put out close to 50,000 BTUs.
Is a patio heater better than a fire pit?
Patio heaters generally do a better job of providing heat output over a large area when compared to fire pits. Fire pits are commonly known for being more aesthetically appealing.
What does BTU mean for outdoor heaters?
BTU means British Thermal Unit – basically a measurement of heat output. If you are looking for a powerful outdoor heater, you should expect the BTUs to be in the 40,000-50,000 BTU range.